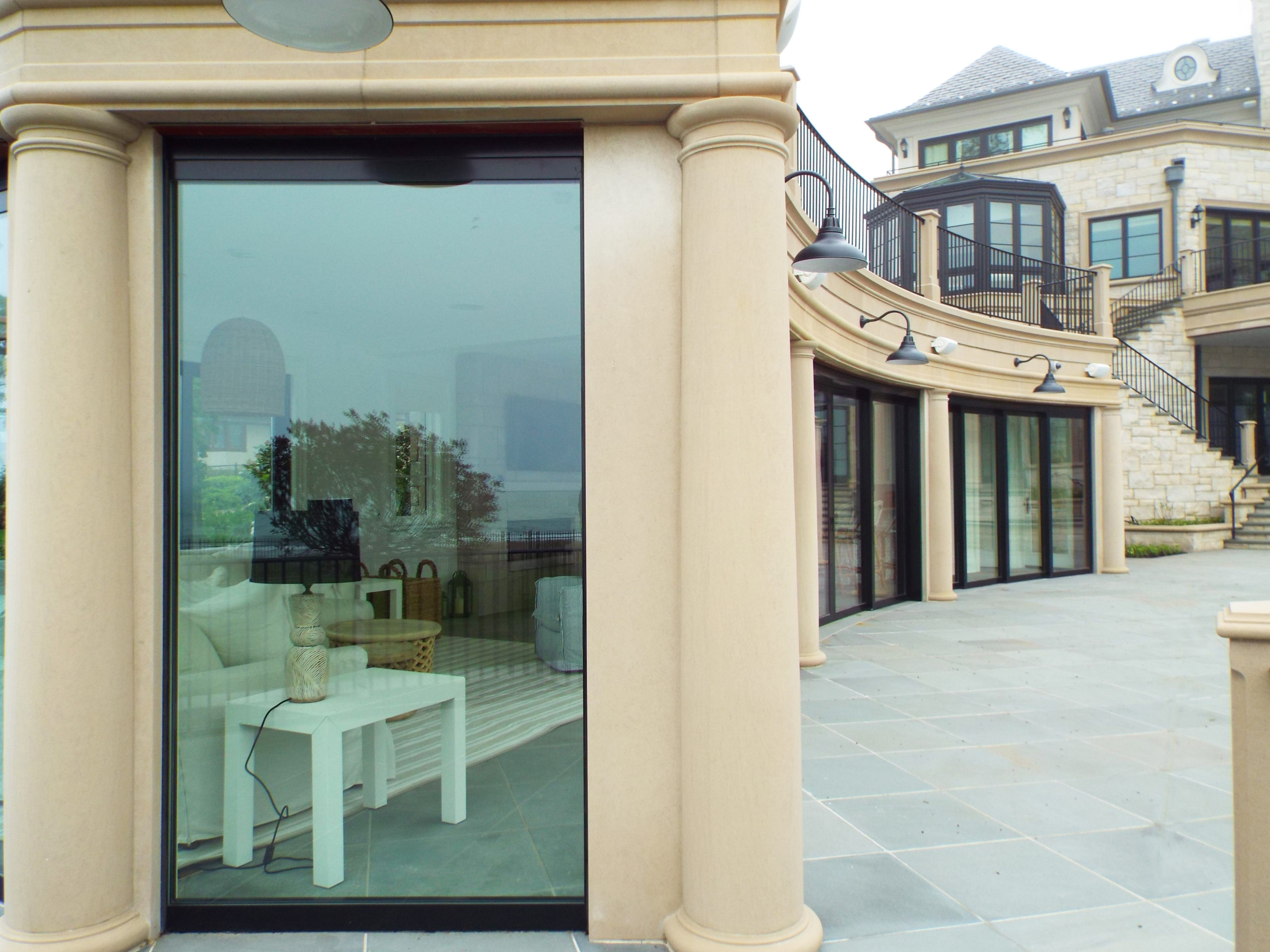 Tis the Season for Hurricane Windows 
Photo from Mister Window
Originally Posted On: https://misterwindow.com/tis-the-season-for-hurricane-windows/
How many families in the Northeast daydream of the Florida life of perpetual sun, sand, and surf?  Judging by the current influx of new Floridians, it's a significant number!  What most of those families forget about Florida is that from June 1 to November 30, Floridians live and breathe by the tropical weather forecast.  Hurricanes are no joke.  They're well known for decimating properties and costing people their lives.   Fortunately, scientists and engineers have found ways to reinforce homes and businesses against damaging hurricane winds through the installation of hurricane windows. Read on to learn about weighing the costs and benefits of replacing your current windows with hurricane impact windows.
The Financial Side:  How Much Do Hurricane Impact Windows Cost?
How does the cost of hurricane windows compare to regular windows?
Let's go ahead and rip the band-aid off right away.  These specialty windows are about two times the price of regular windows.  Yes, hurricane impact windows are not cheap, but neither is repurchasing all of your worldly possessions.  That's the bad news.  The good news is that, once they are installed, you can actually relax for that five-month stretch of armchair weatherman fear factory.  If you see Jim Cantore in your neighborhood, tell him you have hurricane-impact windows.  You'll be central command for Weather.com.
Are there financing options?
Yes!  Responsible hurricane window installation firms understand how vital these are to protecting lives and hard-earned possessions.  Mister Window is one such installer, offering zero-interest financing options with no upfront costs.  They even offer terms up to 10 years.
Will the energy savings offset the cost?
When you install hurricane-impact windows in your home or business, the upgrade not only supplies protection during hurricanes, but it also helps save energy, ultimately reducing your electricity bill.  If the new hurricane windows are replacing old, non-insulated windows, the savings are estimated to be approximately 37% of your electric bill, which often adds up to more than the cost over the life of the new windows.  For the replacement of newer, insulated windows, the savings add up to about half of the cost of the replacement project.
Will I get a discount on my homeowner's insurance?
You may even be able to shave some costs off of your homeowner's insurance by replacing your old windows with hurricane-impact windows.  Once the full replacement project is complete, you may hire a home inspector to conduct a wind mitigation survey.  The results of the survey would then be submitted to your insurance company to determine any deduction in your premium.  Contact your insurance agent for up-to-date savings information.
The Benefits:  Are Hurricane Windows Worth It?
If you live in the state of Florida, it is well worth it!
The coastal regions of Florida are at risk of severe damage from wind and water during hurricane season.  In the Tampa Bay area, all of Pinellas, Manatee and Sarasota Counties, as well as a significant portion of Hillsborough County, are within the wind-borne debris region.  Wind-borne debris regions are portions of coastal areas that are hurricane prone and lie within one mile of the coastal mean high-water line, or where land intersects with the water surface when the water is high.  When your building lies within the wind-borne debris region, state and local building codes require openings in buildings to have some sort of protection, be it storm shutters or impact rated windows and doors.  The wind speeds for which the coverings need to be rated change as you move further inland.  Of course, since hurricanes tend to reduce their impact once they make landfall, coastal regions will need to be rated for higher wind speeds than 80 miles inland.
Benefits of Hurricane Windows:
No more storm shutters:  Storm shutters are certainly the cheaper way to meet the requirements of the wind-borne debris region regulations, but they can be very difficult to manage, especially for an aging Florida retirement population.  Essentially storm shutters completely block the window.  Not only do they block out windows, but many also block out sunlight.  If you want sunlight in your home, you may need to take down and put up the storm shutters every time a storm threatens your area.  Any experienced Floridian will tell you that hurricanes are fickle beasts whose own existence literally comes and goes with the wind.  One day you're staring down a Category 5 hurricane with 177 mph winds (I'm looking at you, Irma).  Next thing you know you're watching the news in your North Carolina cabin and learn that Irma hit Tampa as a Category 2.  Next time it could be the opposite, storms can intensify just off the coast before landfall.  That's the thing.  Hurricanes have minds of their own.  Instead of trying to calculate the right time to put up and then take down storm shutters (especially from August to October), invest in hurricane impact windows and you will never have to play the waiting game again, knowing your home or business is always protected.  Besides, storm shutters are not the most aesthetically pleasing adornment for your home.
Financial Gains:  Who doesn't want to save money while investing in home or business protection?  It really is the best of both worlds.  Replace your old windows with hurricane impact windows, save money on electricity and also increase your property value.  Homebuyers will be thrilled about not having to potentially use storm shutters for half of the year.
Reduced Insurance Premiums:  As costs rise across the country, people are looking for savings everywhere.  While the installation of hurricane windows does cost money, the long-term savings, including potential reductions in homeowner's insurance premiums, is an added advantage.
Burglary Protection:  Hurricane windows are impact windows.  This means that they are resistant to smash and grab burglars.  The force needed to get through impact windows requires more exertion than the standard burglar is willing to use.  Putting forth the effort to actually break these windows would create loud noise that would inevitably bring unwanted attention to the burglar.
Noise Reduction:  With hurricane windows, noise pollution is a thing of the past.  Loud streets, screeching children playing on the street, and lawnmowing neighbors are all non-issues with these windows.  This is truly a year-round benefit.  In some instances, noise will be reduced by 40%, allowing you to actually sleep on Saturdays.
What Windows Are Best for Hurricanes?
Mister Window offers all of the top brands and knows which windows are best for your home and budget!
Florida has been burned by hurricanes in the past.  Much like San Francisco had to revise building codes for earthquakes, Florida has had to do the same thing for hurricanes.  Florida now has a product approval process to ensure windows and doors meet hurricane standards. In short, the product must first withstand an impact from flying objects and then go through a simulated hurricane to ensure the window keeps wind and water out after the impact. These windows not only keep the wind and rain out of your home or business during a storm, but also keeps the pressure of the storm outside, which prevents roof loss or other structural damage.  All products that are approved as impact products in Florida must go through this series of tests. The testing also determines the design pressure for the window or door.  This is the amount of pressure the product is designed to handle.
When considering what window is best, it is vital to determine what design pressure is needed, based on the homeowner's preference as well as Florida building code requirements for that particular area. Then we look for available products that can handle that specific design pressure. There are typically many options. The best fit will come down to budget, style, shapes, colors, and finishes desired. The expert installers at Mister Window are fully trained in wind-borne debris regions and product testing requirements.
As experts in all aspects of the window world, we here at Mister Window know where each window comes from, no matter the white-label gimmick used by our competitors.
When it comes to hurricane windows, there are industry standards that make it easy to compare windows and doors from manufacturer to manufacturer, including measurements for design pressure (how much wind speed or impact a product can handle) and energy efficiency (ratings are through the National Fenestration Council).  While the two primary considerations for hurricane windows are strength and efficiency, Mister Window works with its customers to consider their preferences and the ability to work within their budgets.
High Impact Windows and Hurricane Windows.
Is there a difference between the two?
In general, the terms are interchangeable.  Nowadays hurricane windows provide protection from wind and impact.  The requirements for how much protection the windows must provide vary from region to region in Florida.  For instance, Miami-Dade County has more stringent requirements than Sumter County due to hard lessons learned in the aftermath of Hurricane Andrew.  In fact, the Miami-Dade area is often referred to as the High Velocity Hurricane Zone (HVHZ).  Most of the products offered by Mister Window come in either standard wind-borne debris or Miami-Dade wind-borne debris ratings.
Security and Hurricanes
Hurricanes are serious storms that should not be trifled with.  The last thing you want to worry about while deciding whether or not to evacuate is whether the belongings you are leaving behind will be safe.  Or, if you decide to ride it out, will you be safe from human dangers once the storm passes?  Natural disasters bring out the best in people.  Volunteers gather from across the country to bring in supplies for victims and neighbors share food, water, and battery chargers.   However, there will always be that certain element in society who sees the disaster as a chance to capitalize on empty or unprotected homes and businesses.  Replacing your windows with hurricane impact windows will reduce the chances of thieves breaking windows to access you or your belongings.  While the windows are not entirely impenetrable, they do offer real protection from smash and grab looters.
Can Impact Windows Withstand a Cat 5 Hurricane?
The simple answer is yes, along with all of the debris associated with those high winds.  A category 5 hurricane has sustained winds of 157 mph or more.  Windows in Miami-Dade, or products made to Miami-Dade standards, are designed to withstand wind speeds up to 180 mph.
Hurricane Windows vs. Energy Efficient Windows?
Typically, the deciding factor as to what specific window should be installed comes down to budget.  It is recommended that laminated, insulated windows be installed.  These windows cover both the hurricane wind protection and energy efficiency ends of the spectrum.  For the budget-conscious, installing laminated windows, without including insulating glass, is an option that will still protect you, your loved ones, and your possessions from the devastating effects of a hurricane.
Impact Windows or Storm Shutters?
Still trying to decide between impact windows and storm shutters?  The answer is simple.  In the long run, impact windows are worth the initial cost.  They require less individual effort as they do not need to be put up and taken down with each and every threatening storm.  The only person who is required to put in effort with your new hurricane windows is the installer!  Plus, storm shutters take up a lot of garage space, require ladders for second stories, and serve no purpose if the are sitting in the garage when a hurricane hits while you are on vacation.  If you are allergic to sunlight, storm shutters may be a good option for you.
The Top 7 Types of Impact Windows in Florida
Florida is home to a wide variety of architectural design.  From Tudor-style to Mediterranean from modern to historic bungalow, each model has different styles of windows.  Below are 7 of the top styles that can be replaced with impact versions:
Sliding:  These windows work with a horizontal roller that allows the panels within the window to slide from left to right.  These windows are great for rooms that need maximum ventilation.
Single hung:  Single hung windows have a fixed top sash that remains stationary and an operational bottom sash that slides up and down.  With single hung windows, ventilation only occurs with the bottom sash.
Double hung: Double hung windows have two operable sashes.  Both the tops and bottoms open and close. Air is able to flow through either sash when open. These are a great choice for two-story homes as they allow for tilt-in cleaning without outside access.
Casement:  Casement windows open and close on hinges that open outward to the left or right, like a door.  These are common in areas above kitchen sinks and are easy to clean.
Awning:  Awning windows are top hinged windows that open from the bottom.  These windows provide excellent protection from the rain and are a great option for spaces that need more ventilation of light.
Picture: Picture windows, so named as they were designed to act as a picture frame, are large rectangular windows that are stationary and consist of one large pane of glass.
Architectural:  Architectural windows are non-rectangular, fixed windows.  These windows highlight creativity over function.
Everything Else You Need to Know About Hurricane Windows
Picking the right contractor
As with every service offered, there are many options to choose from.  Hurricane impact window installers are no exception.  When choosing which installer to handle your replacement window project, the project that will help your home or business survive devastating hurricanes, it is vital that you choose an experienced, high-rated, quality company.  For the Tampa Bay region, there is only one true option, Mister Window.  Using top notch products, their installers are specially trained to ensure the products purchased are expertly installed and are ready with clear answers to all of their client's hurricane window questions.
Make sure your new investment is installed properly
Committed to customer service since day one in 1977, Mister Window delivers high quality products with expert installation.  Final walk-throughs with the customers before they make their last payment are required to ensure all of the customer's expectations have been met and they are satisfied with the installation.  If for some reason you have any trouble opening or closing a newly installed window, don't wait for a hurricane to come to get it checked out.  Contact Mister Window's customer service to speak with a representative who will schedule an installer to come back and remedy the issue quickly and professionally.
Never fall for the high-pressure salesmen that solicit your business for hours on end until you sign a contract you don't want just to make him leave.
While hurricanes may be one of the worst things about Florida, high-pressure salesmen are a close second, especially the ones who make themselves comfortable in your home, sipping all of your lemonade, and refusing to leave until you sign a contract.  With Mister Window high-pressure sales are never on the table.  They aren't necessary.  Mister Window prides itself on its quality of service, both installation service and customer service.  When a business offers competitive pricing, knowledgeable install teams, an abundance of options that will  fit into any budget, prompt communication, and a quality finished product, high-pressure sales aren't necessary.
Mister Window is ready to make your hurricane season stress free.  Whether you're a seasoned Floridian looking to upgrade your current windows or a new resident looking for ways to protect yourself from the devastating impacts of a natural disaster, Mister Window has the answers for you.  Contact us today for a free estimate!