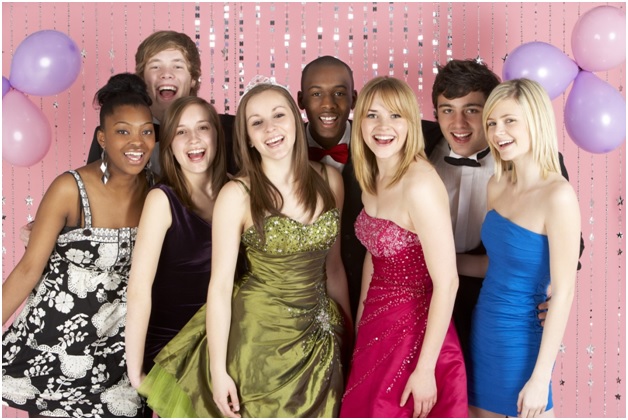 The Ultimate Girl's Guide for Getting Ready for Prom
Originally posted on http://amolife.com/fashion/the-ultimate-girls-guide-for-getting-ready-for-prom.html
Every year, the average household spends close to $1,000 on prom-related expenses. From hair and makeup to the perfect dress and pre- and post-dance activities, there's a lot involved in having a great prom night.
Have you been feeling a bit overwhelmed about getting ready for prom? If you're nervous about having the right dress or looking your best in pictures, don't panic.
Read on for some tips that will help you breeze through the prom preparation process while still enjoying every minute of it.
Find the Right Dress
A great prom night starts with the right dress.
It's a good idea to start shopping for your dress at least a month before the prom. This gives you plenty of time to find a dress that fits well and suits your personal tastes.
If you wait until the last minute, you might not have a lot of options, or you might not be able to get it altered on time.
When shopping for a dress, be true to your own style. If you're not into what's trendy at the moment, don't feel obligated to buy it. All that matters is that you're comfortable in what you're wearing.
Don't Forget Accessories
In addition to a great dress, you also need some great accessories to complete the look. You're starting to see how households spend hundreds of dollars on the prom, aren't you?
When it comes to accessories, at the bare minimum, you ought to have a pair of shoes that matches your dress.
You might be tempted to wear a pair of sky-high heels to the prom. Think about how long you're going to be on your feet, though.
It might better to choose a more modest heel or even wear flats or sandals instead so you can stay comfortable.
Book Appointments a Few Weeks out
If you're planning on having a professional do your hair, makeup, or nails (or all three), it's a good idea to schedule those appointments a few weeks before the dance.
Salons tend to get very busy during prom season, so the sooner you book your appointments, the better off you'll be.
Be sure to confirm your appointments about a week before they're scheduled, too. This will help you avoid getting bad news at the last minute and finding out that the salon double-booked you.
Consider a Spray Tan
For those who want to enjoy a nice glow on prom night, a spray tan can be a good alternative to tanning beds.
If you're going to get a spray tan, try scheduling a test run about a month before the dance. If you like it, schedule another one 2-3 days before.
Avoid getting a spray tan on the day of the dance, as you might end up looking a little too dark in your pictures.
Whiten Your Teeth
You may want to whiten your teeth before the prom, too, so that you can smile with confidence in all your pictures.
If you're going to whiten your teeth at home, start the process at least a week before the prom. This will help you avoid damaging your teeth with harsh products. Wax Your Eyebrows Early in the Week
If you're planning on waxing your eyebrows or any other part of your face, schedule the appointment a few days before the prom.
This way, if you have any redness or irritation from the wax, it will have time to fade away before the big day. You'll still have smooth skin and perfectly shaped brows, though.
Don't Try Anything New
It's a good idea to avoid introducing any new skincare products into your routine in the week leading up to the prom. You never know how you're going to react to new products, and you don't want to wake up with any breakouts or redness on prom day.
Use Waterproof Makeup
Waterproof makeup will be your best friend on prom night. That way, if the weather's bad or if you're sweating in a cramped area, your makeup will stay put and look flawless all night long.
Eat and Drink Before You Leave
You might not need to eat a full meal if you're going to dinner with your date before the prom. It's still a good idea to make sure you've had plenty of water to drink, though.
You're probably going to be dancing up a storm on prom night, and you don't want to end up dehydrated, do you?
Make sure you have a few glasses of water throughout the day to avoid feeling lightheaded or dealing with headaches during the big dance.
Pack Your Purse the Night Before
Some girls are hesitant to carry a purse on prom night. They might worry about it being awkward to carry, or they might worry that it'll clash with their JVN prom dresses.
It's a good idea to have a small clutch purse on hand, though. These purses are lightweight and easy to carry, and you can likely find one that matches your dress without a lot of problems.
Use your purse to hold essentials like your prom ticket, emergency cash, your cellphone, and your lipstick or lip gloss. Put all of these items in your purse the night before the prom so you don't forget anything.
Start Getting Ready for Prom Today
There are a lot of steps involved in the process of getting ready for prom. Even if you're several weeks out from the event, you might be feeling worried about whether or not you'll be able to get everything done.
Preparing for prom can be a daunting task. You don't have to do it on your own, though.
If you keep these guidelines in mind, you'll have everything you need and will have no trouble making sure you're ready for the big day.
Do you need more hair and makeup tips to help you feel your best on prom night? If so, we've got lots of helpful resources that you can reference to get ideas or instructions on how to look and feel your best.