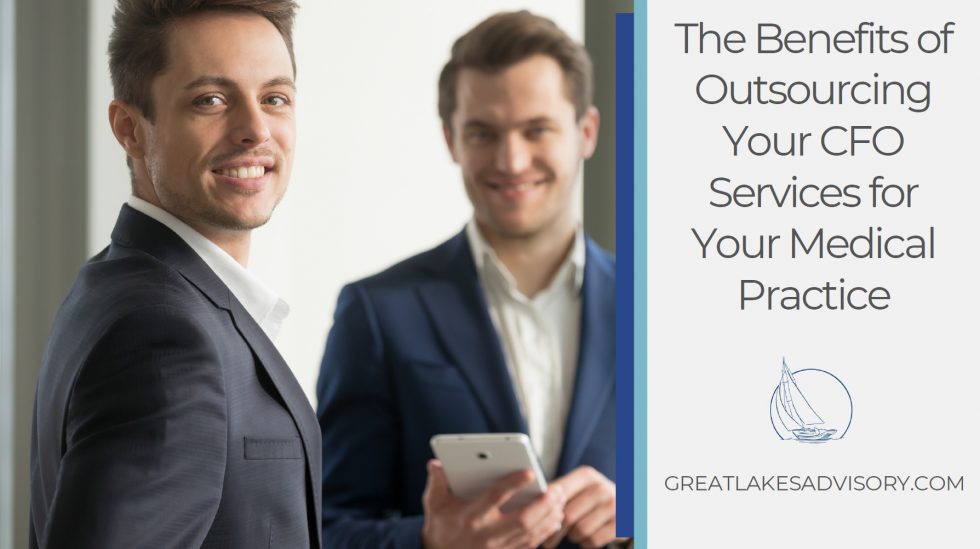 The Benefits of Outsourcing Your CFO Services for Your Medical Practice
Originally posted on https://greatlakesadvisory.com/the-benefits-of-outsourcing-your-cfo-services-for-your-medical-practice/
Are you a physician who owns a medical practice? You're likely concerned about the growing trend of hospitals buying out independent practices.
The real reason why so many physicians who once owned their own practice are now working for hospitals?
Poor financial management of their own medical practices.
Whether you're in financial trouble or your profits have been rising steadily the past few quarters, now is the time to not only right the course of your practice's financial ship, but also make smart and secure plans for the future.
However, you may not currently have the funds to nor the interest in hiring another full-time employee.
You can't just ignore your practice's financial situation though. It is difficult for you to serve your patients if your practice goes out of business.
But you can't handle it all on your own, either. Your practice's financial situation is simply too important to compete for attention with your patient care duties. Trying to do both on your own could result in burnout, which'll lead to worse patient care and sub-optimal financial management.
So, what's the solution? How do you handle your practice's various financial tasks properly without sacrificing patient care quality AND without spending excessive amounts of money hiring a dedicated financial manager?
For many, outsourced CFO services fill that gap perfectly.
The truth is many physicians don't see their medical practices as a business. After all, they're busy with patients all day. They don't handle the billing, insurance claims, taxes, and other financial reports — but practice owners do need to have a solid understanding of these things if they hope to grow their practice and serve more patients.
It's time for you to start thinking like a business owner as well as a medical professional.
Read on to learn why outsourcing your CFO services can help make that happen and how a business-minded approach to your practice can benefit you and your patients.
1. You'll Have More Time for Your Patients
Looking to bring more patients into your practice?
Just trying to spend more time with your current patients?
Whatever your current focus is, outsourcing your CFO services can free you from time-consuming financial tasks, leaving you more time and brainpower for what matters to you most in your practice.
You'll no longer have to spend time collecting several required financial documents, putting together complex financial reports, analyzing your cash flows, or identifying financial risks to your practice.
But you will have a strong understanding of them. You'll have more money to dedicate towards patient retention and acquisition and you'll better understand the costs of managing patients already under your care.
Now, you can focus on your marketing strategies, hiring the best possible staff for your practice, and forming lasting relationships with patients that will increase your long-term retention rates and improve your reputation within your community.
2. You'll Save Serious Money
Not only is the average cost-per-hire of a new employee sky-high before salary is even on the table, but it also takes about two months to find the right person for the position.
Many medical practices just can't afford — or in many cases, simply don't need — a full-time, in-office CFO. Neither can they afford to spend months searching for one while their practice is slowly sinking.
Working with outsourced CFO consultants is the perfect solution.
You won't have to spend time interviewing unqualified candidates, negotiating salaries (which are bound to be high), and of course, paying the costs of healthcare and other benefits.
Instead, you'll get CFO services only when you need them, with the option to meet with your outsourced CFO more often as your practice grows.
That way, you can budget accordingly for your CFO services and get back to providing top-notch patient care.
You'll also be able to allocate more of your profits towards marketing, better equipment, and even additional hires. You'll be shocked by how much further your money goes when you adjust the ways you spend it.
3. You'll Develop a Growth-Oriented Financial Strategy
We know you have big ideas about your medical practice's financial future.
But instead of just dreaming of the day when everything will fall into place, hiring outsourced CFOs will allow you to create a tiered strategy that puts you on the road towards achieving those goals.
A CFO will help you identify unnecessary spending, help you improve your billing department, and even assist with competitor analysis. The time and money you'll save on financial management through these improvements are well worth the investment in CFO services.
But what's especially valuable here is an outsider's perspective. Such an outsider perspective is even more valuable when it's the perspective of a financial professional that can help you see your practice as a full-fledged business; a business that generates expense reports, examines ROI, and more.
If you've been running your practice's finances on your own for a while now, you've likely gone blind to problems and solutions that might be obvious — and even simple — to someone with a CFO's experience who's outside your practice.
Your CFO will be able to provide you with incredible insight into your workflow management style, help you to more effectively manage your revenue cycle, and even improve how you track your success metrics.
What's more, they'll ensure your financial goals are realistic relative to your practice's current situation. You don't want to shoot too high and jeopardize everything you've worked so hard for by making hasty financial decisions.
4. You'll Have Access to the Top Financial Insight and Tools
Another reason why you should hire a part-time CFO or use virtual CFO services within your medical practice?
You'll have access to top financial expertise. On top of that, you'll be able to benefit from the CFO's knowledge of financial problems and goals similar to your own as well as take advantage of the CFO's proven negotiation tactics.
CFOs also have access to the top accounting software and budget-tracking tools, both of which can be of immense help when managing your practice's finances. The right software can automate several parts of your revenue cycle, speeding things up and relieving the workload on your staff.
Access to this level of expertise and these tools helps you make smarter overall investments, create a step-by-step plan to achieve both short and long-term financial goals, and perhaps most importantly, reduce the margin of error that can cost you thousands of dollars.
Plus, working with outsourced CFOs allows your medical practice to learn about loans and other funding opportunities that you likely never would have discovered on your own.
Speaking of loans, a CFO will also be able to advise you on types of loans that are a good fit for your medical practice's current financial situation.
This way, you'll avoid taking on too much debt and getting hit by sky-high interest rates that could render the loan moot.
The experience-based advice outsourced CFOs provide can help you expand your practice, invest in the best possible equipment, allocate your money towards the best investments, and ensure you meet all reporting requirements and financial regulations.
Need Outsourced CFO Services for Your Medical Practice?
As you've hopefully learned from this post, investing in outsourced CFO services is one of the smartest and most cost-effective decisions you can make for your medical practice.
After all, remember: it's not just a practice. It's also a business you're in charge of running. Successful business owners know they aren't experts at everything; rather, they do what they're best at and outsource or delegate the rest to someone else.
Your financial dreams shouldn't sit on the back burner for years just because you're too busy managing your practice's day-to-day operations. Instead, you deserve access to the top financial strategists who want to understand your financial goals and create a realistic, effective plan to reach them.
Are you ready to make that happen?
If so, then we invite you to click here to schedule an appointment with us and learn more about the kind of expertise and services we can offer your medical practice.
We look forward to helping you turn your hope into action.