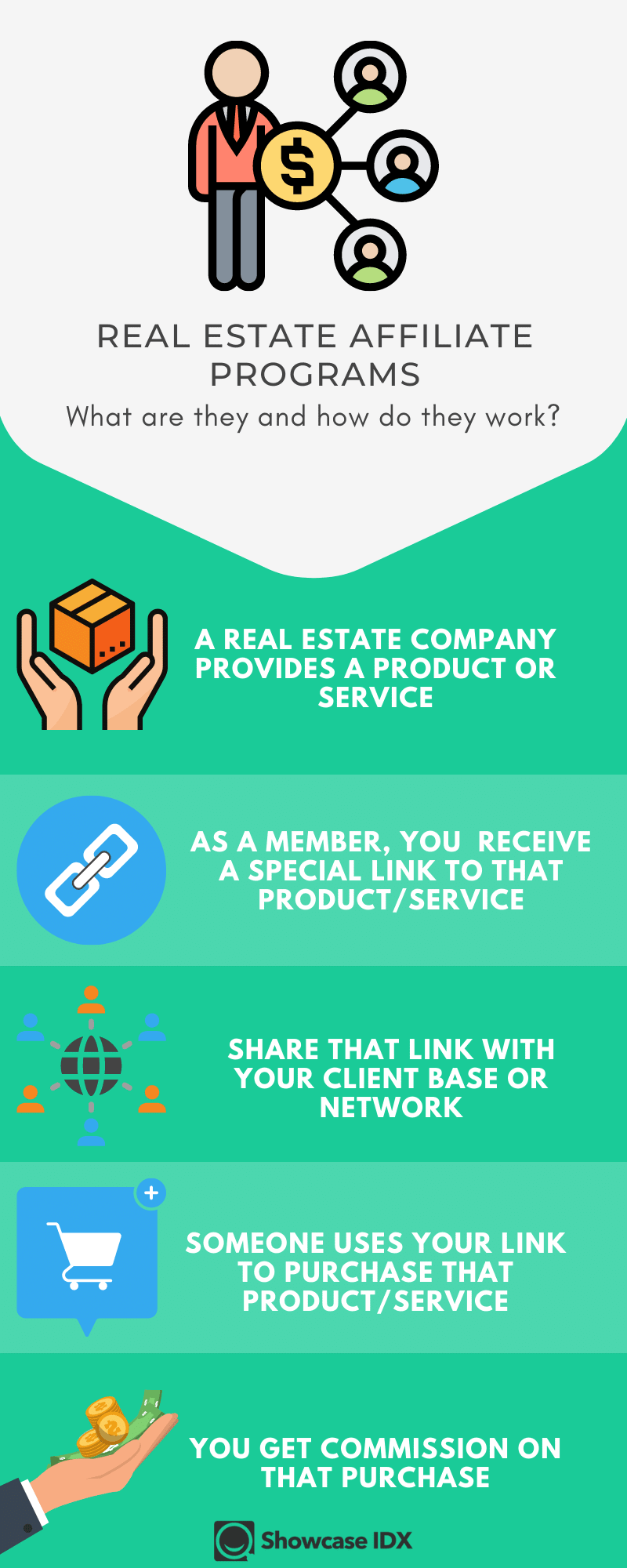 The 8 Most Lucrative Real Estate Affiliate Programs
This article will give you the best real estate affiliate programs to earn extra income in 2021. Some of these pay once and others offer you recurring revenue for each customer you send over.
What are Real Estate Affiliate Programs?
An affiliate program is a performance-based marketing strategy where you share another company's product links on your real estate website or blog and earn a commission when you send traffic to that business or organization. Real Estate affiliate programs can give you the opportunity to partner with real estate schools, tech companies, listing agencies, and other companies in the real estate niche.

At the most basic level it works like this:
Simple as that! With that said, here are the top 8 recommendations for real estate affiliate programs.
Real Estate Express
Showcase IDX
Real Estate Affiliates
All Things Real Estate
Foreclosure
Property M.O.B.
Leads Bridge
Lex Levinrad
Real Estate Express
Since 1996, Real Estate Express has served as a pioneer in online real estate education, staying true to their mission of helping customers achieve more in their careers. Real Estate Express offers online real estate pre-license and post-license courses across a nationally accredited platform. They provide unparalleled free guidance through their Career Hubs to help clients launch and sustain a successful real estate career.
Once your organization is approved for the affiliate program, Real Estate Express will send you a link where you can access banners and logos to place on your website, as well as view your organization's stats and tools.
At the end of each month, you'll receive a commission check if your website generated sales. You can also see real-time sales and earnings 24/7 in their secure partner portal.
Commission: 20%
Cookie Policy: 99 Days
Sign Up Link: https://www.realestateexpress.com/affiliates/
Showcase IDX
Showcase IDX is the leading WordPress IDX plugin for real estate, with agents seeing 83% more traffic on their website after using their IDX search. Founded in 2003, Showcase IDX lives and breathes real estate, creating innovative products that empower agents to grow and allows buyers to easily find the home of their dreams.
Showcase IDX's affiliate program empowers agents to earn easy recurring income by recommending the leading IDX for WordPress to their network. As a Showcase IDX affiliate partner, you will have TWO earning levels and get commission on the first 12 months of each referral being an active Showcase IDX customer. You will also receive completely transparent financial reporting and dashboards available 24/7, along with a completely transparent referral agreement.
Watch this video for more details on their affiliate program.
Monthly payouts are provided within 3 weeks of the end of each month.
Commission: 10% on the revenue from people you directly recommend
15% on the revenue the customers your referred customers recommend
Cookie Policy: 60 days
Sign Up Link: https://showcaseidx.com/affiliates/
Real Estate Affiliates
This is one of the biggest affiliate networks specially designed for the real estate business. Real Estate Affiliates is a great choice for marketers, real estate agents, and brokers who are looking to profit from the growth in real estate crowdfunding. Simply sign up for their affiliate program at the link below to start generating commission for each sale that's made through your referral link.
Real Estate Affiliates offers three ways to earn income from their website:
Cost Per Action (CPA) method: lets you get money when your referrals become a lead.
Cost Per Lead (CPL) method: pays you every time you send your referrals' registration.
Revenue Share Method: you receive a commission for the transactions your referrals enter into with any of the website's partner advertisers.
Payouts are made twice a month through PayPal or Wire Transfer, so you get paid every 15 days.
Commission: Up to 25%
Cookie Policy: 60 days
Sign Up Link: https://realestateaffiliates.com/affiliate/
All Things Real Estate
Founded in 2014, All Things Real Estate carries everything for agents' real estate marketing needs, from open house products to yard signs to apparel to stickers and so on. Instead of your visitors having to shop across multiple stores to find what they need, All Things Real Estate can provide it all in one place.
All Things Real Estate's affiliate program is run by Refersion, which makes for an easy sign up process. Once you join the program, you will have access to their beautiful logos, ad banners, and brand books, along with a dashboard to track every click and referral. Although the 7% commission rate can seem low at first glance, All Things Real Estate products are typically purchased in large quantities, which ultimately results in higher commission.
Commission: 7%
Cookie Policy: 15 days
Sign Up Link: https://allthingsrealestatestore.com/pages/become-an-affiliate
Foreclosure
Foreclosure is the leading distressed-property provider in America. Founded in 1999, Foreclosure.com is a one-stop shop for potential homebuyers and investors to easily — and cost effectively — search up-to-date foreclosure listings throughout the United States. In just a few years, they have become America's largest and most accurate database of foreclosed homes.
With one of the highest conversion rates in the industry, joining Foreclosure's affiliate program can be a very profitable choice. In addition, as an affiliate you will receive generous commission, an actively updated dashboard, and a lengthy cookie period.
Commission is paid out on a monthly basis through PayPal. The minimum payout is $100, which means if the minimum is not reached within the month, the paid amount will be added to the following month.
Commission: 25%
Cookie Policy: 6 months
Sign Up Link: https://associate.foreclosure.com/affiliates/
Property M.O.B.
For real estate bloggers that want to generate more leads and thrive in the industry, Property M.O.B. is the place to be. Property M.O.B. provides free content, real estate training, and coaching programs for its members.
Property M.O.B.'s affiliate program is one of the best for bloggers in the real estate niche. The program is easy to join and free of cost. Once you get started, you'll have access to a tracking portal, links, banners, and everything else you will need to promote their products to your network.
One of the most loved things about Property M.O.B.'s affiliate program is that if your referral signs up for a monthly membership, you get paid every month!
Commission: 25%
Cookie Policy: 30 days
Sign Up Link: https://propertymob.com/real-estate-affiliate-program/
Leads Bridge
This lead-generation site connects agents with over 370 tools and resources to help them generate leads and advertise their business. Leads Bridge also offers a software named Real Estate Webmaster, designed specifically to provide real estate business in mind that offers complete solutions to realtors.
Once joined, the Leads Bridge affiliate program provides a member platform with monthly clickthroughs, payment data, pre-built banners, logos, social posts, links, and videos. As a member, you will be able to earn a 20% commission on all sales generated through your links AND earn a one-time flat commission for each newsletter subscription or booked demo you generate.
Commissions are paid out on request if you reach the $100 minimum, and payments are processed by PayPal, platform discounts, or wire transfers.
Commission: 20%
Cookie Policy: 90 days
Sign Up Link: https://leadsbridge.com/affiliates/
Lex Levinrad
Since his humble beginnings as a self-admitted rookie in 2003, Lex Levinrad has purchased, fixed, rented, and flipped more than 1,000 homes in his career. Lex offers several real estate courses, coaching programs, and boot camps for agents. Some of his courses cost at least $1,000, so his affiliate program can make for some high commission.
As a part of the affiliate program, you will be provided with links, banners, social content, and success stories to share with your network. You will also have access to their online affiliate tracker, which shows you every one of your affiliate sales and commissions. If you already have a real estate website with considerable traffic, the affiliate banners and links will basically do the work for you, while you get the credit. When you sign up, wait for an approval email from the company, and then start earning!
Commission is paid out 30 days after the sale is made and comes in the form of PayPal or check by mail. Note that you must be an approved affiliate member before you can get any payouts.
Commission: 50%
Cookie Policy: 180 days
Sign Up Link: https://www.lexlevinrad.com/join-our-affiliate-program/
How to Choose Which Real Estate Affiliate Programs to Sign up for?
There are many affiliate programs for agents to choose from. What should you consider before signing up for an affiliate program?
First, consider the quality of the product/service that you will be recommending. You want to make sure that you are recommending products that will add value to other agents and brokers. Plus, it is much easier to recommend a product/service if you are actually on board with using it.
Next, consider the revenue upside. You're joining an affiliate program to offer quality products to those in your sphere of influence while earning a little extra income (sometimes thousands of dollars per month). Programs like Showcase IDX offer recurring revenue that can quickly add up to thousands of dollars both on the agents you recommend and on the people they recommend. While other affiliate programs, like Lev Levinrad, offer a large single payout on courses with a higher upfront cost to agents. Then, you have All Things Real Estate that offers a smaller revenue share but on an easier product to recommend (e.g real estate related shirts, hats, etc.).
How To Maximize Your Real Estate Affiliate Income
The best way to maximize your real estate affiliate income, by far, is to create a relationship with your clients, gain their trust, and establish your credibility. Here are a few steps you can take
Have an Active Real Estate Blog
If you don't already have a blog on your real estate site, you need one. A real estate blog is the best way to generate traffic to your site from google and promote your business. Choose relevant keyword phrases and trends for your posts to attract users interested in real estate.
For many of the affiliate programs above, you are required to have an active blog to get accepted into the partnership. Not only that, but with a blog utilizing search engine optimization (SEO), you will get more traffic to your site, which can get you those affiliate clicks and that commission. Check out this article on how to utilize SEO to attract more people to your site if you need some expert tips.
The more active you are on your site, the more credibility your business will have, and the more likely your readers are to click those affiliate links and inquire about your business.
Be Intentional with Your Social Media Presence
Social media is one of the greatest tools a marketer and any business person can use for their business today. Specifically in real estate, social media marketing is now a critical part of business growth. Your clients and potential clients are all on social media, and they are expecting you to engage with them more frequently through it.
Use your social media platforms to demonstrate your real estate expertise, engage with your network, and establish credibility. If you create a relationship with your clients and they trust you, they are likely to feel comfortable trusting your recommendations and clicking those affiliate links.
Have a Reliable Real Estate Website
The benefits and simplicity of being a part of a real estate affiliate program are clear, but you can only start earning commissions once you have a site to promote these offers from.
95% of home buyers start their home buying journey online, and potential clients will often judge your business by your website. In order to have that credibility, you need a site that your clients will love to use. A few components of this include responsive web design, an active blog, and IDX integration.
If you don't have a website yet or are looking to spice up an existing website, we have a group of real estate experts that would love to help your website be the best it can be.
Real Estate Affiliate Programs Summary
What are you waiting for?
Check out some of the top real estate affiliate programs listed here and start earning some extra income by promoting them through your website and socials.
Pick two programs to get started and sign up today.