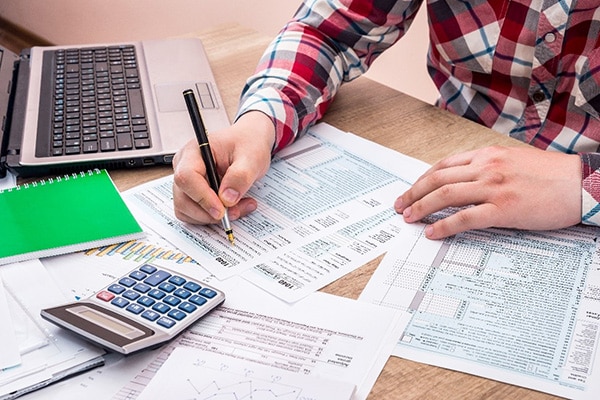 Tax Software Comparison: Find Inexpensive Tax Software
It's that time of year again – and it's not a popular one. But taxes are a fact of life, as Ben Franklin famously said: "In this world nothing can be said to be certain, except death and taxes." The most we can hope for each year around April 15 is that we're able to file our taxes quickly, easily and accurately. That's where tax software comes in.
Our tax software comparison targets the three most popular filing programs: TurboTax, H&R Block and TaxAct. Each one has pros and cons, from the cheapest tax software to the best customer support. We'll go over it all here.
Tax Software Features, Rated
What's the best tax software? The answer depends on what you're looking for. Our professional tax software comparison chart will help you find the best program for your needs, whether you want to save time, save money or get the most help to ensure your taxes are perfect.
*In addition to information found on each of the software's websites, we also pulled unbiased information from Money Crashers and Grasshopper.
Price
For most people, finding tax software deals is a top priority. If you wanted to pay a lot of money, you'd hire an accountant. The good news is that all of these companies offer free versions of their online tax software that's perfect for simple tax returns. No matter what you choose, buy early to get the best deals: prices rise on all tax software as the deadline approaches.
Overall, TurboTax is the higher-end option while TaxAct is the cheapest tax software. Check out the details below and see how you can get discounts from Coupons.com.
TurboTax
Deluxe: $40. If you own a home, donated to charity or have a lot of deductions.
Premier: $70. For investors or those with rental property who want to find the best tax breaks.
Self-Employed: $90. Industry-specific deductions, guidance with expenses.
With TurboTax being the higher priced of the three, be sure to check out TurboTax Coupons to save.
H&R Block
Deluxe: $30. If you own a home, have a health savings account or donated to charity.
Premier: $50. For investors, landlords or freelancers with expenses less than $5,000.
Self-Employed: $80. For small business owners with lots of expenses.
Compared to TurboTax, H&R Block is less expensive, but that doesn't mean you can't still save. Check out our H&R Block Coupons to make it even more affordable.
TaxAct
Deluxe: $30. If you own a home or have a lot of deductions, credits and adjustments.
Premier: $40. For investors, landlords or foreign bank accounts.
Self-Employed: $75. For freelancers and small business owners with lots of expenses.
Although it is the least expensive of the three, you can still take advantage of TaxAct Coupons to help keep even more money in your pocket.
Ease of Use
You're probably not an IRS agent, and you shouldn't have to be in order to do your taxes. The best tax software has clear instructions, a good user experience and an intelligent question system that anticipates your answers. Overall, H&R Block is the easiest tax software, while TaxAct is best for those who already generally know how to fill out their tax return.
TurboTax
Instructions are clear and easy to understand
Import prior year returns easily as PDFs
Helpful popups explain how to use the interface
Explanations and prompts when something doesn't look right
Mobile-friendly layout
H&R Block
Clear, easy-to-use interface
Interview questions are not always as intuitive as TurboTax
Import prior year returns easily as PDFs
Convenient "Help" button means you don't have to leave your page to get help
Requires you to complete the sections in order
Mobile-friendly layout
TaxAct
User interface is less intuitive
Interview process asks more irrelevant questions
Bookmark feature and at-a-glance feature are convenient
Can't import past years' returns, but can call them up if you used TaxAct before
Good readability, but not yet mobile-friendly
Value
Value is a complicated topic: it depends on your priorities, and how complicated your return is. All a tax software comparison can do is tell you which program might be right for you. We rated TaxAct the highest here because it is the cheapest tax software and offers a price lock guarantee, but if you have a complicated return or are inexperienced, you may want to pay the extra money for another program.
TurboTax
This is the most expensive but can be worth it for first-time filers or those who have complicated returns. It's also good for those who use other Intuit products, because they can import them directly.
H&R Block
H&R Block's free version is the most comprehensive, as it includes dependent care expenses and other situations that the other programs don't. Its clear questions and great support also make it a good choice for small businesses.
TaxAct
If you're a tax pro and don't need much help, this is the way to go. Plus, TaxAct offers a price lock guarantee – when you create your account you're locked into that price even if they raise their prices before you file.
Support
Unless you were an accountant in a past life, you're probably going to need some support. These options provide varying levels of support, and many options come with an extra fee, however, it's still a steal compared to paying for a CPA. With its free tax advice and in-person audit support, H&R Block wins this category. On the other hand, TaxAct provides very little support – but it's also the most inexpensive tax software.
TurboTax
Great customer support hotline with long hours
Dynamic, user-supported knowledge base to find your own answers
Screen share option and live video option
With TurboTax Live help (extra fee), you get a free CPA consultation and live advice
H&R Block
Get in-person help at hundreds of brick-and-mortar stores
Free in-person audit support for all users
Phone and chat support, but no live video
With the Tax Pro Review feature (extra fee), a CPA will review your return
TaxAct
Phone support and email support
No screen share or video chat
No way to run return by an actual tax professional
Does have several useful apps you can use throughout the year to keep track of your receipts and documents and calculate charitable donations
Speed
No one wants to spend an entire weekend doing their taxes. But inexpensive tax preparation software doesn't have to be slow. H&R Block's intuitive questioning, automatic imports and other features make it the winner in this category. TaxAct falls behind again here, as its long interview questions and complicated review process slow it down.
TurboTax
Intuitive questioning saves time by knowing your situation
Waits until both federal and state returns are complete to review them, which saves time
Auto transfers your federal answers to your state return
Can be buggy, and if you hit a glitch it slows you down a lot
H&R Block
Ease of use and quick support saves time
Separate reviews for federal and state slow it down slightly
Auto transfers your federal answers to your state return
TaxAct
Interview questions are not as intuitive, leading to some irrelevant questions
Waits until both federal and state returns are complete to review them
Complicated review process that isn't clear about what you need to fix can slow you down; however, you can skip the review if you're a pro
Features Available
The features available for each tax prep software vary widely by which price tier you choose. This tax software comparison will focus mostly on the best features of the Deluxe versions, a mid-range option that will include the components most tax filers need.
TurboTax
The TurboTax Deluxe version supports W-2, Form 1040 and all your 1099s, plus Schedule SE and Schedule C-EZ. It includes deductions for dependents, itemized deductions and a charitable donation calculator. You can easily import past years' returns as PDFs, and TurboTax offers accuracy review as well as assessing your audit risk automatically. TurboTax also has a great mobile interface that sets it apart from the other options for mobile filing.
Two add-on features also set TurboTax apart: TurboTax Live help allows you to screenshare and video chat with a certified professional. And the Expense Finder tool helps the self-employed find expenses that might quality as deductions. TurboTax isn't the cheapest tax software, and these features do cost extra, but it's still a great deal compared to paying a CPA full price to prepare your taxes.
H&R Block
The Deluxe version of H&R Block includes basic inputs like W-2, Form 1040 and child tax credits, plus forms for homeowners and the ability to itemize deductions. Forms 1099-R, 1099-INT and 1099-DIV are covered. The biggest difference between this program and TurboTax is that H&R Block Deluxe does not support Schedule SE and Schedule C-EZ. You'll need Premium for that. The Deluxe version will also take the extra step of creating your estimated tax payment vouchers.
It is worth noting that H&R Block's free version covers the most situations of all the programs in our tax software comparison, for example, student loan interest deductions and Schedules 1 through 6 for dependents. And it offers similar add-ons to TurboTax: Tax Pro Review lets a CPA review your return. However, because it has in-person help available, there is no video chat with H&R Block.
TaxAct
You might expect the cheapest program in our tax software comparison to be the lightest on features, and you'd be right. The TaxAct Deluxe version does include many of the same forms as the other two programs: W-2, 1040, and 1099s. One cool thing about TaxAct is that you can vary the level of help you receive by choosing the Step-by-Step Guidance feature for beginners. But overall, you're giving up some features in return for the cheap price.
Conclusion
Filing your taxes doesn't have to be stressful. You can save money and still ensure your taxes are accurate and on-time by purchasing inexpensive tax software instead of ponying up for CPA fees. And now that you know what to look for, your tax season will be even easier. Happy filing!