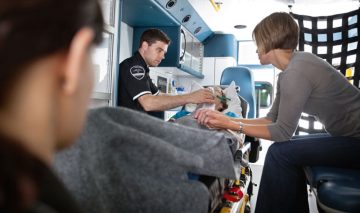 Taking Time off Work for a Family Emergency — What You Need to Know
Originally posted on https://www.injuredcalltoday.com/taking-time-off-work-for-a-family-emergency-what-you-need-to-know/
Employers understand that employees face family emergencies occasionally and might need time off work. Most employers try to be flexible and provide the needed time off, but they are mindful that some people will try to take advantage of the situation. That's why employers set certain criteria for family emergencies. First, you need to make sure your situation meets the criteria. Then, you need to understand how to request time off for your emergency. Following a specific process will help you get the time off you need to be with your loved ones.
What Is a Family Emergency?
Each company handles family emergencies differently. Some might provide more leeway than others. However, most companies agree that a true emergency is something that impacts the safety, health, or overall well-being of your family members. This includes your children, parents, and spouse. It can also include grandparents and other family members in some cases.
Death of a Family Member
The death of a family member is considered the most serious of family emergencies. When a loved one passes away, employers understand that employees need time off to make arrangements and grieve in private. This is often referred to as bereavement leave and is usually granted without much trouble. You can likely get bereavement leave if any of your family members pass away, including aunts, uncles, and cousins.
Companies usually have policies regarding the amount of time off provided for bereavement leave. The time might be based on the relationship to the employee. For instance, you might get more time off for a spouse or child than you would for a grandparent, aunt, or uncle.
Automobile Accidents
A serious car accident also constitutes a family emergency. If a family member suffers injuries in a car accident and requires special care, you will likely be granted leave. That way, you can be at home with your loved one during this difficult time. You should find a New York car accident doctor as well who specializes in car accident injuries and resulting pain.
You also might be given time off if you have to handle various legalities regarding the auto accident. For example, if your child is in a car accident, your employer might be willing to let you take off for a set amount of time so you can consult a lawyer if necessary. You will also need to take your child to medical appointments and that can extend the time of the leave. Employers often take this as a case-by-case basis. You will need to discuss your specific needs with your employer to determine a time frame for your return to work.
Emergency Surgery
If a loved one needs emergency surgery, you will want to be at the hospital. That is impossible if you are sitting at your desk at work. Employers generally understand this is a family emergency and will provide time off for you to be with your loved one.
Sick Children
If you have children, it is likely that one or more will become sick from time to time. Employees are often willing to grant time off to tend to sick children. However, they are also aware that some parents try to take advantage of this. If you use this excuse too often, your employer might do some grumbling and eventually stop granting your requests. Assess each situation and make sure that you need to take time off before requesting it.
How to Take Time Off for a Family Emergency
Regardless of how serious your emergency is, you can't just disappear without letting your boss know. You need to follow the proper protocol when taking time off for a family emergency.
Check the Manual
You should have an employee manual. Thumb through it before requesting emergency leave. The manual should list the amount of time you can take for various emergency situations.
Talk to Your Boss
Instead of sending out an email, talk to your boss. If you are at home, call your boss at the beginning of the business day to explain your situation. If you are at work, talk to your boss directly, if possible. Inform your boss about what is going on and explain why you need to leave. If possible, provide a time frame for your return. This isn't always possible immediately, though, since you might need to assess the severity of the emergency first. At the very least, let your boss know when to expect a call from you to discuss the matter further.
Sometimes emergencies can be remedied quickly. For instance, if your spouse is in an accident but not injured, you might just need to go to the accident site and provide a ride home. Then you can return to work. If you can, go back to work that same day to show your boss that you can be counted on to handle an emergency and get back to work quickly.
Offer Verification
If you need more than a few hours off to tend to an emergency, it is wise to provide verification. Bosses understand that people do have real emergencies, but they also know that some people try to game the system. By providing verification up front, you will prove that your emergency is valid. The verification you provide depends on the nature of the emergency. You might need a doctor's note, accident report, or even an obituary to prove that you have an emergency.
Send a Follow-up Email
When you request emergency leave, it is best to do it in person. However, send a follow-up email restating the details of the emergency leave. This will protect you in case your boss claims that you took off without asking first. This rarely happens, but anytime you miss work, it is smart to protect yourself.
Get Proper Care
Dealing with an emergency is a difficult situation. You need to request time off work and then handle the situation. Remember that your family member might need medical care after suffering an emergency. Make sure you find a New York injury doctor to help you through any medical care to remedy the situation quickly.