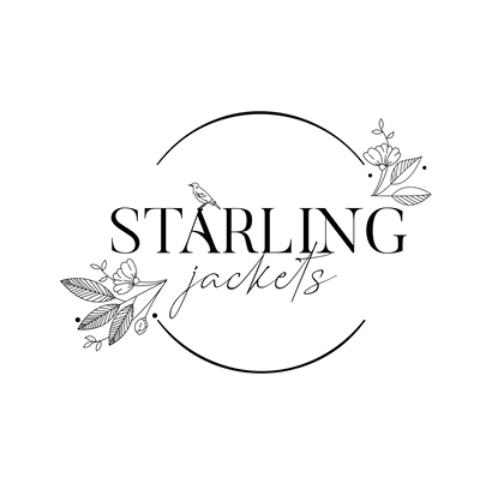 Starling Jackets Has Jackets for All Ages and Sizes
Starling Jackets is a jacket company based in Alberta, Canada where the main focus is customer service. Upcycled and new, they've made sure that even though their products are fancy, jackets are still durable.
FOR IMMEDIATE RELEASE
Alberta, Canada, 10 January 2022 – We've all experienced the heartbreaking situation of finding the ideal product on Pinterest just to find out the link is broken or it takes you to a website full of spam: that happened to Jay, founder of Starling Jackets, who after years of scrolling through the platform and finding really cool jackets only to have the pin connected to a questionable definitely overseas website or nothing at all, decided enough was enough and decided to create a fashion brand where people can not only access them but also talk to a real person available to answer all of their questions. Jay, is a mom, rancher, photographer, co-owner of a construction business -among many other things- that believe that the only way to live life is to just go for it, whatever it is, and by being under that motto, she got into the fashion business and she launched Starling Jackets.
Starling Jackets is based in Northern Alberta, Canada, and offers a variety of beautiful designs made on different materials and available in multiple sizes. Something truly important to the creator that wanted to have all ages and sizes covered and not just design for the young and thin, as many other brands usually do. The offered jacket materials are stretchy denim, regular textured denim, and even white leather customers will be able to match their buy with any outfit they want. And with a beautiful collection of floral embroidery that comes in pink, yellow, white, red, purple, and blue, you'll be able to choose the color that speaks to your personal style. Among their special offers, they also have the Emmy and Haven Women's Denim Jackets: the first one offers 3D flora embroidery while the second offers beautiful 3D black embroidery wings.
Also at Starling Jackets, you can custom your own wedding jacket. And once you pursue your first jacket thanks to their top-quality service and beautiful designs, you'll certainly become a lifetime client. As one of their clients expressed in their comment section: "There is something so gratifying in buying a product from a business that you know has worked so hard to create each and every single item. When I first saw these jackets, I was blown away because trust me when I say they're even more beautiful in person! I'm obsessed with my jean jacket and with its beautiful red florals on the back, it is stunning!"
For more information regarding Starling Jackets', you can click here to visit their website https://starlingjackets.com/ and scroll through their in-stock jackets or send them a message to get one done up just for you. They offer free shipping and a 21-day return policy, yet don't forget that before making any purchase you should check the measurements on your selection to save you -and the company- the hassle of return shipping!
About the company: Based in northern Alberta Started because I was looking for it myself. Our main focus is customer service and actually being able to talk to someone if you have questions.. a real person behind the product. Our jackets are upcycled and new. We've made sure that even though the jackets are fancy, they're also still durable. We recommend a cold wash and hanging to dry, however some custom orders may require more care. We offer fully custom orders, or you can send us your jacket to get customized. We offer free shipping and a 21-day return policy.
Media Contact
Jenessa McLean
Starling Jackets
https://starlingjackets.com/
Originally posted On: https://syndication.cloud/starling-jackets-has-jackets-for-all-ages-and-sizes/