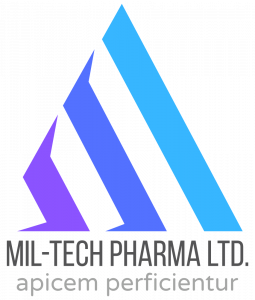 Soldier Owned Company Expands Operations Due To Exports Spike During COVID-19
FOR IMMEDIATE RELEASE
London, UK, 25 May 2021 – Mil-Tech Pharma develops and releases a second product after a 95% increase in export sales during the past 12 months.
"Our rising export tally has paved the way for further product development," said Ben Bunting
Mil-Tech Pharma Ltd building on the success of Military Muscle is releasing a second vegan-friendly product called Fertiligy.
While the world has been battling through the pandemic, Mil-Tech Pharma saw a significant boost to their sales as people sought to keep fit and healthy around the world.
Ben, the founder of Mil-Tech Pharma was also deployed with the army as part of the governments' track and trace rollout which added extra strain towards steering the company through uncertain times.
Yet with significant rising sales, this has allowed the company to invest in further research and development of additional products. Furthermore, they have now identified manufacturers and a distribution hub within New York and New Jersey respectively which are primed and ready to go for dispatch from the 1st of May 2021. This additional logistics chain should improve customer service and satisfaction.
Ben, a serving soldier, and founder of the company said:
"The company saw significant growth during the past 12 months that we hadn't initially anticipated. Our first product was produced and exported from the UK to the rest of the world, the only continent we didn't ship to was Antarctica! I have a certain pride behind our export record, especially as it has been so well received from customers around the globe"
Mil-Tech Pharma (with offices based in Houston and London) is striving for the second offering to become just as successful as their initial vegan-friendly product which casts the net further to attract those who stick to a meat-free diet or are just more conscious about what they consume.
Ben also added:
"This is a really exciting phase of our development. It was fantastic to export a top-quality product to so many regions of the world when the future was so uncertain, but now it's even more exciting to expand our footprint to the US which is such a hugely important market and milestone for us…furthermore, while I wouldn't say we are pioneers in what we do, we are very conscious of the finer details relating to peoples preferences and environmental concerns which is our USP."
Mil-Tech Pharma's main office is based at 27 Old Gloucester St, London, WC1X 3AX with a satellite location at 10685B Hazelhurst Dr., Houston. TX 77043.
Head over to miltechpharma.com to find out more about the company's ethos and their research.
Media Contact
Ben Bunting
MIL-TECH PHARMA LTD
27 Old Gloucester St., London, WC1N 3AX, UK.
07477926402
https://miltechpharma.com
Originally Posted On: https://syndication.cloud/soldier-owned-company-expands-operations-due-to-exports-spike-during-covid-19/