SoFi Stadium: Los Angeles Football Stadium Guide for 2021
Photo by Edward de la Fuente
Originally Posted On: SoFi Stadium: Los Angeles football stadium guide for 2021 | Itinerant Fan
In just four short years, the NFL's presence in Los Angeles went from nonexistent to vibrant with the arrival of the Rams and Chargers. And in 2020, the two teams got a new playground in SoFi Stadium, which promises to set a new standard in live football-watching.
Coming in with a price tag of $5 billion, making it the most expensive stadium ever built in the NFL, SoFi Stadium promises to usher in several technological enhancements to the live viewing experience — foremost among them being the oculus videoboard that will hang over the playing field.
The facility will also have a transparent roof, which doesn't seem to make much sense in sunny Southern California until you consider all of the other events the stadium has already booked.
Super Bowl LV in 2022, the College Football Playoff national championship game in 2023 and events during the 2028 Summer Olympics are already coming. And in addition to NFL games, a new college football bowl, the Los Angeles Bowl, will begin play in December 2021.
SoFi Stadium opened with plenty of fanfare despite both the Rams and Chargers playing without fans in 2020 due to the COVID-19 pandemic. Both fan bases have gotten sneak peeks at the facility, though, and the hope is that full stadiums in the fall of 2021 will showcase its full potential.
The Rams and Chargers moved into their new stadium after spending several seasons at the Los Angeles Memorial Coliseum and Dignity Health Sports Park, respectively. For both, the arrival was long-awaited after decidedly different stadium experiences.
The NFL is also relocating its media operation, including its NFL Network studios, to the Hollywood Park campus from its longtime home in nearby Culver City.
Getting to the stadium
SoFi Stadium is located in the L.A. suburb of Inglewood, a few miles east of Los Angeles International Airport — close enough that it's common to see planes fly directly overhead as they prepare to land.
For SoCal sports fans of a certain age, the location is familiar because of the Forum, the one-time home of the Lakers and Kings, and the Hollywood Park racetrack, which was demolished to make way for the stadium. But for visitors, Inglewood might not be all that familiar.
The stadium is accessible via two major Southland freeways, Interstates 405 (San Diego Freeway) and 105 (Century Freeway). From the 405, use either Manchester or Century Boulevards and head east; from the 105, exit at either Prairie or Crenshaw and head north.
As of now, it's likely that driving and parking will be by far your best way to get to SoFi Stadium. The Crenshaw line of the L.A. Metro rail system is a few years away from opening; it'll have a stop in downtown Inglewood about two miles away, and the city of Inglewood is considering building an additional transit link directly to the stadium site. The infrastructure is likely at least a few years away.
No definitive word yet, also, on whether special event buses will run on game days.
Parking at SoFi Stadium
The stadium is surrounded by an extensive set of parking lots, part of what will eventually become a residential and retail complex that will keep patrons coming to the site even when there are no events at SoFi Stadium.
Access to the parking lots surrounding SoFi Stadium will be available via Century Boulevard, Prairie Avenue and Pincay Drive. Lots are divided into color-coded zones; expect the most prime spaces to be available only to season-ticket members.
It remains to be seen how much general parking will be at SoFi Stadium but expect a minimum of $25 considering the going rate at most Los Angeles-area sporting events.
Inglewood hotels near SoFi Stadium
A handful of commuter hotels and motels are within walking distance of the stadium. But if you're looking for a larger inventory and/or a better selection of brand-name hotels, the area around LAX is your best bet.
Century Boulevard leads directly into the airport and is lined with hotels for a two-mile stretch. A stay in one of these hotels would put fans within three miles of SoFi Stadium.
• Motel 6 – Inglewood – 1.2 miles away
• La Quinta by Wyndham Inglewood – 2.1 miles away
• The Westin Los Angeles Airport – 2.8 miles away
Search for more Inglewood hotels on Booking.com.
Map of the surrounding area
Things to do around the stadium
The retail complex planned for the SoFi Stadium site will be located on the corner of Prairie Avenue and Century Boulevard, and is currently under construction. Early reports indicate the complex will include a movie theater, a brewpub and a fitness center.
It seems likely that the center will contain numerous restaurants catering to football fans, similar to other entertainment centers being built near sports venues — L.A. Live near Staples Center being a perfect example.
The Hollywood Park Casino, a remaining vestige of the old racetrack, remains operational and continues to attract patrons to its new building along Century Boulevard.
Beyond the Hollywood Park site, several large big-box shopping centers located on Century Boulevard serve the Inglewood community, and you can find a few independent restaurants in the area, too. There figures to be an influx of traffic in these areas on days of SoFi Stadium events.
Keep in mind that a new arena for the NBA's LA Clippers is slated to be built in Inglewood, across Century Boulevard from the stadium site. The facility will open in 2024. In addition, the Forum continues to operate as a major concert venue.
Inglewood restaurants near SoFi Stadium
• Century Bar & Grill – American, 0.2 miles away
• Lee's Caribbean Restaurant – Caribbean, 0.3 miles away
• Bourbon Street Fish – seafood, 0.3 miles away
Search for more Inglewood restaurants on Tripadvisor.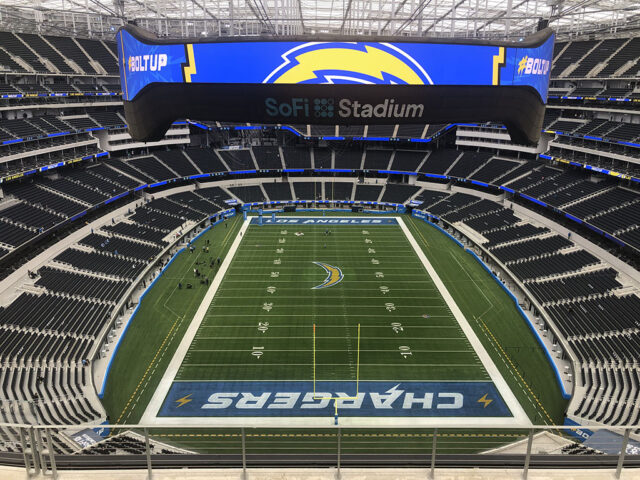 Watching a game at SoFi Stadium
The true experience of watching a game at SoFi Stadium will not be known until the 2021 NFL season, when Rams and Chargers games and other stadium events are expected to (finally) be open to ticketed fans.
However, recent open houses held by both teams gave their season ticket members a chance to explore the building and get a chance of what the atmosphere will be like when fans fill up the seating bowl for SoFi Stadium events.
Patrons will be flowing into the stadium through large entry gates on both the north and south ends, but for dramatic effect you might want to check out the south side, facing Century Boulevard. A small park fronts the stadium, complete with lake and a large SoFi Stadium sign (see the image at the top of this guide).
Once you're through the turnstiles, you're in what has been branded American Airlines Plaza, covered by part of the roof overhang and meant to serve as a gathering spot for fans — expect live music and sponsor booths to set up shop here on game days. The stadium team store, called the Equipment Room, is also in this area.
Walk through the plaza and you'll get your first glimpse at the field, the seating bowl and the awe-inspiring oculus board that hangs over it all. If you've visited some of the NFL's newer, behemoth stadiums, you might feel like SoFi Stadium's seating bowl doesn't feel as overwhelming by comparison — that's one effect of the fact the venue was built lower into the ground than normal because of its location beneath the LAX approach path.
You might also notice that the roof acts more like a canopy than an enclosure, and on breezy or windy days you'll definitely feel a draft coming through the stadium. Meanwhile, the sun coming through SoFi Stadium's translucent roof could present a problem on warmer days, depending on where you are in the seating bowl.
SoFi Stadium's entry level, at the top of the 200 seating level, does not have a concourse that wraps around the stadium; that's because the areas behind the parts of the seating bowl along the sidelines in the lowest levels are set off as premium spaces.
Most are meant only for VIPs and season seat holders, but some lounges are a little more accessible, such as the SoFi Member Lounge that's open to customers of the financial service.
Fans have only gotten glimpses of what the SoFi Stadium food scene will be like, with names like Olvera Tacos and Sawtelle Food making references to local hotspots. While no menus have been revealed, so far there's been nothing to make it seem like the concessions options will venture very far from standard stadium fare.