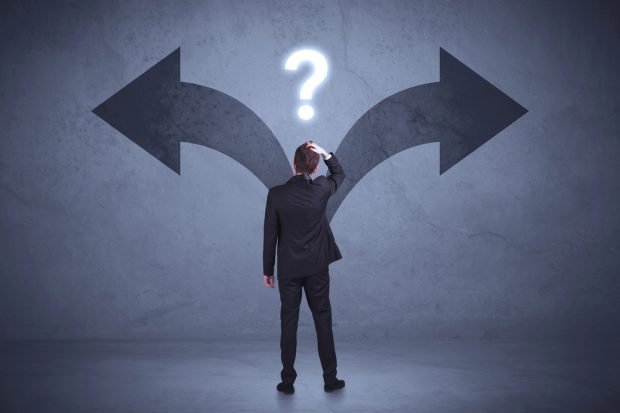 Should You Be Your Own Boss or Have a Boss?
Originally posted on https://www.thefranchiseking.com/be-your-own-boss-have-boss
I'm not sure if you're aware of it or not, but there are literally thousands of people who, like you, are asking themselves if they should be their own boss or continue to have a boss.
Now, I can't answer it for them…or for you. Heck, I don't know if you should be your own boss. And I certainly don't know if you should have a boss…if you should be an employee. That's because it's a very personal thing. But I'm confident that I can help you compare these two options, intelligently, so you can make a rational decision. Let's begin.
Start With Your Why
Why are you thinking about becoming your own boss now? What's going on in your life? Could the thought of becoming your own boss have to do with the current state of your career?
For instance, are you going through what Terry just experienced?
Or are you stuck in a job you hate?
Am I warm? Hot?
Alternatively, could it be that you've always wanted to own your own business, and you feel that the timing is right?
Nevertheless, whatever the your reason is, you need to determine if it's a strong enough reason to move forward. To not have a boss. It may not be. (That's okay!)
Having a Boss Isn't Necessarily a Bad Thing
I own and operate a website that's focused on providing useful, straightforward information about franchising…about being your own boss.
But franchise ownership…business ownership is not for everyone.
That's because, for some, working for someone else works out great. I know lots of people who have been able to reach their professional, personal and financial goals as employees. After all…
If you have a boss, it means that you:
Have a job
Receive a steady paycheck
Have benefits
Probably have paid vacations
Have stability*
It's all good.
Not really.
That's because I'm putting the kibosh on this whole"working for someone else is wonderful" crap, right now. Here goes.

*This "stability" thing is a lie. Not my lie. Theirs.
Because when you're an employee, your employer can pull the rug out from under you any damn time they please. In other words, you can get fired at any time. So much for stability.
The Bottom Line?
If you choose to work for someone else, they have the power. Period.
And chances are, at some point in your career, you'll be downsized, fired, or laid-off. It's not that uncommon these days.
Of course, either are the days of working for the same company for 30-years.
Heck, the days of having one career are history.
How About 7 Careers?
According to Steven S Little, today's college graduates will have 7 different careers. Not jobs. CAREERS.
Given these points, it's fair to say that working for someone else has its pluses and minuses.
So if you decide to remain an employee, for sanity's sake, try to embrace the pluses and accept the minuses.
Because you could end up being just fine.
Check out these excellent career resources:
The Be Your Own Boss Option
It's a fact that a lot of people want to be their own boss.
On the other hand, lots of people don't.
Then there are those who vacillate between keeping their job or becoming their own boss, depending on their level of career pain.
In any event, one thing is certain; the decision to become your own boss is a major one. It can be is life-changing. I know this from experience.
And if you do it right, if you take your time and focus on getting the facts about whatever entrepreneurial option you're interested in pursuing, great things can happen.
That's why it's important to look at today's "be your own boss" options. You'll find them below.
Start a Business From Scratch
Do you have a business idea?
Has something been percolating inside you that needs to see the light of day?
Do you have a new product or new service idea that's ready for prime time?
If so, what are you waiting for?
The three possible answers to that question include:
1. The right time
2. Money
3. Lack of courage
I feel you.
But if you didn't give your idea a try, is it something you would regret in your later years?
"In every success story, you will find someone who has made a courageous decision."
—Peter F. Drucker, management consultant, educator, and author
Suggested Reading: 6 Steps to Starting a Business From Zero
Suggested Video: Guy Kawasaki* on Entrepreneurship
---
Originally posted on YouTube by vlabvideos
*Shortly after I started The Franchise King Blog, I was lucky enough to be asked to contribute some of my franchise expertise to one of Guy Kawasaki's projects. It was wonderful, and I got to meet him in Las Vegas at a conference. Anyway, he's written several book that are perfect for people who want to start a business. Check out Guy Kawasaki's books.
Finally, if you decide to start a business from scratch, you get to make the rules.
In short, you get to decide:
Pricing
How to get to market
Business structure
And more.
As a result, it's 100% pure entrepreneurship. But there's another way to start a business. It's less entrepreneurial…way less, but you can get to market quickly.
Open a Franchise Business
Did you know that when you open a franchise, almost everything you need to get your business up and running is provided? It's one of the major reasons why the franchise business model works so well.
Important! Make sure you have a good understanding of franchising. You need to know the definition of a franchise, and how the business model works.
Suggested Video: Why Are Franchises Such a Thing?
---
Originally posted on YouTube by Joel Libava
Here are a few of the things you get as a franchisee:
Proven business system to follow
Detailed operating manual
Formal training
Tested marketing system
Useful technology
Branding
Support
Purchasing power
And more.
In a nutshell, you get everything you need to start a business. But there are a few negatives.
The Drawbacks of Owning a Franchise
I concede that franchising, as a business model, isn't perfect.
For instance, just like in any industry, there are bad players.
Specifically, these are the people who sell franchises as "businesses in a box," and/or spit out bogus franchise business success rates.
In addition, when you buy a franchise, what you're really doing is buying someone else's business idea.
That said, there's nothing wrong with that unless you've always wanted to start a business using your idea. If that's the case, your enjoyment as a franchise owner will be short-lived. That's because you'll keep wishing that the business you own was something you started. And that could turn into a major resentment—especially since you'll be paying royalties* every month to the person who did come up with the idea. Does that make sense?
About Royalties And Systems
*When you own a franchise business, you'll have to pay a percentage of your monthly sales to franchise headquarters. These payments are know as "royalty" payments, and they can vary from 4%-10% or more.
For example, let's say you own a franchise business that does $700,000 in annual revenue.
Your franchise agreement states that 5% of your revenue goes to the franchisor.
That means that you'll be sending your franchisor $35,000 a year in royalties. That's a lot of money!
But remember, the franchisor is the one who came up with the business concept you now own and operate in your local area.
In addition, the franchisor supplies you with the business systems, technology, marketing plan, and the support you need to operate the business effectively.
Finally, there's an upfront Franchise Fee. (Normally $30,000-$60,000.)
That fee is what gives you the right…the license-to operate the business.
Questions?
Suggested Reading:
The Ultimate Guide to Franchising
How to Buy a Franchise, Step-by-Step
Should You Use a Franchise Consultant?
Another Way To Be Your Own Boss
There's one more way to be your own boss:
You can buy an established business.
Fact: You may not know this, but dozens of businesses are bought and sold every day.
The reason you probably don't know this is that they're usually under the radar.
These businesses are under the radar because a lot of times they're not advertised. It's not like you knew they were for sale to begin with.
So, should you look into buying an existing business?
How To Find Local Businesses For Sale
What if you could be your own boss by buying an established business in your local area?
I'm talking about a business that's up and running. A business that's already bringing in revenue. A business you could take over and add your own imprint to.
If that sounds attractive, it's relatively easy to find existing businesses that fit the bill.
Basically, all you have to do is contact a local business broker or two, and see what's for sale in your neighborhood.
To find a local business broker, head over to The International Business Broker's Association website.
Once you're there, all you have to do is type your zip code in the search box on top. Once you've done that, contact information for business brokers near you will display. Just select a couple of them, and send an email or just dial them up. Then ask them for information on businesses for sale.

(My dear friends, Amber and Phil Madow, purchased Salon Savvy in Plantation, Florida,  from the previous owner. That's Amber.)
Pros And Cons of Buying an Established Business
For some, buying someone else's business can be a good way to go. But there are a few pros and cons you should know about.
Pros:
Money will be coming in from day one
You'll have an existing customer base
Numerous vendors are already in place
You'll have the freedom to grow/operate the business as you see fit
Your business has instant name recognition
On the flip-side:
1. Due diligence may be challenging; business records may not be well-organized.
Not only that, the "books" may not show all of the income.
For instance,  some small businesses (for tax purposes) may show low-profits. That could make it hard for you to get a small business loan to buy the business.
2. The given reason may not be the true reason the business is for sale.
For example, the owner may tell you that she's selling the business because her kids "have no interest in taking it over." That's fine. It certainly sounds legit in this day and age. Unless of course she's lying.
Call me skeptical, but what if there's another reason? One that has absolutely nothing to do with her kid's lack of desire to take over her business.
In view of that, could it be that the business is not doing that well? Are there problems in the business-or in the business model that aren't apparent?
3. Growth may have already peaked.
To that end, as much as you'd like to think that your business ideas can significantly increase revenue for the business (if you become the owner), it may well be that the business has already reached it's maximum revenue numbers.
The Process of Buying a Business
4. The process of buying an existing business tends to be lengthy.
In fact, it can take 6 months or more to become the new owner.
To be sure, a lot of it depends on the current owner, and how much she cooperates, especially when it comes to opening the books to you-and your accountant.
In addition, financing may be difficult to obtain. If that's the case, the current owner may have to jump-in and finance part of the deal…as in "Owner Financing."
In the end, buying an existing business is a fairly common way to become your own boss. People just like you, all across the country, are looking at existing businesses as we speak.
To learn more about buying a business, check out these fine articles:
Lessons Learned on Buying a Business
Buy a Business From a Retiring Entrepreneur
On Purchasing an Existing Business
Should You Have a Boss or Be The Boss?
I'm going to end this post the same way I started it:
I can't answer this important question for you. I'm not you. But the fact that you've read it says a lot.
Evidently, there's something going on in your life…something career-related that's brought you to this point.
Hopefully, the information I shared helped.
And if you ever want to talk about any of the career alternatives above, shoot me an email or give me a call.
P.S. If you feel that this post would be helpful to others who may be experiencing career pain, please click one of the sharing buttons on the left side, and share this article.
Thank you!