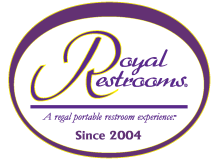 Royal Restrooms Provides Luxury Portable Restroom Trailers for Special Events
FOR IMMEDIATE RELEASE
Garden City, GA, November 16, 2022— Royal Restrooms is your local provider of executive luxury portable bathrooms and shower trailers for weddings, festivals, private parties, special events, office remodels, black tie events, and disaster relief. We provide short-term and long-term restroom trailer rentals. Our portable restroom trailers will 'wow' your guests with Royal Restrooms' cleanliness and superior Platinum Customer Service.
Our luxury porta potties provide upscale, sparkling clean, unique event experiences for formal and informal events, and are so many times "The Topic Of Conversation." Our units take water and power if you have it available, and can also operate autonomously without external power or water.
A premium provider of luxury portable restroom rental services across the USA in over 50 offices including California, Louisiana, and Alabama to name a few. Contact us today to reserve your very reasonably priced upscale portable bathroom trailer for your special event.
About Royal Restrooms: 
Royal Restrooms is a USA provider of luxury portable restroom trailers to rent for weddings, special events, and long-term rentals.
Media Contact: 
David Sauers
Royal Restrooms
2402 US Hwy. 80 W, Garden City, GA 31408
912.234.6800
Originally posted On: https://syndication.cloud/royal-restrooms-provides-luxury-portable-restroom-trailers-for-special-events/