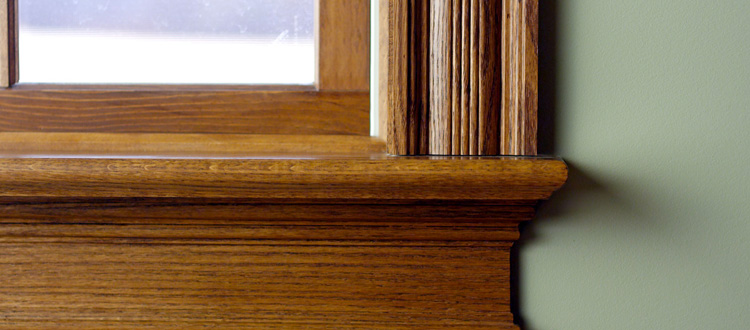 Red Oak's Big League Comeback
Photo From bairdbrothers
Originally Posted On: https://www.bairdbrothers.com/blog/how-to-beautify/red-oaks-big-league-comeback/
Red Oak is more modern than you think! So, toss aside your faded memories of 1990s (and those infamous honey-brown kitchen cabinets) and take a step into the 21st century, because there are a variety of Red Oak finish options to keep pace with contemporary renovation and design.
Red Oak is a go-to for woodworkers and homeowners, alike. It's strong. It's versatile. And, it's moderately priced (basically the trifecta of hardwood options). Let's take a quick look at the trends and techniques that are leading the charge in Red Oak's worldwide comeback.
Red Oak: A Durable And Dependable Hardwood
Red Oak has been used in a variety of applications for centuries. Why? Because professionals know what to expect (especially in the cabinet/trim world).
It stains and finishes well, making it easy to incorporate into a variety of designs, and offers a straight grain that responds well to sanding and prep.
On the Jenka Hardness Table, Red Oak sits at 1290, just shy of Ash and White Oak (1320 and 1360, respectively). The Janka hardness test measures the force (pounds/square inch) required to embed a .444 inch steel ball to half its diameter in the wood. This is especially important when considering hardwood flooring, as the species' hardness helps stand up to everyday wear and tear.
Contemporary Design Trends
If you follow along with building and design shows (like PBS's This Old House or HGTV's formerly popular Fixer Upper), you've probably noticed an uptick in the popularity of distressed or rustic design elements.
Interestingly, Red Oak fits seamlessly into this trend.
Whether stained, painted or cerused, this wood's natural grain and uneven texture are amplified by stains and finishes. Paint absorbs evenly (similar to Birch) and delivers a beautiful, natural finish no matter the color used.
Cerused, You Say?
Never heard this term before? Well, it's time to get onboard!
According to BobVila.com, ceruse first made history in the 16th century as a cosmetic product for European high society before it ever wound up on furniture. So, when it was repurposed by craftsmen into a decorative finish for wood, the technique was dubbed "cerused wood."
Cerusing, sometimes called a lime finish, is a technique used to draw out the character of the wood grain. Modern applications use liming wax or paint to give the finished product a distressed look without damaging the wood itself.
This particular technique is much less messy than whitewashing and bleaching, and creates a weathered finish that mutes the wood's original color while allowing the natural grain patterns to show through.
"Rustic," finished Red Oak elements fit seamlessly with a variety of architectural styles, including Traditional, Contemporary, Craftsman and more! From cabinets and furniture to flooring and mouldings, Red Oak may very well be the best hardwood option for your project!
Red Oak Hardwood Products
At Baird Brothers Fine Hardwoods, you'll find numerous Red Oak products: flooring, S4S, plywood, lumber, mouldings, stair parts and more!
We take great pride in both the onsite manufacturing and retail of a variety of hardwoods and are happy to help with any project—big or small! Looking for more inspiration or insight? Download our catalog or reach out to one of our experienced team members by calling 1-800-732-1697.