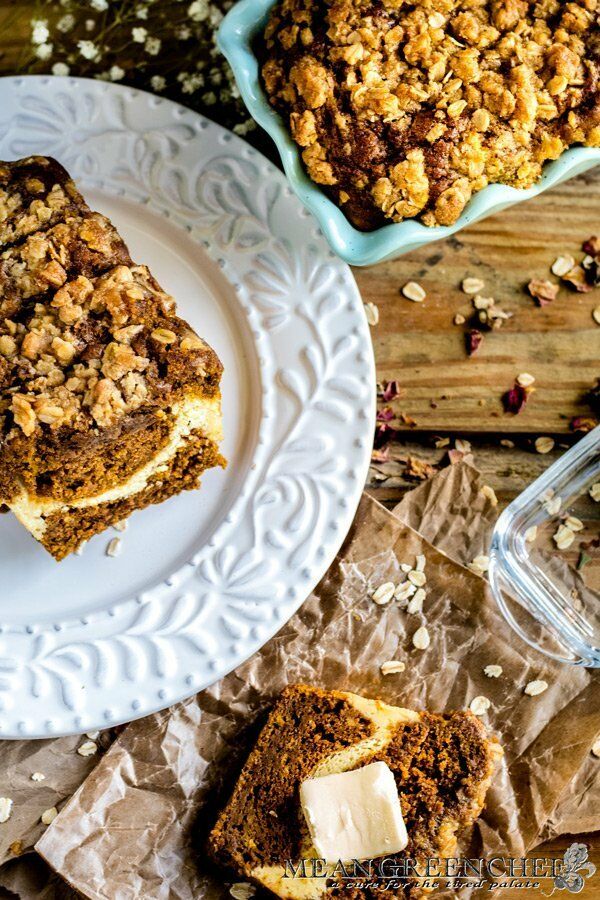 Pumpkin Cream Cheese Bread
Originally posted on https://www.meangreenchef.com/pumpkin-cream-cheese-bread/?fbclid=IwAR3jlTgKtTW5x4NPzJzSpvPMgdP2FfU1OJlPNIUw2iKPO0DeOHlvadgaiOU
Pumpkin Cream Cheese Bread Recipe fluffy, rich, moist and dripping with notes of pumpkin spice, and everything nice! This bread has a marvelous flavor and texture, so much so that it's been a family recipe that rings in fall and the promise of all things comfort.
After making Pumpkin Caramel Cheesecake for years, I decided to combine cheesecake into this luscious bread. And the results are outstanding and perfect for cool breezy fall days. Warm out of the oven with a pat of butter or drizzle of glaze it will have your family and guests lined up for more.
This recipe is for a single loaf, but I highly recommend making 2 because it goes fast!
Our Pumpkin Cream Cheese Bread is all Fall with a cheesecake-like center! In short, it ridiculously good and serves as an amazing quick bread recipe for breakfast and it doubles as a dessert when topped with a rich vanilla glaze, totally indulgent.
Plus, it's so easy to make you won't believe it! Get your ingredients in line before baking (mise en place) it's essential when making any recipe and makes time management spot on.
This bread tastes even more amazing on the second and third days after baking. The pumpkin and spice really infuse and will wow you! Fall is such a special time and always has been in our family, the creative outlet in the kitchen from savory to sweet is never ending.
Homemade Pumpkin Cream Cheese Bread
Adding a cheesecake layer to our Pumpkin Bread Recipe took this recipe to new taste levels! Get all of your ingredients sorted and in place, with bowls, prep your loaf pan and turn on your oven and then get to mixing! Below you'll find step by step directions to get it done and plated.
What Ingredients Do I Need for Pumpkin Cream Cheese Bread?
eggs
allspice
nutmeg
cinnamon
Greek yogurt
Pumpkin puree
pure vanilla extract
dark brown sugar
unsweetened applesauce (or vegetable oil)
baking soda
baking powder
all-purpose flour
pink Himalayan sea salt or Kosher sea salt (finely ground)
Ingredients for Cream Cheese Filling
egg
sugar
cream cheese
pure vanilla extract
all-purpose flour
Can I Make This Pumpkin Bread Without the Cream Cheese Layer?
Yes! It's an amazing Classic Pumpkin Bread Recipe on its own and if you don't do cream cheese then you can certainly make this without the filling! But if you do like cream cheese and all things cheesecake then be sure to take this extra step, trust me it's worth the little bit of time it takes.
Cinnamon Oatmeal Crumble Topping
Our Cinnamon Oatmeal Crumble Topping is the perfect choice to add a bit of texture that finishes off this bread to the best bakery standards. A simple mixture that provides maximum results, be sure not to skip this delicious seasonal crumble! You'll find the ingredients and directions in the recipe below.
What's the Difference Between Pumpkin Puree and Pumpkin Pie Filling?
Pumpkin Puree: Also known as canned pumpkin is cooked pumpkin with no additional flavorings. Pumpkin in its purest form unless you are making your own puree fresh from the pumpkin. We opt to use organic canned from Libby's.
Pumpkin Pie Filling: Canned pumpkin sweetened and flavored with a variety of spices such as allspice, ginger, cloves, and cinnamon. It's the fast method of creating a pumpkin pie.
How Do I Make Pumpkin Puree from Scratch?
It's really simple actually and you'll get a huge yield of pumpkin puree from a single pumpkin too! To make Homemade Pumpkin Puree follow these directions and you'll be good to go!
Ingredients for Making Homemade Pumpkin Puree
(1) 4-6 pound baking pumpkin washed and dried
Kosher sea salt
Directions for Making Homemade Pumpkin Puree
Heat the oven to 400°F/204°C
Slice a small piece of skin off the one side of the pumpkin so when laid on its side, the pumpkin will lay flat without rolling. Remove the stem and split the pumpkin in half from top to bottom, using a large cleaver and a mallet. Scoop out the seeds and fiber with a large metal spoon or ice cream scoop. You can reserve the seeds for drying and toasting later on.
Sprinkle the flesh with kosher salt and lay the halves, flesh side down, on a parchment paper-lined half sheet pan. Roast until a paring knife can be easily inserted and removed from the pumpkin, 30 to 45 minutes. Test in several places to ensure doneness.
Remove the sheet pan to a cooling rack and cool the pumpkin for 1 hour. Using a large spoon, remove the roasted flesh of the pumpkin from the skin to the bowl of a food processor. Process until the flesh is smooth, 3 to 4 minutes. Store in the fridge for up to 1 week or freeze for up to 3 months.
Best Pumpkin Patches to Visit This Fall in the USA
Mix-Ins for Pumpkin Bread
If you want to get a little more creative then throw in a handful or two of mix-ins.
raisins
currants
grated coconut
chocolate chips
chopped pecans
chopped walnuts
Step by Step How to Make Pumpkin Cream Cheese Bread
Cream Cheese Filling
Add the egg, sugar, room temp cream cheese, vanilla extract, and flour to a glass bowl.
Beat on medium-high speed until well combined and silky.
Cinnamon Oatmeal Crumble Topping
Add the flour, light brown sugar, baking powder, cinnamon, and sea salt to a glass bowl whisk to combine. Add the chilled butter and cut in with a pastry cutter or fork until peas sized lumps form. Add the oats and mix until clumps form into crumb topping. Place in the fridge until needed.
Pumpkin Bread Batter
Combine the egg, allspice, nutmeg, cinnamon, Greek yogurt, pumpkin puree, vanilla extract, dark brown sugar, and unsweetened applesauce.
Whisk to combine thoroughly.
Then add the baking soda, baking powder, flour, and sea salt.
Stir gently with a rubber spatula until just combined. If you like a tender, moist, bread then DO NOT beat the batter it likes to be treated gently. With this in mind fold in the flour with care.
Assemble the Pumpkin Cream Cheese Bread
Pour or scoop about ⅔ of the batter into the bottom of the prepared loaf pan.
Evenly pour the Cream Cheese Filling on top, smooth with a rubber spatula.
Then pour the rest of the Pumpkin Bread Batter over the top, gently smooth the batter so it covers the top of the cream cheese filling. Again we are being gentle here so we don't disturb the Cream Cheese Filling. Top with Cinnamon Oatmeal Crumble.
Bake for 40 minutes and then test the center with a toothpick inserted in the center, it should come out clean, or with just a few moist cooked crumbs, not raw batter. The top should be domed and golden and the edges golden brown too. If golden and not cooked then tent with foil and cook an additional 10 minutes. Remove from the oven, and cool bread in the pan on a rack for about 15 minutes. Turn out on a wire rack and cool for another 15 minutes if needed.
Slice to desired thickness and serve with a pat of butter or or a sweet drizzle of icing!
Quick Vanilla Glaze Recipe
Add powdered sugar, milk and vanilla to a bowl and stir until well combined. it the glaze is to thin add a little more confectioners' sugar and to thick add a bit more milk.
1 1/2 cups confectioners' sugar
2 tablespoons milk
1/2 teaspoon pure vanilla extract
Can I Store Pumpkin Bread on the Kitchen Counter?
Maximize the shelf life of pumpkin bread, cover with plastic wrap or place in a zip bag to prevent drying out. Properly stored, freshly baked pumpkin bread will last for about 1 to 2 days at normal room temperature.
How to Refrigerate or Freeze Pumpkin Bread
Refrigerate up to 5 days in an airtight container (after fully cooled).
Pumpkin Bread can be easily frozen. Cool the bread completely. Tightly wrap it in plastic wrap. Then, wrap in aluminum foil or place it in freezer bags. Freeze for up to 3 months. Defrost at room temp before slicing.
Please Pin Our Recipe to Share with Your Friends!
How to Make Pumpkin Cream Cheese Bread
---
Originally posted on YouTube by Mean Green Chef
Looking for some more fall recipe inspiration? Then you'll want to check put out our Pumpkin Spice Cheesecake which we hit with a dose of warm caramel.
and our Pear and Almond Cream Cheese Tart makes for a beautiful fall dessert for any table!