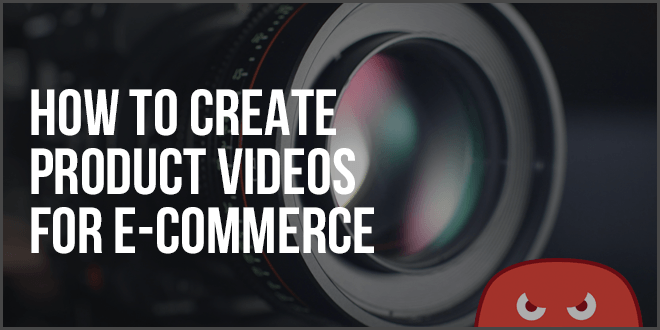 Product Video Marketing: The Secret to E-Commerce Conversions
Originally posted on https://www.thehoth.com/blog/product-video-marketing/
If you're in the eCommerce industry, your entire business relies on a customer converting when they reach your product page.
You've probably tried some of the following tactics to increase conversions:
Added high quality product photos
Added a unique product description
Optimized your website for ease of use
Offered discounts or incentives
But, sometimes these tactics aren't enough. If you're still struggling to boost your conversion rates, you'll need something to really grab your customers' attention and make them click "buy now" right then and there.
And that's where video comes in.
Unsurprisingly, video has become one of the best tools for digital marketing.
Many businesses are using this visual medium to spread brand awareness, advertise and even boost their SEO.
But one of the biggest opportunities for video content lies in the eCommerce industry, specifically in the format of eCommerce product videos.
Just take a look at some of these stats from an Animoto study on video:
42% of consumers want to see more product videos
64% of eBay shoppers want to see more product videos
84% of Amazon shoppers want to see more product videos
The demand is glaring. People want video, especially when it is involved in the online shopping process!
Consumers feel that video is the best way to explain a product and its features.
It makes them feel more confident about making a purchase because they get a full understanding of a product's appearance and function.
These same consumers also say that brands using video content appear more trustworthy and more engaging – qualities that will undoubtedly help your brand and your sales.
And if consumer confidence isn't enough to convince you, take a minute to consider these numbers:
Now that we've got your attention, let's dive into some of the features that make product videos so unique.
What is a Product Video?
A product video is a short clip that highlights the main features of a product and may even show it in use.
The purpose of a product video is to provide a potential customer with more information about a product.
If you're trying to convince a customer to purchase your product, a video will be far more convincing than any photo or product description.
There are multiple ways you can approach a product video depending on your product and audience.
For some products, it may be best to show the product in action. These "lifestyle" product videos can be effective for niche products with a unique audience. If you know who your ideal customer is and what they will be using the product for, you can make a product video that is specific to the audience you are trying to reach.
One downside to lifestyle-type videos is that they often has a higher production cost than other styles, typically starting around $1,000 for a basic video. If you've got multiple products or unique production needs, this can get expensive fast.
If you're looking for a better ROI when it comes to implementing product videos, the best way to do it is by adding a simple product overview video to your eCommerce product page.
Using a product video here can give them the extra push needed to convert. You don't need anything flashy to do this, either. The most popular type of product video is a simple 360° view of the product that highlights some of its unique features.
I'm sure you're itching to get started with product videos by this point. So, let's take a look at how you can make product videos that stand out from the crowd.
How to Create Product Videos
Making high-quality product videos will take a certain level of skill, but they're typically much easier to make than other types of videos.
If you have the right setup, a lot of the variables that can ruin your video will be completely removed from the equation. Here's a quick rundown of the equipment you'll need to get started:
Plain white or black background
You don't want anything to distract viewers from your product. Shooting your product in front of a plain background will make sure that their eyes stay on your product the whole time. White backgrounds are usually recommended because they look clean and professional. A black background can sometimes help certain products pop!
Soft lighting
Lighting is an absolute must for any video shoot, and product videos are no different. You want the viewer to see every perfect detail of your product, and good lighting goes a long way. You'll probably need multiple lights to eliminate any shadows.
Using soft lighting will also help with this. Soft lighting will give your products a subtle glow. Harsh or hard lighting can produce more shadows and give a more dramatic appearance to your product. While this may work for some products, soft lighting is usually the way to go.
Electric rotating turntable
In order to capture all the angles of your product, you'll need one of these automatic lazy susan devices.
These will slowly rotate your product, allowing you to capture smooth, professional shots of your product in motion.
These shots are an important component of product videos, so this is a tool that can't be overlooked.
Our advice: try matching the color of your turntable with your background. This will help keep all the focus on your product.
Camera and tripod
You'll need a camera to get started, but you don't need to drop thousands on high-end gear. Anything that can shoot 1080p HD will do!
We also recommend using a tripod to make sure your shots are smooth and steady. Camera shake is good for action movies, but not for selling your product!
Once you film your product, everything else is in the edit.
Again, by using the right equipment when you film, you can eliminate many of the issues often associated with the editing process.
Here are our tips on editing the perfect product video:
Limit your video to 30 seconds
People lose interest quickly, so your video needs to be short and to the point. Even though it might not sound like much, 30 seconds is plenty of time to introduce your product, describe its features and give a call to action.
Include a voiceover and/or text
The visual appeal of your product video is important, but a voiceover can provide additional information to your viewer during the video. Use a voiceover or text to draw attention to unique product features as they are being shown in the video.
Include a CTA
A CTA, or call to action, is a quick line at the end of your video that tells the viewer to do something specific. Saying something like "order yours today" can make a sizeable impact on your conversion rates.
Use your brand logo
Product videos are a great opportunity to continue exposing a viewer to your brand and build brand recognition. Try adding your logo at the beginning or end of the video, or as a watermark throughout the whole thing.
Conclusion
Product videos are an essential tool for marketing eCommerce products and increasing conversions.
And, they're surprisingly easy to produce compared to other styles of video. With their efficacy and accessibility, product videos are a great entry point for any business looking to get started with video content.
If you're not comfortable producing video content yourself, or you'd like to focus on other areas of your business, there is still a way you can get great product videos for your eCommerce store.
HOTH Product Videos are your easy and affordable solution to making eCommerce product videos. Just mail us your product, and we'll take care of the rest.
Here's what one of our clients had to say about our new service:
"The HOTH has been extremely helpful in our creation of product videos for our website. Our goal was to create short but explanatory videos of each product to better help our customers, and the HOTH has nailed each video. They welcomed our direction and edit requests to ensure we were provided exactly what we wanted." – Barrington Gifts
Have you been incorporating video into your eCommerce marketing strategy?
We'd love to hear your approach in the comments!