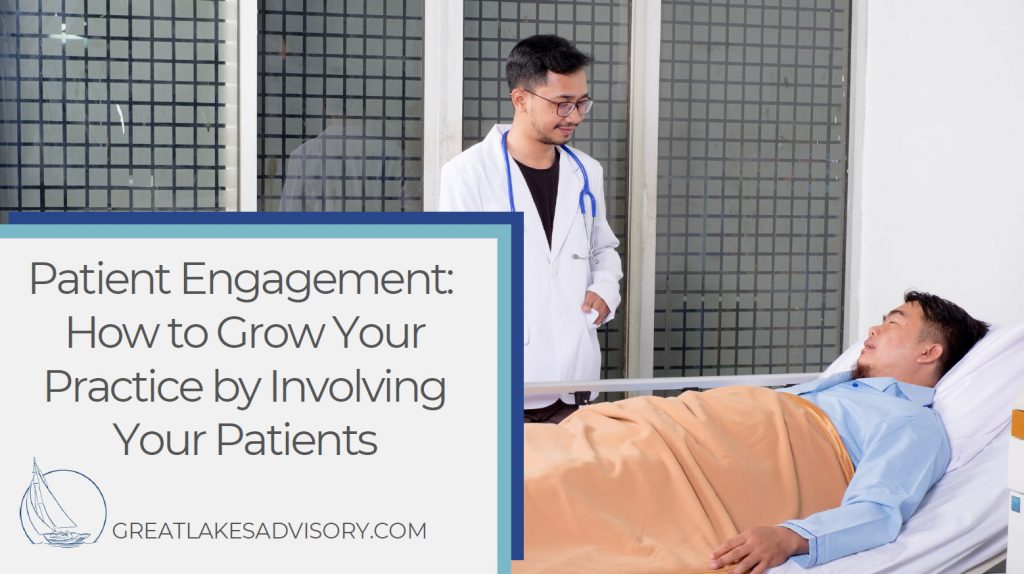 Patient Engagement: How to Grow Your Practice by Involving Your Patients
Originally posted on https://greatlakesadvisory.com/patient-engagement-strategies-solutions/
Patient engagement is a critical factor for your medical practice's success. It can drastically improve patient care and health outcomes while keeping your costs down.
It's not all that easy to achieve, though.
What is Patient Engagement?
Patient engagement is the act of encouraging patients to take their care into their own hands. It combines patient skill and knowledge with various communication methods that help promote positive behaviors. After all, most patients want to be involved in their own healthcare decision-making; it's a matter of encouraging them to do so.
Patient engagement is a broad term, covering everything from patient portals, to educating patients, to your practice's social media management.
Benefits of Patient Engagement in Healthcare
Increasing patient engagement makes your patients much more involved in their own health. This results in several benefits to both you and your practice…
Patients are more active and interested in their own health, leading to improved care and fewer hospital visits.
Physicians can more effectively treat patients, saving time and money for the practice and the patient.
Providers and patients are equal collaborators in patient health outcomes.Improving the patient-provider relationship improves the outcome of the visit and patient retention.
Operational improvements in the form of positive word-of mouth marketing and fewer no-show appointments, both of which lead to revenue growth.
For practices that do not offer electronic access to health records, care members often spend several hours a day answering phones regarding questions about their medical records. Online access to health records helps minimize the burden of incoming phone calls on the front desk, which reduces errors and frees up time for the front desk to work on tasks that often fall through the cracks.
Meaningful Use Requirements for Patient Engagement
A significant component of patient engagement is simply offering your patients access to their medical records so they can better understand their prescribed plan of care. However, Meaningful Use actually requires you to provide patients a way to view their health data online, among other requirements.
There are several Meaningful Use requirements involved in patient engagement:
View, download, or transmit health data capabilities – Allowing patients to view, download, and transmit their health data. In addition, they must be able to transmit this data to a third-party provider.
Electronic access to health information – Giving patients access to their health data via an API (application programming interface) in an accurate and timely fashion.
Education – Providing patient-specific educational materials to patients so they can understand their health better.
Direct secure messaging – Provide patients a way to communicate that retains the safety and privacy of their sensitive health information.
Patient-generated health data – Collecting health data that patients themselves collect (I.E. smart health devices like fitness trackers and glucometers).
Failing to provide these requirements to your patients will cause your practice to incur penalties, while achieving some or all of these thresholds could earn your practice incentive-based subsidies.
Patient Engagement Strategies
There are 5 key elements to achieve patient engagement in your medical practice:
1. Defining your organization's vision for patient engagement – Knowing where you are and where you want to be. You'll need to have discussions about the meaning of engagement with leadership, staff, and patients.
2. Creating a culture of engagement – This takes some work, but it's worth it. Explain the importance of patient engagement to your staff and make sure they feel valuable in the process of improving it. Assign tasks to staff members they feel comfortable doing and build a clear, enforceable policy around those tasks. Reward and recognize staff who do well to keep them motivated.
3. Using the right technology and services – You won't get very far without the right technology. Patient portals are becoming common. In fact, tons of patients are disgruntled about the lack of proper medical technology so they can view their medical records. Rightfully so: portals greatly enhance patient engagement as your patients always have access to their health information. Cloud-based portals are the most flexible and cost-effective patient portals, as users can immediately access updates and new features. You should consider portals with a full suite of integrated communication features as well. Make sure your portal of choice complies with HIPAA, Meaningful Use, and all other mandates. Another piece of tech to invest in is marketing automation tools. These can free up your time while maintaining personalized communications with all of your patients.
4. Empower patients to collaborate with you in their care – Care plans are useful in empowering your patients to collaborate in their care. These are agreements written in patient notes or as a separate agreement entirely designed to get the patient involved in their day-to-day health. In addition, you can continue to educate patients on health issues relevant to them so they're more willing to work with you on their health.
5. Chart progress while being ready to adapt to changing circumstances – You need some way to measure your patient engagement. Again, reward your staff in some way each time you reach a goal.
Our Patient Engagement Solutions
Patient engagement might bring your practice and your patients plenty of good, but that doesn't mean its quick or easy to figure out how to improve patient engagement; most practices are better off outsourcing their efforts to experts like Great Lakes Advisory.
What we do is look at where you want to be with your patient engagement, then work backwards to determine the steps to get there. We work with your management to create a detailed action plan full of benchmarks and goals that keep our interests aligned with yours.
So if you're a medical practice looking to reap the benefits of increased patient engagement, let's work together. Click here to book an appointment!
Four Things Your Practice Isn't Doing That It Should Be
Are you looking for an easy way to start improving your patient engagement right now? Well, there are four things your practice probably isn't doing that it should be if you want to succeed. Fortunately for you, we've compiled these four things for you here.