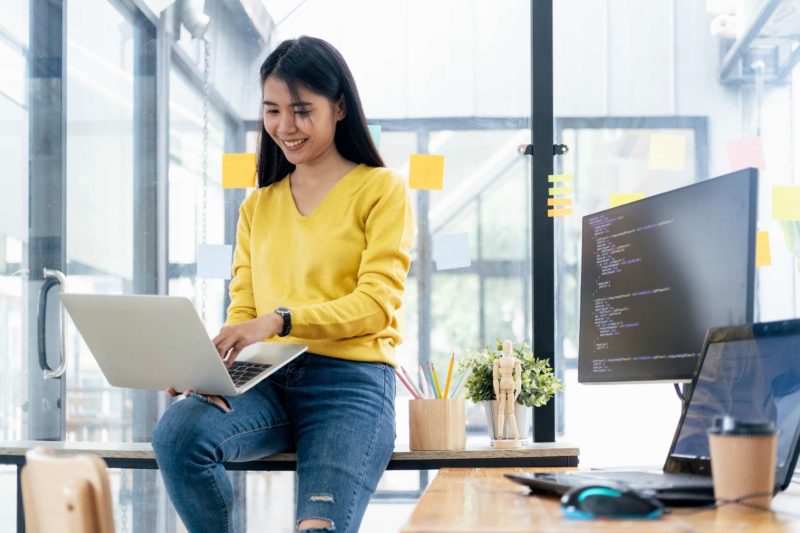 Microsoft's Low Code Development Platform
Photo from TrellisPoint
Originally Posted On: Low Code Development Platform – Power Apps Improves Speed to Market (trellispoint.com)
Power Apps: Microsoft's Low Code Development Platform
Low-code development platforms, like Power Apps, have become a focal point for IT leaders. Many organizations have resource constraints when it comes to application development in addition to large project backlogs. Low-code development is becoming more popular in agile IT environments since it improves speed to market, requires less resources, and facilitates continuous improvement. A partner like Microsoft gives businesses the ability to streamline operations, continuously innovate, and maintain agility.
Low-code development platforms allow developers to build applications using a graphical user interface rather than traditional computer programming. The complexity of coding is taken off the developers' hands so they can work quicker and more efficiently. Power Apps is Microsoft's low-code development platform that empowers developers, business users, and CRM Administrators to create custom native mobile and web applications by connecting to the cloud or on-premise data source.
Power Apps leverage the Common Data Service (CDS). The CDS is a collection of data entities that includes relationships between entities, business logic concerning those entities, and forms to view those entities. App screens are based on entity forms so if you add a new field to the existing entity form, all the apps you build moving forward get the new field. This "inheritance" feature is automatic and makes maintenance more manageable.
Why consider Power Apps?
We are all familiar with the "build it" or "buy it" dilemma. There are wonderful out-of-the-box SaaS solutions available in the market that can easily be plugged in to streamline workflows and processes. In some cases, however, SaaS applications may require moderate customization to fulfill your requirements, or may require compete customization. In either case, both time and money factor into your choice and many organizations never get past cost analysis due to budgetary concerns. This is where the value of a low-development platform like PowerApps provides significant value.
Power Apps are typically used to extend processes within Dynamics 365 applications and/or in Office 365 by bridging the gap between different applications and organizations that coexist within a continuous business process.
Here are a few high-level examples of linking applications, workforces, customers, vendors, employees, administrators, email and databases using low-code development platforms like Power Apps.
Knowledge and article searching apps
Field service appointment scheduling apps
Secure employee onboarding apps
Manufacturing apps that improve QC
Employee health and safety applications
Industry-Leading Power Apps
Don't let the list above curb your imagination. Power Apps are being used in the real world by organizations of all sizes – start-ups, non-profits, and large multi-national corporations. If you're not sure how Power Apps can help your team work smarter, these examples will inspire you.
T-Mobile
The company's ORBIT app manages customer initiatives such as promotions, service offers, and technology projects. Using centralized data, scalable functionality, manageable permissions, and analytics available through Power BI reporting, the Orbit App is a great example of how low-code app platforms and flows can be used to deliver a critical business solutions in a quick and cost-effective manner. Prior to building the Power App, T-Mobile's process was costly and cumbersome: initiatives were tracked on spreadsheets, approvals took several months, and many employees were involved to manage the process.
American Red Cross
The American Red Cross utilized Power Apps to create a Supply Hub interface for their team of 650 instructors across the United States. These work groups rely on supplies like gloves, face shields, mask, and manikin lungs to provide regularly scheduled trainings. Prior to centralizing this process, instructors completed a paper order form, scanned it, and emailed it to a group inbox to be processed. Basic reports indicating the number of orders processed monthly were not available, orders took a long time to fulfill, and some even were lost "in process".
Supply Hub was welcomed by the Red Cross's field teams because orders were turned around quicker, in addition to receiving regular status updates on orders. In fact, changes requested by the field are easy to implement and manage.
Metro Bank
Metro Bank created a Meet and Greet app focused on creating a high-quality customer experience. Greeters of the bank used the Power Apps table app to welcome customers, inform them of wait times, and assign them to the appropriate banking officer based on needs and staff availability. The customer could decide to wait in the bank or leave and be notified via text 10 minutes before their appointment.
Prior to using Power Apps, the representative greeted the customer with a clipboard. In many cases, they would have to look up customer information in their CRM system. The manual process did not capture the necessary data to predict wait times. The Power Apps platform provided the necessary framework to create the app, workflows, and integrate with Microsoft Dynamics 365 CRM and Azure to provide an industry-leading customer experience.
Can a low-code development platform like Power Apps help your business?
As you can see, bright ideas can be turned into brilliant Power Apps using a low-code development platform like Microsoft. Whether you're evaluating critical business initiatives, looking for out-of-the-box solutions to solve every day issues, or need help determining if a solution built using Power Apps is right for you company, our team of experienced consultants is available to guide you.