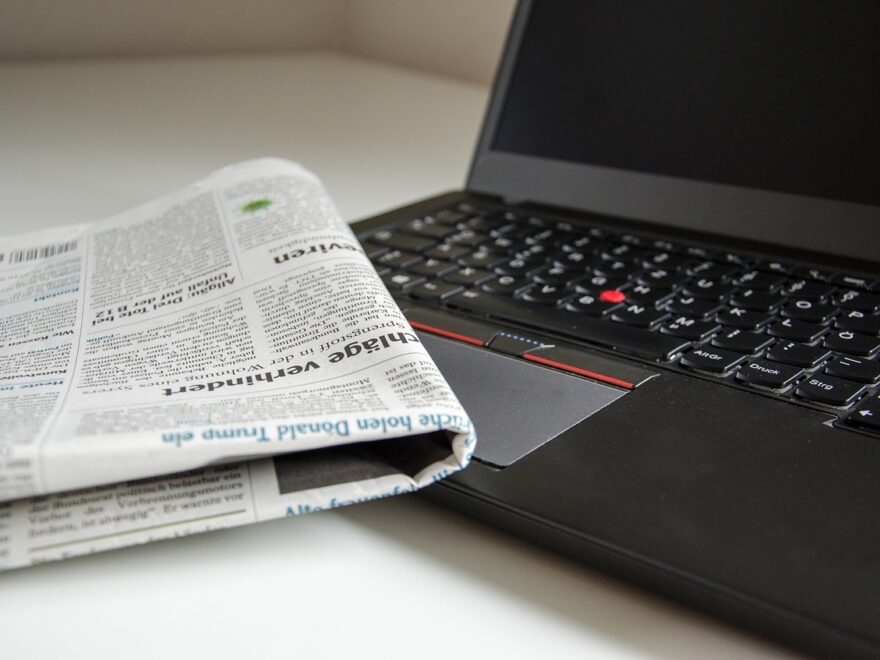 Mega Guide to Press Release Distribution: READ this before your distribute a PR
Originally posted on http://smebulletin.com/press-release-distribution/
Looking to send a press release? Read our detailed guide compiled by ex-journalists and media staff.
To reap all the benefits of your small business and boost ROI, understanding the importance of press coverage is fundamental. The problem is, media coverage is easier said than done; unfortunately, good results won't fall off from the sky and if you really want your business to thrive, you must break a sweat to get them. Allow us to give you a hand. Introducing "the press release"; an important element of any marketing strategy that will help boost brand awareness provided you do things right.
Press releases are useless if nobody sees them. For the best results, they must be properly and efficiently distributed so that your story can get out there to as many magazines, blogs, newspapers, etc.
We've put together a comprehensive guide to help make things easier for you. Our detailed action plan will attempt to answer some basic questions related to press release distribution, including:
What does "press release distribution" mean?
Why does it matter to set up a press release distribution action plan?
How do I distribute my press release and where?
Mistakes to avoid when implementing a press release distribution master plan
Should I consider PR distribution services?
Make sure to keep reading and little by little you'll get from zero to hero in business. We'll teach you all you need to know about creating, pitching and distribution PRs the right way for the best visibility results and optimal awareness.
An overview of press release distribution
First and foremost, let us have a closer look at the meaning of press release distribution. In official terms, it is the process of  putting your PR in circulation by sending it out to media entities and conventional journalists. The end goal of a press release is to get it published in major publications related to your niche or business domain, such as magazines, podcasts, newspapers, blogs, online magazines, and so on. This way, you are increasing the visibility of your brand, making it available to a wider, more diverse audience.
Why should you engage in press release distribution? 
If you're not distributing your press release, people won't see it. And if nobody reads it, you won't be able to boost brand awareness; defeating the true meaning behind writing a PR. Press coverage is a great way of getting your business and brand out there into the public realm. It can really help build brand awareness – particularly since 54% of journalists stated in a survey that they trust press releases and see them as a reliable source of information
The following benefits apply when choosing press release distribution:
PRs can help increase SEO (search engine optimization).
According to Ardor SEO, more than two trillion Google searches are performed daily. SEO-based tactics embedded into your marketing strategy helps position your business at the top of search queries in Google. This way, prospects and clients will find you a lot easier when looking for information online about your industry, service/product offered, or company. Another fundamental SEO ranking is gaining links from others to your business website. According to SEMrush, a fundamental ranking factor in Google is the number of referring domains; as it can be seen in the industry study below based on there SaaS product which analyses millions of results, websites and ranking factors.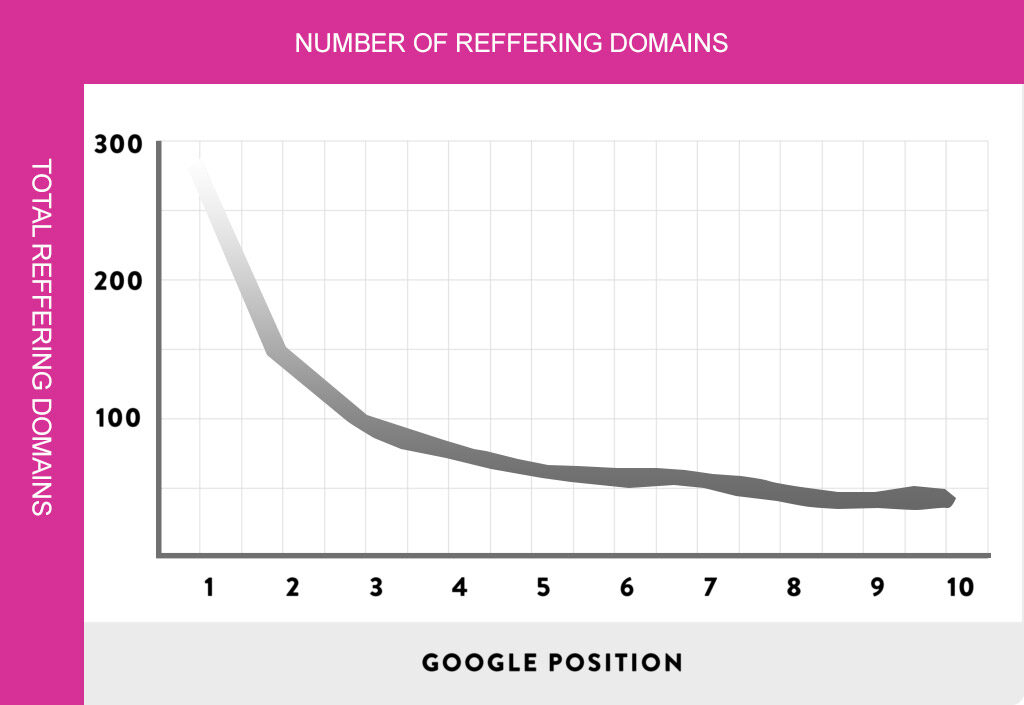 Done right, press release distribution helps you gain coverage on some of the industry's largest and most influential publications; increasing your chances of having other websites link to yours and significantly boosting search engine visibility.  What does it mean when you succeed at landing amazing coverage without turning to backlinking?
There's no reason to panic as both Bing and Google highlight that brand mentions might have an important role in the way your website is ranked; this means positive coverage can contribute to your SEO without linking.
PRs can enable local foot traffic
Assuming you run a brick and mortar business, it's good to know that PR distribution can get people land right at your door. Getting new customers step foot in your shop or store can be done via an eye-catching sale, opening event, and more. After distributing your PR, measuring foot traffic helps you get an overview of your press release's performance.
PRs can help increase sales
If you plan the launch of an exclusive product, sending out a targeted PR to media outlets spanning your industry or niche can significantly improve your bottom line. Exclusivity fosters curiosity, driving people to buy whatever you're selling, thus boosting revenue. This usually happens when you offer something that gets you one step ahead of your competitors.
To get your product out there to as many potential customers as possible, take advantage of busy shopping days. For example, if your business offers Cyber Monday or Black Friday discounts, you should reach out to local retail journalists to distribute your PR and emphasize on what you have to offer.
UK-based agency, PR Agency One, sent out 52 coverage pieces in the name one of their clients,  BuyItDirect – that offered promotional products on Black Friday. All 52 PRs targeted various media outlets that helped the client gain more visibility online, at the same time convincing prospects and preparing them to make a purchase.
Your all-in-one guide for press release distribution
By now, you should have understood the importance of a press release. Assuming your story has already been written, let us move on to sharing it. Before we get started, it's worth mentioning that journalists receive thousands of PR's daily and must write up to 7 of them according to research. and  All of them have to be unique and convey the most inspiring message. How do you make that happen considering journalists end up with an average of 300 emails in their inbox daily, according to MeltWater?
Learn how to stand out following the guidelines below:
Hunt for journalists interested in your PR
If you have interesting news to share about your business, the first thing that comes to mind is to share it with everyone around you, correct? It's tough to resist and we can perfectly understand that. However, you need to understand that not everyone will have an interest in hearing your story. It's the truth!
Apart from writing a kickass of a press release, you'll need to choose your journalists carefully; and stick to those with a genuine interest to read it. Start by looking for journalists in your niche or industry; people who have written about similar businesses like yours.
For example, let us assume that your business sells car air fresheners. You've done your research, assessed the competition, conducted a market survey, and transformed all the information gathered into the most interesting and informative PR. Emailing every journalist you know to tell them that your business sells the best car air fresheners won't get you anywhere. It will be a waste of time!
Instead, your focus should be on hunting for journalists who have dealt with similar topics in the past. To get you started, turn to Google, type in "car air fresheners", and head to the News tab:
You'll notice that there are lots of articles on the topic, meaning there are enough journalists with an interest to cover your story.
The next step is to have a closer look at the articles already available on Google's News tab. Read them carefully and write down the names of the journalists that wrote them. Draft a spreadsheet and write down the publication and the name of the journalist to help you have an organized distribution plan.

If you can afford to spend money (and it's not gonna break the bank), search for trusted reporters and journalists on media databases like Muckrack or Cision. This tactic is more than recommended because it will help you send out your PR to journalists with a genuine interest in covering your story.
Search for the contact details of your chosen journalists
Believe it or not, getting the contact information of your selected journalists and reporters doesn't have to be that nerve-wracking. On a publication's website, look for the author of the PR; then click to see his/her bio.
Check out the samples below:
An article about "car air fresheners" by James Andrews. 
… click on the name et voila, his email!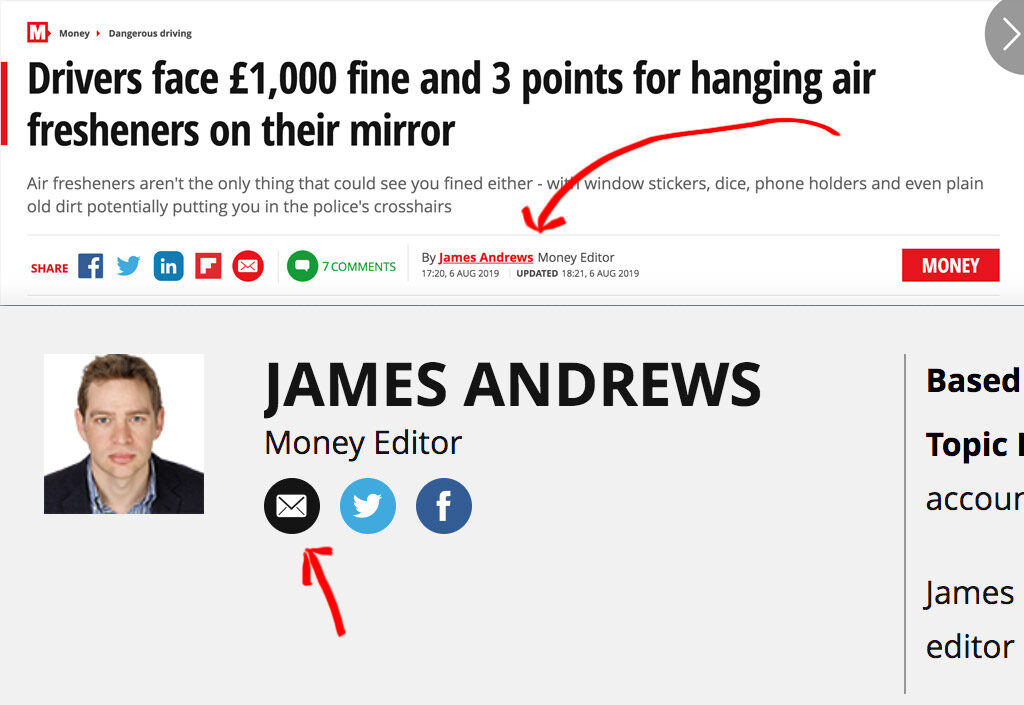 Don't assume it's all milk and honey in the PR world, because it's not. Not all publications have the author's bio with an email address posted for everyone to see; meaning that sometimes you'll have to dig a little deeper to find a journalist's contact information. Start with a Google search by typing "[name of journalist" + [email address]"; an even smarter move would be to look up the journalist on LinkedIn.
Don't forget about Muckrack though.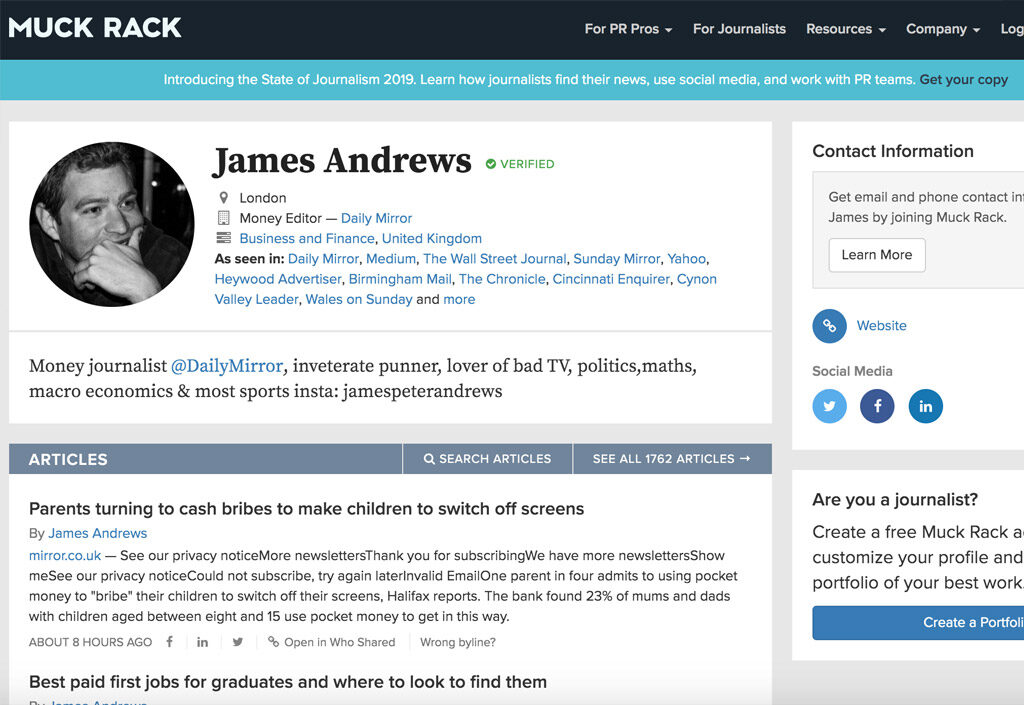 Are you on a budget? No worries as you can always turn to social media for the extra information. On LinkedIn, we advise you to filter your search. Type the name, location, and in the company section, enter the publication.
Here are two examples of excellent tools that work with LinkedIn: Hunter.io and Snov.io. These are extremely easy to use. All you have to do is make an account on either of these websites, and download the extension for Chrome. Next, look for the journalist on LinkedIn, access his profile and click to find their email addresses.
For the purpose of this guide, we will have a closer look at Snov.io.
Search for the journalist + publication
Let's see what Snov.io can help us find on Ken Danieli.
Click on the small Snov.io icon in Google Chrome. Following this step, click on "Find Emails and Save" and the tool will start searching for email addresses that belong or might belong to Ken. We cannot promise you it will work, however it's a good start. If you're lucky, sometimes the email or a phone number can be found right on LinkedIn, in the "Contact Info" section.
Another way to get the information that interests you is Twitter. Many journalists are open to receiving PR submissions via Twitter; about 46% actually according to a study performed by AdWeek.
Pitch your PR, don't just attach it!
After you've managed to find email address, it's time to get serious and send your chosen journalists a personalized email. In a 2017 report by Cision, most of them prefer to be contacted via email.
Keep in mind that top-notch journalists receive an average of 200 pitches/day. This means yours has to stand out somehow. First and foremost, choose a catchy subject line, but don't make it cheesy. Next, make sure your pitch gets right to the point. Don't beat around the bush with a really long, boring introduction of your business, yourself, your long term goals, etc. Nobody cares about that.
Get to the point from the very beginning of your email. Introduce the story and give them a reason to publish your story. WHY should they publish yours instead of someone else's?
Most journalists don't have a lot of time on their hands, meaning they usually read short messages that sell an impactful story in just a few lines of text like the example presented below: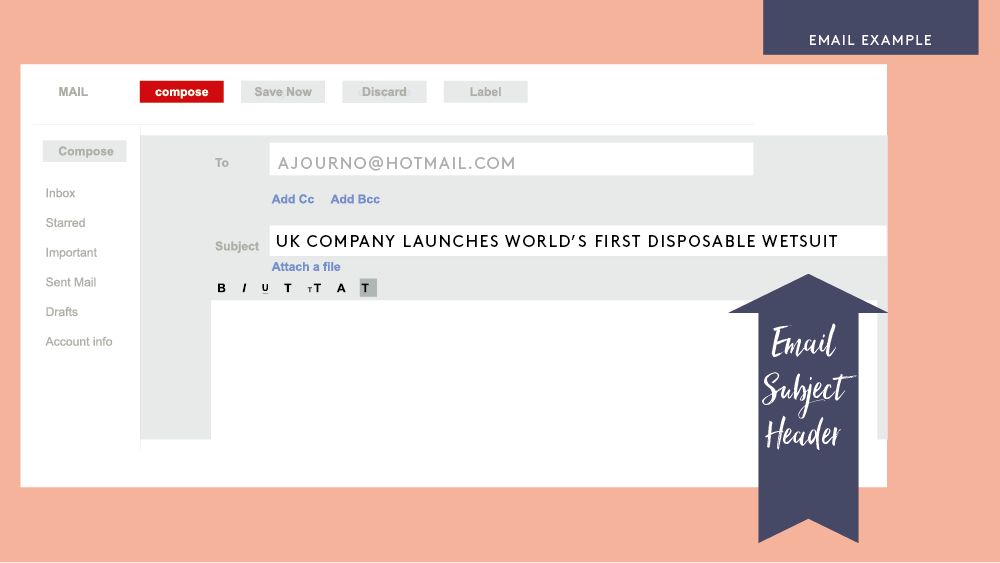 Image courtesy of Janet Murray.
In the example mentioned above, the sender of the email gets straight to the point by asking the journalist if they would like to cover the story. Don't be afraid to ask a question! It's a lot better than making assumptions.
Next, the email is followed up by  several more sentences meant to provide additional information about the story. Then you should add a line spacer (for the entire email to read well) and paste your PR in full.
Important note: Don't attach your PR to the email (e.i. docx, txt, etc file). Most journalists won't open them as they might think it's a virus. Some just don't have the time to open attachments, so it's best to paste your text right after your introductory pitch.
Don't forget to customize your pitch. It is extremely important to make it unique and relatable to the person at the other end of the screen. In case you didn't know, custom emails have a 26% higher chance of getting opened than general emails. Journalists like it when people appreciate their previous work, which is why you need to tell them why you think your story fits their expertise. It is of the utmost importance to build a relationship with your chosen journalists, because let's not forget that they're people, too; and they crave admiration just like everyone else.
Image courtesy of Marketing Land.
Sometimes – usually when "hunting" for a really important journalist – it pays to play the long game; get to really know the person by following them on social media and interacting via tweets and comments to get their attention.
Craft an alluring & powerful email subject line    
Let's face it,  if your subject line is not plain irresistible, your email won't be read! In fact, industry experts highlight that an overwhelming 85% of journalists decide whether or not to open an email after reading a sender's subject line. How do you make yours impressive? Check out these tips:
Short, sweet subject lines are the best. Buzzstream says 75% of journalists prefer fewer than 10 words.
Keep it unique and original. For your subject line to make an impact, it has to be innovative but with a human touch.
Try to be specific, uber specific. Descriptive lines targeted at the topics covered in the past work best.
 Offer exclusivity. Brag about the unique information you're about to share. All journalists want to get their hands on an exclusive PR.
Important note: If there's one thing you should avoid in subject lines is clickbait. If people hate it, journalists despise it.
5. Choose the right time to send out a press release
Let's recap! We've got a catchy subject line, pitch email, press release all written out, and the contact details of the journalist. What's next? Time of the day to send it. Choosing the right hour to click that 'send' button is critical.
Did you know that 61% of journalists only read PRs in the morning? For the highest open rates, you should definitely send them out by 12 am. But don't forget that there are 300 emails waiting on the pipeline, so we wouldn't advise you to hurry. On average, the best time of the morning is between 10 and 11 am.
The week day is just as important, and while there are journalists that work 7 days a week, we don't recommend sending anything on Friday, Saturday or Sunday. You have better chances of landing good coverage on Tuesday, Wednesday, or Thursday. Why Monday is not a good idea? Well, it's because emails pile up throughout the weekend, making Monday the busiest day of the week; and the most hated by everyone in the world, right?
Ragan has performed an analysis on more than 100,000 PRs back in 2015, and concluded that the best days to send PRs are Tuesdays and Wednesdays. Prowly recommends sending press releases on Thursday, mentioning a 26% open rate of PR emails.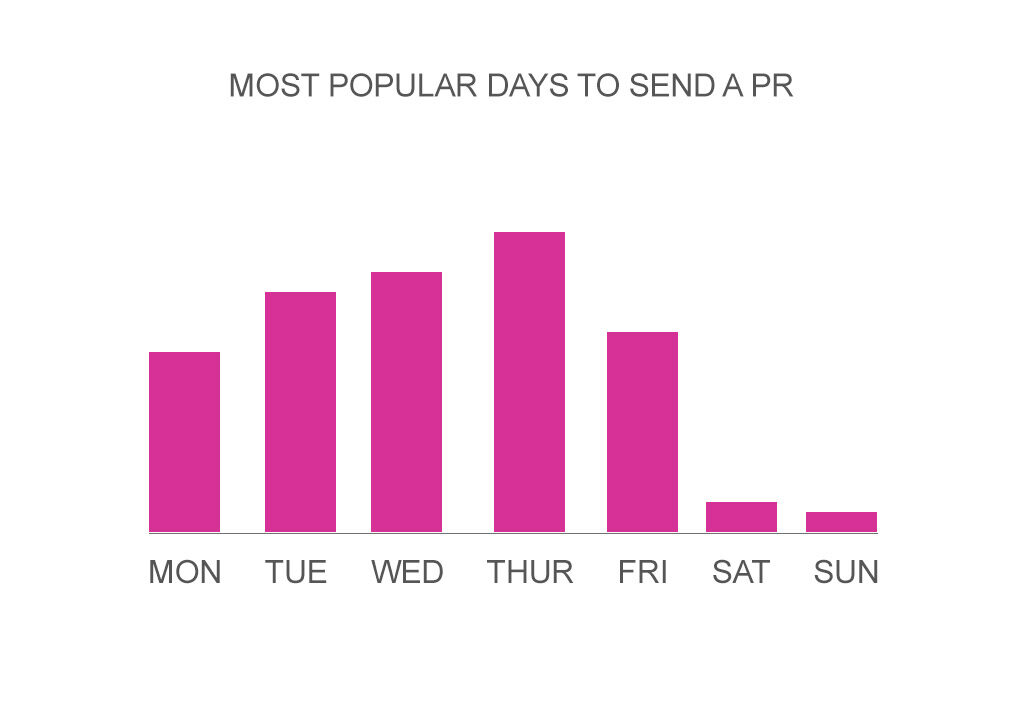 The best time of the day and day of the week for sending PRs can only be determined in time, via trial and error. Test, test, and test some more for a couple of weeks to get an idea of your target audience's behavior. Analyze open rates and eventually you'll be able to find the winning recipe that works best for your industry. 
6. Press release follow-up
Following up on your press release comes is a double-edged sword. Some people think it's a good thing to send follow-up emails, others shout out it's a big no-no. If you're truly proud of your PR, or if you're struggling to convince a journalist to cover the story, it can't hurt to send a reminder.
However, that doesn't mean you should spam a journalist with daily emails begging for coverage. As an alternative, you could try different approaches. Maybe change the pitch a bit, or come up with a better subject line. Carrie Morgan, PR expert, recommends revamping a follow-up email completely and treating it "as a fresh pitch transitioning MY news into THEIR NEWS".
As an alternative, you could try calling journalists, however 77% of them dislike that approach according to Vuelio. Regardless, a follow-up email – especially if you feel pretty confident that your PR rocks – might get you extra media coverage.
Mistakes to avoid when engaged in press release distribution 
Ready for a second press release? Hold your horses! The last thing you want to do is appear annoying in front of journalists. At the end of the end, you might end up with nothing. Below you'll find several common mistakes people do when sending out PRs.
Too much content in your press release
Remember, your story has to be succinct and convey an impactful message without too much text. On average, a journalist shouldn't spend more than 1 minute reading your story.
After writing a PR, read it carefully and get rid of the fluff. Eliminate content that not absolutely necessary, or sentences that don't bring added value.
Keep your story short and to the point; summarize the essentials so that the journalist can have the bigger picture without a lot of content.
Break down the long paragraphs into smaller ones, and make sure to use bullet points to help the reader consume the text faster. Always keep in mind that every sentence must be read; and for that to happen, you need to keep it brief.
Wrong targeting of publications and journalists
If you own a small business or you work in a small company, the smartest move is to stick to local publications for PR distribution. Sending your PR to national/international media outlets might prove to be a waste of time because local stories rarely go viral.
Double-check your targeting and make sure the journalists you've selected are the right fit for your business. Relevance is key when selecting your audience and industry.
Your story is not good enough to be on a front page
Before distributing your press release, ask yourself if your story is truly worthy of being on the front-page of a news website or magazine. PRs that are too promotional almost never make it because journalists have no interest in promoting your business for free. They wish to publish stories with an impact; stories that entertain and entice audiences.
To get published, ensure your story has a relevant angle backed up by solid data, statistics, and useful information. Rather than try to over-sell your products or services, it's best to stick to quotes that can jazz up your content.
You forgot to provide contact details
Can you imagine working so hard on a story, pitching it to your journalists, and finding out you can't be contacted back for a quote? Believe it or not, it can happen! That's why including contacting information at the end of your PR is vital.
No journalist will hunt you down on LinkedIn to publish your story; no matter how interesting. Include your email address (preferably your business address), your full name, and phone number.
Are there any PR distribution services I should know about?
Hell, yeah! And you should definitely use them because doing things manually will eventually end up being extremely time-consuming. Time is money, especially if your business is small and you're trying to get exposure fast. The right distribution service helps automate the process of sending out press releases.
You might think such services come at a high cost; however, with time you'll realize they can become your best friend. By allowing experts to handle the distribution you are left with more time doing useful stuff for your business, which is to increase the bottom line. Below we've selected the 5 best PR distribution services we believe can save you both time and money.
Pressat [Highly Recommended]
Pressat is seen as a trusted newswire in the UK and across Europe. The newswire is subscribed to by thousands of journalists, editors and reporters from national media through to industry niche publications. A variety of international add-ons can be purchased to reach global media.
The company is an official partner of PA Media Group, formerly the Press Association which is the UK's national news agency, this enables Pressat to syndicate clients press releases directly into their news flow for increased coverage opportunities.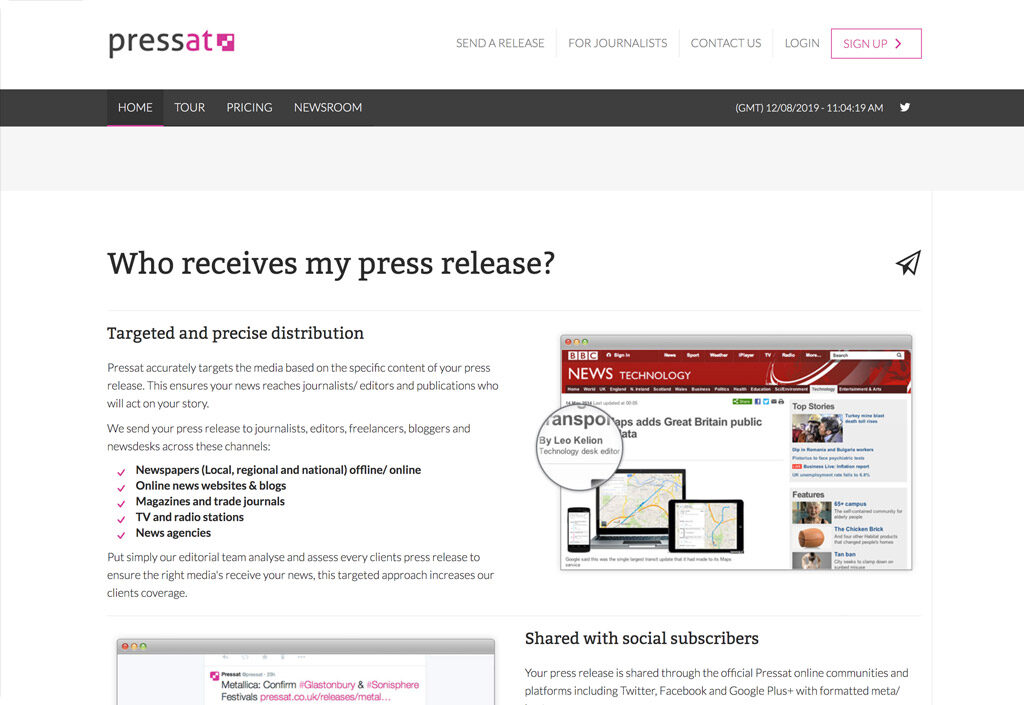 If you are looking to send a PR in the UK or Europe, Pressat should be at the top of your list!
PR Fire [ Best Budget Option ]
PR Fire charges you $65 for syndicating your press release to relevant medial outlets and journalists in your selected industry or niche; the best part is that they can provide you with this service in as little as 4 hours.
The best about them is that they keep you updated with a report every 2-3 weeks following your campaign to help you assess the success. An added service that they provide is PR rewriting, which is done by professional journalists for an extra $65 if your initial PR didn't provide the results you were expecting.
PR Fire also specialize in guaranteed media placements if you have the budget.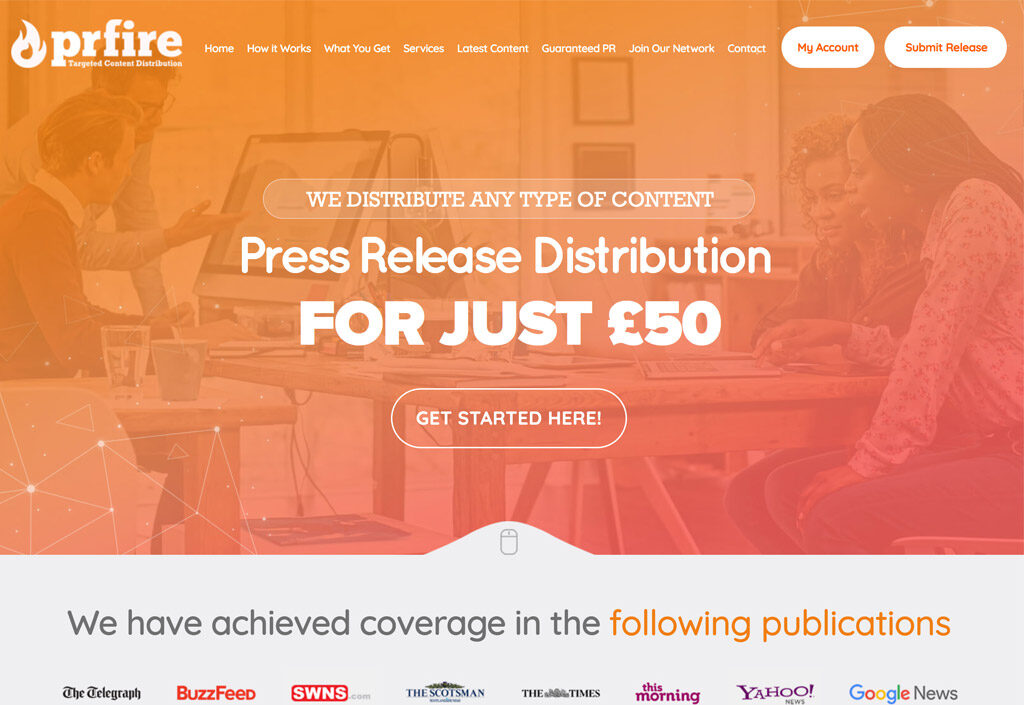 Furthermore, your story can be promoted on forums like Reddit; an excellent way of exposing your business and brand in front of an established online community. If you need more proof, know that PR Fire offers top-notch press coverage in publications like The Times, The Huffington Post, BuzzFeed, and a lot more.
PR Web
Owned by Cision, on the PR Web website you can upload your own PR (with your own images and videos). Following this step, a professional team will handle the distribution across categories you've selected. The beauty of PR Web is their analytics dashboard  where you can see with your own eyes how your campaign is performing; also, you can calculate various important metrics and, like ROI and others, to make improvements.
There are several plans available, starting from Basic – which costs $99, all the way to Premium – which costs $389. If you can afford to spend some more money, know that there are several advanced options on PR Web that are worth trying out.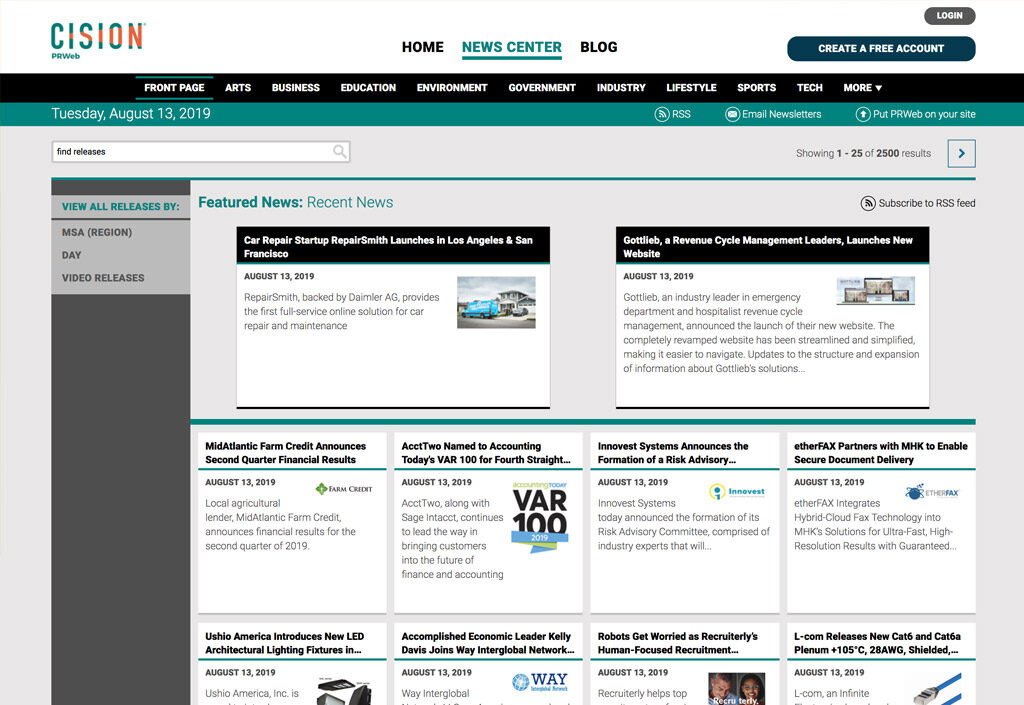 Wire Association [ Fair Pricing ]
Wire Association is a pretty popular service for PR professionals. It provides a wide range of PR-related tools, including various media databases. In terms of cost, ad hoc users pays $40 per publication. But if you have more PRs to send out, you can opt for one of their available packages. Wire Association has been around for several years, which means they've had enough time to build up a really solid network of publications and skilled journalists. 
The beauty of Wire Association is that you are entitled to your very own newsroom; as well as full access to metrics such as number of email recipients that got your PR and view number.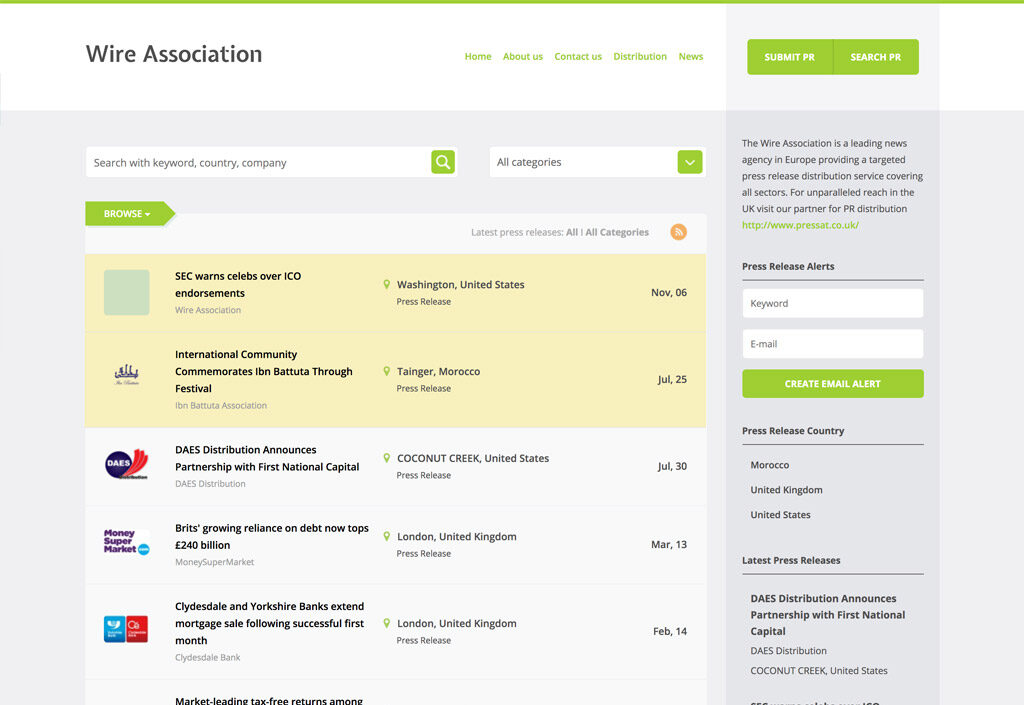 Presswire
If you plan to go national or international with your business, and you're confident your product/service can conquer the world, you should have a closer look at Presswire. Their worldwide distribution plan begins at $400 (or $250 for the US only), and there are certain add-ons included in the price to help increase your reach.
A useful perk of Presswire is their advanced analytics platform, which helps you track all the recipients that got your PR. Additional analytics include:
Number of times your PR was read
Who opened your PR
Amount of time spent by journalist reading your PR
These are extremely important insights because they can be used to improve your press release, and try a more effective approach in the future.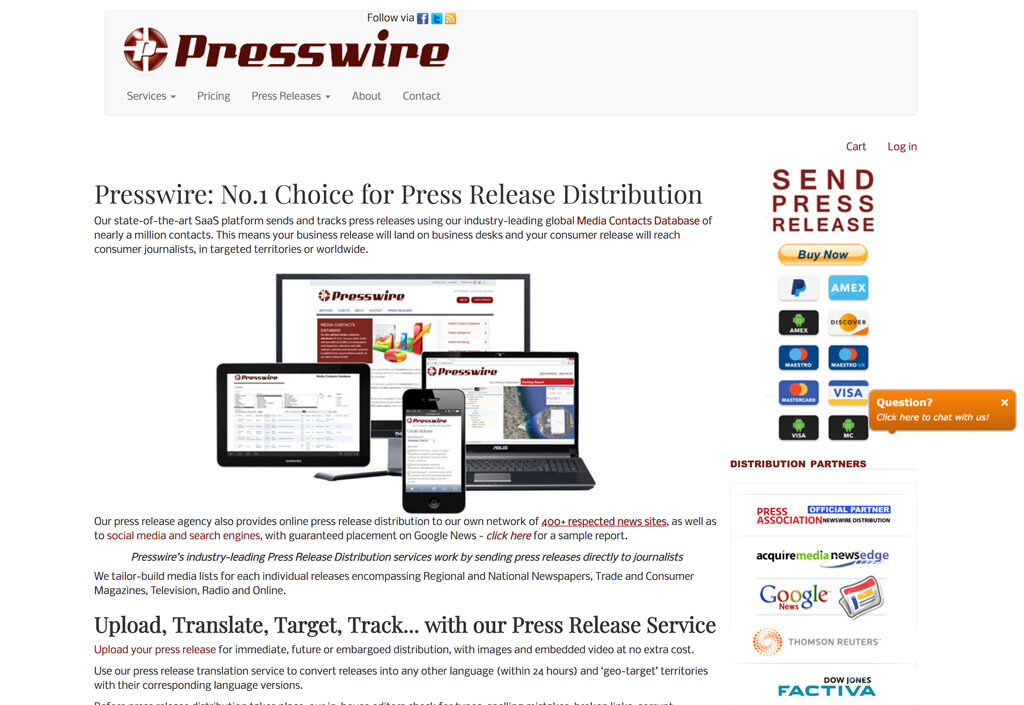 24-7 Press Release
Last but not least, we have 24-7 Press Release; a cloud-based platform featuring a user-friendly interface that distributes your PR to both traditional and digital media outlets.
If you're a small business owner on a budget, we recommend you to start with the "Visibility Boost" package. It costs $49 and it includes distribution on 50 premium news websites. A detailed report is included in the package to help you analyze the performance of your press release.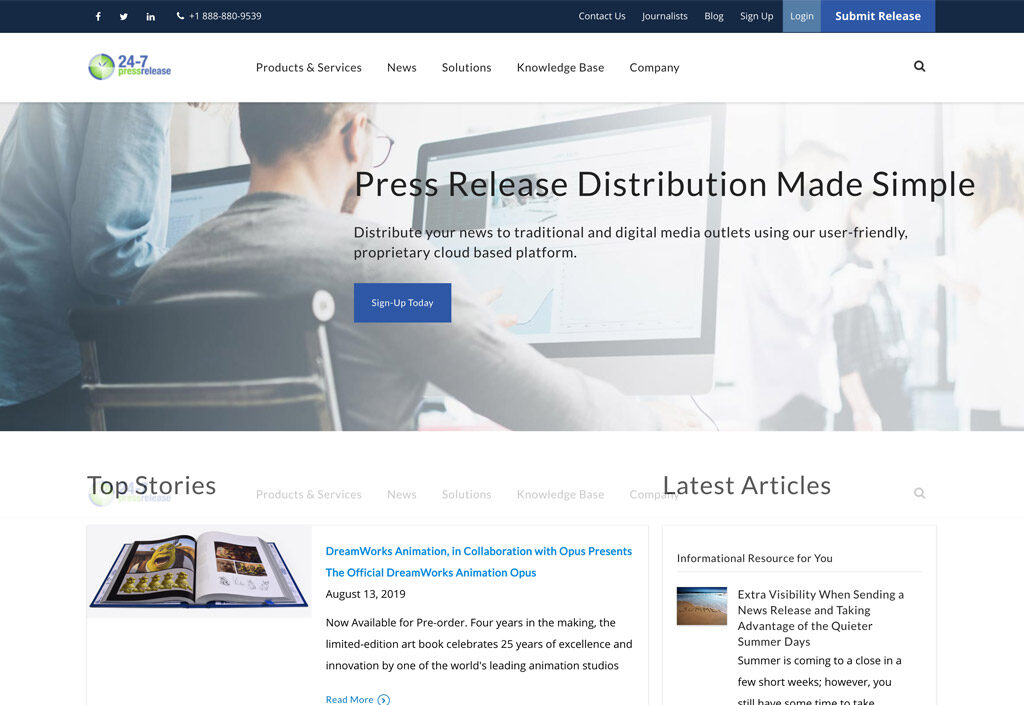 Bottom line
There you have it, an all-in-one guide for press release distribution!  We really hope you've enjoyed reading this article. Now, all you have to do is begin the implementation. Follow the steps mentioned above carefully and you will get one step closer to getting the desired media coverage you need.
Keep in mind that not all PRs you send out will be transformed into news stories overnight. But don't panic as it takes time to gain recognition. For the best results, you should constantly refine, rewrite and tweak your PR. Don't get offended if journalists don't like your story; it happens more often than you think. Stick to your guns and don't back down. Sooner or later  you will see results.
Don't forget to be grateful for every PR published. Journalists deserve to be appreciated, not to mention that you have the opportunity to build and nurture a long-term relationship with an expert in your niche. At the end of the day, let's face it, good press is gold!