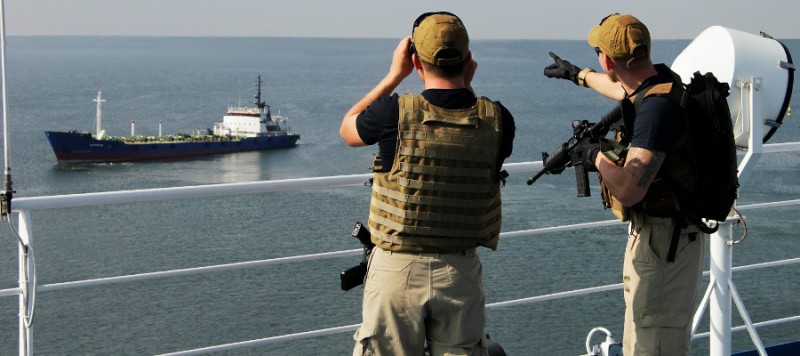 Legal Rights for Contractors in Maritime Security Jobs
Originally posted on https://silentprofessionals.org/maritime-law-and-protections-for-contractors/
Every day, numerous accidents happen on boats or other vessels on the open water. Injuries result from natural factors such as turbulent waves and wind, by human factors such as equipment maintenance oversight or lack of training, by equipment failures, or by a combination of factors and forces. Injuries are even more prevalent for contractors in maritime jobs.
Companies often discard injured workers as if they were last week's trash. All too often, independent contractors are unaware of legal remedies specifically designed to protect them from employer backlash.
If you are working in a maritime job, there are special laws that apply to you if you are injured on the job. These laws apply to you whether you are an employee or a contractor. In fact, every time you are on the water, there is a set of laws that applies to everything you do. These laws follow a separate code and is an independent jurisdiction from national laws. This article will explain how and when these laws protect you as an employee or contractor.
What is Maritime Law?
The laws that govern private disputes and issues on the seas are often called Admiralty Laws or Maritime Laws. Maritime Law is an area of law with a broad spectrum of rules and regulations that have been set up to regulate and govern commerce and navigation on the high seas or any other navigable water body.
These laws cover matters such as:
– The development of national and international legislation regarding water bodies
– Customs and excise regulations
– Employment issues and human rights for maritime contractors and employees
– Regulation of the fishing industry
– Maritime injury and insurance claims arising from maritime-related accidents
– Implications of how to deal with stowaways on vessels
– Wreck and salvage of water vessels
– Transportation and protection of property on the high seas
Most people assume that a maritime injury is the same as any other workplace injury. This is not true at all from a legal perspective. Maritime injuries are covered under completely separate legal jurisdictions with special laws that specifically protect injured maritime workers.
When does maritime law apply to workers in maritime jobs?
If you're a qualified employee or contractor working in a maritime job, The Jones Act (also known as the Merchant Marine Act of 1920) protects your rights to employment and compensation in the event of injury.
To qualify for the protections under this law, you must meet the legal definition of being aseaman1 and the injury or illness must have occurred on a vessel2.
1  Seaman: any individual that spends at least 30% of their workday on a sea vessel working as a vessel crewmember – this includes vessel operators, mechanics, deckhands, subcontractors and vessel security personnel.
2 Vessel: any water borne vehicle that is: 1) afloat; 2) capable of moving, and 3) regularly moves on navigable waters such as rivers, bays, gulfs, ports or the open sea. The term "vessel" includes various types of ships (e.g. cruise ships, drilling ships, container ships, tanker ships, or cargo ships), boats (e.g. casino boats, charter boats, fishing boats, trawlers, barges, tug boats, crabbing boats, charter boats, or ferries), and also includes offshore drilling rigs or oil production platforms.
The Jones Act grants injured maritime employees and contractors special rights to be compensated on the premise of any of the following:
1. Crew Negligence
Frequently an injury can happen simply because the employer (or vessel owner) failed to provide a safe place to work. This type of negligence claim may even relate to old or faulty equipment, insufficient rest periods, or lack of training for other crew members.
2. Maintenance and Cure
Following an injury on a vessel, employers (or vessel owners) are required to provide "maintenance and cure" to the injured maritime worker. In other words, by law, you are owed medical care and wages.
That's because the skills required for maritime employment can be very specialized so loss of employment and medical expenses due to an on-vessel injury may leave a seaman in a substantial financial bind.  "Maintenance payments" are required to replace the wages otherwise owed to the seaman for reasonable living expenses, including transportation, food, rent or mortgage, utilities, and other routine expenses.
Similarly, an on-vessel injury may leave a seaman with a hefty medical bill. To alleviate this burden, "cure payments" require employers or vessel owners to pay for the seamen's medical costs during the recovery period. "Cure payments" should cover every injury or illness related to work on a vessel. This typically includes hospital or doctor's visits, laboratory tests, prescriptions, scans, and other related expenses.
3. Unseaworthiness
An "unseaworthiness" claim may arise when the vessel and/or equipment are not reasonably capable of performing the function for which they were intended. This does not mean that the vessel cannot be operated; rather, it means that the vessel or its equipment cannot be safely operated. For example if a stairway inside a ship is rusty and cracked, and the vessel owner fails to repair or replace it, even though the vessel may still be navigable, it would be considered unseaworthy because components of the vessel are no longer capable of adequately performing the function for which they are intended.
When is it appropriate to file a maritime injury claim?
While every Jones Act claim is treated differently as an individual claim, there is a statute of limitation for how long you have until your claim is no longer valid.  As a general rule, maritime workers have to file their injury claims within three years of an injury if they want to be protected by the Jones Act.
There are also a host of other laws that protect maritime workers that need to be taken into consideration. All of which have their own statutes of limitation for injury claims. These include:
Death on the High Seas Act (DOHSA)
This act allows relatives and loved ones of the deceased maritime worker to file a claim if their loved one died three nautical miles off the shore of the U.S, due to negligence or if their death was caused by a wrongful act. The statute of limitations on claims through this act is three years from the time of the incident.
Admiralty Jurisdiction Act
Should you sustain an injury while working on a US government vessel, whether it was owned or chartered, you can lodge an injury claim through this act as well as through theSuits in Admiralty Act or the Public Vessels Act. The statutes of limitations on claims through these acts are two years from the time the injury was sustained. These acts, however, have a six-month denial period, which essentially means that you only have 18 months to file your claim successfully.
Longshore and Harbor Workers' Compensation Act (LHWCA)
This act provides coverages to certain maritime workers, including most dock workers and maritime workers not otherwise covered by the Jones Act. In addition, Congress has extended the LHWCA to cover non-appropriated fund employees including U.S. government contractors working in foreign countries under the Defense Base Act. The statute of limitations for this act is 30 days to file your claim should you get injured on the job.
Outer Continental Shelf Lands Act (OCSLA)
This applies specifically to maritime workers injured on oil rigs / platforms. This particular act has a "moving statute of limitations" because the rules that apply depend upon the laws of the state that is nearest to the offshore drilling rig that you were on when the injury occurred. For example, if you were working on a rig just off the shores of Texas, then the statute of limitations for your claim will be two years since that's what Texas dictates. Should the accident happen next to Florida, then the statute of limitation will be four years as is dictated by Florida laws.
The bottom line is that if you are working in a maritime job, you have rights – and your employer has responsibilities – that are clear, definite, explicit and enforceable by law. If you were injured working aboard a vessel, be aware of the Jones Act and your right to recover for your injuries under this law.
– Andrew