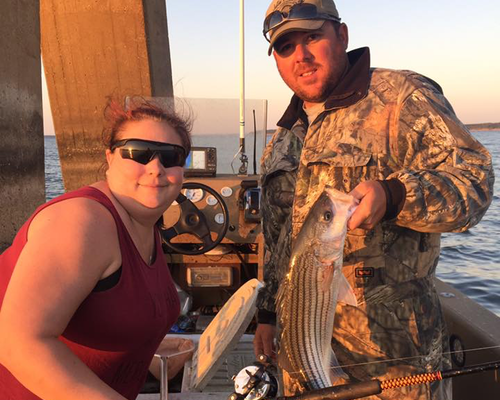 Lake Texoma Striper Fishing Techniques With Live Bait
Photo from Justin Parker
Originally Posted On: https://jpfishing-hunting.com/lake-texoma-striper-fishing-techniques-live-bait/
Guide Justin Parker shares his Lake Texoma Striper Fishing Techniques with Live Bait and hopes this helps you, weekend warriors catch more Striper! Lake Texoma is the Striper Capital of the World because the impoundment has a substantial natural spawn each spring when fish migrate up the Washita and Red Rivers. Texas and Oklahoma stock Striper in Lake Texoma each year, so this famous impoundment doubles down for happy anglers! The vast populations of Gizzard and Threadfin Shad keep Striper on Lake Texoma healthy all year long, and these abundant baitfish put big Striper in the net. Before sharing my Lake Texoma Striper Fishing Techniques With Live Bait, you must have the proper equipment to harvest shad.
GEAR FOR LAKE TEXOMA SHAD
A proper live bait tank is a must-have on Lake Texoma. Leave your foam bucket with a bubble blower at home. Pair your bait tank with the size of your boat. If you have a fourteen-foot flat bottom boat, you can not install a 50-gallon bait tank. Most Lake Texoma Fishing Guides have a 24-30 foot boat and run a 50-gallon tank. Look for a bait tank that has;
Round Corners
Quality Pump System
A Filtration System
An Oxygen System
You will need a cast net to harvest shad on Lake Texoma, and we recommend carrying two weights and always keep a share on your boat. You will lose one or two each year, and the live bait trip is over without a cast net. We are working on a Cast Net post and will link back to it when completed. You will need some chemicals to keep your bait tank running foam and scale-free. Foam Off is a must-have for all bait tanks. You can find defoamers at big box stores and online retailers like Amazon. Adding salt to your bait tank water will increase the life of your threadfin and gizzard shad. Try Morton Purex All Purpose Salt and mix 1 cup per 10 gallons of water. For more information, please follow Lake Texoma Live Bait.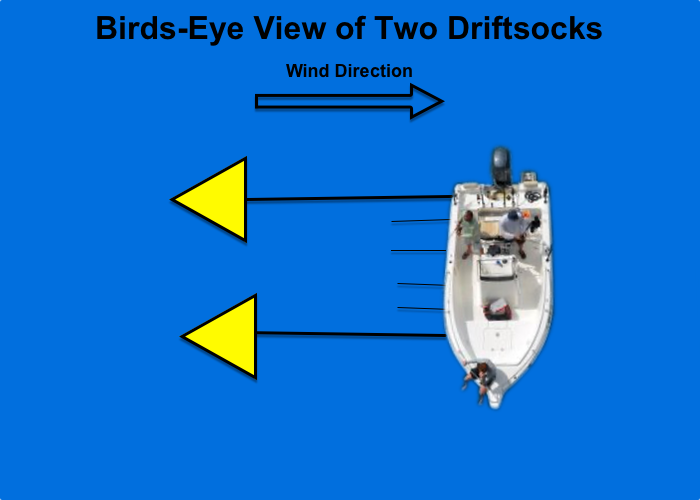 DRIFTING LIVE BAIT FOR LAKE TEXOMA STRIPER
Drifting bait is the most common technique for Lake Texoma Striper Anglers. You need to know which way the wind is blowing, how strong, and over what structure. The #1 Lake Texoma Striper Fishing Tip is……..Find feeding fish! You can have a perfect drift set up, with excellent live bait and the best rig tied on, but if you don't find fish, you are simply on a boat ride. Why do anglers fail at drifting live bait on Lake Texoma? The three main factors are dead bait, drifting too fast, and fishing over or under schools of Striper. Keep your shad alive and kicking with the tips mentioned above. All bait tanks need a defoamer, salt, oxygen, filtration, and ice if the weather is hot.
Keep Your Live Bait In The Zone
Drifting live bait over Striper is the number one mistake anglers make on Lake Texoma. The wind can push your boat too fast and lift your live bait presentation over targeted Striped Bass. How do anglers keep live bait in the strike zone on windy days? Add weight to your live bait rig and deploy drift socks. Popular egg sinker weights on Lake Texoma are 3/4oz and 1.0oz. Big wind on Lake Texoma can call for a 1.5oz or even 2oz egg sinker to keep your rig in the zone. We will discuss the live bait rig later in this post. Lake Texoma Fishing Guides have big boats, and we are no exception. We use two 50 inch drift socks when we need to slow down. Side drifting is the most productive on Lake Texoma. Place your rods on the same side of the boat as your drift socks or into the wind.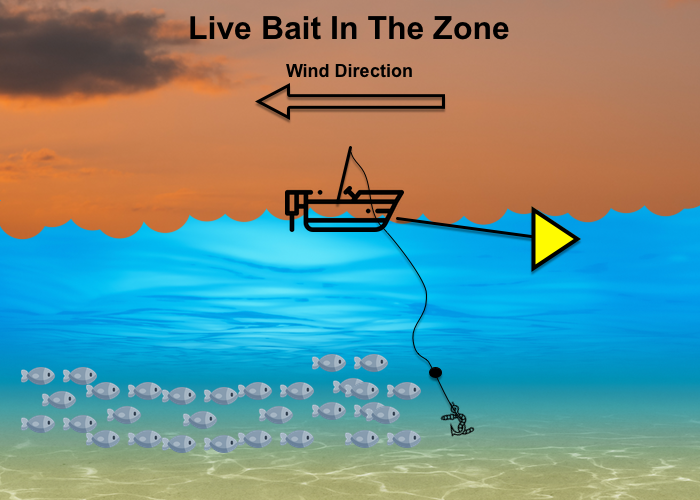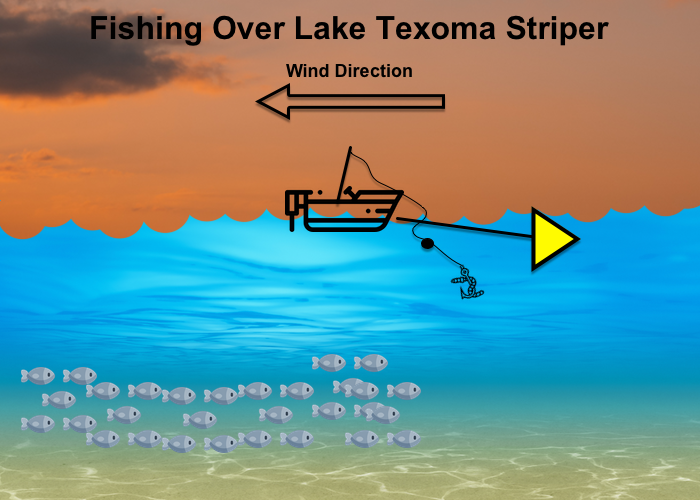 LAKE TEXOMA LIVE BAIT RIG FOR STRIPER
Lake Texoma Fishing Guides keep things simple, and our live bait rig is proof. We like to run 14 to 20-pound monofilament fishing line on our reels. We slide a 3/4 to 1oz egg sinker up the line from the fishing reel, followed by a 10-millimeter bead. You can use glow beads or any color you like, but the 10-millimeter bead protects the knot from your sinker. Overpay for your swivels, and it will save you re-rigging time and heartbreak.  Spro Power Swivels (230lb) are great and keep our live bait rigs from line twists. Tie a clinch knot to your Spro Power Swivel, and now you are ready to add your circle hook. Hooks are critical, and each Lake Texoma Fishing Guide will have a favorite. We use several brands, but we always use Circle Hooks (size 1/0,2,4) to prevent gut-hooking Striper. The leader from our swivel to the circle hook will be a 20-pound fluorocarbon line. If Lake Texoma clears and Striper get leader shy, we can drop to a 14-pound test. A clinch knot to the circle hook from the fluorocarbon leader completes the rig, and you are ready to Striper Fish Lake Texoma.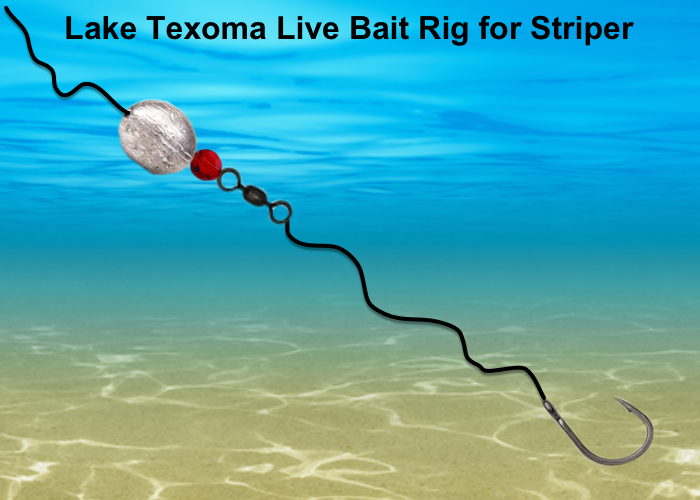 ANCHORS AWAY FOR LAKE TEXOMA STRIPER
Anchoring up on structure is very popular on Lake Texoma. You can witness as many as eight boats tied together on one anchor catching Striped Bass with live bait as fast as clients can reel. Large schools of Striper will hold and feed with all the live bait that the eight boats have in the water. How do you hang an anchor for Lake Texoma Striper Fishing? Make an anchor checklist before you become an expert.
300-500 feet of quality anchor rope.
Buy enough anchor for your boat.  Read More
Make sure a chain connects to the anchor.  Read More
Wind and Anchoring on Lake Texoma
The best way to scatter Striped Bass on Lake Texoma is by running your anchor line through a school of fish. You should have at least 300 feet of anchor rope, so position your boat upwind of your target area, drop your anchor, and drift back to the school of Striped Bass. Tie off your anchor rope and get all of your rods baited and in the water. Cleaning your bait tank filter is a great idea when anchored. Check your rods frequently to make sure your live bait is frisky. Striper will hit-kill live bait and miss the hook at times. Your trolling motor splasher is most effective while anchored. Yes, splasher props work on Lake Texoma Striper and White Bass!
Conclusion
Lake Texoma Striper Fishing Techniques with Live Bait put fish in the net and is the most popular fishing method on this famous impoundment. We hope this article helps you become a better angler. If you don't have a boat and want to experience the Striper Fishing Capital of the World, please call Lake Texoma Fishing Guide Justin Parker at 903-271-4665. Follow Lake Texoma Fishing Guides for more information.