Kids On Safari In The Madikwe, South Africa
Photo from Uyaphi
Originally Posted On: https://www.uyaphi.com/blog/south-africa/madikwe/kids-safari-madikwe-south-africa
A quick catchup first on the Madikwe Game Reserve just for some context; the fourth largest reserve in South Africa, 66 large mammal species including the "Big 5" as well as cheetah and wild dog, for bird lovers, there is approximately 300 resident, and migrant species, located on the Botswana border and the reserve is 100% Malaria free.
When the minimum age for children at many safari lodges and camps throughout South Africa (and Africa, for that matter) is on average six years old, it can be frustrating trying to find that perfect match for one's family safari. Not to mention trying to find the ideal safari destination.
At the age of 6 years and above, kids are far more likely to have a greater appreciation for what they are seeing and experiencing, and importantly, they can sit still that little bit longer when on a game drive. The sitting still is also a safety aspect; one does not want the little ones using the back seats of a safari vehicle as a jungle gym when parked next to a pride of lions or a leopard sighting or, for that matter, a herd of elephants. No one can predict how wildlife will react to noise and movement.
But, fear not, we have you covered with one of the best safari destinations for family travel in South Africa, the Madikwe Game Reserve.
Now for the topic of the last 18 months; Covid-19 protocols implemented by lodges in the game reserve. When staying at any lodge, strict protocols are in place to protect both you and staff members. We would be more than happy to forward you each of the interested establishment's protocols for you to peruse and study. They are all very similar in structure and are set out in accordance with the highest of international standards.
And so our journey began;
We took a week in the July school holidays to explore several Madikwe lodges, and although cold on morning game drives, the days are warm and dry in the winter months here in South Africa – so a great time to visit. Madikwe does 'tick' all the boxes – Big 5, Malaria Free and a reasonable distance to drive for Johannesburg. We drove, and although we took a 'scenic route', found the distance more than ideal. Each lodge is easily accessible by a standard two wheel drive car, and our hire car made it with no bumps, dents or scratches!
There's something about being out 'in the bush' that makes kids forget about WiFi, TV, YouTube, NetFlix and even what their friends are doing right at that moment. They are in their element of exploration, extending their imaginations and learning about all the wonders that unfold before them in nature. Even a close encounter of an 'almost' cheetah kill has our youngest pondering the endless circle of life and death in nature. A safari really is the ultimate location for a game of "I Spy" as well!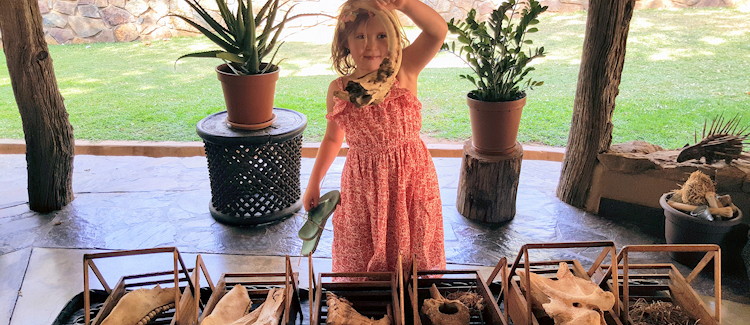 When on safari with kids, no matter the age, always check if the lodge is truly family-friendly lodge or just child tolerant – there is a difference. A child tolerant option means that children are welcome, but the lodge, the accommodation, the cuisine and the safari activities are more adult orientated, and children are an afterthought. Bear in mind that a child tolerant option would work perfectly for older teenagers, but certainly not for younger kids.
We will, of course, guide you through which is the best option for you and your family.
One of the best aspects about the Madikwe Game Reserve (other than the amazing wildlife) is the number of accommodation options available for families across all budgets lines.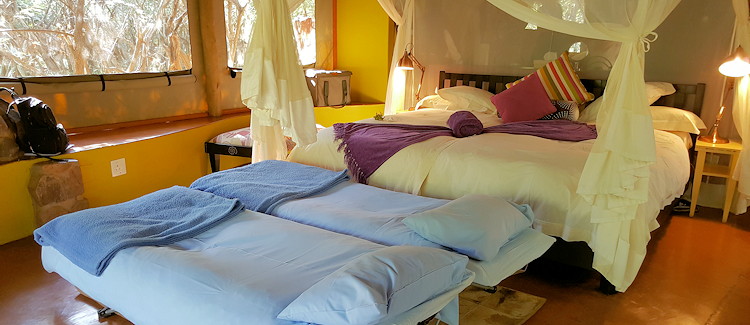 Our children have never really eaten off the 'kids menu', so it's great when the chef takes the time and effort to explain what options there are, even offering up sample portions for them to taste. We have found (for example) that getting them to eat a rump steak is easy, but suggest an ostrich or kudu steak, and then those noses get turned upside down, that is of course, until the chef offers up a sample and then with shrieks of laughter and a bit of nudging in the right direction, they discover something new.
Most, if not all, lodges will offer up the classics as well, pizzas, fish and chips, ice cream and chocolate sauce, basically all the family favourites, to the point where even the fussiest of eaters will be truly happy.
Of the lodges we stayed at, both kids felt included in the decision-making; what time we went out on game drives, what snacks should be included, what other activities we could partake in and when it came time for game drives, the guides and trackers always made sure the kids were entertained with stories about wildlife.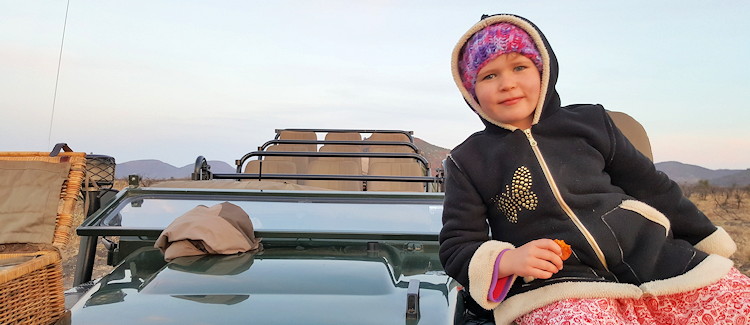 Whether it is your first time on an African Safari or you've been out and about many times, consider the Madikwe for your family safari. As mentioned, kids really should be six years and over to avoid not being able to be part of it all. The selection of family-friendly lodges is great, the wildlife is diverse, and sightings are quite often just with one or two vehicles.
Even as our kids are getting into their teens, Madikwe Game Reserve is a place we will return to, time and time again; it's just that special.