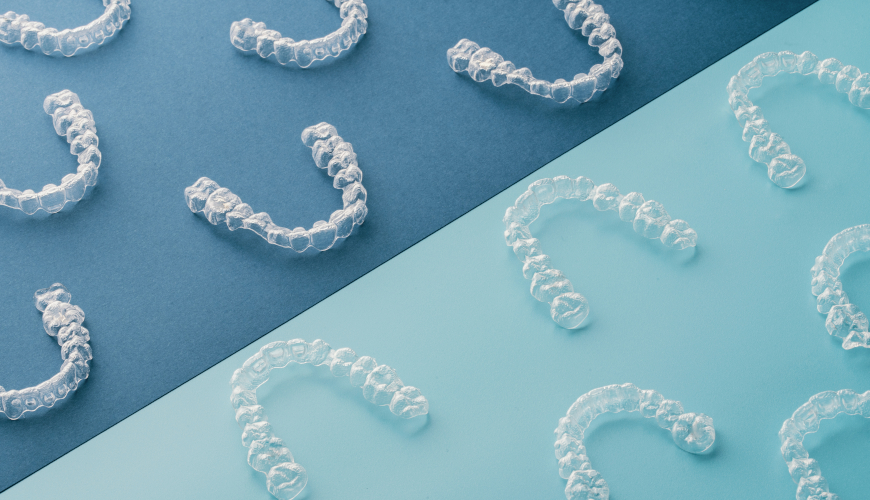 In-Office Invisalign VS at Home Clear Aligners
Photo from iStock
Originally Posted On: In-Office Invisalign VS at Home Clear Aligners | Dr. Suffoletta (functionalaestheticdentistry.com)
Dentist and Orthodontists have a new frontier in cosmetic and aesthetic dentistry. This frontier presents challenges in both competition with emerging dental technologies and properly educating the public about Orthodontics.
While at-home clear aligners may seem like a great idea and may even be successful to a degree. Especially during the earlier stages of the process and if your alignments are minimal.
The truth is that the at-home process doesn't include certain elements needed for an ideal adjustment every time. We will explain this further and why it is worth paying more to get the job done right the first time. The last thing you want is to have to spend more money than you had too in the first place, simply because you couldn't help yourself from looking for shortcuts that are less than adequate.
Additionally, we will paint a broader picture on the general global outcomes of some of these procedures. The negative reviews on the web for direct-to-consumer Orthodontics such as SmileDirectClub, is one example why this method is a roll of the dice.
Brief Orthodontic History
The history of orthodontics is quite extensive and dates back to somewhere between 400-300 BC, according to historians and scholars. Based on accounted history and mummified remains from that era, ancient individuals were discovered with Catgut around their teeth.
NOTE: Contrary to popular belief, Catgut does not come from cats, but rather the natural fibers of sheep's or goat's intestine. Catgut is akin to braces, a somewhat metal band that is wrapped around the teeth in order to help the tooth shift into a desired position.
It is said that even Aristotle and Hippocrates were at the time, researching and devising methods and tools to repair and adjust numerous dental imperfections. However, Orthodontics really started coming out of its shell during the 18th and 19th Century, when Dr. Pierre Fauchard, a French dentist, introduced his published book, "The Surgical Dentist".
While Dr. Pierre Fauchard is frequently given credit for the creation of modern orthodontics. It wasn't until the 19th century when some distinguished dental professionals were able to create particular and precise instruments and tools that allowed modern braces to step into the mainstream medical realm.
Fast forward to the 20th and 21st century, and you have multiple online companies offering at-home clear aligners at a reduced cost, but is it really reduced in the end?
What is the hidden cost in low-cost?
Today, companies like SmileDirectClub, SmileLove, Candid and SnapCorrect compete over the orthodontics market in an effort to thwart a perfected process that dentist take years to train for, but is it worth your pocketbook?
SmileDirectClub's website states their cost includes a $250 down payment with an $85 monthly payment. They also provide affiliate dentist and Orthodontist as well as dental assistants that manage the sales process.
If your process does not turn out the way it was meant to and you desire, request or demand a refund. SmileDirectClub stated that you have you sign a release form within the initial 30-day period which states that you agree not to complain publicly. They also made sure that everyone was aware that this is "Fairly Standard in their Business."
This has led to a fury of complaints to regulators such as the FDA (Food & Drug Administration), the FTC and even the Attorney General. To add more fuel to the fire, previous patients-customers have taken to advocacy groups to drive the message home. We will go into this further at the end of this article to highlight the importance of in-office Invisalign clear aligners. Now let's jump into more physical comparisons.
In-Office VS At-Home Clear Aligners
The difference between Invisalign in-office, by your local dentist vs direct-to-consumer clear aligners are vast. The difference in dollar value, if not done correctly, could mean you can end up spending thousands more than you originally had to, if you went to your local dentist the first time around.
"Why is this you ask?"
There are some elements needed to create both a perfect fit and the proper pressure and direction on teeth getting adjustments. We have provided an image below so that you may get a better understanding. Additionally, some of those elements include more than simple material objects molded for a precise placement. One example is getting a proper diagnosis.
Diagnosis for Invisalign
A diagnosis with a 3D Cone Beam dental imaging scan will allow your dentist to get a full 3-Dimensional image of the teeth so that all parameters can be taken into account such as:
Tooth Inclination
Jaw Alignment
Cranial Base
Root Systems
This level of diagnosis cannot be attained through simple tele-dentistry video conferencing. A dentist or an Orthodontist cannot properly get a full view or even measurements of your teeth as one would with an office visit. This is one area where at-home clear aligners do not excel.
Tooth attachments for Invisalign
In many Invisalign procedures, the patient will require attachments called buttons, these buttons allow for a more precise alignment. This is one major flaw of at-home clear aligners that adds to the lack of a proper diagnosis. As the image below shows, these button attachments for Invisalign are made to fit inside the mold and aides in the proper adjustment of your teeth into the desired position.
The Sales Pitch
Keep in mind that simply wanting to get clear aligners is not enough, you may want Invisalign for teeth straightening, however, you may not be a suitable candidate of Invisalign or other types of clear aligners. You can't put this type of trust on an online company whose sole objective is to sell more teeth aligners.
According to a report by KHN.org, Tiffanie Leatham who was a dental assistance for SmileDirectClub for one year felt the pressure from the organization for her to sign up new patients. This was such a problem, according to Tiffanie, that she was pushed to sign up patients in which she did not think were suitable candidates for clear aligners.
The Verdict Is in, Will An Investigations Come To Pass?
According to the same report by KHN.org, patients-customers are taking to Facebook to complain about the horrible results many have had. Additionally, it is difficult to get a detailed estimate of successful procedures because the company avoids making this information public. However, a new Facebook group was previously created to bring together patients with complaints and it has been gaining traction over its life.
According to an SEC Filing, the company serves more than a quarter of a million patients worldwide. They represent roughly 95% of the at-home generic clear aligner industry. The went public on 2019 and have had considerable growth. Between 2017 to 2018, the company tripled in customer base and now takes the lead in the industry. However, with growth in customer base, so have the complaints over their lack of adequate results.
Over 1,600 complaints have been registered Nationally against SmileDirectClub with the BBB (Better Business Bureau). With all these warning signs in the way, why would you take a chance on a procedure that could cost you more than just monetary damages?
Before you take a chance with online subscriptions, call us today at 702-671-0001 for a consultation to see if Invisalign is the right procedure for you.