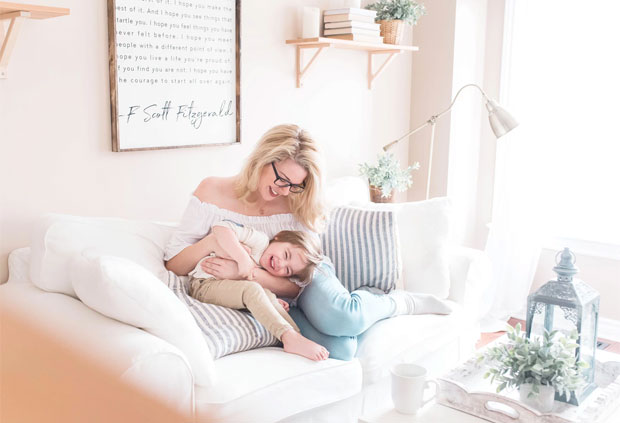 How You Can Turn Your Home into a Child Friendly Paradise
Originally posted on https://amumreviews.co.uk/how-you-can-turn-your-home-into-a-child-friendly-paradise/
When you become a parent, pretty much everything in your life changes. You can no longer stay out past nine pm before your eyelids start drooping, you suddenly have to learn how to make friends with people simply because they have a child of a similar age to your own, and your sleek, gorgeous home changes abruptly into a child proofed nightmare that's covered in pieces of brightly coloured plastic. But the truth is, you don't have to have a home that's geared only towards your children. Here are some tips on how to curate a child friendly home that makes both you and your kids happy.
With your kitchen, your number one focus should be 'family'. It isn't about you specifically, it isn't about your kids: it's about the time that you all spend there together. The kitchen is the hub of the home and it's where a lot of important things will happen over the years so you need to ensure that it's a place where you're comfortable spending plenty of time. First of all, focus on seating. Some kitchens aren't quite big enough to have space for a table and chairs, and if that sounds familiar, why not go for a breakfast bar instead? Get some stools so that your kids can perch on there and tell you about their day while you're making dinner in the evenings. You could also consider getting a more narrow table that sits right up against the wall instead of a traditional circular table. It's a place where your kids can do their homework in the evenings and where you can sit with the newspaper and a cup of coffee on a Saturday morning.
When it comes to storage, it's a good idea to keep as much as you can behind closed doors while you have younger kids – we all know what their little hands can easily get into, and you don't want them accidentally sending bags of flour cascading to the ground – keeping it child friendly and safe. But when your kids get older, why not make a feature of aspects of your kitchen like jars of pasta and bottles of olive oil? Making it beautiful will encourage them to get in there and learn to cook.
When you're expecting a baby, you often have dreams of how you want their room to be. Usually they're a pastel-coloured slice of heaven, full of crisp sheets, freshly swept floors, and toys tucked carefully away inside beautiful (often personally engraved) toy boxes. Unfortunately, those dreams bear very little resemblance to real life. With kids, you need to expect that their rooms will have a certain degree of wear and tear, and prepare for that. It's a good idea to upcycle furniture from the rest of the house – bring in an older armchair, cover it with a bright, pretty cloth, and add some colourful pillows. Repaint a dresser that you've had for a while (and remember to secure it to the wall in case your toddler decides to use it as a climbing frame). You don't need to repaint the walls – instead add decals. Fairy wall stickers are a dream come true for any little kid.
Having toys that are easily accessible is important in a child's bedroom. You may scream internally every time you go into your kid's room and see everything they own laid out on the floor, but it's important to give your children the opportunity to choose what they want to do and to learn to play independently. It's just as important to underline the importance of cleaning up after themselves, so your storage needs to be easily accessible and reachable for smaller people. Open shelves that hold bins and baskets are a good idea – and you can label each bin or basket with a picture of a toy so your child knows what's supposed to go where. It's also a good idea to make sure that board books are easy for your kids to reach. They aren't quite as easy to destroy as paper picture books, but it's great if your kid can reach for them independently to learn to look through their books and enjoy storytelling.
When it comes to your bedroom, it's important that you create a safe haven for yourself. The life of a parent is incredibly busy, and as such, carving out time for yourself is absolutely crucial in order to maintain your sanity. If you make it clear that your bedroom is out of bounds to your kids, unless there's an emergency like feeling unwell or having a nightmare, then you'll be able to cultivate a physical space for yourself in your home. In turn that will help you create a mental space for yourself. It's so easy for parents to get caught up in the roles of mum and dad and forget to take time for themselves as people, so use your bedroom as a way to rest, relax, read, and spend time together as a couple. Make it as restful as possible – invest in good pillows and a mattress that suits you both. If that's out of your budget, try a memory foam mattress topper. If you have a sore back, it will work wonders, as it will adapt to the shape of your body.
It's also a good idea to keep your bedroom as organised as possible. It's a place where you should try to switch off from the rest of the world, and that's a lot harder to do when you can see heaps of dirty clothes on the floor and piles of bills that need to be paid on top of your dresser. Make sure you clean out your wardrobe once a year, and donate any unneeded items to charity. After that, turn each item's hanger around when you wear it. If there are any hangers that haven't been turned around by the time next year's clean-out happens, chances are you don't need that item of clothing any more and you can wave goodbye to it.
Turning your home into a space that's perfect for both adults and children is a challenge, but it's also a lot of fun making your home a child friendly but also yours.