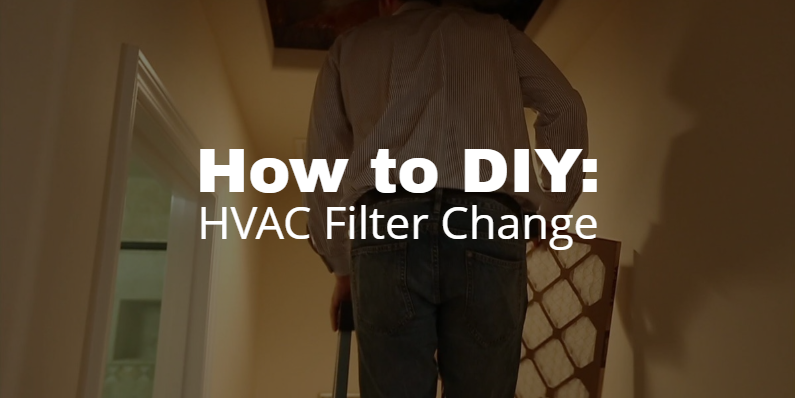 How to DIY: HVAC Filter Change
Originally posted on https://kaiserac.com/how-to-change-an-hvac-filter/
Through the heat of summer and the cold of winter, your HVAC system is designed to keep your home comfortable.
Without the proper maintenance required, your system could undergo serious stress, and it's likely that you'll end up with some pretty costly repairs.
One of the most important things you can do to maintain a healthy system is to perform an HVAC filter change.
This handy guide will walk you through the steps to change your filter and cover a few other helpful tips so your HVAC system can serve you well for a long time to come.
Know the System Specs
Before you can perform an HVAC system filter change, you need to know exactly what size and type of replacement filter you'll need. If your system is still under warranty, make sure you use the exact type of filter your owner's manual recommends.
If you don't use the recommended filter, your warranty may be voided or you might not be able to make a claim if you run into problems later. For those who don't currently have a system under warranty, you still need to know the exact size of the filter.
Once you know the size of the filter, you'll want to look into the various styles available. As a general rule of thumb, you should make an HVAC filter change every month.
Some filters are available in three or even six-month designs that can remain in use for a longer period of time. Write down the date you change the filter so you can keep track of when it's time to replace it later on.
In addition to the size, consider the various indoor air quality issues you have. For example, if you or someone in your household has allergies, consider a special filter designed to help capture excess pollen, dust, and dander.
A HEPA filter is a good choice for anyone coping with indoor allergies. Regardless of the filter style you choose, it's essential that it's the exact type required for your unit.
Make a note of the size of the replacement filter so it will be much easier to buy new ones going forward. Most filters have the size listed on the side for quick access.
Remove the Old Filter
The type of HVAC system you have will determine where your current filter is located. For some central air conditioning systems, the filter is located under a grate in the ceiling or near the floorboards.
Look for the return register, and then adjust the closing mechanism to open the panel. These are usually two small pieces of metal that you can easily turn outward to release the panel.
For other HVAC systems, the filter is located inside the inside unit behind a panel. You should be able to see ductwork coming into your internal unit. This ductwork will lead air coming in, and then another run of ductwork will lead air out of your home.
The filter should be located between the ductwork that brings the air in and the actual furnace itself. Other models might use a small panel with a handle that lifts the panel off.
You might also locate your filter on the bottom of your HVAC system unit. In this case, you'll likely need to remove the front access panel first.
Once you've found the location of your air filter, carefully remove the panel. If it's attached using screws, be sure to keep them in a safe place so you can easily replace the panel when you're done.
If you are especially sensitive to dust and pollen, use a mask and gloves to remove the old air filter. Dispose of the filter by placing it a garbage bag. Then, seal the bag and throw it in the trash outside.
if it appears that there's a lot of excess buildup inside your HVAC unit, now is a good time to go ahead and vacuum that out before you replace the filter.
HVAC Filter Change: Replace or Clean
In many instances, you'll replace your system filter with a new, disposable version. These filters usually have a cardboard frame, and you can find them at most home improvement stores.
When you replace the filter, make sure that you insert it in the correct direction. The filter should have an arrow or several arrows printed on the side.
The purpose of these arrows is to show you which direction to place the filter so that the air is flowing out of it in the correct direction. Simply place the filter inside the designated area, and securely close the panel door.
Always make sure that the filter fits snugly and there are no gaps around the frame. This will keep it in place, and it'll help to ensure that all dirt, debris, and dust is getting filters out before the air flows into your home.
You might have a "permanent" HVAC filter. These filters are able to be cleaned, and they're usually made with a sturdy fiberglass frame. The cost for a permanent filter might be more upfront, but it can save you money in the long run.
If you have a permanent filter, remove it following the same steps listed above. Then, rinse the filter in the sink or tub with clean water. Gently scrub the filter with a soft brush and mild detergent.
Continue rinsing and lightly scrubbing until all the excess grime is removed. It's very important that you allow your permanent filter to dry completely before replacing it inside the unit.
If there is a little bit of water, don't fret. The flow of air from your HVAC system should dry the remaining moisture pretty quickly.
Permanent air filters are a good alternative if you prefer something that's environmentally friendly and long-lasting. Keep in mind that these filters still need to be cleaned on a monthly basis, just as you would replace a disposable one.
Whichever type of air filter you use, always wipe down the panel or register when you're done. Clean this area of excess dust and buildup, which will allow for better airflow.
Other HVAC System Maintenance Tips
Regular filter changes are an integral part of good overall HVAC maintenance. But there are several other things you can do to extend the life of your system and keep it working at optimum condition.
Try these helpful tips so you can get the most out of your system and enjoy a comfortable home for a long time to come:
Keep your outdoor condenser protected from overgrowth by regularly trimming plants that are within a 12-inch radius.
Make sure all drapes and furniture are not blocking the air registers.
Clean your condensate drain line every three months with bleach. This will kill any mold or mildew that may have built up inside the pipe.
Practice good energy saving habits like using a programmable thermostat and using room-darkening shades and ceiling fans.
If you have a carbon monoxide detector, replace the battery every year.
Start a maintenance contract with a local HVAC company. They can perform a thorough inspection twice per year. The spring and fall are the best times to have your system checked so you're prepared for the extreme temperatures of summer and winter.
With a few simple steps, you'll ensure the health of your HVAC system lasts for a long time. Make a checklist and keep it somewhere handy so you're always on track to doing each individual task in a timely manner.
If you're ever unsure about an issue with your system, call a professional to help you troubleshoot what could be wrong. They can assess and diagnose the problem and make any necessary recommendations for repair.
Maintenance Made Easy
When it comes to a strong heating and air conditioning system, proper maintenance is the key. When you perform a regular HVAC filter change, you'll not only ensure the longevity of your system, but you'll also enjoy breathing cleaner air throughout the home.
Aside from filter changes, make sure that you follow some easy maintenance tips like getting regular system inspections and clearing the outside unit of excess plant life and debris.
The secret to a comfortable home depends on good, regularly scheduled maintenance of your HVAC system.  We can Help!  We have a cost effective maintenance plans starting at $8.95/month.
For all your HVAC system service, repair, and installation needs, be sure to contact us. Check out our blog for more helpful information regarding your home's system for a happier, healthier life.
(805) 988-1800