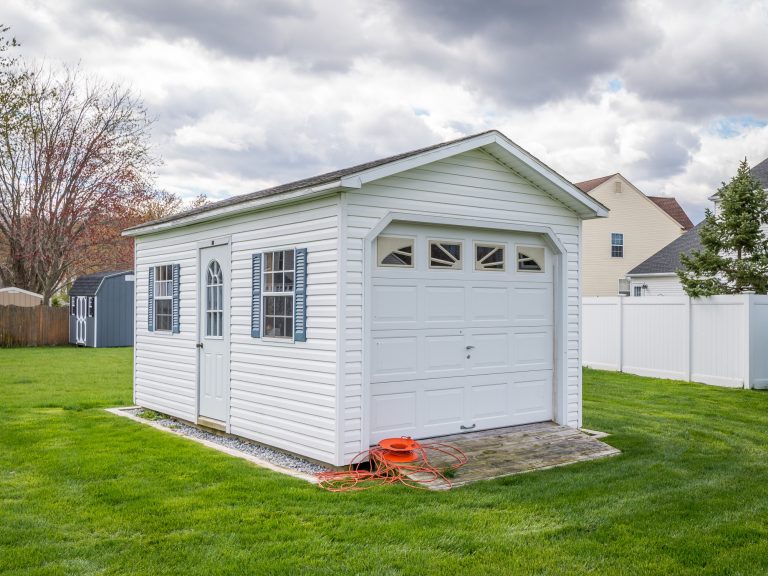 How to Build a Shed From the Ground Up
Photo from tedswoodworking
Originally Posted On: How to Build a Shed From the Ground Up – Woodworking Plans (woodworking4home-page.net)
Summer is around the corner, meaning it's almost time to roll up those sleeves and build yourself a shed. No residence is complete without a shed to store home and gardening equipment and supplies. Summer is the ideal time to put up a shed because you get extra space to store all the summer gear and equipment you bought during summer.
It's true, you can get a contractor to build a shed in your backyard, but where's the fun in that? Building a shed on your own is a fun-filled activity, especially if you get the entire family involved. Plus, you'll save some cash and get the satisfaction of building something with your own two hands.
DIY is one of the cheapest ways to build a shed. All you need is the right tools, the right materials, a little help, and you're good to go.
Today's post is a step-by-step guide on how to build a garden shed.
1. Get a Building Permit
Do I need a permit to build a shed? Well, it depends. You don't need a building permit for small sheds that measure six-by-ten or eight-by-ten feet in most areas. Anything larger may go against local zoning restrictions, and you'll have to pay a penalty for breaching these restrictions.
That said, you may need a local building permit in certain instances, which include:
If your shed needs electric wiring
If you're building a large shed that exceeds size zoning restrictions
If you'll use your shed as a living space or for conducting business
If your HOA has regulations concerning outdoor buildings
If you need a building permit for your shed, you'll have to go to the local building department and ask for it. A building permit cost for 200 square-feet shed is about $250 or less for a smaller shed. In other regions, you'll also need permission from the health department, zoning board, and wetlands commission before you can build your shed.
2.  Get the Building Plans
Once all the local agencies give you the green light, your next job is to get building plans for your shed. You can draw the plans yourself or get a professional to help you do it. Online sources like Better Barn or Shed King have excellent shed plans you could consider.
After getting the plans, call a building inspector to review the plans. The building inspector will confirm whether the plans are in line with all national and local building codes. The inspector will identify any building code violations and suggest ways to resolve them.
3.  Find a Spot for Your Shed
If everything checks, the next thing to do is locate the exact spot where you'll put up the shed. You may already have an area in mind, but maybe it's not the most suitable site for a shed. Here are a few tips to keep in mind when carving out a space for your shed.
Avoid Building a Shed Downhill
Building your shed in a low-lying area where the water collects is detrimental to your shed's structural integrity. Too much moisture will lead to wood rot and make the hinges rust. Furthermore, the humidity will also promote the proliferation of mold and mildew, which may be a health hazard.
If you also don't want your shed to be a muddy and soggy mess every wet season, avoid building your shed downhill.
Don't Build It Deep Inside the Woods
An abandoned shed in the middle of the woods makes for a great horror movie scene, but not a great residential shed. Tucking your shed deep in the woods means that it'll be surrounded by trees that will block out the sunshine. Apart from the lack of natural light, the shed will also have little airflow, making it damp.
Damp and dark are the ideal conditions for mold and mildew growth. Plus, the debris from the trees surrounding the shed will leave the roof a mess. Lastly, tiny critters are more likely to crawl into the shed if it's located deep in the woods.
Observe Required Setback Distance
There's no use ignoring code-required setback distances while building your shed. That's because the authorities might require you to tear it down and build one that observes all required setback distances.
Setback distances vary by state, so make sure you consult your building inspector to know whether your shed observes the regulations.
If you follow the above to the letter, you won't have to worry about building a new shed because of wrong sitting.
4. Get Your Tools Ready
Now it's time to get your tools ready before you can begin the actual work. For a robust shed, you'll need a considerable collection of carpentry, power, and hand tools.
For power tools, you'll need:
A cordless drill
An Impact driver
A Jobsite drill or a portable circular saw
Most of these tools are woodwork tools that you can find in carpentry and hardware stores countrywide.
For hand tools, you'll need:
A hammer
A handsaw
A tape measure
A prying bar
A chalk reel
A framing square
Aside from the work tools, don't forget to get safety gear like goggles, gloves, and a hard hat. It's also a good idea to get a tool belt with lots of pouches to keep your tools close by.
5. Build a Strong Foundation
Although a shed is a tiny structure, it still needs a strong foundation to last as long as you'd want it to. On-grade, foundations are sufficient for most small-sized sheds. These foundations consist of concrete bricks that you set directly on the ground, though sometimes you can use treated poles.
On-grade foundations are easy to construct, but you need to be extra diligent. For instance, all the bricks and blocks must be on the same grade and close enough to support the floor's frame. Around four inches of compacted gravel will be enough to protect the foundation from soil erosion.
If you're building a small shed, you can use a hand tamper to compact the foundation. For anything larger than 200 square feet, consider hiring a plate compactor, which is a gas-powered compacting machine. You'll need a permanent foundation that requires much more work and extends below the frost line for anything over 200 square feet.
6. Build the Floor Frame
Only pressure-treated lumber will do for the floor frame to protect the frame from wood rot and wood-boring bugs. The floor frame consists of the floor joists, mudsill, and perimeter band joists.
For the deck, you'll need three-quarter-inch exterior-grade plywood. Don't go for anything below to avoid flexing between joists. You can only use half-inch exterior plywood in double layers to prevent the same.
For sheds that store heavy equipment like a lawn tractor, you should use three-quarter-inch tongue-and-groove plywood. It's costlier than exterior-grade plywood, but the edges lock firmly together for an incredibly strong floor.
Remember, your floor is susceptible to moisture damage, especially if you live in a humid area. Make sure you use pressure-treated lumber to mitigate moisture damage and keep wood-boring insects at bay.
7. Build the Shed Walls
Precision is key when it comes to building shed walls. An out-of-square wall will haunt you for the rest of the project.
For the wall frames, you'll need 90mm square posts for the corners and 3m and 3.6 m C16 and CLS 2.4m. Figure out how high you want your walls to be, then cut and screw the pieces together. Place each baton around 8cm apart.
Put up the wall and secure them with fasteners. If you want an extra layer of protection, consider stapling the waterproof sheeting over the frame. Remember, the walls must have perfect measurements to form a perfect square or rectangle.
8. Build the Roof Framing
Framing the roof is one of the trickiest aspects of building a shed. The repetitive angled cuts and measurements may be overwhelming for most DIYers. To make things simpler, create roof trusses by assembling the rafters and ceiling joists.
Later on, you can raise the trusses on top of the wall, and voila, you have your roof framing.
9. Door Placement and Door Type
Most sheds have hinged and sliding doors. The type you decide on depends on the size of your shed and your personal preference.  Hinged doors take up less space than sliding doors, but sliding doors are easier to use and leave a lot more door space to move in items.
You should also be careful with door placement. Placing your door on the gable side of your shed looks nice, but it's not very practical. You'll have a difficult time getting to stuff at the rear end of the shed.
A better alternative is to have the door along the wall so you can access your items from any side. Also, you could install a door on both gables' ends to make items easily accessible.
Build a Shed This Summer
Now that you know how to build a shed, make plans to build one this summer. Remember to get everyone involved and if you need a little help, call the pros. Also, remember, quality materials equal a quality shed, so don't be afraid to spend on quality materials and equipment.
If it's your first time working with wood, you have a lot to learn before you can build your shed. Contact us today so we can get you acquainted with all you need to know about how to build a shed from scratch.