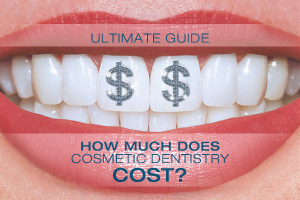 How Much Does Cosmetic Dentistry Cost? [Ultimate Guide]
Are you considering a smile makeover? Trying to budget the cost of your cosmetic dentistry treatment? Many people who are in the market for cosmetic dental procedures from a Ventura County dentist foremost want to know what the final cost will be…. and if their insurance will help pay for it!
The truth is that there is no such thing as a set cosmetic dentistry cost for procedures or smile makeovers. Every dental office must charge different fees based on their labor, their investment in equipment, their office rent and other overhead matters such as the lab making your veneers and crowns. Additionally, the cost of materials like dental implants can vary slightly from region to region.
On top of all this, each patient case will require a different number of appointments and entail a different set of needs for their procedures. For instance, someone getting a dental bridge for four teeth will almost always pay more than someone obtaining a bridge for three teeth.
All of these variables aside, we can give you a general range of costs given our own experience and our typical rates.
Teeth Whitening Cost
Teeth whitening procedures vary greatly, but we recommend only the most safe, effective procedures that deliver real, long-lasting results. To that end, we only engage in KöR Teeth Whitening since it provides measurable results and lasts up to ten years.
The teeth whitening cost for a KöR procedure can be anywhere from $550 to $1,200 or more based on the number of visits, applications and any materials you are sent home with.
With professional teeth whitening, you'll see faster results compared to what you can buy with an over the counter kit. Each treatment will whiten your teeth evenly and dramatically, for the whitest smile possible. Our Ventura cosmetic dentist can show you how to maintain your results for years!
Porcelain Veneers Cost
Genuine porcelain veneers are made of high-quality materials and require special molding and measurement procedures to ensure they fit your smile. The application procedure also involves a significant amount of time and labor. Not to mention the artistic design and skill from our partnering dental labs where your veneers are crafted.
Additionally, the dentist may need to place the veneer and then reshape it to perfectly complement your smile as well as your natural bite. After averaging together all these steps and the materials required for them, veneers can cost anywhere from $800 to $2,500 per tooth depending on the amount of work put in and the number of visits involved.
How many veneers will you need? It depends. Take a look in the mirror or at photographs to see how wide your smile is. How many teeth are visible when you laugh? Most people get about 6 veneers on their upper front teeth. Others may need as many as 8-10, plus some on their lower arch. This factor alone is a huge variable in the cost of dental veneers in Ventura
Dental Implants Cost
Like veneers, the cost-per-tooth of a dental implant will vary greatly. Since the procedure involves consultations, casting a mold and oral surgery, the costs reflect those of a small surgical procedure. Including materials, labor and outpatient costs, dental implants cost anywhere from $1,100 to $4,000 and upward per tooth.
But…that's if you're using an individual dental implant for each tooth that's missing. The great thing about implants is that our Ventura dentist can use them in pairs or sets of 2-4 to anchor multiple tooth restorations such as bridges or dentures. You likely won't need more than that!
The good news is that while many dental insurance plans consider a dental implant an elective procedure, others recognize that it has widely accepted medical benefits. Therefore, you may be able to get some or most of the costs covered by insurance. Our Ventura implant dentist will submit thorough information including X-rays and notes to help support your claim for insurance coverage on your implants.
Dental Bridge Cost
As mentioned in our introduction, dental bridges can have a wide range of costs given the number of teeth replaced. Generally, a dental bridge will cost around $500 to $1,200 per tooth, making it relatively affordable compared to other procedures. An additional boon is that many more insurers cover dental bridge procedures compared to other procedures like implants.
The cost of your bridge will be determined by the placement in the mouth, the condition of your mouth, the number of teeth involved and other variables like the number of visits needed to complete the procedure.
Consulting with a Ventura County Dentist to Get the Best Cost
The good news is that a cosmetic dentist in Ventura County can sometimes be able to add flexibility to the cost of your procedures if you are self-paying. They may also be able to work with insurers to see how much cost could be offset for procedures like bridgework.