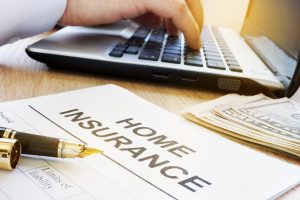 Homeowners Insurance and What it Covers
Photo from kickerinsuresme
Originally Posted On: https://www.kickerinsuresme.com/homeowners-insurance-and-what-it-covers/
Your home is so much more than just a place where you and your family live.
It's a place where you and the people you love gather to reflect upon old memories while making great new ones. It's a place where you can escape the stress and frustrations of the outside world and never have to worry about being accepted for who you are. In short, your home is a vital part of who you are. So it only makes sense that you'd want to do everything in your power to protect your home and everyone and everything in it.
Homeowners insurance is a great way to protect your property and things in it. However, a lot of homeowners don't know much about what their policy actually covers.
What does homeowners insurance cover? Read on to find out!
Inside Your Home
Many first-time homeowners may think that their policy only covers the stuff in their home, or maybe only the structure of their home. While both could be true, there's so much more to your policy than one or the other.
Depending upon your policy, it could cover just about anything inside of your home, as well as the property!
From your record collection of guilty pleasures to your library to your expensive electronics, anything in your home falls within coverage. However, keep in mind that there may be limits to certain property like jewelry or antiques, so speak with your insurance agent to be sure all of your belongings are properly covered.
Keep in mind, homeowners coverage doesn't just protect against acts of nature such as a fire. Also it should note that flooding is not covered under your homeowners policy. You'll need to get flood insurance for that.
Home insurance is peace of mind, which could come in handy should you need it. For example, coverage against crimes such as burglaries. While the odds of a home burglary are quite slim, you can rest assured knowing that your belongings are safe.
Outside Your Home
Of course, your home's exterior is protected as well. This comes in handy if you live in an area that experiences extreme weather conditions. For instance, here in Texas we get plenty of heat and experienced our fair share of hurricanes, unfortunately. Again, keep in mind that your homeowners insurance doesn't cover flood and you also likely have Windstorm insurance depending upon where you live.
Additional Coverage
There are numerous reasons you may have to evacuate your home at some point, to no fault of your own, but did you know that your homeowner's coverage may cover your expenses in some instances? Homeowners insurance may cover the cost of food, lodging, and more for yourself and anyone else who resides in your home. It can't hurt to ask.
What Does Homeowners Insurance Cover? Quite A Bit!
As you can see, the question is less, 'What does homeowners insurance cover?' but more of 'What doesn't homeowners insurance cover?'
A great policy can make all the difference in your time of need, so sign up for coverage today.
Get in touch with Kicker Insures Me Agency at (281) 487-9686 to learn how you can better protect your home and loved ones for less. We look forward to hearing from you.