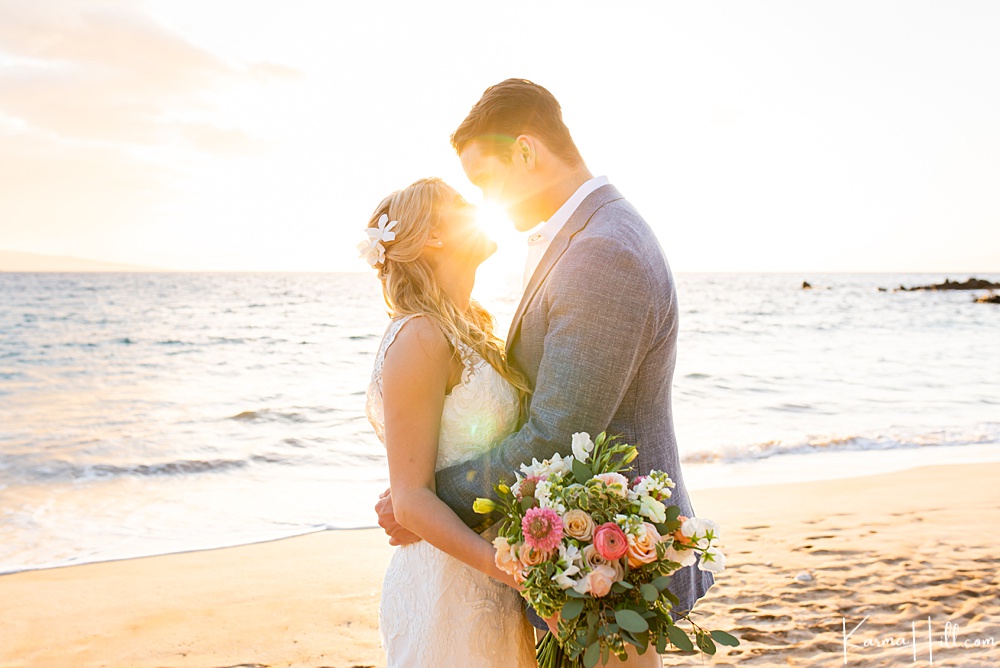 Hawaii Destination Wedding Cost – Ceremony, Lodging and Airfare
Photo From karmahill
Originally Posted On: https://simplemauiwedding.net/hawaii-destination-wedding-cost/
Finding accurate Hawaii destination wedding cost #'s can be very tricky when online prices range from $5,750 to $32,900. Luckily for you, we've demystified the prices in this comprehensive article!
First, we'll break down the prices starting with average beach ceremony & reception costs, then transition into venue ceremony & reception costs, followed by travel & accommodations, and wrap it all up in an easy overall GRAND total. We'll dive into the nitty-gritty details along the way and even toss in an example wedding scenario or two!
No matter your budget, Simple Maui Wedding is here to help you turn your dream wedding into reality.
Hawaii Destination Wedding Cost
Read all the way to the bottom for a full breakdown, from plane tickets to "I do."
Hawaii Destination Wedding Costs – Explained
Before we calculate the travel and hotel costs, let's jump right into the meaty stuff and compare beach and venue prices for weddings in Hawaii, from barebones to all the fixin's.
We estimate the total ceremony AND reception costs for Hawaii destination weddings to be $3,738 for beach ceremonies and $9,907 for venue weddings.
Now let's look at how we got those numbers. Keep scrolling for travel and accommodation prices!

✦ Hawaii Beach Wedding CEREMONY Cost
Our couples spend an average of $3,200 for BEACH wedding packages (with add-ons). Total costs range from $2,550 to $7,250.
At Simple Maui Wedding, we offer 4 Maui beach wedding packages that run from $2,550 – $3,850. Our starting package is our "Beach Elopement" package with 1 hour of photography coverage. Our "Stunning Beach Wedding" package is our largest and includes 3 hours of photography coverage. While our most popular package is our "Simply Beautiful Beach Wedding," which tallies in at $2,850 and includes 1.5 hours of photography coverage and all of the features marked in the chart below.
Not every couple decides to include extras, but when they do, our most popular add-ons for Maui beach weddings are the custom bouquet upgrade ($85), flower crown ($125), and rental of our one-of-a-kind "Just Maui'd" Sign ($95). Other frequent requests include vendor services like videography ($1100) and live music ($350).
✦ Hawaii Beach RECEPTION Cost

The total costs for Hawaii beach receptions: range from $0 (None) – $1,075. Averages out to $538
While you can't have a traditional dinner reception on a Hawaii shoreline, we offer a fun "Mini Reception" for our beach wedding packages. At just $1,075, this price includes: 1 tier white wedding cake with fresh flowers, cake table, plate, napkins, cake server; sparkling cider toast for the couple & guests; 1 hula dancer and 1 musician; couples first dance; and an extra ½ hour of photography.
We also offer an affordable "Cake Cutting Ceremony & Toast Package" for $525, which boasts cake, cider, and an extra ½ hour of photography. However, many of our couples choose their items ala carte, opting for one of our simple yet beautiful wedding cakes ($175) and cider for their guests ($50), then following it up with dinner at a high-end restaurant or luau instead of hosting a large reception.
Come See Real Hawaii Beach Weddings!
Read our blog to view real Hawaii Destination Weddings! See all the true moments!
✦ Hawaii Venue Wedding CEREMONY Cost

Our couples spend an estimated average of $5,200 for VENUE wedding packages (with add-ons). Total costs range from $3,575 to $12,700.
The costs of Hawaii wedding venues depends on a few factors: the location, the property type, and the demand. A private venue is likely to cost more than a restaurant, while the price of a hotel or resort can easily surpass both. To get a good grasp of the overall numbers, let's look at Simple Maui Wedding's venue packages, which include all three of the previously listed types.
Our Maui venue wedding packages range from $3,575 to $8,500, bookended by the beautiful and affordable Gannon's restaurant (our most popular venue) and the luxurious Four Seasons Resort in Wailea. Check out our price guide below to get a visual rundown of what each package offers.
Add-ons for Hawaii venue weddings often cost a little more than beach affairs because of the ceremony arch ($475 – $800) and the florals for the attendees of honor. Many of our couples also opt for vendor services like extra photography time, videography, live music (included in the Four Seasons Package), and custom bouquets.
✦ Hawaii Venue RECEPTION Cost

The average cost for Hawaii venue receptions with 15 guests range from $2,165 – $11,000 plus and averages out to roughly $4,707.
At Simple Maui Wedding, we don't plan receptions, but we can connect you with the events team to book directly with the vendor of your choice. To calculate up reception costs, we'll run the numbers against the average guest count for our Hawaii destination weddings: 15.
Gannon's Reception Costs

For a simple venue reception with only 15 guests at Gannon's, the bare minimum punches in at roughly $2,250.
A two-course meal at Gannon's restaurant will cost you roughly $51 per person. For an unforgettable night, you'd also want to reserve their lower lawn ($500), open a cash bar ($100), rent their sound system ($300) and mini dance floor ($200), and include a cake and toast ($300).
Four Seasons Reception Costs

On the other hand, the booking prices of a reception at the prestigious Four Seasons in Wailea range from $3,500 – $11,000 plus.
Events in this private venue require a minimum food and beverage spending of $300 per person excluding tax and service fees. This price point usually consists of cocktail reception appetizers, dinner selection, wedding cake, and beverages. Any optional enhancements or upgrades will increase the overall price tag.
✦ We put the following numbers at the top of this article but figured they were so important, we should list them twice!
This puts the estimated total ceremony AND reception costs for Hawaii BEACH weddings at $3,738 and for VENUE weddings at $9,907, without flights and accommodations.
Using the above averages, here's a quick ballpark estimate of where your money will go in both a beach and venue Hawaii destination wedding:

Hawaii Wedding Price – Examples
After all this, you may be wondering what Hawaii destination wedding package is right for you…? Let us help you figure it out by looking at some examples!

Example 1: Hawaii BEACH Elopement
(Bride & Groom Only)
For this example, let's theorize that you want to get eloped on Maui with just you and your partner. You want to keep it as simple as possible, so you check out our Beach Elopement Package. You're thrilled with what's included, love the bouquet choices it comes with, and are more than happy with an hour of photography, so you book it for $2,550 and decide to pass on the add-ons.
For your reception, you also keep it simple with one of our beautiful a la carte wedding cakes ($175) and cut into it right there on the beach. You follow your wedding with dinner at a world-class restaurant for about $200 even.
$2,925 TOTAL = beach elopement ($2,550) plus cake ($175) plus restaurant ($200)
Example 2: Hawaii BEACH Wedding
(With 15 Guests)
What if you don't want to elope? Let's say you decide to get married on the beach with 15 guests. We would recommend our package 4 ("Stunning Beach Wedding" for $3,850) because the bride wants extra photography time for getting ready coverage. The bride saw our Instagram @simplemauiwed and fell in love with a custom bouquet that cost $85 extra. You also have two bridesmaids who need attendant bouquets ($125 x 2 = $250), 2 groomsmen with boutonnieres ($45 x 2 = $90), you want a musician ($350), shell leis for the guests ($3 x 15 = $45), a videographer ($1100), and the just Maui'd sign ($95).
This puts your BEACH ceremony costs at $5,765
For your reception, you decide to have dinner with all your guests at a High-end restaurant which costs about $40 per person + an extra $30 per person for drinks ($70 x 15 = $1,050). Plus 15% gratuity and a custom wedding cake ($350) and your reception will cost right around $1,508.
$7,273 TOTAL = beach ceremony ($5,765) + restaurant reception ($1,508)
Example 3: Simple Hawaii VENUE Wedding
(With 15 Guests)
Now let's look at venue weddings. Let's say you have 15 guests and want all the same add-ons from the standard beach wedding example above ($2,010), plus a custom arch (roughly $800) but would prefer to have the ceremony at Gannon's. So you book our Gannon's Grassy Knoll Package for $3,575.
This puts your total VENUE wedding costs at $6,385
For your reception, you choose the convenience of staying at Gannon's and purchase all the reception items listed earlier in our Gannon's reception section. A two-course meal at Gannon's restaurant will cost you roughly $51 per person. For an unforgettable night, you'd also want to reserve their lower lawn ($500), open a cash bar ($100), rent their sound system ($300) and mini dance floor ($200), and include a cake and toast ($300). For a simple venue reception with only 15 guests at Gannon's, the bare minimum punches in at roughly $2250.
$8,635 TOTAL = venue ceremony ($6,385) + venue reception ($2,250)
Of course, these examples are just ballpark prices. If your ceremony takes place at the Four Seasons and you hold your reception there as well, your total Maui destination wedding cost could easily reach $21,000 before travel and accommodations are calculated in.
Hawaii Travel, Hotel & Flight – Expenses
Your trip to Hawaii with a 7-night hotel stay for two, plus Round Trip Flights for Two, plus Daily Spending will cost roughly $6,931
Airfare Cost For 2 to Hawaii
Average Round trip for two: $1,524
Valuepenguin tallies a roundtrip to Hawaii from $400 to more than $2,000, but these averages include first-class travelers. Most of our couples can fly coach to Honolulu from the continental U.S. for between $500 and $800 and then island-hop for an extra $112 each to Maui.
Total roundtrip travel costs average out to $1524 a couple, but many cities like LA (where most of Maui's visitors hail from) can get tickets for much cheaper.
LODGING + SPENDING
Total $5,407 = Lodging ($2,892) plus weekly spending ($2,515)
Lodging
Visitor statistics estimate the average daily lodging price on Maui to be $104 per person, with an average visitor stay of one week (7.7 days). For our estimates, we're going to double this cost because the prices have likely been skewed by backpack travelers who opt for timeshares, Air BnBs, family accommodations, and even tents. Oahu lodging rates will also tip the numbers because their accommodations tend to be more affordable due to the dense population. This brings the bare minimum price of lodging to $1,456 per week.
However, when it comes to hotels, our clients tend to favor the Hyatt, The Westin, and The Marriott Wailea Beach Resort. The average price for a 1-night stay at these award-winning resorts tallies close to $465 (ranging from $328 during the off-season in November to up to $800+ in the peak summer months). We estimate most couples will stay at least 2 nights (the day before and the night of their wedding), and looking at the experience of our own clients, we agree with the government data that reports most visitors stay for roughly one week.
With hotel costs calculated in, this brings the estimated lodging cost up to $2,530 for a 7-night stay with two nights at a high-end hotel or $3,255 for an entire week at one of these pricier resorts.
Spending
According to Hawaii government data, the average Hawaii visitor spending is roughly $109 a day ($829 x 2 = $1,658 total). But if you're coming to get married, then this trip is a once in a lifetime experience, and we think it's reasonable to tack on an extra $500 for wiggle room with adventure activities and Honeymoon expenses. That puts the estimated spending at $2,158 ($1,658 + $500). Add to that the price of a rental car (averages to $51 a day when fees are calculated in), and the total spending for one week comes out to $2,515.
Hawaii Destination Wedding Cost "GRAND TOTAL"!
Now for the part that really matters! Let's figure out a concrete estimate of what a destination wedding in Hawaii will cost you, from plane tickets to "I do"…
✦ Hawaii BEACH Wedding Grand Total

The average TOTAL cost of a BEACH Hawaii Destination Wedding comes out to $10,659, ranging from $8,295 – $23,995 (depending greatly on your reception choice). Average beach Ceremony ($3,200), plus simple beach Reception ($528), plus travel and accommodation ($6,931).
✦ Hawaii Venue Wedding Grand Total
The average TOTAL cost of a VENUE Hawaii Destination Wedding comes to $16,838, ranging from $11,123 – $33,208. Average venue Ceremony ($5,200), plus average venue Reception ($4,707), plus travel and accommodation ($6,931).
Keep in mind that these prices can vary significantly and range from a beach elopement to a standard beach wedding with 15+ guests, all the way up to an elaborate venue wedding with a luxurious reception.

What Should Your Hawaii Destination Wedding Budget Really Be?
We suggest you set a budget that works for you but expect it to go over by at least 15%. A study by WeddingWire found that, on average, couples plan to spend around $23,000 on their wedding but end up spending nearly $30,000. That's a 30% increase. When calculating the cost of your Hawaii destination wedding, plan a budget that allows for some wiggle room.
Not only are there endless wedding must-haves, but when you get to the Aloha State and see all of the wonderful things to do and places to visit, you'll understand why those extra dollars will create memories that last a lifetime.
While planning your budget, be sure to also weigh in these considerations:

How many people do I want to come?
Can my family afford to make it out?
Would it better to have a Hawaii destination elopement for the budget I have?
How much photography coverage do I need?
Do I want a big reception or will a simple cake-cutting suffice?
Would I prefer a live musician or would a simple Bluetooth speaker work?
Do we want to stay in one location, or use some of your budget to explore other islands?
Should the majority of our budget go to our vacation trip/honeymoon or to the ceremony & reception?
One FINAL thing to consider:
The price of an average US wedding is close to $30,000 while the average Hawaii destination wedding costs between $9,500 and $15,600…
Lastly, for all you visual learners, here's a breakdown of the Hawaii destination wedding costs examined in this article.
Contact Simple Maui Wedding Today!
Let us plan your Hawaii wedding!