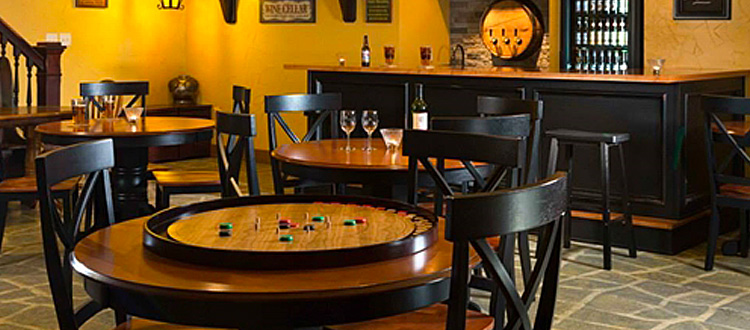 Hardwood Gives Basements Warmth And Charm
Photo From bairdbrothers
Originally Posted On: https://www.bairdbrothers.com/blog/how-to-beautify/hardwood-gives-basements-warmth-and-charm/
Is 2019 the year you'll transform your drab basement into gorgeous, valuable living space?
"With texture and vibrant color, fine American hardwood can help you create a natural, warm, welcoming feeling in your basement," Baird Brothers Steve Stack said. Thinking about taking advantage of that extra square footage down under? Steve has some floor-to-ceiling suggestions to incorporate gorgeous hardwood into your basement design.
Engineered Hardwood Flooring: Real Hardwood Floors Can Be Installed In At-Grade Or Below-Grade Levels
Some think engineered hardwood flooring is "fake" — but they couldn't be more wrong. "It looks and feels like real hardwood because it is real hardwood. It's not laminate or plastic," Steve said. The top layer is real hardwood attached to premium nine-ply Baltic Birch, all bonded with an adhesive under heat and pressure.
"Engineered flooring is the only real wood flooring that is stable enough to handle high-moisture conditions, like basements or slab homes common in the southern United States," Steve said. Installation options vary. It can be nailed, stapled, glued or floated over a variety of subfloors, including concrete.
Baird Brothers' engineered hardwood flooring is available in a variety of species, including hard-to-find Quarter-Sawn Red and White Oak, Walnut, Cherry, Hickory, Ash and more.
Note: Baird Brothers engineered hardwood is available as a pre-order manufactured item. Allow 4-6 weeks for unfinished engineered hardwood.
Hardwood Paneling And Wainscot Surrounds Basements With Beauty And Warmth
More than any other wall covering, hardwood paneling exudes a sense of warmth. "Wainscoting or paneling never goes out of style," Steve said. "You can take it anywhere from a rustic, natural feel to a unique design for a contemporary home with our new primed F/J poplar Ship Lap siding that we now stock." Recessed panel, raised panel, beaded panel, flat panel, ship lap or channel are a few of the options.
Baird Brothers premium hardwood wainscot or paneling is stocked in Poplar, Red Oak, Maple, Cherry, and F/J Primed Poplar for an under-the-chair rail or floor-to-ceiling application. Custom solid wood wainscoting and species such as Hickory, White Oak, Brazilian Cherry, Quarter Sawn Red Oak, Quarter Sawn White Oak, Mahogany, Alder, Cedar and more are available to special order.
Basement Bars And Quality Hardwood: The Perfect Combination
Rustic, elegant or even a little funky. The bar is the centerpiece of basements. Baird Brothers premium hardwood bar top rail moulding is stocked in gorgeous Poplar, Red Oak, Maple, Cherry, Hickory, and Walnut for a beautiful rich look on your bar or countertop.
Looking for something special to match your basement's theme or personality? "Customers can provide sketches, drawings, plans or layouts and Baird Brothers experts will come up with a list of project materials," Steve said.
Custom bar top rail moulding profiles and species such as White Oak, Brazilian Cherry, Quarter Sawn Red Oak, Quarter Sawn White Oak, Mahogany, Alder, Cedar, Pine and more are available by special order.