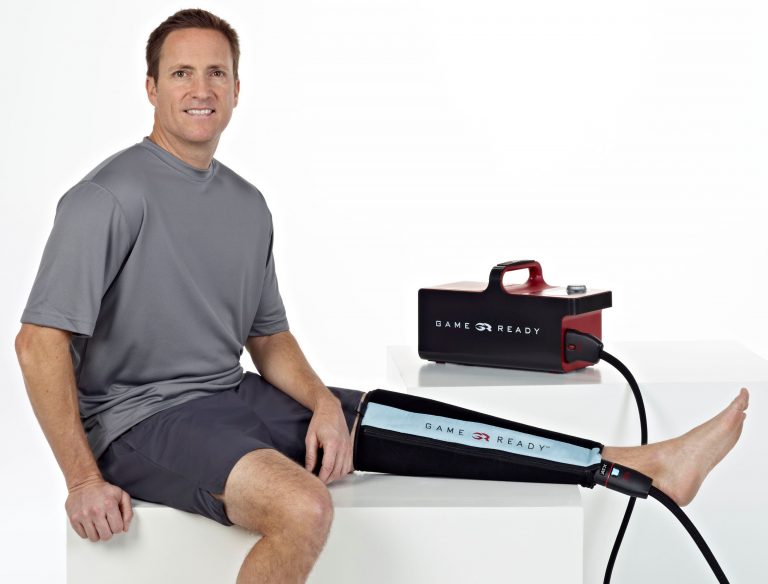 Game Ready Ice Machine Rental in New York
Originally posted on https://orthoprousa.com/game-ready-ice-machine-rental-in-new-york/
Getting the best possible results is critical to the recovery process after surgery, or for treating pain in non-surgical applications, such as following a sports injury, car accident, or workers' compensation injury is important to all New Yorkers. Game Ready® Ice Machine has re-engineered the traditional recovery method into something that truly benefits thousands of patients every year. From athletes to retirees, from those recovering following surgery or traumatic injuries sustained in an auto accident, it's vital to maximize your results and use a Game Ready® cryotherapy machine with your current care and rehabilitation plan.
State-of-the-art medical devices, like the Game Ready®  GRPro 2.1 Cold Therapy System, plays an integral part of this healing phase. Medical doctors, physical therapists, and chiropractic physicians want the best for their patients and know that merely resting and elevating the affected area, using a R.I.C.E recovery method (R: Rest, I: Ice, C: Compression, E: Elevation), may not sufficient and can lead to further complications. Game Ready® ice machine bring a better method to assist in treating post-surgical and non-surgical pain and swelling.
How Does Game Ready Ice Machine Work?
Despite the wealth of information available at just the touch of the button or through a simple internet search, may patients need more specific treatment options. Over the years, conservative options were used to treat those dealing with pain and discomfort associated with musculoskeletal injuries or post-surgical recovery process. In the post-surgical recovery process, many patients would use a combination of Continuous Passive Motion (CPM Machine) therapy along with rest, ice, compression, and elevation. This regimen often involves numerous steps and a significant amount of time for each therapy session.
The cryotherapy system that Game Ready® offers to assist in speeding up healing after an injury or surgery takes a more proactive approach. By using devices like the Game Ready® ice machine, where the application of cold and compression work together to actively accelerate and enhance a patient's recovery. Specifically, in post-operative rehabilitation, when used in conjunction with a CPM machine, patients will have an improved experience with less of the troubling side effects.
Game Ready Ice Machine Rental After Surgery
Benefits of using Game Ready® cryotherapy products while undergoing continuous pass motion (CPM machine) therapy after surgery include:
Less pain
When using cold treatment options, they benefit from the lasting penetration of it. This ultimately brings down pain levels, which means less medication while recovering. Game Ready products help to minimize the experience of drug-related side effects when trying to manage discomfort associated with the healing process. Furthermore, unlike using ice bags or some of the other less-expensive options on the market, the Game Ready® ice machine unit allows the patient to control the temperature and prevent an "ice burn."
Reduced Swelling
Our bodies swell with excess fluid in areas that have healing wounds like those after surgery. Using the active compression features of the Game Ready® ice machine helps your body naturally move this fluid out of the affected site and aids in preventing further instances of inflammation. This also benefits the development of a healthy range of motion of the shoulder or knee joint.
Improved Circulation Enhances Recovery
In addition to the reduction of swelling, Game Ready cold therapy products work with a CPM machine in oxygenating the blood by improving a patient's circulation. This helps make sure that nutrients flow to the operated area to encourage healing.
Makes It Easier For Patients To Follow Prescribed Regimen
After surgery a knee or shoulder surgery, many patients are understandably afraid of the post-surgical pain. This fear is a natural response after surgery but must not interfere with the recovery process. Patient compliance is critical, and using one of Game Ready's cryotherapy machines in conjunction with a CPM machine is vital to overcome anxiety. By creating the least painful therapy activity possible, patients will follow through on their aftercare and get optimum results.
Larger Coverage of Treatment Area
Many of Game Ready® products come in the form of body-conforming wraps, which circulate ice water, help provide intermittent compression, and can cover a large variety of body parts. This larger coverage area protects against spreading of inflammation, which contributes to a quicker recovery.
Non-Surgical Uses of Game Ready® Ice Machines
Not every injury requires invasive surgical procedures. Whether you were injured at work, car accident, or getting injured while playing sports, Game Ready® ice machine can help your recovery process. In fact, the Game Ready® cold and compression therapy system is effective against common injuries that affect millions of Americans every year.
Common injuries that Game Ready® cryotherapy products can assist in healing include:
Strains and strains
Pain Management
Whiplash injury
Knee injuries
Shin splints
Back pain
Groin pulls
Shoulder injuries
Ankle injuries
Rotator Cuff injury
ACL injury
Wrist Injury
The benefits of using these machines after hurting oneself are invaluable as it makes it possible to shorten your recovery period by offering cold therapy with compression. Some key features that benefit patients renting Game Ready® Cold Therapy machine include:
Active Cryotherapy
Ice water is rapidly circulated in a continuous exchange loop that helps to remove injury-related warmth. One can expect some reduction in conditions like muscle spasm, edema, and pain.
Active Compression Therapy
Our Game Ready products feature a pneumatic compress that mimics the squeezing and release mechanisms of our muscles. This helps pump away complications like edema while better oxygenating blood to the affected site.
Circumferential Coverage
We have engineered our body wraps anatomically for a better, low-profile, circumferential fit to your body. This creates better contact with the surface of your body and delivers a more consistent cooling effect.
Deeper Cooling That Acts Quickly
With even distribution of icy water to radiate even, cooling comfort to the body, you experience a deeper-penetrating treatment. This causes your cellular metabolism to slow and minimize secondary tissue damage.
Conveniently Portable
Game Ready cryotherapy machines have battery pack options to make your treatment needs available while on the go or at home. This easy portability makes it possible for patients to undergo therapy no matter where they are staying.
The Benefits of a Game Ready Cryotherapy Machine
Because of its game-changing intermittent pneumatic compression and inflammation-reducing cryotherapy features, the GRPro 2.1 is a game-changer. Compared to traditional methods that focused on rest, elevation, ice, and compression, Game Ready® is proud to offer a line of treatment machines that not only reduce pain but also:
Minimize muscle spasms
Improve the patient's lymphatic functioning
Encourage musculoskeletal tissues to heal
Increase the flow of blood and oxygen to the system
Reduce painful side effects from injuries and inflammation
This is a winning situation for patients whose providers offer some form of Game Ready therapy options.
Find a Game Ready® Ice Machine Rental Near You
Game Ready® has led the way in recovery technology innovation for over two decades. We are here to give you the most technologically advanced and therapeutic options to heal faster and recover better. If you live in New York City, Long Island, or Westchester counties, we can help. Most insurance plans are accepted and same-day delivery may be available.
We are A+ rated by the Better Business Bureau and with over 12 in business, have the expertise and the know-how to make sure that you get the best care you deserve. Call (212) 888-7372 to learn more about how renting a Game Ready Cryotherapy Machine or a CPM Machine can help you recover faster and get back to living your life to the fullest!