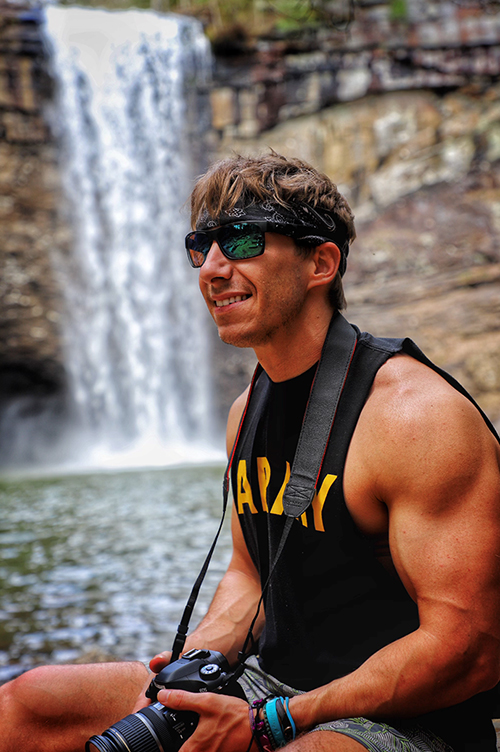 Franchise Clearly Helps Military Vet Realize His Business Ownership Dream
Photo by Blane Britton
Originally Posted On: Franchise Clearly Helps Military Vet Realize His Business Ownership Dream
In 2010, Blane Britton was pumping iron at an Anytime Fitness location in Marian, Arkansas. He was just 17 years old at the time and contemplating some upcoming life decisions. That's when the idea hit him. He was going to own his own gym.
"Living a healthy lifestyle became a passion of mine, and honestly, it changed my life," he says. Not knowing what to do next, he struck up a relationship with the manager. After dozens of questions and getting a feel for what it took to run a gym, he reached out to Anytime Fitness Corporate.
It didn't take long for him to figure out that his dream of owning an Anytime Fitness location wasn't going to happen. He couldn't afford it. He was dejected and lost. For most people, this is where the story would end, but Blane isn't most people. Instead, he got thinking about how he could pull together the needed funds to start his career. So, of course, he joined the Army! It's an unconventional reason to join the military ranks, but where else can you get free housing, food, and healthcare paid for by your employer. He figured if he could stay disciplined, he could save 95% of his paycheck. And that's just what he did. After 3 years, he had the bare minimum funds to make a business move, or so he thought. Purchasing a new territory was still going to be tough, so instead, he searched the internet for an existing location whose owner wanted to sell. That's when he connected with Franchise Clearly, a firm that specializes in franchise resales.
"I remember Blane well," says Jon Franz, founder of Franchise Clearly. "He didn't fit our normal profile, he was much younger but determined. I had a feeling he was going to be very successful, we just needed to figure out how we could get to the closing table." Buying a franchise business is a complex transaction with many stakeholders including banks and landlords. That's where Blane ran into trouble. At just 22 years old, he didn't have the established credit history that landlords look for and certainly not the business experience the bank wants to see.
Britton explains, "I don't know how they did it, but Jon and the team got me approved and we put this deal together. I didn't even speak to the landlord. I was careful not to ask too many questions because I didn't want them to change their mind!"
Franz laughs with an oversimplified response, "Putting deals together, it's what we do."
Britton feels fortunate fate brought him together with Franchise Clearly. "I might not have gone down this path without them. I was 'all in' with everything I had. There was no plan 'B' if things didn't work out. If I was going to reach my max potential, I had to do this"
While some people are more risk-averse, it didn't phase Britton. He comments,
"I was comfortable with the business decision. The best risk you can take is on yourself because you can directly influence the outcome."
After a couple of years, Blane realized he was an entrepreneur and was good at spotting new opportunities. So when the time was right to sell his location, he turned to his trusted vendor partners, Franchise Clearly to sell the business.
He did well in that first business sale. Almost immediately, he looked for another Anytime Fitness franchise to purchase. However, this time, he did the deal on better terms because he now had a track record and a credit history.
He found another location that was underperforming and used his skill to turn it around. In all, he's done 4 transactions in total with Franchise Clearly, and he's open for more.
Now he's more focused on what he is looking for, by analyzing 4 main things:
Is the owner motivated to sell?
Is the business underperforming?
Is there reasonable competition?
Is the 5-mile radius population favorable?
He concentrates his search in southern states like Florida, Mississippi, Tennessee, Louisiana, Alabama, and his home state of Arkansas. Why only the south? "I like the people, it's where I'm comfortable, and it's convenient in terms of travel," he says.
Franz concludes, "We're thrilled to be aligned with Blane. I'm sure we'll do more deals together. We had a small part in starting him down this journey, so it brings me pride to see him evolve from a fresh-faced entrepreneur with big dreams, to one of the most respected owners in the Anytime Fitness network."
At just 29 years old he has more big plans as a gym flipper. Blane laughs "Gym flipper? I never thought about it in that way, but I guess I am. Yes, I'm a gym flipper!