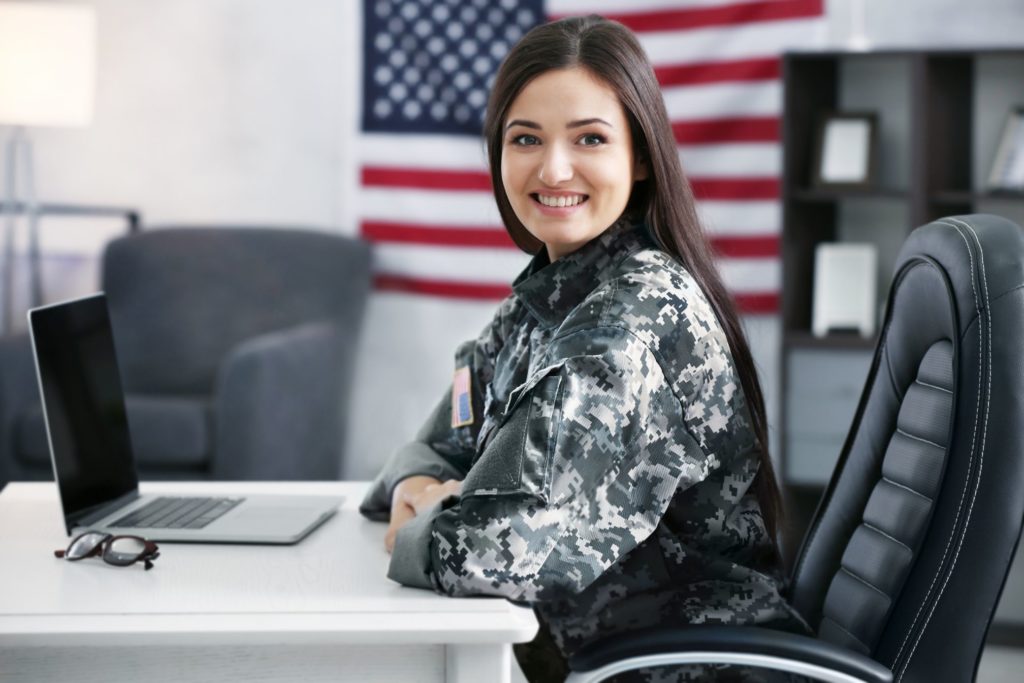 Everything Veterans Need to Know About Post 9/11 GI Bill Benefits
Originally posted on https://imbc.edu/2019/09/27/everything-veterans-need-to-know-about-post-9-11-gi-bill-benefits/
As a veteran or active duty military member, you are incredibly proud to have the opportunity to serve your country – and we are thankful for your service!
And while you have certainly learned a lot from your service, now that it is coming to a close (or if it has ended already) you are ready to think about more formal education. Earning a degree has always been a dream, but you do have concerns about how you can afford it or fit it into your schedule.
You are not alone, which is why the Post-9/11 GI Bill was created.
Post-9/11 GI Bill benefits are designed to help cover the tuition, housing, textbook, and other fees associated with higher education.
Ready to learn more about how it works, and how to ensure that you choose the right school?
Read on to learn everything you need to know.
What is the GI Bill?
First, let's quickly go over the basics of the Post-9/11 GI Bill.
The GI Bill offers excellent educational benefits for service members who have completed at least 90 days of military service after September 10, 2001. You are also eligible for the benefits if you served for 30 consecutive days but were honorably discharged due to a disability that was a direct result of your service.
The Bill and others like it were created as a response to the lack of benefits and government assistance available to veterans returning home after World War I. In 2008, it was signed into law by President George W. Bush, and then updated in 2010 to include National Guard, Reserve, and Active Guard military members.
In brief, the benefits can include tuition payment, a textbook stipend, educational supplies, a housing allowance each month, and more, for up to 36 months. The percentage of the benefits you are entitled to is directly related to the length of your active duty service.
You are able to use these benefits for up to 15 years after you have been approved. In some cases, children of service members who perished during active duty after September 10, 2001, may also be entitled to educational benefits from the bill.
While you are able to use your GI Bill benefits while you are on active duty, be aware that you are not eligible for a monthly housing stipend if you choose to do so.
Often, because the benefits will not be as high as they would be once you have completed your active duty, many decide to wait until their service ends before applying.
In some cases, benefits can be assigned to dependents (spouses/children)
Post 9/11 GI Bill Benefits for Tuition
The Bill offers different percentages of tuition payments based on your time as a service member.
However, it is important not to be too concerned if the coverage is not as much as you would like, because when the Forever GI Bill takes effect in August of 2020, those percentages will shift.
Instead, focus on learning what the Bill covers in regards to tuition.
If you want to attend a private school, the cap on tuition payments is roughly $25,000 per year. (Usually, this maximum increases slightly with each passing year.) The Bill covers all tuition (no cap) on public schools.
Many students have questions about whether the GI Bill covers online classes and online degrees.
The great news is that the GI Bill does offer coverage for online, independent, and distance learning — so you will still be able to get benefits without worrying about finding the time for traditional on-campus learning.
You will also be covered for on-the-job training, certification and licensing reimbursement, and technical training. This means you have tons of options when it comes to how you would prefer to learn and the kinds of things you would like to study.
THE YELLOW RIBBON PROGRAM
Depending on the educational institution you have chosen, you may not be covered under the Bill for 100% of your tuition and additional education-related expenses.
Do not worry, you may still be entitled to benefits within the Yellow Ribbon Program.
Under this program, the Department of Veterans Affairs and the school itself split educational costs not covered by the Bill. This means that you could only have to pay for a small part of your education, or that it will be covered entirely. IMBC, for example, is a member of this program, so enrolling here would make you eligible.
Learn more here about whether or not you can apply for the Yellow Ribbon Program.
A Closer Look at the GI Bill Housing Allowance
Now, let us talk about the Post-9/11 GI Bill benefits in regard to your housing allowance and options.
As with your tuition and fee coverage, exactly how much of a stipend you get depends on the nature of your service and your specific course load.
You will usually get a monthly allowance that is equal to the cost of living in the city where the school's main campus is located. The allowance that you get is the amount that someone who has dependents would receive, even if you do not currently have any dependents.
However, in 2020, the Bill will provide a housing stipend based on the city where you take the highest number of classes, even if that city is not the same location as the school's main campus.
Other Things to Know
Let's quickly go over a few other things you need to know about the GI Bill.
If you want to change schools, the process is fairly similar to the original application process.
You can apply for this change online, and check the status online as you normally would.
If you have served for at least six years, and if you can serve four more years, you are able to transfer your GI Bill benefits to your children. You can initiate the transfer if you are not interested in attending school, or if you know you likely will not have time to finish a degree you have already started.
In some cases, the GI Bill benefits may even help to cover the costs of tutors or allow you to at least partially fund your own business. You can even use your benefits to enroll in flight school, take your SAT or LSAT, and enroll in STEM (science, technology, engineering, and mathematics) programs.
How to Apply for GI Bill Benefits
So, how can you apply for these GI Bill school benefits?
The simplest way to apply is online through the U.S. Department of Veterans Affairs website by clicking here. If you prefer to apply in person, you can visit the VA regional office in your city. You may also call 888-442-4551 and request that a copy of the application via snail mail.
The form is not lengthy or complicated. You will be asked to provide information about your military service, your educational background, and your basic financial information. (This is because housing and textbook benefits are deposited directly into your account, while tuition payments under the Bill are made directly to your school.)
If you already have an idea of which school you would like to apply for, connect with the school's Registrar or Financial Aid office. They will be able to help you to properly complete the forms and put you in touch with the VA Certifying Official.
If you are not approved for the GI Bill benefits, you have the right to appeal that decision under the Appeals Modernization Act of 2017. Learn more about the appeals process on this page.
Once approved, you will receive a certificate of eligibility outlining your specific benefits in detail. You will provide your school with this documentation when you apply.
Best of all, the certificate serves as proof of future payment in the event of tuition payment delay from the benefits. This means you won't be held personally responsible for late tuition payment fees.
Ready to Use Your Post-9/11 GI Bill Benefits to Enroll in School?
We hope that this post has helped you to better understand how the post-9/11 GI Bill benefits work for servicemembers.
With this kind of available assistance, there is no longer any need to put your education on hold.
Are you ready to enroll in a school and get started on building your future?
If so, we invite you to take a closer look at our career training programs. We offer both in-person and online learning options in areas like business administration, medical and dental assisting, veterinary tech training, and much more.
Above all, we are committed to making sure that members of the military and veterans are supported by our caring staff.
Get in touch with us to learn more about what we have to offer.