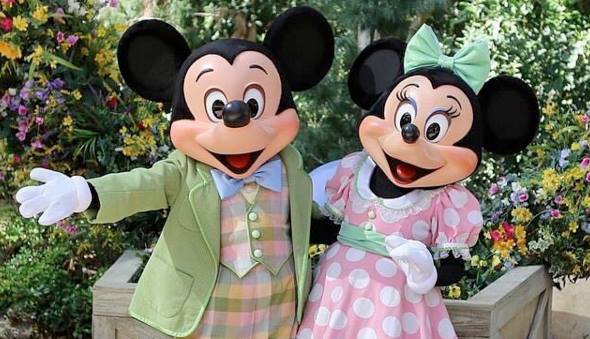 Easter at Disney World 2020 – Egg-stravaganza, Easter Procession, and Easter Bunny Meets!
Photo From disneydose
Originally Posted On: https://disneydose.com/easter-at-disney-world/
Easter at Disney World has grown each year in terms of how much it offers, there is plenty to see and do from themed eggs to an Easter Bunny procession. This year Easter falls on Sunday, April 12th 2020 which often coincides with Spring Break season at Walt Disney World. Our guide is here to help you with everything you need to know from food, entertainment offerings, and how to navigate Spring Break crowds.
Looking for information on Easter at Disneyland? Read our guide here!
Discount Disney World Tickets
Our favorite Disney-approved re-seller, Get Away Today, offers the best Walt Disney World discount tickets around. In addition to great discount prices, their customer service and easy support is absolutely fantastic. They have an entire department dedicated to making sure every order has a wonderful experience and they are on-call to help you during your vacation if you need them.
And at no additional charge, you get FREE concierge Walt Disney World services! These services include having Get Away Today's Walt Disney World expert Brooklyn take care of all your dining reservations, FastPass+ reservations, and more! This really takes all the stress out of planning a Walt Disney World vacation. Rather than waking up at odd hours of the night to book all your reservations, why not let their travel agents take care of it for you- for free!
Find discount Walt Disney World tickets here!
Buying tickets from Get Away Today is easy and convenient since all their tickets are sent electronically. You can take their vouchers and head straight to the gate without needing to wait in any ticket booth lines. They also offer layaway plans so you can pay off your vacation over time.
You can read my review on my personal experiences booking through Get Away Today and how much you can save here!
Easter Entertainment in Magic Kingdom
Much of the main entertainment for Easter can be found in Magic Kingdom Park with options including an Easter Bunny Meet & Greet, Easter Procession, and Spring Trolley Show!
The Easter Bunny Meet & Greet takes place on Main Street in Magic Kingdom for guests to enjoy and take pictures. You can expect a PhotoPass photographer to be ready to take pictures of this meet and greet or you can simply ask them to take a picture with your phone.
The Easter Procession will take place prior to the daytime parade (usually Disney Festival of Fantasy parade this time of year) and guests can watch Mr. Bunny make an appearance with other springtime characters like the Azalea Trail Maids, Daisy, Duck, Thumper, Ms. Bunny, White Rabbit, Rabbit, Clara Cluck, Ostriches, Dancing Chicks, and more!
The citizens of Main Street, U.S.A. characters will also be offering Spring entertainment with brightly colored pastel outfits and new songs as they arrive in a horse-drawn trolley decorated with flowers and ribbons for the Spring Trolley Show.
2020 Egg-stravaganza Scavenger Hunt in Epcot
Every year the Egg-stravaganza Scavenger Hunt takes place in the Epcot International Flower & Garden Festival.
From March 27 through April 12 (while supplies last), guests can participate in the Egg-stravaganza, a popular scavenger hunt that has everyone exploring the World Showcase in search of Disney character-themed eggs. Guests can bring their completed map to Disney Traders for a prize!
Participating Locations
Disney Traders
Pin Central
World Traveler
Event Details
March 27 through April 12 (while supplies last)
Maps available for $6.99 plus tax
Annual Passholder discounts apply
Participating in the Disney World Easter egg hunt is a great way to celebrate Easter at Disney World in 2020!
Pollen Nation Exploration in Epcot
Spike's Pollen Nation Exploration is another springtime scavenger hun led by Disney's favorite honey bee, Spike, as he pollinates his way around the Epcot International Flower & Garden Festival in the World Showcase. Guests can pick up a garden map and stickers at Port of Entry.
In each garden, guests can search for plant Spike pollinated- pollinated plants will be parked with a picture of Spike. Guests will place the corresponding sticker on the map as they find the plants. Once finished guests can return the map for a surprise.
Maps and stickers for Spike's Pollen Nation Exploration can be purchased for $6.99, plus tax at Port of Entry and will run for the duration of the Flower & Garden Festival March 4 through June 1, 2020.
Easter at Disney World – Treats and Dining Options
You can find a fun variety of themed treats and eats to celebrate your Easter at Walt Disney World!
Typical Easter offerings includes the famous chocolate egg displays at Disney's Grand Floridian Resort & Spa and Disney's Contemporary Resort.
The chocolate eggs are sculpted, painted and ornately decorated by the talented pastry teams at each resort. It's definitely worth taking the time to visit the hotels displaying these amazing works of art!
Typically each year the The Ganachery in Disney Springs with feature different flavors of foil-wrapped eggs and other assorted Easter basket treats.
Spring Break Tips – How to Navigate Crowds
Easter falls right in the midst of Spring Break season at the Walt Disney World so you can expect to see larger numbers of people visiting. The good news is that Disney pulls out all the stops during peak times of the year with longer operating hours, more entertainment shows, and plenty of cast members on hand to make sure everything is operating smoothly.
Here are some tips to help you plan ahead and enjoy your visit regardless of how busy the parks can be!
Book a dining package for anticipated nighttime shows
Make advanced FastPass+ reservations for popular rides
Arrive early to the parks every day and take breaks in the afternoon to rest
Read our full guide on handling crowds!
Visiting on Easter day? Make your lunch/dinner reservations the instant they become available! Read our full guide to dining at Walt Disney World to plan your meals
Consider staying on-site to take advantage of early FastPass+ reservation windows, close access to the park, early entry, and more!
Plan Your Visit to Disney World!!
We have a team of writers covering the most sought after Disneyland and Walt Disney World planning tips. Sign up for our newsletter over at Mickey Visit for exclusive discounts on tickets, hotels, and dining along with ultimate guides to planning your vacation. Join the Mickey Visit FREE newsletter here>