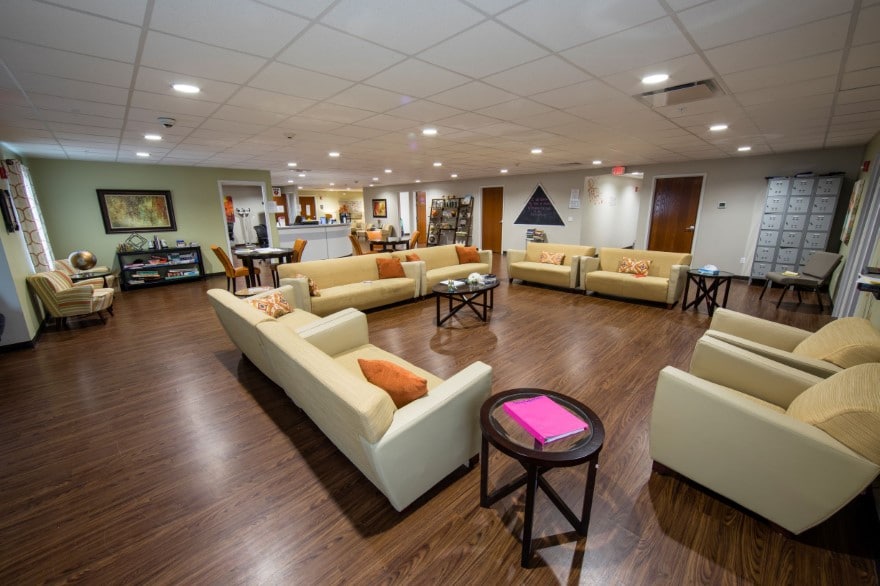 Dan Dowiak – Pinnacle Treatment Centers Inc.
It's a step that can be terrifying, yet can—once taken—lead one down a life-saving path.
Recovery from substance-use disorders and addiction requires that first fateful action—even if the road to sobriety and health is never the same for any two people travelling it. What remains constant for all of them, however, is the need for care, compassion, understanding and structure.
As Pinnacle Treatment Centers expands from New Jersey and Pennsylvania through the Midwest and beyond, Corporate Director of Real Estate Dan Dowiak is helping build roads to recovery with a simple objective in mind.
"There is an epidemic and we are a company that strives to provide recovery services for as many people who need it," Dowiak says.
Ways to help
Headquartered in Mt. Laurel, New Jersey, Pinnacle spans the continuum of care for treating substance use disorders and addiction with 55+ outpatient and eight residential care centers, all of which accept Medicaid.
All of its residential treatment centers have dedicated detox space and all provide stable housing and 24/7 care for people who have completed detox and need additional counseling and therapy before returning home.
Pinnacle's community-based outpatient medication-assisted treatment centers dispense methadone, buprenorphines such as Suboxone, and Vivitrol to fight opioid addiction, while also providing individual and group counseling as well as care from doctors and nurses—including regular drug screenings.
Along with prevention and law enforcement collaboration, Pinnacle's services are integral parts of the "three-legged stool" approach to fighting substance-use disorders and addiction.
Dowiak's role focuses on acquiring the real estate necessary for Pinnacle to extend its services—at a time when the need has never been greater.
"I am not a clinician or a counselor; what I try to do is provide our staff and our patients with a safe and comfortable place to work and heal with the opportunity to be integrated, valued members of their community," he says.
No shortage of need
Most recently, Pinnacle expanded its residential care facility in Cambridge City, Indiana, doubling the number of beds to 62 while upgrading the kitchen facilities, adding communal space and improving work areas for on-duty staff.
The project is indicative of the need for more treatment facilities—as Dowiak points out, the original 32-bed center is only two years old.
"I see the daily census numbers for all our facilities and most are at full capacity," he says, adding Pinnacle is one of the fastest-growing health care companies in the addiction treatment space.
The residential centers, all under the Recovery Works name, are not all new construction—facilities located in Merrillville, Indiana, and Columbus, Ohio, are repurposed buildings—but there is a common thread in where centers are sited: As many of Pinnacle's referrals come from emergency rooms (where most overdose victims go), locations close to hospitals are particularly sought after.
Residential rooms are built for double occupancy and, along with large kitchens, Pinnacle offers exercise rooms and meeting spaces for both group and individual counseling.
"What we want is safe, comfortable and reassuring environments for the folks at our facilities," Dowiak explains.
Discreet treatment
The medication-assisted treatment centers also need to be close to health care services, as well as accessible by public transportation. Dowiak says stand-alone buildings are preferable, but some centers are located in shopping centers or serve as co-tenants in medical office settings. The centers are accessible through separate doors and plainly adorned, usually carrying the name of the town they operate in, such as Hamilton Treatment Services in Hamilton, New Jersey. While most centers don't contain the Pinnacle name per se, the Pinnacle brand and logo is incorporated into each.
For centers sharing space with other tenants, Pinnacle wants to be sure there is adequate parking for everyone, but people receiving medication-assisted care for opioid addictions generally arrive as early as 5 a.m. and as late as noon.
"Our patients work just like the rest of us," Dowiak says. "Our job is to make it easier for them to fully commit to recovery. The clinics are open on Saturdays too."
Moving in
Though he says he's always ready to drive a nail or two when he arrives at a jobsite, Dowiak is typically not involved in managing new construction or repurposing once a site is selected.
Still, his willingness to pitch in—coupled with his deep understanding of construction—has impressed Capitol Construction Senior Project Manager Tim Dixon.
"Dan is a super guy to work with, and if we are presented with obstacles, he understands so we can all work with any issues we have," Dixon says.
Capitol is playing a large role in Pinnacle's expansion in Indiana and Kentucky and Dixon says there are actually few obstacles to overcome because planning is so thorough.
"We're just on the execution side of the drawings they supply," he says. "On occasion, we may have to tweak a couple of things in order to make it work."
Finding a site
Dixon says they discourage Dowiak from swinging a hammer during construction, but he does take a very active role in the sometimes challenging process of site selection.
Dowiak works with brokers attuned to Pinnacle's needs and local zoning and regulatory requirements. Once he's given a list of potential properties, Dowiak drives the areas himself, taking note of how a site can be accessed and how it fits into its surroundings.
One company Pinnacle relies on to find new sites is Dominion Real Estate Advisers, whether for new construction or leasing existing buildings.
Dominion Vice President Michele Rosenblum says assisting Pinnacle is both challenging and very rewarding.
"Due diligence for Pinnacle's transactions is considerably more complex than the average deal, however, working with them is my pleasure given the positive impact that Pinnacle has on the community," Rosenblum says.
Dominion works through a database that narrows down likely sites that can serve the greatest number of patients. From there, Rosenblum says she looks at rental rates, available parking, square footage, layout, accessibility, and a reasonable landlord who appreciates Pinnacle's use. Dowiak's experience in real estate makes them a good team.
"I wish I had his energy and he certainly has the background," she says. "He has worked with very large franchises, and his knowledge of real estate and enthusiasm makes my job easy."
Getting approved
Once the evaluations are complete, Dowiak looks to supply Pinnacle's operations team and regional managers with two or three potential sites. Dowiak says his recommendations may not pass muster in further review, but if there is an agreement on a potential site, he can begin approaching local government officials.
He will likely find those officials sympathetic and supportive, too.
"Addiction is everywhere and I rarely talk to someone who hasn't been touched by it in some way, shape or form," Dowiak says, "and the people I talk to are landlords, city officials, people who work in building or zoning departments."
But sympathy or even empathy cannot circumvent zoning rules, and even in places where medical uses are allowed by law, residential addiction or medication-assisted treatment can still require conditional use approvals from local boards, made after public hearings. In these instances, Pinnacle engages a local attorney to help guide the process.
Joining in caring
Dowiak joined Pinnacle at an age where most are considering retirement, and did so at the behest of Joe Pritchard, the company's CEO—and a friend of his for more than 25 years.
"I am healthy, I don't know what I'd do with myself if I was retired," he says.
A native of northern New Jersey who lived in Dallas for a decade and has extensive sales management experience with companies such as Ingersoll Rand, DHL and Plasma Air International, Dowiak says if not still working, his other option would be helping his sons coach their soccer teams—if they would let him.
He might get a kick out of doing it: He not only played and coached soccer, he attended every 1994 World Cup game played at Giants Stadium, while spending $1,200 for tickets—much to his wife's chagrin.
He not only made his money back by selling the extra tickets he bought, he entered a new world of soccer fandom.
"The minute you got out of your car, it was like you stepped into another country," he recalls. "The best game was between Morocco and Saudi Arabia. I sat with the Moroccan fans, and from an hour before the game until an hour after, the drums never stopped beating."
For now, more fun and games will have to wait. Not only is Dowiak not done working, he's finding his newest job to be one of the best experiences of his life.
"I am extremely impressed with everyone at Pinnacle and their level of knowledge, care and compassion," he says. "I am blessed to be part of this organization."