Creating a cosy living room
Originally posted on https://www.atidymind.co.uk/creating-a-cosy-living-room/
The living room is the heart of most homes. The children play in there, mugs of tea or coffee are drunk, books read and movies watched. When winter rolls around, sometimes much faster than we'd like, there are a few ways that you can quickly make it cosy and warm. Okay so the quickest way to heat up your space is with a panel heater BUT there are other, more arbitrary ways to inject 'hygge' into your space.
Textiles
Thick, cosy blankets and fluffy pillows are one of the quickest ways to bring warmth. When the nights get colder, but you aren't ready to turn the thermostat up, then blankets and pillows give an extra layer of warmth without much trouble.
Knitted items remind us of hats and scarves and usually remain at room temperature, from bean bags to the very popular wall hangings – they're great and interesting.
Candles
Lighting can play a big part in making a room feel warm and cosy. The yellow glow of the flame, of course, reminds us of big roaring fires, and as an added bonus you can have an autumnal scent like pumpkin or a Christmas cookie candle wafting around your home. It can be quite special.
Decluttering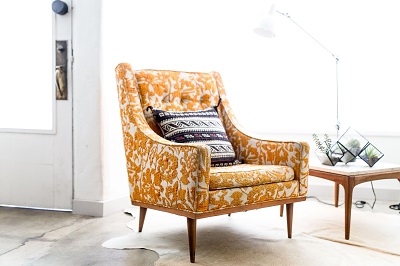 Lots of physical possessions in a room can cause a feeling of stress and overwhelm. Just having lots of stuff around can cause the senses to become overloaded and send a message to the brain that there are tasks unfinished. However, it's vital to adopt the right approach; declutter in bite-size chunks of between 30 minutes and a couple of hours. Focus on contained spaces such as a drawer, cupboard or shelf. Arm yourself with paper and a pen to make notes of 'actions' and designate rubbish, recycling and donation bags
Art
Bare walls tend to allow sounds to echo, making a space feel bigger (not a bad thing), and a little colder. Check out art fares, and online for warmer and more colourful pieces of art or prints. Wooden frames add a natural and calming touch too.
Rugs
If you have laminate, wood or stone flooring when the temperatures drop the floor can feel very cold. Adding a rug can give an extra layer of warmth to your home, a point of interest. Like the art on the walls, it will soak up noise too.
When it comes to rugs, go for something natural like jute they are hard wearing and compliment any decor. Or if you want something with extra cosy factor a faux fur or extra thick one gives another place for people to sit.
Colour
Warm colours will, of course, make the room look warmer. Traditionally light blues and whites are used to create a room feel cooler and bright. But if you want something on the warmer cosy side, then you are ideally looking at wood tones, like chestnut and oak. Rose pinks, copper, bronze or gold detailing adds to the look.
Lighting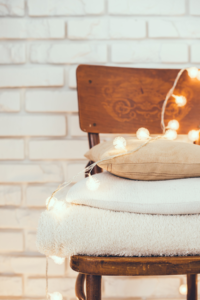 Rather than having the bright white bulbs, swap for some of the orange-toned industrial style big bulbs. Much like the candle, the warm colour gives the impression of warmth. The right lampshade can also make a big difference. There are some really interesting options now that look like art installations.
A great tip is to buy the cosy, warm items out of season. Better still, consider preloved items on Gumtree or eBay they will be cheaper and you'll be extending the life of them rather than buying new.
Thanks for reading!