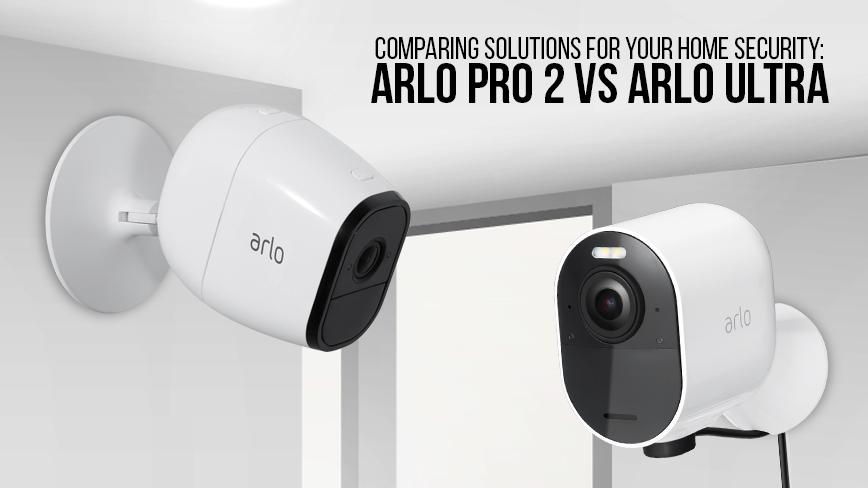 Comparing Solutions For Your Home Security: Arlo Pro 2 Vs Arlo Ultra
Arlo Technologies has been known to have a growing range of security cameras that provide monitoring solutions for our homes, stores, offices, and the like. Arlo combines intelligence and innovation with a thoughtful design, making them America's #1 wireless camera brand.
Each new camera release has offered different innovative features, creating a seamless smart home experience for Arlo users. Despite the variety of Arlo Security Cameras on the market, we've chosen to compare between Arlo Pro 2 and Arlo Ultra due to their excellent user experience.  So let's get down to business.
Arlo Pro 2
This camera lets you monitor your property day and night from every angle, may it be inside or outside, thanks to its 1080p video capture quality. It also has a 130° field of view, a  setup two-way audio, and an infrared night vision with an included IR cut-off filter. Although it's only capable of producing black and white night video recording, it illuminates more fully at night than its predecessors like the Arlo Pro.
Additionally, the camera has 3 additional features when plugged in: 3-second look back, 24/7 continuous video recording, and motion zones. It also works with the new Arlo Pro base station which has a built-in 100+ decibel security siren. Therefore, you can set it to trigger under particular conditions, or you can control it manually through the app. Once motion or audio is detected, you'll receive instant notifications whether you're home or not and you can watch it live.
Since Arlo Pro2 was designed to be 100% wireless and IP65 certified weather-resistant, you can conveniently place it anywhere without concerns about the weather condition, but if you want to provide them with extra protection and customization, you can purchase silicone skins to protect your camera. Similarly,  Arlo Pro 2 has a wide array of accessories such as gutter mounts, metal mounts, wall mounts and twist mounts to securely place your cameras on any desired location.
To lessen the hassle of having interrupted security service due to power shortage, the cameras function with rechargeable batteries that can be connected through a weatherproof micro-USB charging cable. On the other hand, Arlo Pro 2 can be connected to a solar panel power source to get extra outdoor and carbon-emission-free power supply.
Regarding video storage and integration, Arlo Pro 2 comes with Arlo Basic service which offers 7-day cloud storage of captured video clips which can be extended with Smart subscription packages. The device is compatible with Amazon Alexa, Google Assistant, IFTTT, and Stringify.
Although most Arlo Pro 2 advanced features can also be found with the newly released Arlo Ultra model, the Arlo Pro 2 still has some benefits over it such as its selling price of $200 which is way more affordable than the Arlo Ultra, and still turns up to be a great option for a security camera with all-round flexibility and quality.
Arlo Ultra
The Arlo Ultra is one of the most advanced options on the market for home video monitoring. It records security footage in crystal clear 4K which ensures cutting-edge surveillance. It also includes features such as a 180-degree diagonal field of view and an automatic zoom and movement tracking option. To much delight of its fans, Arlo Ultra integrated night vision with a motion-activated spotlight allows us to see colored images at night and to ward off intruders instantly, and since it is weather-resistant, it is ideal for both outdoor and indoor use.
Similarly to Arlo Pro 2, you can quickly receive alerts and stream live from on your phone when motion and audio are detected.  Thanks to the noise-cancellation feature you can clearly listen and speak to anyone within the camera's range using its two-way audio. The camera also allows setting an automatic siren on the camera upon receiving an alert and, since Arlo Ultra's siren is built-in, there's no need for an Arlo Pro base station to access it.
Arlo Ultra's Wi-Fi features enable users to conveniently place it anywhere around the house and still have access to it. It can also be plugged in and support 24/7 continuous video recording.
The Arlo Ultra model uses the new Arlo Smart Premiere instead of the Arlo Basic Service. This gives users access to audio and video recordings for up to 30 days (this can be extended with Smart subscription packages). Arlo Ultra also features the same smart home integration, as Arlo Pro 2, with Amazon Alexa, Google Assistant as well as  IFTTT, and Stringify.
In order to improve its versatility, many accessories have been released for Arlo Ultra. One of these is the solar panel charger that can be mounted near your camera so you will no longer need to worry about the Arlo Ultra's batteries running out of juice.
A downside of Arlo Ultra is its higher price and that, unlike with the Arlo Pro 2 which is compatible with the previous version of the base station, you will have to buy the Arlo Ultra kit instead of just an add-on camera. Nevertheless, its $400 price tag readily offers you state-of-the-art features in a security camera such as improved image quality, better battery life, and other more advanced features of its predecessors.
Arlo Ultra's delay release after experiencing issues during its initial availability shows just how much the company strives for a near-perfect security camera system. Arlo Ultra's pricing is steep, yes,  but you get what you pay for.
In conclusion, after we've compared these two Arlo products, you are now able to decide which one best fits your home security needs and budget. If you've already considered buying one of these, we recommend buying it with other Arlo accessories in a bundle to lessen costs and for you to fully maximize the functions of your Arlo camera.
So which Arlo home security camera system will you invest in?