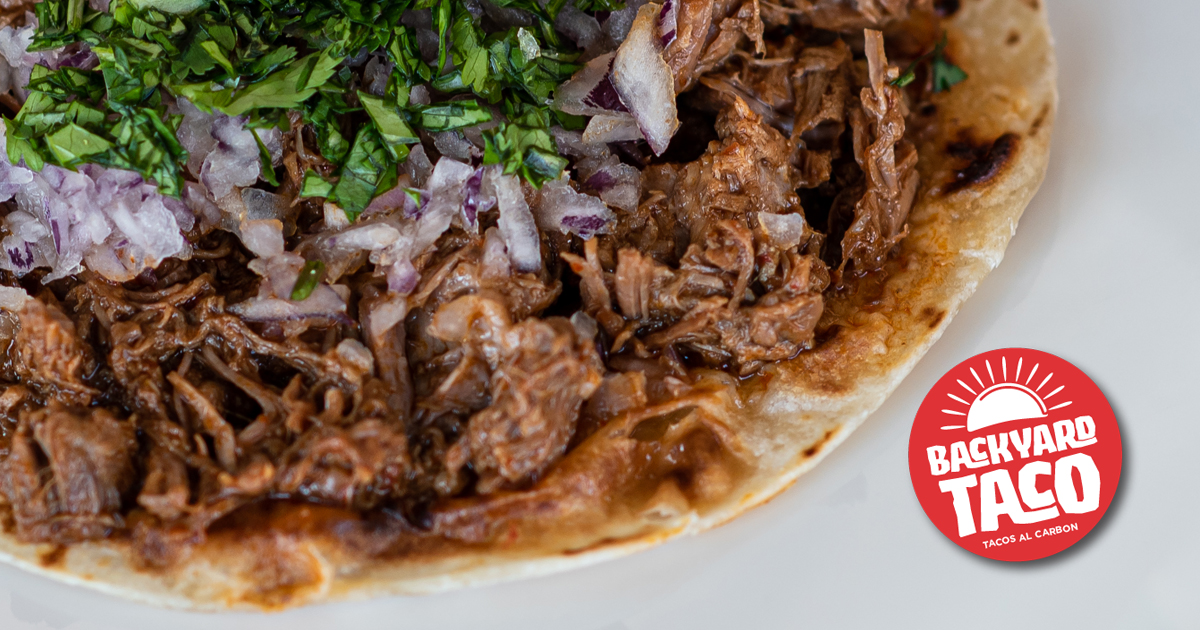 Birria Tacos: An Authentic Mexican Flavor!
Photo from backyardtaco.com
If you're looking for the tastiest taco in the Arizona East Valley, then you have to try the birria tacos at Backyard Taco. This savory, sweet, slightly spicy, addictively tender beef that's juicy and cooked until it falls apart is absolutely mouth-watering and is a must-try for any taco fan. One bite and they will surely become a favorite. You'll have to have them more often than just on "Taco Tuesdays!" If you're not familiar with birria, prepare to learn all about it.
Photo from backyardtaco.com
Although birria has been around forever, it's been gaining more popularity recently. People are falling in love with the unique flavor today, just as they did all those years ago when birria originated. Backyard Taco was founded by Ruben and Marisela Alvarez from Mazatlán, Mexico, and has been serving authentic Mexican cuisine, including birria, since 2005. Starting in their own backyard, the Alvarez family has been feeding friends and family a taste of their culture and has since expanded across four restaurants, with more soon to come. Birria is one of their specialties, and if you haven't tried it yet, you don't know what you're missing.
Where Did Birria Originate?
The best authentic Mexican food is commonly known as "street food." When it comes to tacos, birria tacos are both delicious and a long-standing tradition. They originated right at the center of the state of Jalisco, in the town of Cocula, located northwest of Lake Chapala and Southwest of Guadalajara. The meaning of birria is "exquisite, savory dish, that's full of culture and tradition." Typically, people enjoy birria as a stew or a taco filling. If you haven't heard of birria tacos yet, you will soon. They are increasing in popularity due to social media influence and "Mexcellent" restaurants like Backyard Taco, right here in the Arizona East Valley.
The Origins of the Birria Taco
Around the 16th century, during the era of the "Conquista," Spanish and Mexican foods and flavors began to change due to the introduction of new spices and animal species. Because of this transition in tradition, Mexican cuisine was changed forever. For the first 100 years following the Conquista, times were difficult and destructive for the people of Mexico due to disease and defeat by the conquistadors who wiped out much of the local population.
During this time, new animals were introduced to the area, such as pigs, chickens, and cattle, which quickly became staples, and they were raised by a large number of people. Goats were around as well and considered to be a nuisance — they devastated the land and crops, eating everything in their path and indirectly causing a famine. Many Mexicans suffered during this time and started using the goats as meat — which was largely responsible for the creation of the first birria. Because goat meat tastes so gamey, especially the older the goat is, a variety of different herbs and fragrant spices were used to offset the gamey flavor and strong smell. Additionally, the goat meat was cooked for a long time until it was very tender to increase the palatability.
Traditions of Birria
Photo from backyardtaco.com
Birria is traditionally served at big events and celebrations such as weddings, baptisms, Quinceañeras, and other important holidays. Also, birria was used as a good hangover cure due to the strong flavors and spices and sometimes served for brunch the day after one of these big celebrations.
It may surprise you that birria is commonly eaten in the morning or for lunch, purchased from street vendors or charming Mexican restaurants like Backyard Taco. You'll find that birria may taste a little different depending on how the cooks interpret the recipe to make it their own, but we can guarantee you, it's always good.
What Is Birria Like Today?
Today, birria is not just made with goat meat, but now beef, lamb, pork, chicken, and vegetarian ingredients too. The exquisite taste of birria was born out of hunger. With its increase in notability and popularity among all cultures, it's now eaten in many parts of the world and enjoyed by all. It's definitely an all-time favorite here at Backyard Taco.
If you haven't tried our famous birria taco, then you're probably wondering what does birria taste like? We think you should try it and see for yourself, but as a teaser, we'll let you in on our secret! The foundation of our birria tacos is savory, tender, slow-cooked shredded beef, chock full of spices, chilis, and herbs. Topped with finely chopped red onion and fresh cilantro, served with a homemade corn tortilla and a lime wedge. Makes your mouth water, right?
What Are Some of the Best Backyard Taco Birria Menu Items?
Photo from backyardtaco.com
At Backyard Taco, we proudly serve a variety of birria menu items. In addition to our birria tacos, we offer birria quesadillas, papas locas, grilled gorditas, tostadas, and burritos (wrapped in a flour tortilla or as a low-carb "burrito bowl" version). Although the birria tacos are really something special, our customers love these other dishes as well. We challenge you to try them all and tell us which ones you love best.
Photo from backyardtaco.com
Birria Quesadilla
Delicious birria sandwiched between two warm tortillas sealed with gooey melted cheese. Our customers love this dish as a hearty meal or an appetizer split among amigos.
Birria Papa Loca
A large potato, baked crispy on the outside and hot and fluffy on the inside, topped with birria, cheese, and al pastor sauce. Great with sour cream and our homemade chips!
Photo from backyardtaco.com
Photo from backyardtaco.com
Birria Grilled Gordita
Made with our authentic Mexican flatbread, stuffed with birria and veggies, as well as cheese and al pastor sauce.
Birria Tostada
Layered crunchy corn tortillas with birria, lettuce, refried beans, lots of radishes, cilantro, onion, and avocado. This dish absolutely explodes with flavor!
Photo from backyardtaco.com
Photo from backyardtaco.com
Birria Burritos and Bowls
Tender, savory birria, fajita vegetables, rice, beans, and cheese, wrapped in a giant flour tortilla to satisfy our hungriest customers. We offer our burritos served sans tortilla as a low-carb option for our more health-conscious patrons as well.
Feeding a group of people or a large family? Backyard Tacos has you covered. We offer a popular family pack that contains 16 tortillas, salsa, and 1lb of the meat of your choice.  And yes, this includes birria! It's a real crowd-pleaser — give it a try today!
Taco Family Pack
Photo from backyardtaco.com
Where Can I Get Birria Near Me?
We're so glad you asked! The best birria in Arizona is right here in the East Valley at Backyard Taco. We have four convenient locations and continue to grow, as we have plans to add two more locations in Queen Creek and Mesa on Signal Butte Rd/US 60 by the end of 2021.
Come see us at Chandler, Gilbert, Mesa North, or Mesa South and enjoy birria in a variety of different, delicious menu items.
Call your order in at any of our locations.
Or place your order online here.
Keep in Touch, Amigos!
Follow us on social media to get up-to-date information on all the happenings at Backyard Taco. See pictures of our delicious menu items and learn about all of our specials. We also love when you share your love of all thing's taco. Leave us a review or share a picture of your experience for all to see. Let's be friends! Follow us on Facebook, Twitter, and Instagram.