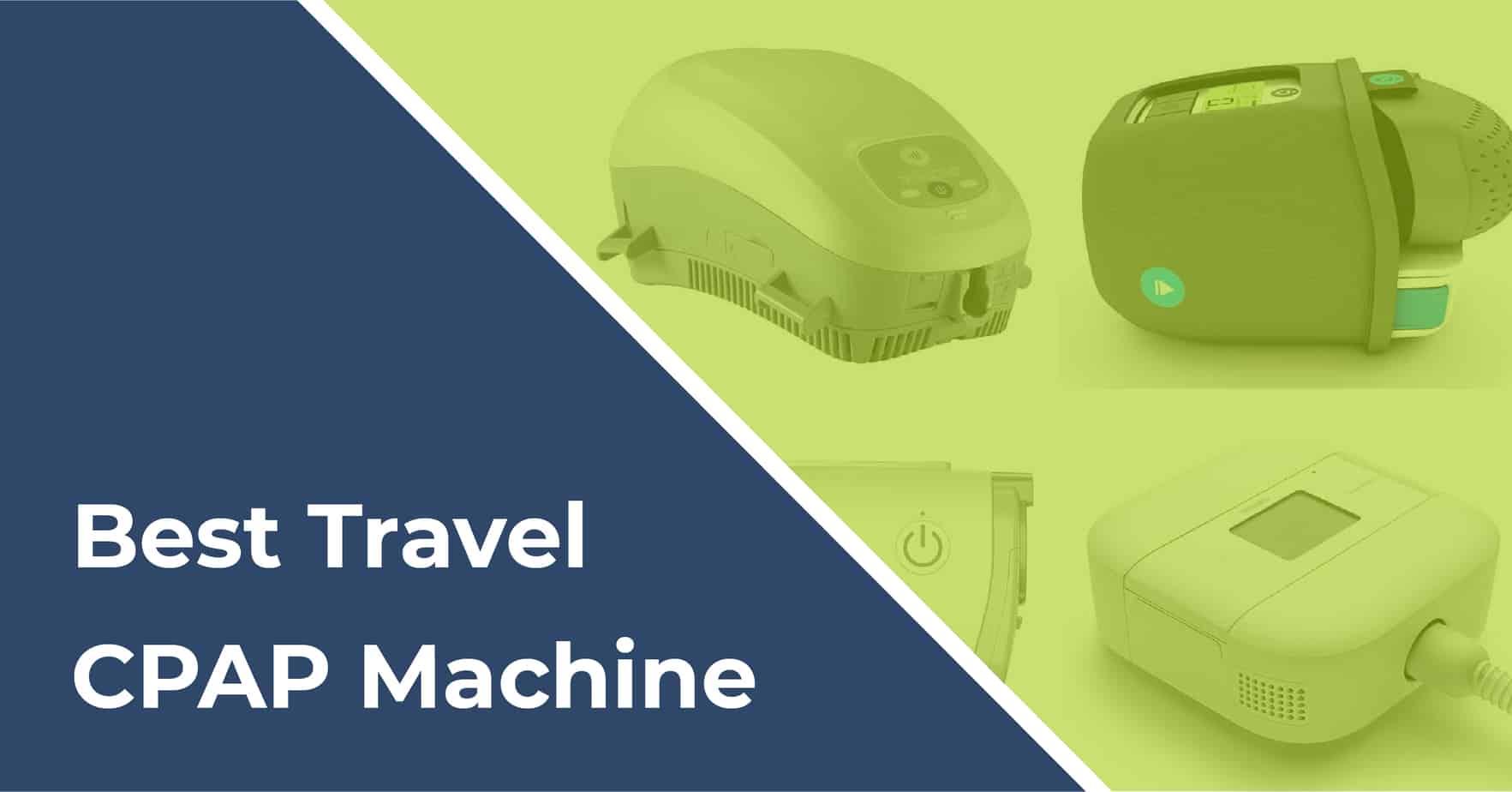 Best Travel CPAP Machines 2019 | Buying Guide & Reviews
According to the National Institute of Neurological Disorders and Stroke, sleep disorders such as sleep apnea bring significant health issues that can lead to long term risks of diseases. Fortunately, there are several treatment options available today and one of the most effective ones is by using CPAP machines.
CPAP machines come in different models, configurations, functionality, and settings. For avid travelers diagnosed with sleep apnea, it is vital that you find the best travel CPAP machines out there.
Why Choose Travel CPAP Machine?
Portability
It is now possible for frequent travelers to enjoy a good night sleep with the help of the best travel CPAP machines. You can bring them wherever you go since they are small, compact, and lightweight, which will make it easier for you to improve the quality of your sleep while traveling. Not to mention you can save more energy by carrying light machines that have multiple plug-in device adapters and light portable battery.
Design and Function
Although these travel CPAP machines are small and more compact, it should still be able to function very satisfactorily – same as that of a regular but heavier machines. They are still equipped with superior quality airflow generators, humidifiers, connective hoses, filters, and masks.When it comes to buying these machines, bear in mind that your goal is to find one that suits your needs and can produce the best results.
Affordability
These machines are more affordable compared to regular machines. If you want to be able to sleep well without breaking the bank, then go look for the best travel CPAP machines and you won't regret it.Do your research well and make sure that they are not only affordable but are also made out of durable quality materials and has incredible features.BEST DATA TRACKING:
Philips Respironics DreamStation Go
The Respironics DreamStation Go has a great touchscreen system and amazing interface. It has advanced sleep data trackers and you can easily store sleep information on the device for a year on its system through the DreamMapper data card. Moreover, the LCD screen gives out conveniently readable information.
It only weighs 1.86 pounds and has an optional battery that can be bought separately. Its 1.5 pounds rechargeable battery can provide uninterrupted power to the device for at least 13 hours. While the FAA approved battery offers excellent battery life, it can be quite expensive for some users to buy.The Respironics DreamStation Go is also known for its Flex Control Technology that provides users with excellent pressure relief. But note that few of its users reported that they have experienced discomfort during exhalation while using the device.If you want an automatic altitude adjustment, then this device is for you. It has 12mm tubing that can be stored inside your bag without any difficulty.Read our full review of Philips Respironics DreamStation GoBEST TECHNOLOGY:
ResMed AirMini
ResMed AirMini is known for its ActiveAir technology that efficiently caps therapy flow while steadily increasing therapy pressure. It is also has an amazing EPR (Expiratory Pressure Relief) technology which provides comfort by reducing pressure during exhalation while maintaining the lowest possible pressure during inhalation. And because of its HumidX technology, this device has one of the best waterless humidifiers out there that offers efficient and comfortable humidification.
Users will also appreciate its AutoRamp option where the pressure starts easy and then set the timer to adjust to the prescribed pressure. You have to read the manual carefully since the program for applying fixed pressure can be quite tricky to set up. Though some users claimed that the AirMini App can be used without any difficulty. It has 27dBa of noise, which makes it a good option for those who want quiet machines.It has a durable power cord and a high-quality portable drawstring bag, which makes it very easy to store during travel This is definitely the perfect CPAP machine for travelers who want a compact but efficient device that they can carry wherever they go. But great technology and portability comes with a price and the ResMed AirMini can be more costly compared to other devices.Read our full review of ResMed AirMiniBEST VALUE:
Apex XT Fit
Most of the travel CPAP machines that you can find online today cost at least $350 to $400. Believe it or not, Apex XT is currently priced at less than $200 only. This is the best investment for users who wanted to have a good night sleep with spending too much. But don't let the price of this affordable device fool you because it still offers amazing features and functions.
While it is more affordable compared to others, this machine is as efficient as those higher-end models. It is known for its auto-ramp option that allows users to go easy on pressure rate. Although there are some reports of noise complaints.This model is also suited for flyers since it has an automatic altitude adjustment. You also won't have to worry about compromising your mask's seal since it has top quality leak compensation mechanism. It is a small and compact device that can easily fit into your palms.The overall design does not look very appealing to some users. Nonetheless, it has outstanding manual controls and has pre-installed filters included. Apex XT Fit is perfect for users who prefer to fall asleep in low-pressure settings. It is user-friendly programming interface and bright LCD Screen. Lastly, it includes three years warranty coverage.Read our full review of Apex Xt Fit CPAP MachineBEST CONVENIENCE:
Fisher and Paykel SleepStyle
Fisher and Paykel SleepStyle is a modern device that has a surprisingly easy-to-use interface. It is small and compact, thus, carrying it wherever you go shouldn't be an issue. Aside from having user-friendly menus, Fisher and Paykel also have a stylish and attractive design.
This is the perfect device for people who wanted to ensure they get better sleep quality without having to worry about operating the device. Adjusting the settings is a lot more convenient since it has large and responsive buttons. It also comes with excellent built-in connectivity options. One of the few downsides though is that the Fisher and Paykel is one of the most expensive CPAP machines out there.On the brighter side of things, the manufacturers made it easier for the users to access the water chamber. This is an incredible device that works perfectly without giving you a hard time figuring out its features and programs. But note that it has a shorter battery life compared to other devices.BEST COMFORT:
DeVilbiss IntelliPAP Auto CPAP Machine
Users who are looking for an efficient and comfortable travel CPAP machine should check out DeVilbiss IntelliPAP. It has an incredible patented technology that provides outstanding treatment and maximum comfort. Connectivity is also one of its strengths as it helps you monitor your therapy with ease, wherever you may go.
You will also appreciate its ultra-quiet operation which only has 26.6 dBa. Large displays are also installed, including an auto-adjustment pressure. Aside from having SmartFlex technology and Pulsedose Rainout reduction therapy, this machine also has an installed clock with wake-up function. But DeVilbiss IntelliPAP can be quite complicated to use during initial setup, especially when adjusting the pressure and setting the wake-up function.Many of its users claimed that this machine has durable power and battery. It has three years warranty and is widely approved for air travel. Although it is one of the more expensive devices out there, this is perfect for people who want to undergo sleep therapy with comfort and effectivity.BEST REVIEWED:
Apex XT Auto CPAP Machine
Considered as one of the lightest CPAP devices in the market today, the Apex XT Auto CPAP machine is a remarkable travel option. It has advanced data recording system that is installed in a compact device that fits in the palm of your hand. It is small in size, it is loaded with many useful features.
You will also benefit from its auto-adjusting technology and PVA pressure relief. You won't have to worry about your mask's seal since it has leak compensation. Its advanced data on the screen is also a cut above the rest. Since it is a very small device, you can't expect highly-powered and long-lasting battery life.The Apex XT Auto CPAP Machine is known for its auto altitude adjustment. If you are one of those busy travellers, this machine is the perfect option for you. Although it is lighter compared to other devices, it is packed with big advanced technological features. But because of its advanced features and great motors, some users might find this device a little bit noisy.Read our full review of Apex XT Auto CPAP MachineONE OF THE SMARTEST MACHINES FOR TRAVELERS
ResMed AirMini Travel Auto CPAP
If you have an eye for small but fully capable travel CPAP devices, then the ResMed AirMini Travel Auto CPAP machine is definitely for you. It's considered as one of the best travel CPAP machines available today that has a top-grade waterless humidifier. Users will appreciate its modern adjustable comfort settings such as SmartStart, Ramp Time, and EPR (Expiratory Pressure Relief).
It also has HumidX technology which moisturizes the air that you breathe, causing your mucus membranes to stay hydrated instead of getting dry. HumidX provides a small heat and moisture exchange that works exceptionally well. By using this device, you will not only be able to experience better quality sleep but you are also avoiding health risks involved in long-term usage of CPAP machines.The SmartStart is also an incredible feature of this device since it automatically starts your therapy just by breathing in. Yes, you don't have to press anything just to start the treatment. This means that you don't have to move around and reach for bedside after putting your mask on. And if you want a personal sleep therapy assistant that allows you to make some comfort settings adjustments or view sleep therapy data while traveling, then its AirMini app is your companion.Read our full review of ResMed AirMini Travel Auto CPAPBEST FOR EASE OF USE
SoClean 2 Go CPAP Cleaner and Sanitizer
Just like maintaining cleanliness inside your home, cleaning one's CPAP device is very important as well. Using water and mild detergent is good when cleaning your device, but that alone is not sufficient enough to keep your machine safe and clean. This is where SoClean 2 Go CPAP Cleaner and Sanitizer becomes essential. You can be sure that you will be able to experience excellent quality sleep therapy without harboring any bacteria or viruses that can significantly affect your health.
SoClean 2 Go Cpap Cleaner is an excellent piece of cleaning equipment that utilizes activated oxygen to destroy 99.9% of mold, viruses, and bacteria that might be present in your device, specifically in the mask. Cleaning your device away from home is now possible since this device does not require any water. It is lightweight and very easy to operate.Keeping your machine clean during travel is now more convenient and you will be able to overcome challenges inherent in keeping your machine clean while on the go. And yes, it can definitely clean almost all brands and models of travel CPAP devices that are being sold in the market today.
Read our full review of SoClean 2 Go CPAP Cleaner and SanitizerTOP PICK FOR TRAVELERS
Transcend Mini Auto CPAP Machine
Due to its small and compact size, the Transcend Mini Auto CPAP has become one of the most ideal machines for campers and travelers alike. It features multiple power options and has an auto-adjustment feature, which effectively compensates for mask leaks, position shifts, and apneas. Patients who have tried using this machine can attest how effective its EZEX pressure relief technology is when it comes to promoting easy and comfortable breathing while undergoing sleep therapy.
This device also allows users to easily track their compliance data. It has an incredible storage system that can hold 13 months of sleep data or information. The data can be transmitted to a connected device such as a computer and even smart devices. You can also conveniently send the compliance data through email to your physician or Durable Medical Equipment (DME) supplier when you change or replace your PAP supplies.For an affordable price, you'll be able to carry an efficient portable device that has advanced functions and solar power capability. Users will also appreciate its universal adapter hose that is made out of high-quality materials. And the company behind this excellent device made sure as well that it is compatible with most masks available today. Moreover, it has a sound pressure of 26.6 dB, which makes it one of the quietest device available today. Now you can enjoy vibration free operations wherever you go!Read our full review of Transcend Mini Auto CPAP MachineBEST IN TECHNOLOGY AND PORTABILITY
Z1 CPAP Machine Base System
The Z1 CPAP Machine is made for travelers who suffer from sleep apnea disorder but does not want to carry a heavy and complicated CPAP device. It only weighs 10 ounces, making it one of the world's lightest machine ever.
It can easily fit in the palm of your hand and can be conveniently tucked away inside your travel bag or luggage. But don't let its size deceive you since it's still equipped with a superior quality battery system that can last up to 8 hours of cord-free usage.
Invented by a reputable medical device company called HDM, the Z1 CPAP Base System is one of the smartest and sleekest machines that you buy and use today. The machine is known for its efficient Z-Breath technology that can smartly adapt to your own breathing requirement. It uses an algorithm that can efficiently drop the pressure as you exhale, promoting easier and more comfortable breathing.It's also known for its Heat Moisture Exchange Humidifier Filter which is a well-designed system that is an efficient alternative to bulky water-based humidifiers. It also features an automatic ramp setting and automatic leak compensation. And if you're looking for a CPAP device that can accurately record all your sleep data information, then the Z1 CPAP Machine Base System should be included in your list.
Read our full review of  Z1 CPAP Machine Base System
Conclusion
Despite having sleep apnea, experiencing sweet dreams on your vacation is now possible if you are successful in finding the best travel CPAP machines. Find the one that can give you a healthy good night sleep without ruining your travel. Sleep therapy treatment is vital to your health if you have sleep apnea, and you have to make sure that you use the right devices.Before you purchase any machine, it is necessary that you consider several factors. Conducting online research ensures that you get to buy the best machine that is perfectly suited for your needs. Asking for tips and advice from friends or families who have bought high-quality travel CPAP machines is also a very good idea.If you are one of those people who spend the good part of their lives on the road, then buying a specially-designed CPAP machine that works for you is indeed necessary. Regardless of whether you are going out for a business vacation, or to see your family, the best travel CPAP machines out there can help you avoid health risks by giving you an excellent nightly quality rest that you truly deserve.