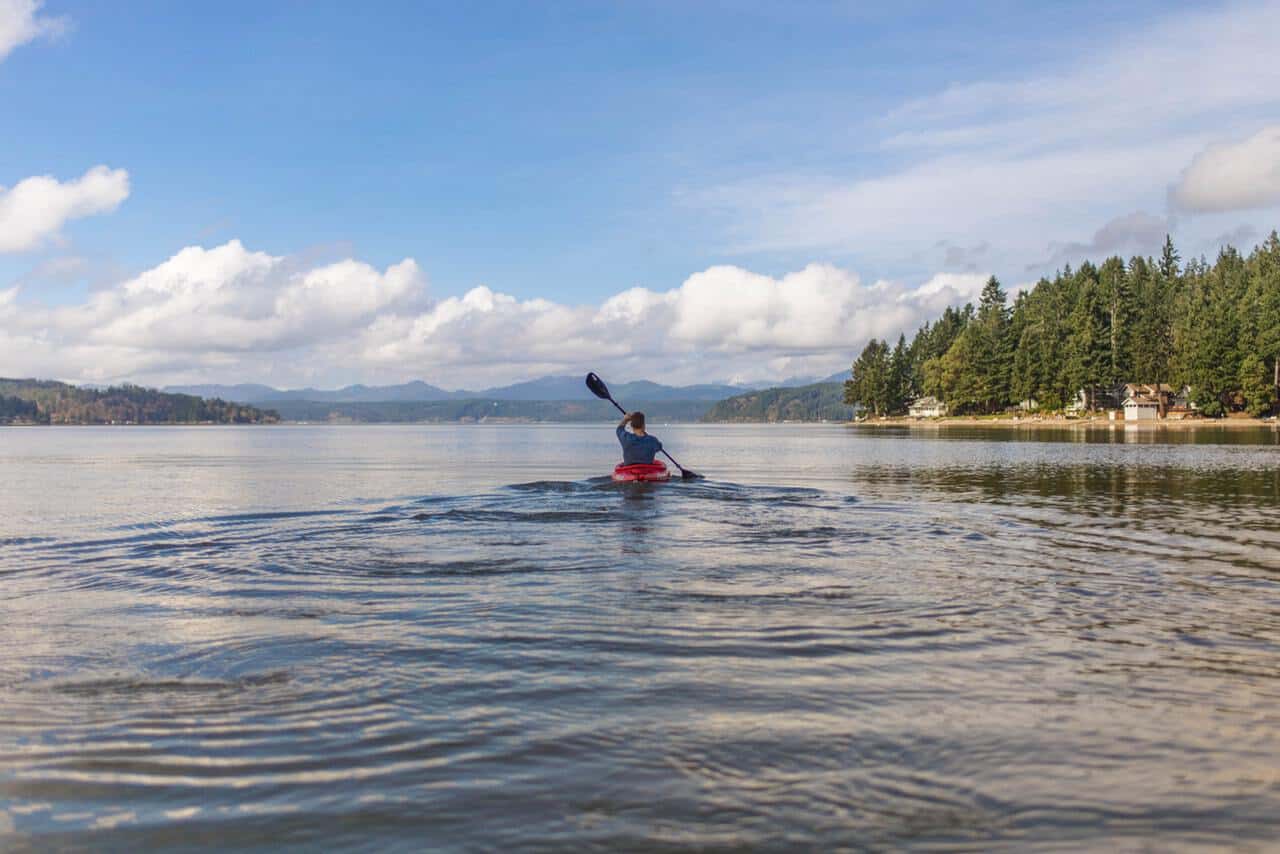 Best Inflatable Canoe – Buyers Guide For 2019
Originally posted on https://www.campvec.org/inflatable-canoe/
Best Inflatable Kayaks – Buyer's Guide for 2019
The start of summer means days spent on the water will soon be a reality.
As you gear up for this year's outdoor season, it is time to think about all the gear you need for your summer adventures. If you plan to spend any time on the water, you'll undoubtedly need something to get around.
We've put together a great list of inflatable canoe and kayak options for you to consider so you can come to a confident decision when buying.
Why Picking an Inflatable Canoe or Kayak Is a Better Option
Inflatable kayaks and canoes have surged in popularity in the past few years. They tend to be more affordable than the hard-shell option, but offer the same versatility and benefits.
For beginner kayakers trying out the activity, or those who want to add a more portable vessel to their collection, an inflatable kayak won't break the bank. In general, they can cost anywhere between $50 to $400. Bear in mind that cheaper options will not be suitable for kayaking in the ocean or for white-water rafting – you get what you pay for, and sturdiness and safety features are more likely to come with higher priced models.
There are different kayak models for different uses, but there are many that span all kinds of water activities. There are some specially adapted for fishing with rod holders and others built for rowing down the rapids. Many have removable seats so users can choose whether to take a friend or more equipment. Be sure to read up on a vessel's special features to decide what you want from your canoe.
When your inflatable canoe is not in use, it's far easier to store than a traditional one. Your deflated canoe can easily be folded down and stored away – most come with their own carry-cases or backpacks for easy portability. They're much more convenient to haul around wherever you want to go than a heavy hardshell kayak. Simply arrive at your destination, pump it up and off you go!
Best Inflatable Kayak for a Budget: Intex Challenger K2, 2-Person Inflatable Kayak
This is a fun and sporty option that has a great streamlined design. It comes with an air pump and two 86-inch aluminum oars included in the price. With just two air chambers, it is easy to set up and formed from puncture-resistant vinyl. It is also comfortable and has adjustable backrests. With two seats, it is double the fun. It also has a cargo net in the front for storage during trips. The easy carry bag adds to the portability benefits of the vessel.
Check the Latest Price
This kayak has a 400-pound weight limit and measures in at 30 by 15 by 138 inches when fully inflated. This creates ample space for two people. If you are going solo, one seat is removable, allowing for easy conversion. When it is time to pack up, the kayak deflates to approximately 12.5 x 23.1 x 16.2 inches, for 37.7 pounds. Pack it into the provided carrying case and you will be on your way in no time.
The design of the vessel is great not just for the streamlined aspect, but also for the stability that comes out through the I-beam floor design, which can be a great asset if you are considering fishing on the canoe. While some might think you have to sacrifice stability when floating in an inflated device, that is not the case here. The craft comes in a bright green design. This is good for increased visibility and safety when out on the water.
This kayak comes from Intex, a top name in the world of inflatable devices. The company has operated for over 40 years with a global market. This has led to a great understanding of safety on the water. This specific kayak is U.S. Coast Guard approved and certified by National Marine Manufacturers.
This model is a steal for those on a budget – its sturdiness and extra features aren't usually found at its price point. It also has room for two, which is another bonus for kayakers on a budget. We highly recommend this canoe for couples or fishing buddies who want a great deal on a new boat.
Best Inflatable Kayak for Quick Set Up: Sevylor Quikpak K1 1-Person Kayak
Looking to get on the water quickly? This is the option for you. It can inflate and be ready to go in just five minutes! When deflated, the vessel is a portable backpack perfect for long hikes. The backpack holds everything needed for a trip on the water–and the pack doubles as the seat! There are several air chambers that keep you afloat in the event one chamber is punctured. With the tarpaulin bottom, the durability will keep it protected from punctures.
Check the Latest Price
The benefits don't end there though! The construction of the craft is centered on 21-gauge PVC that makes it perfect for days on the lake. The double lock valves are designed with easy inflation in mind, providing two locking points. The provided paddle can be broken down to a smaller, portable version in seconds.
In terms of comfort, this craft is hard to beat. The seat comes with a backrest, letting you lean back and enjoy the time outdoors. It has a multi-position footrest, allowing for maximum comfort. Bungees provide secure storage space for peace of mind. It even has a drink holder!
This one-person model measures 8 ft x 7 in x 3 ft. It has a maximum weight capacity of 400 pounds. It deflates to a perfectly portable, lightweight option as it is just 18 pounds when deflated. It is safe to say that this is not really designed to be a kids inflatable canoe, there are options for these child kayaks, but this is not one of those.
We recommend this model for anyone looking to get out and go! This kayak folds down small to fit in a backpack and can be ready to hit the water in five minutes. What more could you want?
Best Inflatable Kayak for the Sea: Sea Eagle SE370 Inflatable Sport Kayak Pro Package
Hitting the high seas requires a special kind of craft. The Sea Eagle hits all the marks with a special NMMA certified material that is saltwater resistant. Weighing at just 32 pounds, it is easily transported. The tough material even stands up to puppy paws so you can take your best friend with you as well! It is built for two people, but the removable seats allow you to adjust it as needed. For sea travel, it also comes with 2 skegs, bow and stern grab line, and a self-bailing drain valve. Want to set sail?
Check the Latest Price
Adventurers delight at the opportunity to safely take to the seas or even tackle Class III whitewater rapids on this craft. The PolyKrylar hull also means you can bring a dog along for a calmer day on the water. It can be broken down easily into a storage bag, which also features additional cargo space.
The self-bailing drain valve helps for deep waters and whitewater rafting. The I-beam construction for the floor provides extra rigidity as you move about. Combine this with the additional features of the bow and stern line, spray skirts, and more and you'll understand why this is our pick for the sea.
When deflated, the model is just 31 x 19 x 8 inches. Fully inflated brings this craft up to 12 feet 6 inches by 2 feet 10 inches. Of that 12 feet, 10 feet is actually interior space. This makes this craft one of the more spacious models on the list.
This sturdy model is your best bet for taking on the high seas. Its specialized material means it's specially made for seafaring and even whitewater rafting. For intrepid ocean explorers, this Sea Eagle model is among the best you'll get.
Best Inflatable Kayak for Fishing: Sevylor Coleman Colorado 2-Person Fishing Kayak
If a calm day on the water is more your speed, there are options for that, too. This Coleman kayak comes with enough space to store fishing gear for a smooth day on the water. It has rod holders to provide hands-free fishing as well as paddle holders to keep the equipment out of the way. With enough space for two, you won't have to spend the day alone either.
Check the Latest Price
The 18 gauge PVC construction and NMMA certification make this an approved model for lake use. Once you take this out for a day of fishing, you'll understand why. It can withstand potential puncture risks through the tarpaulin bottom and nylon cover. The multiple air chambers mean you can safely return to shore even in the unlikely event that a puncture occurs.
The Sevylor trolling motor is fitted to help expand your fishing opportunities. Couple this with safe storage space for paddles and the fitted rod holders and it is clear this was designed with fishing in mind. You can bring along all the gear you need and stash it away in the built-in mesh storage spaces. It also has pre-installed D-Rings as additional attachment points for equipment.  The Sevylor measures up as 30.1 x 11.6 x 19.2 inches when deflated and 40 pounds.
This is our top pick for taking out on family fishing trips. While you could use any old kayak model for a day out fishing, this Sevylor model has specialized features just for the activity. Ensure your rods are held in place when you're out on the lake with the Sevylor Coleman Colorado!
Best Kayak for Professionals: Intex Excursion Pro Kayak
Professional kayakers will find a great option in this vessel. It operates well as a fishing kayak and just for a recreational day on the water. Professionals appreciate the high-pressure inflation and the adaptability between shallow and deep water. Certain removable aspects, like the footrests, seats, and skews allow for this adaptability. There's plenty of storage space and rod holders for fishing poles as well. The I-beam floor provides rigidity, allowing for movement around the craft.
Check the Latest Price
Professionals appreciate the PVC laminate with polyester that makes it resistant to punctures while still maintaining lightweight portability. It comes with 2 removable skews, 2 floor mounted footrests, and 2 adjustable seats. There are also 2 fishing rod holders. The provided mounting brackets can also be used for other accessories, like mounting GPS systems.
It has dry storage space in the stern as well as D-ring attachments to tie down additional gear. It comes with a pressure gauge, bag, pump, and paddles. It is 151 x 37 x 18 inches when deflated and around 43 pounds of equipment total.
Similar to the Intex Challenger on this list, this model is backed by the reputation and experience of the company. For decades, Intex has provided great inflatable products, from air mattresses to canoes. It doesn't seem any different with this Intex device.
For professional kayakers and anyone who wants to do a spot of fishing too, this is the perfect model. With a medium price point, highly durable build and adaptable features, it's made for kayakers who know exactly what they want out of an excursion.
What to Look for in Canoe and Kayak Inflatables for Your Next Trip
The best inflatable kayaks are versatile and can be used for a variety of salt or freshwater activities. The first step in choosing the inflatable device for you is to know how you plan to use it. This plays a major role in determining the best fit for you.
Before diving into the details, another factor to consider is the rule: you get what you pay for. Sure, a great price might seem tempting, but in general, a cheaper price means lower quality. When it comes to inflatables, that can be dangerous. You could find yourself repairing or replacing it much sooner.
With the best inflatable options, the ideal price point will be around $300 – $400. This takes into consideration durable outer shell materials, like Hypalon, PVC, and Nitrylon, which fall into this range. Spending the money now means investing in a durable inflatable canoe or kayak for years to come.
Overall, the best canoe and kayak purchases start by asking yourself a few questions. Those starter questions to the research and buying experience are:
  Are you looking to explore individually or with others on board?
  What is the purpose behind having the inflatable? Are you looking to fish, kayak in deep water, or go whitewater rafting?
  What type of water will you be out on? Fast-paced or slow moving?
  Do you plan to use it for a couple of hours at a time or an extended excursion?
With that in mind, let's dive into all the factors to consider before buying an inflatable canoe or kayak!
Storage
Perhaps one of the biggest draws of an inflatable model is the storage component. This is a major advantage of inflatable kayaks and canoes over their hardshell counterparts. Since these are able to inflate and deflate, they tend to be easily stored and transported. With the right purchase, you can find a kayak or canoe that you can transport in a car, duffel, or even as a carry-on or strapped to a backpack.
For many owners, the storage aspect alone is enough to make this a worthy investment. Avid kayakers and canoers can tell you that their day often starts and ends with tying the craft to a vehicle and hoping it doesn't come loose while driving. For the solo traveler, this can be a challenge. You have to plan for this time and effort. With an inflatable variety, there is less effort and more get-up-and-go spontaneous adventures.
Solo or Tandem?
This circles back to how you intend to use the watercraft. Solo options work well with a variety of activities and tend to maneuver well through tight spaces or on whitewater rapids. Of course, as the name implies, space is limited to one person. Tandems will have more space and work well for fishing and other low-key activities. The tandem option lends itself to being more social as more people fit on board.
Versatility
On that same note of activity type, the structure will depend on the activities you seek to enjoy. For fishing, go for a large kayak or canoe that can handle storage of fishing gear. For whitewater rafting, you should lean more towards a narrow and streamlined option. Think about what you need to have a successful day outside and ensure the option you choose can live up to that.
Portability
Portability is a huge benefit of inflatable kayaks. Consider how well an inflatable option packs down and how easy it is for you to make that happen. If you plan on traveling a lot, think about the weight and potentially purchasing a carrying case for it.
Keep in mind these options still come with a little weight to them. Some of these options still weigh in between 25-50 pounds. To get an idea of how people transport and use their various models, check out inflatable kayak reviews or inflatable canoe reviews and see what current owners have to say. Many are able to tuck it away in a large backpack. This means you can take it on mass transit or carry on a mountain trail. The portability opens up the possibilities for you to take your inflatable to many more adventure spots.
In addition, the portability means you can have it on hand, even if you are not sure you are going to use it. Your device can go abroad with you or stay tucked away in your city apartment until you need it.
The portability of these models brings flexibility and freedom as you enjoy the outdoors. You can have less planning and more adventure!
Durability
Some of the best kayaks and canoes are reinforced with Nitrylon, Hypalon, or PVC shells. These are the differences between the three:
  Nitrylon is from Innova and is abrasion-resistant, eco-friendly, and stronger than PVC options.
  Hypalon is strong and long-lasting. It is also UV-resistant, handles elements well, and can take on long water exposure. It tends to be more expensive than other types of reinforcement.
  PVC is the cost-effective option, but susceptible to abrasions and punctures.
While you might think a brush with the wrong thing will puncture your inflatable, these materials make that hard. With the materials outlined above, these canoes and kayaks are built to last. For the most part, these are the same materials you would find in whitewater rafts. If a leak does happen, they are designed to leak slowly and give you time to reach safety.
If you do find yourself with a puncture, repairs can fix it up right away. Most inflatable crafts come with a repair kit, so look out for that as well. With some glue and a patch, you can be on your way in a matter of time. Remember, hard-shells can also be damaged, and those repairs tend to be more costly.
Stability
Stability and water don't typically go hand in hand, but it makes sense when thinking about this purchase. After all, how many movies have you seen where a kayaker or canoer finds themselves capsized? Falling out of the boat is often unforeseen and definitely unwanted, but you need to know how to handle it. This is a concern with any watercraft.
With the best inflatable canoes and kayaks, it tends to be a little less of a concern. Why? The design is a little wider than the hard-shell type. This creates more stability, although it does compromise a little on the speed. However, you do not need the fastest craft if you are the only one right side up!
Stability also comes from the buoyancy. Inflatable varieties tend to be more buoyant than hard shells thanks to the pockets of air around the body. Inflatable kayaks and canoes sit higher and are resistant to sinking.
Speed
One of the downsides to an inflatable watercraft will be the compromise between design and speed. You will not cut through the water as easily as a hard-shell. You will not sit as low, which is where the speed generates. Of course, what you lose in speed, you will find in stability. If you are beginner, you might not need that speed to start. Learn the craft first and pick up speed later.
Length and Weight
For this, we are thinking about the length and weight once fully inflated. For the inflated weight, you can expect a heavier object to move around. Can you transport a fully inflated canoe or kayak on your own? If not, look for a lighter one. The easier it is to transport, inflate, and set sail on, the more you will use it.
In terms of length, you'll find maneuverability and space is impacted by the length of the watercraft. Typically, you are looking at about 14 feet in length. Any longer and stability can be compromised, and you'll find yourself flipped in no time.
Seat Capacity and Weight Capacity
Also, consider the weight capacity of the watercraft itself. This plays into the seating capacity. Obviously, a craft designed to seat more people will have a higher weight capacity. So, with how many people are you looking to explore? How many seats do you need the craft to hold?
Typically, a canoe can comfortably fit two to three people. This ensures balance and stability as well. The weight capacity for these inflatables ranges between 350 to 700 pounds.
Budget Friendly
Remember when we mentioned a great inflatable option would be in the $300 to $400 range? While that might sound like a pretty penny, it is actually budget friendly in comparison to the hard shell varieties. If you are new to this hobby, this might be the introductory option to let you test the waters. They will be a lot cheaper than hard shells, and you won't be left with a massive piece of equipment if it doesn't work out.
Of course, the budget alone is a factor when buying an inflatable canoe or kayak. You will have to spend some money to get a durable and stable option. Think about what you are willing to spend, how often you might use it, and all the other factors before buying.
Package and Accessories
Any purchase that comes with accessories or add-ons that you would eventually have to buy anyway is a great purchase.
With inflatable models, consider any accessories included in the packaging. It tends to be cheaper to buy as a bundle rather than seek out accessories separately. Some of the great accessories you should look out for include:
  Pump
  Paddles
  Rod holders (for fishing)
  Life vest(s)
  Removable skegs
What Type Is Right?
After breaking down the various factors that make a great inflatable device, let us dive into the different types. Each type has pros and cons that can help you in deciding which is worth the investment and which should sink to the bottom of your list.
  Self-bailing canoes and kayaks are somewhat self-explanatory. They do not hold water inside – which is great if you plan on whitewater rafting. With water going everywhere during that endeavor, you would need a design intended to combat that.
A self-bailing option has holes with metal rings to help bail out water as you continue on your adventure. Be ready to get wet in one of these though! Also, consider that if you are fishing or on any other type of flat water, you will find the water coming in through those same holes. Not enough to sink, but not enough to stay dry either.
  Sit-on options put you on the surface of the water. If you have problems getting in or out of the craft or tend to feel claustrophobic, this is a good option. Like the self-bailing, you will not find yourself staying dry here.
  Sit-in is in direct contrast to the sit-on. This is more for kayaks and is the traditional take on the model. You sit with the kayak wrapped around you. If you want to go for cold weather trips or stay a little dry, this is a solid choice.
  Traditional canoe is similar to a sit-in in the sense that you sitting down into the craft. However, similar to a hard-shell, the body is more open. This gives more space for storage and movement.
  Open style is a cross between a traditional canoe and the sit-on. The body remains open, like a canoe, but the walls are low which makes the rider sit higher. This makes for easy entry and a more open design. The walls keep some spray out.
Tips for Using an Inflatable Canoe or Kayak
After finding the right fit for you and your interests, the next step is all about learning the ins and outs of this awesome hobby.
Even if you have experience with hard-shell kayaks and canoes, you will find yourself learning new things with these inflatable options. From going on the water with friends to fishing to thrill-seeking on rapids, there's so much to be had with your new toy.
Here are some tips on navigating a new inflatable kayak or canoe.
Setup and Inflation Is the First Step
     Most of these devices are designed to be inflated simply and efficiently.
     Most options and models will have a hand-pump to align with the model.
     Before inflating, check the direction to see how much to inflate. Over-inflation can be dangerous.
     Most models will have multiple chambers – potentially up to three. Check for this to make sure you are inflating every chamber.
     If you have questions about your model, chances are you can find a YouTube video to help you out.
While on the Water
  Make sure you are prepared for the environment you are traveling to.
  Wear a life jacket at all times.
  If you are white water rafting, you should also wear a helmet.
  Be sure to have extra paddles in case one is lost or a backup system for propulsion
  Always have your repair kit on board and a roll of waterproof duct tape.
  Remember to have fun!
Upkeep and Storage
     After a trip and before storing, clean and rinse the inflatable with clean water. Get into all the nooks and crannies to make sure you get it perfectly clean.
     Clear off any debris lodged into the corners by drying it off with a towel.
     Deflate completely and fold carefully before storing it in a backpack or bag.
     If you don't use the inflatable canoe or kayak often, take it out intermittently to inflate it. This will prevent permanent creases or the creation of weak spots after being stored for too long.
Frequently Asked Questions
What is the difference between a kayak and a canoe?
This question has been asked many times by many people. The uses of each can overlap in many cases, making this a perfectly reasonable question. Essentially, a canoe sits on top of the water and mirrors a more traditional boat. It will have a bench on either side and is ideal for two people. The paddles have one blade. This means maneuvering it requires moving the paddle from one side to the other. There's typically more space for gear such as camp chairs or tents.
Meanwhile, a kayak sits closer to the water. The paddle has blades at both ends, making it easier to maneuver through tight spaces or quickly down rapids. It is typically designed for one person, but tandem options do exist. The sleek build means there is less space for equipment storage. In a canoe, you sit with your knees bent. In a kayak, you sit with your legs stretched directly in front of you.
Depending on what you are looking for, either a one should be able to meet your needs!
What is a kayak skeg?
A skeg is also called a fin. It is a retractable blade operating in a similar fashion to a rudder. While a rudder will pivot side to side, skegs do not. It will typically be dropped from the rear of the craft and used to control movement through a slider attached to your thigh. This creates a connection between the craft and the paddler. This comes in handy on windy water days when you need to increase control.
Is it safe to take dogs on inflatable canoes or kayaks?
Man's best friend is often a welcome companion out on the water. If they are well-trained to remain stable and calm, they can certainly join you on your inflatable adventure. The material is crafted in such a durable fashion that it can withstand scratches from your furry first mate.
Are they durable?
This is probably the question that brought you to this guide in the first place. As outlined above, these inflatable options are durable and can withstand a number of obstacles. In many cases, the durability matches or exceeds the hard-shell version, making this a welcome alternative.
Ready to Buy?
With all the information in this guide, it is easy to see how an inflatable canoe or kayak is an easier and cheaper alternative to the hard-shelled counterpart. Each type has its own pros and cons, so always choose the one best suited to your interests and needs. Note that the prices can fluctuate, depending on the season or as newer models come out, so it is always worth it to check the price to ensure you're getting the best deal. With the right model on hand, you'll be adventuring in no time!