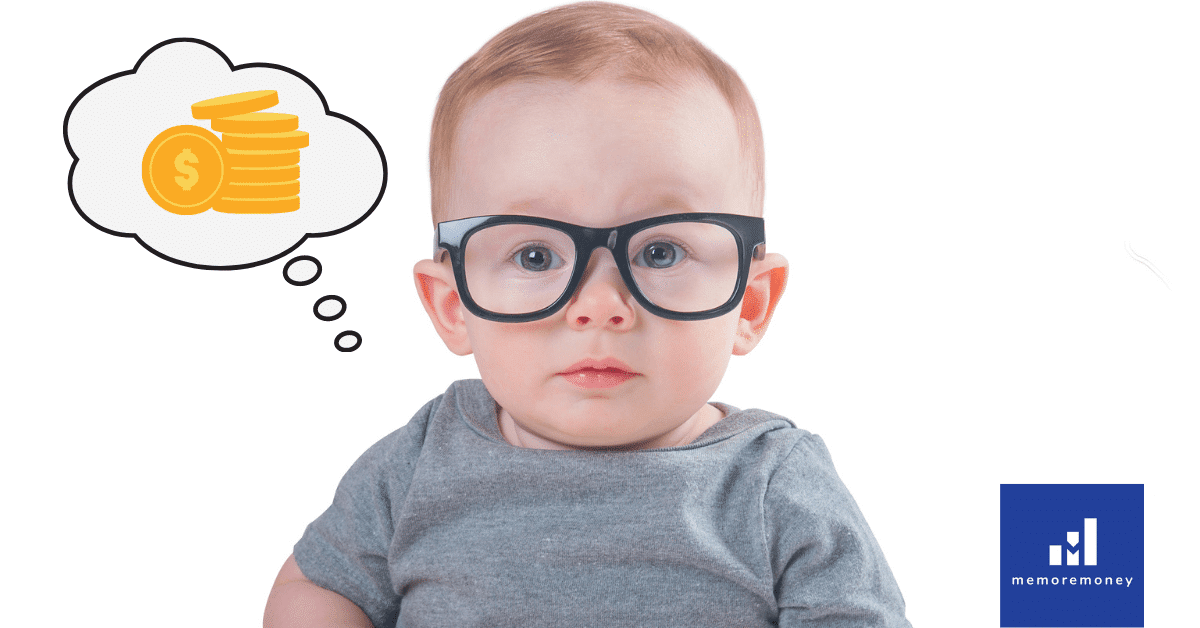 Babies on a Budget: 30+ Ways to Save Money (in 2021)
Photo From memoremoney
Originally Posted On: https://www.memoremoney.com/babies-on-a-budget/
Having a baby is amazing. It's an event that will change your life forever. But having a baby, let's face it, no matter how you look at it, it is expensive. In this article, we will go through easy ways to have a baby on a budget.
So whether you are already a parent or expecting one, the tips in this guide will help you if you're on a tight budget. It's always good to learn about different budgeting tips.
Table Of Contents
How Do You Have a Baby on a Budget?
According to a report, the estimated cost of raising a baby in a new parent is $12,980 per year. This does not include saving for college or other unexpected expenses.
Having said that, with some modifications, it is possible to buck the trend and have a baby on a budget.
These tips will help you with money-saving while still enjoying parenthood.
Having A Baby On A Budget First Things First…
Get your partner on board with saving money before the baby arrives. If you want to have a baby on a budget, you must be on the same page about money-saving.
Your partner is just as responsible for the baby as you are, so make sure that they're on board with saving money and being frugal.
It's never too early to start planning for a baby. Once you have your partner working with you towards one common goal, it will be much easier to manage expenses and keep costs lower than they would be otherwise.
The sooner you get your partner on board, the faster you'll be able to start saving for some of the baby's many big expenses.
1) Create a Baby Profile With Amazon to get a Free Baby Welcome Box
If you are expecting, whether you are planning a baby shower or not, you need to do this!
Who doesn't love a freebie? With this hack, you can get an Amazon baby box for free(ish) when you do the below:
This is a great resource to have since it has some really cool items for babies, and the best part is you get this stuff for FREE (or one less thing off of your registry) in a couple of days.
Don't forget to set up the diaper fund option, too, so your friends and family can contribute to your diaper costs.
STEP 1
Create Your Amazon Baby Profile
STEP 2
Add Baby Essentials to your registry and place a $10 order
Add whatever you'd like to your registry! You do not have to finish it now, so picking out baby must-haves is a great place to start. That could mean various baby gear, breast pumps, clothing etc.  Order $10 of product off of your registry. I would do something essential like wipes or diapers. You know things that you would buy anyway!
STEP 3
Claim Your Free Welcome Box
Once your order actually ships, you can now claim your free Amazon Baby Box. Go to the check status section of your Amazon Baby Registry.
Click the claim now button and add the Amazon Baby Box/Welcome Box to your cart.
Apply the $35 promo to waive the cost of the box.
Place your order! You should get an email about your box, i.e. "Your Amazon Baby Welcome Box is on its way!"
You should receive your box within 2-4 weeks!
If you want full instructions with pictures, check out this article: How to Get Amazon Baby Welcome Box.
2) Be Strategic With Items on Your Baby Registry
Many baby registries provide you with a baby registry checklist pdf, which can be an excellent resource for planning your baby's list. The baby registry checklist can help you understand what baby items are essential to budget for and what baby items are not worth the money.
It will be easier for you to determine how much money you need to save and when to do so with a baby registry checklist.
Here are some tips to make the most out of your registry:
Be strategic with your baby registry by getting various sizes, so you save money down the line.
One of the smartest baby registry hacks you can do to register for a variety of sizes. This hack allows you to take advantage of baby product sales and helps you get more bang-for-your-buck when it comes to buying baby products. For example, let's say that during your baby shower or maternity leave from work, someone buys a baby outfit in size 6 months for $10. Later on down the line, your baby has outgrown those clothes, and you have places to go in a few weeks – if you had registered for newborn through 24 months at one time, then all of the sizes in between could be bought at large discounts because the same manufacturer made them.
Set up a diaper fund: Give your friends and family the option to buy you a gift and give you some diapers too. It's also a budget-friendly option for friends that want to contribute but don't want to spend a lot.
Obtain diapers of all sizes – Register for many diapers and clean-able inserts. The basics you will need from your first child are a wipe, diapers to the car seat, a bottle and a monitor. Put some items in the kids' registries too.
Think fewer toys and more baby expenses – You don't need lots and lots of toys, so focus your list on essentials that you need to keep your baby healthy and happy.
Security items such as door cover and latches on the door are perfect items of the registry. It may not be a pleasure to register for, but it could easily help ease the debt of purchasing everything at once. A silicone bib, a lifesavers bib, is useful during meals and provides handy utensils for toddlers.
This baby registry hacks not only helps you save money now but also allows you to pass things on down the line and saves you money in the future.
Some Ideas That Could go on Your List That Would be Money-Saving Down the Line
Baby Food
Breast Pump
Cloth diapers (worth giving them a go!)
Formula
Baby Swing
Baby products: like creams and wipes
First-year clothes
Car seat
Baby Bath (Related Article: Best Baby Bath Toys)
3) Join Amazon Family
If you are a member of Amazon Prime, you should really check out Amazon Family. With it, you could save up to 20% off your diapers, wipes and more by signing up to subscribe and save.
The other hidden benefit of this is convenience. Amazon will ship the items to your door on a schedule that suits you.
Amazon Prime is incredible – free two-day shipping, access to movies/shows and even a Kindle book library.
It really does pay for itself after your first baby box purchase since diapers are expensive!
4) Garage Sales are a MUST For Having a Baby on a Budget
Having a baby on a budget wouldn't be complete without a garage sale!
It works well for 2 reasons:
1) You can have a garage sale yourself to clear out clutter, ready for your new arrival, creating some extra income for yourself.
2) As a money-saving tactic: Buy other peoples used items!
5) Use Your Current Budget Wisely to Stock up on Essentials Before the Baby is Born
Start cutting back before your baby arrives so that you get used to a new budget, the first few months with a newborn will be tough enough without having to think about the budget on top.
Although a baby is not on your baby budget yet, it is helpful to start being smart with money during the last few months leading up to the baby's arrival.
Set a goal and take actions towards accomplishing them, such as finding ways to save money at work, making healthier decisions as far as food goes, or simply putting additional money into savings.
Any good habits you build now will help you further down the road.
6) Consider Using Cloth Diapers
You can't have a baby on a budget without considering reusable diapers!
Chances are, like me, you have never thought this could work or don't know how you deal with the cleaning. But it's is definitely worth exploring as well as saving money you are also helping the environment!
Check out the video below, which explains more about how the concept works.
How Much Could I Save?
The average diaper price is around $0.26 at 240 diapers a month. Your likely monthly bill is 62.40 based on averages.
Compare this cost with cloth diapers. Then you're paying once for something that will last a long time.
If you're unsure, I would recommend a mix of reusable and disposable so you can have the choice if you are out and about.
This way you are saving money, and also it's more environmentally friendly.
If you are looking for which cloth reusable diapers are good, check out the Mama Koala One Size Baby Washable Reusable Pocket Cloth Diapers. They get the best reviews and come with a quality guarantee! p.s. they also come in some funky colours. Now you don't get that with disposable!
Highlighted Features
【Pocket Design with Snaps】Each pocket cloth nappy consists of a nappy and an insert assembled by a specially designed pocket opening. Our Cloth nappy is easy stuffing and removal, machine washable, and quick-dry, making it more economical and environmental. In addition, there are snaps at each end of the insert to fasten the insert to the diaper to prevent movement.
【One Size Suit All】The pocket cloth nappy is 37cm long and 36cm wide, weighing 116g, which is pretty lightweight and portable with a waterproof storage bag provided. Designed with many snaps fasteners at the outer of the nappy and flexible elastics around, the pocket nappy can be easily adjusted into different sizes and can grow up with the baby from 3kg to 15kg, fitting the baby's body perfectly and tightly with no leaking.
【Reliable & Safe Material】With the PUL laminated waterproof nappy shell and the soft suede cloth inner layer, the nappy is breathable and hypoallergenic with no odor, making baby stay dry, healthy and comfortable. There is no need to worry about the rash at all.
【Super Absorbent】Each diaper comes with a 3-layer insert pad, which is high-absorbency, non-irritating, anti-bacterial, and thermal regulating, effective in preventing leakage and easy to replace.
【Leak Protection】Triple protection against leakage. The reusable pocket nappy diaper, composed of a waterproof nappy shell and a high-absorbency bamboo insert with different rows of snaps, allows you to adjust the waist and the length to get a perfect fit without leaks.
Want to know more?: How to Save Money on Diapers
7) Buy Diapers in Bulk
If you want to use cloth diapers at home or you just want to stick to disposable – then that's ok!
Have no fear. You can still save some money. To save money on diapers, there are a few things you can do. First, read this article here, which gives you full details.
Don't have time, here are a few of the key things you can do:
Buy in bulk – use places like Amazon to get your diapers on subscribe and save to save money and never run out.
Join Diaper Loyalty Schemes – many of the tops manufacturers like Huggies and Pampers have loyalty schemes that give you
Don't Buy Too Much of one size – the thing about babies is they grow quickly, so make sure you buy in bulk but don't overdo it with one size.
Related Article: Best Diapers For Baby
8) Buy Baby Clothes Second Hand
Yes, a new baby is exciting, and it's even more exciting to dress them in nice clothes. What if I could tell you that you could achieve nice clothes and save some money?- say what?
This is very easy to achieve with babies as we all know they grow so quickly! This means you can get newish clothes for a fraction of the price.
If you are set on buying new clothes for going out to special occasions for the home shop, second hand at a local second-hand store or eBay is great to find.
9) Set Up a Savings Account Instead of Buying Gifts for Birthdays
This tip is for the long term, and maybe you will thank me in 18 years or so. So instead of learning how to save money for the baby, I want you to start saving money for your baby's future.
Let's face it, for the first few Christmas' and Birthdays. They will be more excited by balloons than expensive toys. Instead of spending lots of money on gifts, instead set up a savings account that they get access to on their 18th birthday. It will be a nice surprise and money when they start to need it.
You could ask friends to contribute if you don't need any more toys!
10) Be Realistic About What You Actually Need for Your Baby
If you want to learn how to save money on baby products and supplies, I'm sure this is not the first time you have heard this, but it's one of the most important things.
Think about what your needs actually are for your babies growth. Then add 10% so you can buy all those cute clothes and toys that you want!
Once you add this into your planning, you will not only save money, but you will be able to control what you spend.
There are so many things that we buy for our children. I mean, it's a new life, and they have so much potential within them it's hard to say no, but if you can keep it to your essentials.
11) Start Setting Aside Daycare Costs NOW
As in most states, child care is more expensive than tuition costs. It is essential to budget for these costs in advance and, in any possible case, start setting this expense aside each month before the baby comes home.
This will help you manage your budget in the manner in which you make necessary changes before it actually needs them. Practice these corrections now so that your usual spending habits don't change with the baby.
And if you're not sure what child care costs are in your area, this interactive map of the United States is a great source where to start planning. More details can be found here.
12) Shop Yard Sales
Some things like baby strollers can be expensive, so you can often get a good deal for one of the top quality baby walkers at the market.
If you feel like garage sales are unattractive, there may be many new things to discover. You can also search for them online and choose the one that will suit your needs and budget.
These are just some of the tips on how to save money on babies. A few other small things, such as getting ready for the baby's first steps in the home and avoiding unnecessary expenses, is what we all should think about.
As they say, "a penny saved is a penny earned."
13) Start a Baby Emergency Fund
If you still don't think you have a pregnancy but think about it a while, make a child grant now. A dedicated chunk of cash in that space acts as a buffer between the unexpected baby costs and your bank balance. The cash can also act as a relief in case your mortgage or rent for the month.
Even if you have no plans to start a family, you may want to create an emergency fund – just in case. A good safety net of money can come in handy when emergencies happen, and unexpected expenses arise. It will give more time to seek out less drastic. Use a budget like the 50/30/20 rule to help you get your budget in to motion.
14) Create a pregnancy budget checklist
Select several categories on which you may want to analyze the expenses that would be caused by pregnancy. Usually, medical and dental expenses are unavoidable. It is necessary to consider insurance premiums for the birth of a baby or adoption if your employer does not provide it.
For clothing and other needs or wants, have a set amount per month or paycheck.
If you see any leaks in your plan, schedule time to discuss the changes with your partner and approach the bank.
Approach a financial institution for help!
Check if a credit card is available for parents of young children or start planning now. You can find more information on various financial institutions when it comes to these.
15) Don't Buy Toys Yourself
You will find that you will end up being overwhelmed by the amount people buy for you. Just steer them to the toys you want. Keep your money free for baby supplies and topping up their savings account.
You could also make some of your own toys from items you have lying around the house. Just make sure they are not small enough for your baby to choke on them!
16) Accept Hand-Me-Downs Graciously
There is a stigma attached to buying used rather than brand new. But even newer stuff is covered by chemicals, so why shouldn't we stick towards buying it? Many people who have been there are willing to give their old kids to reuse them.
Take good every gift handing out particularly things if you only need them for a few months. Suppose some items are something you will not use be paid by transferring that to some other person. All of us we knew saved hundreds of dollars thanks to their free stuff.
17) Trade Baby Toys
Kids learn quickly from toys and especially in the early years. If you have friends who have children, it is possible to organize a party for toys. You can swap 2 toys, one monthly. I like hosting swap parties, so my shopping budget is not a problem, and I can get something for no price. Use the eyes of friends and family.
Be an active participant in Facebook groups with parents. They will often offer diapers or baby clothes that have been used but are still in good condition.
Also, ask if anyone has gently used hand-me-downs for your child. You can also borrow different items from relatives or friends who don't mind lending.
18) Look For Free Entertainment For The Baby
In most areas, there are many activities for babies. You shouldn't spend money on things while your children are small. Get free activities in the parks and libraries of your neighbourhood.
Find parenting groups local Facebook groups for playtimes or other apps. If you're having a baby, always ask for hand-me-downs and sales items (if you like buying new things). That way, you can get the things your child needs at a fraction of what it would cost to buy them new.
19) Keep a Backup Diaper Bag in Your Car
You never know when you might need it. Keeping an emergency bag in the car means you are never without diapers, wipes and chuck in any other essentials you might need. This stops the need for you to have to shop at convenience stores should you take an emergency strike!
To save even more money on this, use an old bag. There is no need to buy a specific diaper bag.
20) Join Loyalty Schemes
Many of the main brands like Pampers have loyalty schemes. In fact, some of them have apps that make it really easy for you to get points and earn coupons and gift cards.
Make sure you look into them and register.
21) Earn gift cards for Amazon and other places to get your baby supplies
Using apps like Swagbucks is a must. With it, you can earn points that can be converted into points for places like Amazon. It's effortless to do, and the best part is anyone can do it.
All you do is fill out surveys and rate products, and Swagbucks reward you with points that you convert into a gift card of your choice!
This is completely legit. In fact, Swagbucks have paid out over $398,000 to members in gift cards! The best part is that it's absolutely free to sign up and use. In fact, they even give you a $5 sign up bonus. Click here to sign up and get $5.
22) Make Your Own Baby Food
Once you're off onto baby food, making your own will save you a lot of money. You can get jars like those shown below, which are freezer proof, meaning you could batch cook food and store it.
There are tons of recipes to choose from. You can use websites like this one to help you create your own baby food list.
23) Get a Second-Hand High Chair
Don't spend a lot on something you ultimately don't need for more than a few years. Like baby clothes, you can pick these up really cheaply. Use websites like Gumtree to find ones going cheap in your local area.
24) Call the Nurse Hotline and the Paediatrician for Quick (and free) Advice Before Setting up an Appointment
Most hospitals have this service can you can use for free, saving you time and money. Make sure you use it.
25) Get Free Samples
If you plan to formula feed, get formula samples from your doctor's office and the manufacturer's websites. You can also do the same for diapers. This helps when searching for deals as it gives you more products to choose from.
26) Ask Friends to Donate Old Items
Speaking of samples, don't forget to involve your friends and family if they have had a baby in the last 2 years. You will be surprised at the stuff they want to get rid of that is perfectly fine.
For instance, maybe they bought too maybe disposable diapers in a small size or have old clothes. Ask them it's better for you and the planet!
27) Cash in on Items you Don't Need
Babies require space. Your family and friends will buy you lots of things. These things need space! It's a good opportunity to have a clear out of old things and sell them on.
Put the money to one side for use for the additional cost of your new family member.
Some weekends eBay has free listing and low maximum fees. Watch out for this to make sure you make maximum profits.
28) Don't Overbuy
Don't buy more than 5-10 outfits per size at first. People love to gift baby clothes, so you'll probably end up with many clothing gifts. And babies grow fast!
You never know what size they are going to be even at birth.
Use your baby registry for the family to buy you clothes and mix different ages on there. The last thing you want is lots of 0-3 month sizes and then having to shell out lots of cash after.
29) Plan Your Must-Haves
Figure out what your baby must-haves are and spend on those but get them on sale or put them on your baby registry.
You can add them to a list on places like Amazon, and they will actually email you when they are on sale.
30) Save on Baby Wipes
Buy wipes in bulk (you'll be using them for a long time), and they are cheaper in bulk than smaller packs.
Want to get the best deal on baby wipes? Check out: Best Wipes For Baby
If you fancy a challenge, some people make their own wipes to cut costs.
All you need is Coconut oil, baby oil, distilled water, a storage container and a quality paper towel. Check out the video below, which shows you how you can do it really easy.
31) Breastfeeding
On average, the formula can cost between $1200-1500 dollars a year, says Smart asset. If you want to save money on a baby, this is a big consideration.
If you do plan to breastfeed, get your breast pump through your insurance before the baby arrives.
You'll likely have to pump at some point, so it's nice to have it ready to go when necessary. Plus, when covered by insurance, there's usually no additional cost to you!
Baby on a budget: Final Thoughts
It's no surprise that baby costs can add up quickly. After all, new parents need to purchase many items for their little one––from clothes and diapers to furniture and baby essentials like strollers or high chairs.
Fortunately, there are plenty of ways you can save money on your baby without having to sacrifice quality in the process. From buying second-hand baby items from sites like Gumtree to asking friends if they have any old baby stuff laying around, these 20 tips should help get you started!
Did the tips in this article help you towards your goal of having a baby on a budget? Let me know in the comments below!