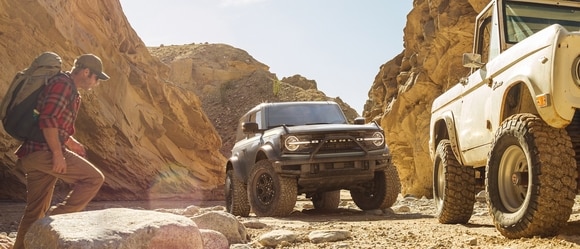 An Overview of the New Ford Bronco: Everything to Know
Originally Posted On: https://www.stevemarshfordsales.com/blog/2020/august/14/an-overview-of-the-new-ford-bronco-everything-to-know.htm
Do you ever dream of driving across rugged desert terrain under a wide blue sky, chasing mountains on the horizon? Do you spend your weekends trekking through forests, camping under the stars, and splashing through rivers and streams? Do you want to chase adventure anywhere it leads you in a vehicle that can carry you beyond your wildest dreams?
If you want a car that's every bit as adventurous as you, the new Ford Bronco is the vehicle for you. Read on to learn more about the different models and all the rugged features you can look forward to.
Basics of the Bronco
For drivers who crave adventure, the new Ford Bronco is a dream to own. The new Bronco has survived the Johnson Valley desert, as well as the Baja 1000, two of the world's hardest off-road endurance races. This is a car that can take you across deserts, under dazzling night skies, up mountains, past lakes and oceans, and to every other wild adventure, you've ever dreamed of.
There are seven different Bronco models for you to choose from, depending on what capabilities you need. Each comes with a two- or four-door option, and each is fully customizable. Choose from over 200 different features to create the perfect car to take you on your next adventure.
Off-Road Features
The Bronco has a variety of off-road features that make it perfect for tackling everything from mountain trails to rivers and streams. The new Bronco earned a Best in Class Departure and Breakover title. It has a departure angle of 37.2 degrees and a stunning 29-degree breakover, angle, as well as a 43.2-degree approach angle.
The Bronco can also keep you clear of rocks, branches, and other obstacles with its best-in-class 11.6-inch ground clearance. And in the new Bronco, you'll never have to worry about splashing across another river. The vehicle has a stunning best-in-class water-fording capability of 33.5 inches.
Cockpit
Although the new Bronco is a vehicle built for rough terrain, you'll be riding in comfort as you head out on the trail. The cockpit comes equipped with a purpose-built instrument panel that puts all the gauges and controls you need at your fingertips. There are up to six different switch packs you can access depending on your model that allows you to stay in control of your next adventure with the push of a button.
The Bronco gives you plenty of room to bring your family and friends along on your adventures with available 60/40 split-fold second-row seats. And when you need a little less talk and a lot more action, the seats fold down to give you plenty of space to pack extra gear in. Don't worry about keeping your Bronco pristine either – you can get your Bronco equipped with rubberized washable floors, integrated drains, and marine-grade-vinyl seating.
Base Model
The Bronco Base model is the perfect option for those looking for adventure on a budget. The car starts at $28,500, has 83 cubic feet of cargo space, and clocks an impressive 270 horsepower. You can seat up to five people in the Base model, and you'll get all the standard interior features, including an eight-inch color LCD instrument panel and smart charging USB ports.
The Bronco Base model comes with a seven-speed manual transmission that has a best-in-class crawl ratio of 94.75:1. It also features an Electronic Shift on the Fly two-speed transfer case that allows you to choose among three driving modes. And with Ford's patented Personal Safety System, you can rest assured that your next adventure will be nothing but fun.
Big Bend
The Bronco Big Bend model is a great option for people who want a little more luxury in their terrain. The model starts at $33,385 and has the same cargo space and horsepower as the Base model. But the inside has some special features that will make every day feel like you're riding in the lap of luxury.
The Big Bend model has a remote start system that means you'll never have to shiver through the first fifteen minutes of your drive again. A 110V/150W AC outlet in the backside of the center floor console can keep all your devices charged. And when you grip the leather-wrapped steering wheel and adjust the cruise and audio controls, you'll know what it's like to experience real quality in your ride.
Black Diamond
The Bronco Black Diamond model is a car for people who need a car that can keep up with them. Starting at $36,050 with 83 cubic feet of cargo space and 270 horsepower, the Black Diamond is one tough car. From top to bottom, this is a vehicle designed to weather any terrain.
The Black Diamond model starts with a heavy-duty modular front bumper that makes it easy to add the winches and lighting configuration options you need. It also has an upgraded bash plate that protects your Bronco from rocks, stumps, and other obstacles. The model finishes with a steel rear bumper that keeps you protected no matter where your adventures take you.
Outer Banks
If you like a little more flair in your style, the Outer Banks model is the Bronco for you. This car has it all, from rugged functionality to the sort of verve you'll be proud to show off to your friends. Although it starts at only $38,955, driving it will make you feel like a million bucks.
The Outer Banks comes standard with leather-trimmed seating that's as luxurious as it is functional. A twelve-inch LCD capacitive touchscreen with Swipe capability and enhanced voice recognition will keep you connected on the road or off. And no matter whether you're rolling up to a mountain sunset or a dinner party, you'll steal the show with body color-painted fender flares, door handles, and side-view mirrors.
Badlands
For those who spend more time with tires off the pavement than on, the Ford Bronco Badlands model is a dream come true. This is a car meant to keep its footing over any terrain you throw at it. It starts at $42,095, but the adventures it will take you on will be priceless.
The Badlands model features a front stabilizer bar disconnect that allows increased articulation across the vehicle when you're navigating large obstacles. The differential electronic-locking front and rear axles will help you optimize traction and improve your off-road performance. And advanced 4×4 controls with automatic on-demand engagement will vary power to the front wheels for optimum performance any time your wheels hit the dirt.
Wildtrak
The Bronco Wildtrak model is a vehicle made for those who want only the finest things in life. This is a car that can do it all, from saving you money on gas bills to carrying you across landscapes. It starts at $48,875 and features an impressive 310 horsepower engine and 77.6 cubic feet of cargo space, plus seating for five.
The Wildtrak comes with a 2.7L EcoBoost engine that can produce a best-in-class 400 lb-ft of torque. The included Sasquatch package gets you 35-inch tires, 17-inch Beadlock Capable wheels, front- and rear-locking differentials, position-sensitive monotube shocks, a 4.7 final drive ratio, and high-clearance fender flares. And with the Shadow Black-painted modular hard top with matching painted grille and side-view mirrors, you'll be the coolest ride in or out of town.
First Edition
The Bronco First Edition model is a luxury that will be more than worth the wait. If you want the pleasure of driving this beauty, you'll have to make a reservation. But be warned: this car is so hot that it's already sold out until 2021, so you'll have to grab your spot in line.
The First Edition starts at $59,305 and features the same impressive 310-horsepower engine as the Wildtrak. In addition to the Sasquatch package and modular hardtop, it features adaptive cruise control, electronic traction control, and a standard 360-degree camera. It also has a custom paint job that will let everyone you meet know you're driving the finest car in the fleet.
Reservation Options
Although 2020 reservations for the First Edition model are sold out, you can reserve your 2021 model today. You'll need to talk to your local Ford dealer and put down a refundable $100 deposit to secure your vehicle. Beginning in December of this year, your dealer will reach out to you to convert your reservation to an order.
Working with your Ford dealer, you'll confirm your custom configuration of your new Bronco. They'll verify your order and pricing and then place the order. Early next year, your dealer should be able to let you know when your new Bronco will be ready to take home.
Discover the New Ford Bronco for Yourself
Whether you want on-road luxury or off-road adventure, the new Ford Bronco can deliver. With seven different models to choose from and multiple custom package options, you can create the perfect car for you. But don't wait – reservations for this new model are filling up fast, so talk to your dealer today.
If you'd like to reserve your new Ford Bronco, come see us at Steve Marsh Ford. Our tools can help you get your dream car from our lot to your driveway quickly and easily. Search our inventory today and start making every trip a dream.