"All 1's" Ruffian, The Real Story
Originally posted on https://www.pastthewire.com/all-1s-ruffian-the-real-story/
The hardest part about writing this article was what to call it. Yes, it's about Ruffian, arguably the best and most brilliant filly to ever grace the racetrack.
But it's about more than that. It's about the love of The Sport of Kings, it's about the Golden Age of Racing, it's about the love and dedication to the Thoroughbred so many of us share, and it's about how fate brought a team together to try and do the impossible. Out of love, no different than one would love a family member, this team of dedicated, devoted horse people, from almost every level of the game, tried with all their skill and hearts, to defy insurmountable odds.
While this is an article about Ruffian, you will meet many other people, each remarkable in their own way, and each worthy of their own story. This story is about Ruffian; however, and the rest of us are just privileged to be along for the ride. Although you'll learn a lot about some great people, none of it will change our focal point, which is this magnificent specimen of a racehorse. You'll get to know some of the best and most dedicated people in the business, and of course you'll even be treated to a "Damon Runyanesque character. I'm not sure there could be a real racetrack story without one.
This is certainly not the first time the story of Ruffian has been told, and only time will tell if it is the last. It is, however, the real story, with her greatness defined, and an accurate account of what truly happened that fateful day by people who were there.
The sad and inescapable part of the story is the horrible loss and tragedy our sport suffered that day. But, we will also celebrate her brilliance and achievements and recognize the love and dedication she was surrounded with in those final hours, minutes and seconds. Not only will we celebrate her brilliance, but be thankful for the glimpse The Sport of Kings provided us into what she truly could have become, had fate, in one of its cruelest moments, not stolen her away from us.
When finished, you'll know more about Ruffian than most, and you'll know what did and didn't happen at Belmont Park on Sunday, July 6th, 1975. Much was written about the aftermath of that fateful moment in our sport. I've known for a while most of what was fact and fiction. I feel both honored and privileged to tell it as it was and not as was widely reported over the years. This account comes from those who were there, involved, and who loved her and our game as much as anyone.
While reflecting on a conversation with Mike Bell, a man who probably spent as much time with Ruffian during her racetrack career as anyone, the title came to me. It was just how he said it as we were discussing her career, and how good she actually was. It was so matter of fact, and with such confidence, and just made sense. Mike said "just look at her past performances, all you see are 1's, all 1's". He was right. It was all 1's, a rarity throughout the history of The Sport of Kings. Even more of a rarity when you consider she competed almost exclusively in stakes, five of them being Grade 1's. There are those 1's again. Ruffian finished ten races, winning them all, and was never headed at any call in any of them. Again, five, or half, were Grade 1's. Impressive to say the least. I can't take credit for "The Real Story" either. That goes to Raymond J. DeStefano. You'll learn more about Ray later, and why he, as much as anyone, can call this "The Real Story".
Even more impressive and rare in my opinion, is Ruffian was able to go wire to wire at 5 ½ furlongs and at 1 ½ miles. Ruffian set a new stakes record in each of her eight stakes victories. She also equaled two track records. She broke her maiden first out by 15 lengths in record time. Not many horses win 5 ½ furlong races by 15 lengths in record time and go on to win at a mile and a half in stakes record time. Her average winning margin was just over 8 lengths. An impeccable and enviable resume for any horse of any era. A glance at her past performances puts her squarely at the top of any knowledgeable discussion about the bests of all time. Actually seeing her run ends the conversation for many. I was fortunate enough to see nine of the ten races she completed. I was unfortunate enough to see the one she did not complete as well.
I learned a lot about Ruffian from talking with Mike Bell. Mike is a knowledgeable horseman and his love of the thoroughbred, Ruffian, and game was evident very early on in our conversation. He's a true professional and that comes across immediately. Frank Whiteley Jr. was Ruffian's trainer. Mr. Whiteley was what I refer to as "Racing Royalty", a term reserved for the best of the best breeders, owners, trainers, and riders. He trained horses like Ruffian, Forego, Damascus, Tom Rolfe, amongst many others.
Mike was Mr. Whiteley's barn foreman back when they had Ruffian. Barclay Tagg, was Frank's assistant trainer, and Barclay would go on to win The Kentucky Derby with Funny Cide in 2003. The duties in the barn were dispersed pretty evenly. They all shared in the care of the horses and it was not uncommon for Mr. Whiteley to delegate different duties to different people. As such, Mike did just about everything in the barn at one point or another, just as the rest of the team did. Much of what he did was take care of Ruffian.
Mike described Ruffian as a very independent filly. She was free spirited and did not like being fooled with and let you know it. She was not uncooperative, but all business. If you had to do something in her stall, you went in, did it, and got out. That's how she wanted it. She was competitive and liked going to the track. She knew what was going to happen when she went to the track and you could tell she enjoyed her job, and wanted to do it and do it fast. Great horses are that way, as are most great athletes. Ruffian was a big strapping filly, built more like a muscular stallion than a filly.
Prior to that fateful day, the unbeaten, untested, and never headed Ruffian only had one potentially serious setback in her career. She sustained a hairline fracture of her right hind ankle, which was thought to have occurred during a morning gallop prior to The Frizette Stakes. The injury occurred in late September of 1974, Ruffian's two-year-old season, and sidelined her for the rest of the year. She spiked a fever which caused her to miss The Frizette. After the fever subsided, Ruffian just didn't seem right. Her regular veterinarian, Dr. James Prendergast, one of the best in the business, and a true animal lover, and the veterinarian of choice for racing royalty like Frank Whiteley Jr., estimated the injury to require six to eight weeks to heal. He discovered it after having a series of radiographs taken. She remained under the care of Dr. Prendergast, until she wintered in Camden, South Carolina, as was customary with Mr. Whiteley's horses.
Noteworthy, is Frank Whiteley Jr. and his staff, including Mike Bell and Barclay Tagg and the rest of the team, were hay, oats, and water people. True horsemen. No Lasix, very little medication, and veterinarians were summoned to primarily treat injuries. Equally noteworthy is veterinary medicine and science was not what it is today. Everything from diagnostics to treatment has changed. Sure radiographs were available but today the tools at a veterinarian's disposal are vast, as are the drugs. They were much more limited back then yet just as successful, arguably more so. More so because of the accomplishments of our equine athletes of that era.
Ruffian, along with many other equine stars of the golden days of racing achieved their greatness without Lasix, and other drugs routinely used today. Their accomplishments were no less, more probably, but without the aids horses so commonly have today. Hay, oats, and water, along with a good trainer and rider, as well as a top notch veterinarian to patch things up were all that was needed. The horses' careers lasted longer, and they ran more often and just as fast. Things have changed, but we'll come back to that later.
There was little question Ruffian was fine when she made her three-year-old debut in 1975. She ran six furlongs off an eight-month layoff in an Aqueduct allowance race, one of only two times in her career she did not compete at the Stakes level, in an eye catching 1:09.2. Her next start was The Grade 3 Comely Stakes, also at Aqueduct. She broke slowly but still was in front by the first call, and went on to win easily by over 7 lengths, covering 7 furlongs in 1:21.1. Racehorse time. The three quarter (6 furlongs) split was 1:08.4. There was no doubt she was fast, among the fastest, but it's rare for a horse this fast early to be able to carry that speed a distance. A mile maybe, especially if it's one turn, but any longer than that, and stretching into the two turn arena becomes iffy. This wasn't just another great racehorse. This was Ruffian.
From The Comely, Ruffian went on to trounce both her foes and the clock, sweeping what was then called The Filly Triple Crown. She won The Grade 1 Acorn at a mile in 1:34.2. She took The Grade 1 Mother Goose, then run at Aqueduct at a mile and 1/8th, around two turns in 1:47.4. This was Ruffian's first endeavor around two turns and she left no doubt it was well within her scope. She drew off to win by over 13 lengths, making a strong case she was getting better as she was maturing and going longer.
Ruffian's Mother Goose stakes record, and the record for margin of victory in the race, stood until Rachel Alexandra broke both on June 27th, 2009, winning the race in 1:46:33 by just over 19 lengths. However, the Mother Goose is now contested at Belmont Park and run around one turn, in an elongated sprint format, thus speeding up the times. Taking nothing away from Rachel Alexandra, a brilliant filly in her own right, the races were run under very different conditions.
To complete The Filly Triple Crown, Ruffian would have to return to Belmont Park, and run further than she had ever before. The final leg of the series was The Coaching Club American Oaks, run at the same grueling distance, a mile and a half, as The Test of Champions, The Belmont Stakes. Everyone knows a front runner with 21/44 speed can't go a mile and a half. Nonsense. Ruffian was all heart and racehorse and distance was not going to be her undoing. Nor was competition. She loved racing and her competitive spirit made her want to win.
As we watched this big, strapping, almost all jet black filly make a mockery of any distance limitations, little did we know fate was getting ready to play a cruel hand and this was the last race we'd ever see her complete. Continuing her streak of track and stakes record times, Ruffian handled the 1 ½ miles with ease, stopping the clock at 2:27.4. I remember going down to the rail on the apron at Belmont that day and just gazing at her. I knew I was seeing something special. I think everyone did.
I remember when I was just a kid, seeing Ruffian at Saratoga. I went to Mangino's on the lake for dinner with my Mom and Dad that night. As usual in August back then, the place was packed. All you heard from those waiting for tables, and those already dining, was what a great filly we all had witnessed that day. Ruffian dominated The Spinaway.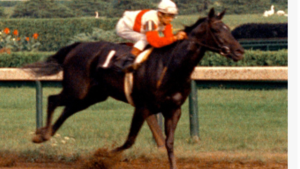 Ruffian handles The Test of Champions distance of 1 ½ miles, the same distance of The Belmont Stakes, with ease completing the filly Triple Crown. This is her final race before The Match Race, and the last race she completed.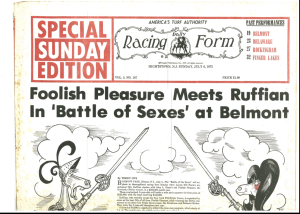 Horse racing was more mainstream back then. Horses like Ruffian did not need social media to catapult them to stardom. The Sport of Kings was covered by most newspapers and sporting magazines, and Ruffian was its new star, and she was a girl. More so, she was unbeaten, untested, never headed, all 1's. There was no knock on her nor any limitations on how great she was or could be. Had Ruffian never set foot on the racetrack again, she had already developed a Hall of Fame resume, and a record deserving of, at the least, mention when speaking of the very best the game has ever seen. Possibly, the best the game has ever seen.
People today love to throw the word "freak" around when describing a horse who has run a fast or impressive race or two. I suggest being a lot more reserved with throwing that term around. I don't use it often. Ruffian would qualify.
Social media has created a platform for countless arguments and discussions about things like who was better, Zenyatta or Rachel Alexandra, and who was the best of all time. Taking nothing away from any of these great horses, all special in their own right, it is almost impossible to compare horses from different eras, and horses who have never lined up against each other. Almost I said. With Ruffian we may get some separation and I'll explain why.
In a conversation with legendary Hall of Fame rider Mike Smith I had while interviewing him for a prior Past the Wire column on The Breeders' Cup, we discussed comparing horses from different eras and horses who never raced each other. Mike's one of the best ever and has ridden some of the best and has a great opinion. We were in agreement it is hard to compare. Horses are athletes, and athletes often perform to their competition, and react to their adversaries just like human athletes. Unless you put them in the gate you just don't know. You can think, form a bias, have an opinion, but unless you race them, you don't know. Some horses run as fast as they have to, some horses ease up when in front, some horses relax when they know they've got it won.
The thing that creates some separation with Ruffian is "All 1's". That's her past performances in a nutshell. "All 1's". She led at every call of every race she finished. She consistently ran fast, early and late, and broke or equaled the track or stakes record in every start she finished. Every one. She did this from 5 ½ furlongs to 1 ½ miles, and was just coming into her own. Who can make that claim? She was before Thoro-Graph, but I'd love to see her sheet had she had one. According to Jerry Brown, the founder of Thoro-Graph, and who worked for The Ragozins at the time, Ruffian ran a lot of 5's on 'The Rags". That was very fast for a three-year old filly back then. For a variety of reasons, horses run lower figures in general today. Perhaps Jacinto Vasquez, also one of the best riders ever, with a great opinion, said it best "she was like Marilyn Monroe, there was everyone else, and then there was her, Ruffian. Just like Marilyn Monroe, there was everyone else, then there was Marilyn Monroe".
The 70's were a time when the women's liberation movement was making news, and competition between men and women were usually headlines in sports. Just two years earlier in 1973, tennis star Billie Jean King, a woman, beat tennis pro Bobby Riggs, a man, in a highly publicized match dubbed "The Battle of the Sexes". People liked seeing male-female competition and the women's liberation movement fueled that, especially if the woman could win. Was that what prompted the match race? Probably not entirely, but it was likely contributory.
The hype leading up to what they initially called "The Great Match" was tremendous. Racing fans went into a frenzy over seeing the magnificent, untested filly, Ruffian, go at it head to head with the battle hardened, experienced colt, Foolish Pleasure, that year's Kentucky Derby winner. Pins and T-Shirts were given out. The press coverage was constant and the buildup kept intensifying.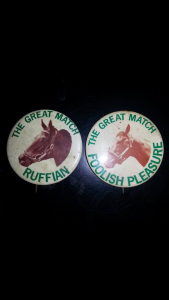 Not everyone was in favor of The Match Race. Ruffian's trainer Frank Whiteley Jr. has since passed so I could not speak with him, but I got the impression he was not in favor of it, but went along with it due to the popularity, hype, and thinking she'd win anyway. In the wake of the women's liberation movement and all the hoopla surrounding it, a lot of people saw this as good for racing. That sort of created an unspoken pressure at the racetrack to be in favor of it. After all, it would be good for the game, and it was mainstream because of the times.
Ruffian was owned by the Janneys, cousins of the Phipps, and at that time, Ogden Phipps ran New York Racing. Mike Bell, Mr. Whiteley's barn foreman, has never been in favor of racing fillies against colts. Nobody had a crystal ball, and nobody anticipated the unimaginable, so I don't think you can really fault those who wanted 'The Great Match" and saw it as good for the sport.
The Janneys and Phipps were connected by more than blood. They were both major breeding families, and bred most of their horses at Claiborne Farm. The Phipps owned Reviewer, Ruffian's sire, and the Janneys owned her dam Shenanigans. Reviewer was a son of another Phipps stallion, Bold Ruler, who also sired Secretariat. Had it not been for a lost coin toss, The Phipps family would have owned Secretariat. Secretariat went to Meadow Stable, the owner of his dam, Somethingroyal, and the winner of the famous coin toss. Ruffian was born on April 17th, 1972. Secretariat made his racing debut in July of 1972.
Jacinto Vasquez, Ruffian's Hall of Fame rider, and again, one of the best ever, was never in favor of it. He felt it was pointless and would prove nothing.
Interestingly, Jacinto Vasquez won The Kentucky Derby earlier that year aboard none other than Foolish Pleasure. Jacinto chose to ride Ruffian in the match race, and never thought Foolish Pleasure, a heckuva racehorse himself, had any chance to beat her. Jacinto Vasquez would know too. His Hall of Fame career put him on some of the best horses ever. Vasquez won The Kentucky Derby twice, aboard Foolish Pleasure, and on Genuine Risk, one of only three fillies to ever win it. He rode horses like Forego, Storm Cat, Smile, Princess Rooney, Ta Wee, Numbered Account, and so many others. He is also the only jockey to beat Secretariat two times, on Angle Light in The Wood Memorial, and in a great ride on Onion in The Whitney, where he had Big Red pinned down on the inside. If Jacinto thought Foolish Pleasure, his Derby winning mount, had no chance of beating Ruffian, I'd pay attention. We'll hear more from Jacinto Vasquez later, in one of the most compelling conversations about that fateful day that ever took place.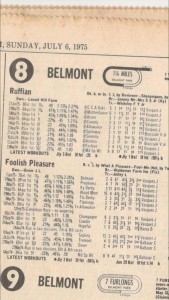 The momentum, hype, and popularity was way too strong, the Match Race would take place. It didn't matter who was against it, the boulder was rolling down the mountain, and nothing was going to stop it. In all fairness, what was to come could not have been anticipated or expected. Had it been, it goes without saying there would have been no Match Race at Belmont Park on July 6th, 1975. Unfortunately, The Sport of Kings inherently brings with it at times both the unexpected and the unimaginable.
Frank Calvarese was the assistant starter in the gate with Ruffian that fateful day. Frank was one of the best, and everyone on the track, including most trainers and riders, knew it. Frank handled many great horses in the gate. And was starter George Cassidy's go to guy for the best horses. It wasn't always that way. One day the great Kelso finished second, beaten a neck in a race. His trainer Carl Hanford, blamed a poor start and went to starter George Cassidy and asked for Frank to handle Kelso going forward. George obliged. Kelso went on to be Horse of the Year five times while being handled exclusively by Frank in New York.
Frank handled all the Greentree Stable horses for John Gaver and later his son Jack. He handled the Bohemia Stable horses for Allaire Du Pont, he handled horses for Joan Payson, William Hagin Perry, Mike Freeman, and almost always by request. This great horseman, and lover of the game and thoroughbreds, lived it his whole life. He started at 15 years old as a hot walker and groom at Delaware Park near his childhood home. Ultimately, while in Florida, he learned of an opening on the gate crew at Hialeah, then one of the premier tracks in the country. He was granted an audition, as he called it, by Hialeah's starter George Cassidy and got the job. Frank was thrilled.
Little did Frank know at the time, the path he chose, for primarily stability reasons, would put him square in the midst of one of racing's saddest moments; however, there were also many happy moments. Frank's work on the gate got him invited to the racing royalty farms of the horses he handled to dine and socialize with their owners and breeders. He sat in the box of Joan Whitney Payson, founder of The New York Mets. Frank handled many of the best, and enjoyed many of the the perks and relationships that grew out of it.
Frank handled all of Frank "Pancho" Martin's horses including Sham. There was one exception. That was if Secretariat was running, as only Frank handled Secretariat. That was at the request of both Lucien Laurin, Secretariat's trainer, and his rider Ron Turcotte. Frank also mentored Raymond J. DeStefano during his time on the gate.
Frank knew Ruffian well. He'd been in the gate with her many times. He also was entrusted with "the book". The book, as it was called, contained notes on any horses with gate issues. You did not dare lose the book if you were holding it. It was usually entrusted to the foreman or a key member of the gate crew. Different quirks and habits were in the book. Who got nervous or keyed up, who was timid, who needed to be held, just about any type of gate handling instructions. You'd find things like who needed a blindfold, who needed to be buggy whipped, who needed to be backed in, whatever. Improvements were also notated and sometimes horses were removed from the book altogether. Today the book is likely an I-Pad.
Ruffian was in the book. She was not known as a bad gate horse but was known as anxious. She wanted to run, and if you let her, she'd charge the gate before it opened. If she saw racetrack, she wanted at it. Frank says Ruffian was built "like a bull", and looked "like a stallion" not a filly. Frank would handle the powerful filly's head in the gate and sometimes keep it slightly turned so she would not focus on the racetrack in front of her. There was always that concern of her charging the gate, but Frank, a true professional and master at his craft, knew how to avoid it and simultaneously make sure she had a fair start.
Raymond J. DeStefano, whom I'll refer to as Ray, and count amongst my dear friends, is a remarkable human being and race tracker. He could have been anything on the racetrack he wanted, with perhaps the only exception being a jockey, and among the best at whatever it was he chose. His love of horses at a young age brought him into The Sport of Kings, and he has never left. He has had one of the most interesting, successful, and diversified careers on the racetrack as anyone. As with his gate mentor, Frank Calvarese, who could have imagined this love of horses would make him a part of racing history, and place him in the unenviable position of spending Ruffian's final hours and even seconds with her.
But for fate, Ray's passion and love for horses may never have been realized. Ray was born in Brooklyn, New York, but moved to Floral Park at a young age. The family home was several hundred feet from the fence to the Belmont training track. Ray could hear the Belmont crowd roar from his home and was fascinated. He could hear and even smell the horses on the training track from his home and this young man was drawn into The Sport of Kings where he has remained. Nothing was handed to Ray, and as successful as he became at every level of the industry he participated in, he had to work for it.
His love of the racehorse really started with one of the all-time greats, Buckpasser, who was a two-year old at the time. Ray used to sneak onto the Belmont backside. Eddie Neloy, Buckpasser's trainer, became familiar with Ray and allowed him to pet and get to know this great horse. Ray became a more recognized face on the backstretch, although still too young to officially work there. He then went on to develop a similar friendship with Dr. Fager, one of the fastest horses ever, and his great trainer and horseman, John Nerud. Ray also got to know the great Damascus when he was a stallion at Claiborne Farm. Ray spent a summer working at the historic farm as a college requirement.
Besides the obvious friendships of both the equine and human nature sneaking into the Belmont backstretch afforded Ray, there was an added one, which would become influential and helpful to his career. Ray caught the eye of legendary trainer Frank "Pancho" Martin, who took a liking to Ray. Ray, while a high school student on summer vacation asked him if he needed any summer help around the barn one day, and Pancho handed him a shank, gave him a little test and ultimately a job. Ray began working for Frank Martin who was a kind and generous man. He helped a lot of people around the racetrack with very little fanfare made of it. He was a gentleman and was portrayed so inaccurately in the movie "Secretariat", I personally could not watch it. Ray felt the same and relayed to me Pancho was hurt, offended, and even angry about it himself. I could see why he would be.
Pancho was great with both claiming horses and stakes horses, and Ray learned a lot from him as Frank became his mentor and most people on the backside knew it. Ray became known as Pancho's guy. Ray continued working for Pancho part time when he could but he went on to school, Cornell University, where he majored and earned a degree in quantitative genetics. This opened a whole new door of understanding breeding and the genetic make-up of the horse for Ray. When I have a breeding question even today, I'll call Ray before just about any bloodstock agent I know. Ray also won the boxing championship while a senior at Cornell at 165 pounds by TKO.
When Ray graduated from Cornell, he returned to his love and passion, the racetrack, full time. He was offered an Assistant Trainers position by Jimmy Picou, but turned it down. He ultimately accepted a job with Murty Brothers Horse Transportation, transporting horses all over the country and even the world. Ray made numerous trips all over the world, traveling to Japan, all over Europe, South America, and the United States, transporting horses like the international star Dahlia.
After Secretariat's last race, a romping victory at Woodbine in October of 1973, his groom Eddie Sweat walked him off the plane and handed him off to Ray who loaded him onto a van that was bound for Belmont Park. Ray pulled on Secretariat's mane and a piece of it came off in his hand that he still has today. That piece of mane was actually on loan to the Racing Museum in Saratoga for a while. Ray has amassed quite the collection of racing memorabilia.
He can open his own museum and it would have few rivals. Jean Cruguet gave Ray the goggles he was wearing when Seattle Slew won The Belmont and Triple Crown, after Ray and Slew's regular gate handler, Bob Duncan placed the famous carnations around Slew's neck. He has many friends who have volunteered to clean out his home upon his passing, before his beloved daughter Bethany decides what goes in the trash.
While working for Murty Brothers, Ray continued to enhance his reputation on the backside. He also started working for one of the best Veterinary surgeons in the country, Dr. William O. Reed whose hospital was maybe a quarter of a mile from the Belmont backstretch and right next to Murty Brothers. Penn Feed was also on the block and down on the corner was the well-known racetrack tavern Esposito's. Dr. Reed's associate was Dr. Charles "Chuck" Allen. Ray did prep work for surgeries, assisted in the operating room and worked in the recovery room.
At one time while at Cornell, Ray considered becoming a veterinarian but opted against it. Ironically, Cornell University now operates The Ruffian Equine Hospital, which sits where Dr. Reed's Hospital, Penn Feed, and Murty Bros. used to be. Ray was present and assisted when the great prospect, Hoist The Flag, was operated on and some of the bone chips removed from this great horse's leg are part of Ray's collection of memorabilia. Most of Ray's things are pictures, racing forms and programs, but his experience at the hospital got him access to things like the Hoist The Flag bone chips which he kept. It was his love of horses and the game, and his being a student and historian of it that prompted him to collect these items. Ray was working for Dr. Reed and Murty Bros. in July of 1975. When things were quiet at Murty Bros., Ray would assist at Dr. Reed's.
In February of 1976 Ray learned there was a much coveted opening on the gate crew for The New York Racing Association, which consisted of Aqueduct, Belmont, and Saratoga racetracks. Frank Martin told Ray to tell starter George Cassidy that he sent and recommended him. Ray was given the job on the gate grew and mentored by Frank Calvarese. Frank showed him the ropes and Ray stayed there through 1984. Ray handled many of the top horses and top riders in the gate during that golden era of racing. One of my favorite pictures of Ray is the one where he is seen in the infield right near the wire as Affirmed and Alydar battled it out head and head in The Belmont Stakes. Ray has been close to historic horses and moments in The Sport of Kings his whole career.
Ray worked on the gate crew until 1984. Afterwards, Ray was offered and turned down the position of Field Representative for The New York Breeders' Association. He started doing bloodstock work on his own which he still does today. When the Inaugural Breeders' Cup rolled around in 1984, Ray was asked by Slew O' Gold's connections, the favorite going into that first Breeders' Cup Classic, to accompany the horse to California. Ray did and spent the days leading up to the race with the big horse who had a quarter crack that was being nursed along.
Ray walked the horse and Angel Cordero to and from the track from training leading up to the race and was treated like a full-fledged member of the team by all his connections. Even horse owner Burt Bacharach used to stop Ray and ask how the big horse was doing. After Slew O' Gold was beaten in a controversial finish involving a lengthy inquiry, Ray was invited to the after party in Beverly Hills. He remembers meeting part owner actor Albert Finney outside and sharing champagne right from the bottle as if they had won. This despite not only a bitter defeat but a steward's decision that didn't go their way. Imagine had they won.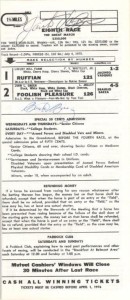 When the day of "The Great Match" arrived, Belmont Park was filled with the electric atmosphere reserved for Super Bowls and the great Heavyweight Championship fights of the past. The place was packed and the anticipation was intense. Everyone was anxious for the 8th race on the card, the $350,000.00 purse Match Race. That was a sizeable purse back in 1975, especially with only two horses sharing in it. This was never really about money though. Sure, The New York Racing Association wanted to capitalize on the "Battle of the Sexes", and the whole women's liberation movement, but this race and everything leading up to it took on a life of it's own. If you think the racing community anticipated the Zenyatta vs. Rachel Alexandra face off that never happened in The Apple Blossom at historic Oaklawn Park, I assure you it pales in comparison to the excitement and atmosphere leading up to The Great Match. And that wasn't a Match Race, which generated an added level of intensity. It equaled and even exceeded the excitement leading up to The Belmont Stakes with a Triple Crown on the line. We waited 37 years for another Triple Crown winner after Affirmed, and despite all the failed attempts in between, the only horse and race to even come close to the electric atmosphere of The Great Match was when American Pharoah turned for home in The Belmont, and we all knew he was going to finally get the job done.
Almost everyone involved in the aftermath of what was too happen was at the track to watch the race. One notable exception was Ray DeStefano. Ray decided to avoid the crowd and watch the race from his home, which was very close to the track. One of the more interesting things I find about Ray is, despite his love, knowledge, and respect of this great game, he has never bet on a horse. Not even once. All he's done he's done out of his love for the Thoroughbred and The Sport of Kings.
THE RACE:
Ruffian got no more worked up in the paddock than usual. She was a headstrong filly who liked to run and she did normally get a little keyed up in the paddock. By the time she was on the racetrack, she was settled. Frank Calvarese loaded her into the third stall inside of Foolish Pleasure's stall which was the fourth. Because this was a match race, even though Ruffian was #1, the first two stalls were left vacant. Frank could hear the crowd noise from the backstretch. It was time. As soon as the gate sprang open, Ruffian ducked in a bit and lightly brushed her left side against the gate. It only slightly affected the start, and she was off in good order but not in her customary spot on the lead. Frank had seen horses come out of the gate that way countless times before, he did not think it was nearly severe enough to cause any type of injury.
Jacinto Vasquez straightened her out immediately but it took Ruffian a few strides to get up to her normal cruising speed and put her head out in front where she was used to being. Frank watched the race and very shortly into it heard the crowd roar and immediately noticed Ruffian had broken down and Jacinto Vasquez was trying to pull her up, as Braulio Baeza and Foolish Pleasure continued down the backstretch. Frank immediately jumped into the patrol truck with track veterinarian, Dr. Manuel Gilman and they rushed to get to Ruffian. By the time they arrived, Jacinto Vasquez had stopped Ruffian and dismounted. He was helping keep her calm and standing while waiting for help.
The Match Race is readily available on You Tube for those who wish to see it. I elected not to include it in this article.
Frank could see right away the injury was severe, Ruffian was in pain and confused, but knew they were there to help and was still cooperative despite her obvious distress. He said she was a smart filly. He noticed the wound was a compound fracture and that it was contaminated with dirt from the racetrack. It looked bad, and there was never a good prognosis. The horse ambulance arrived, driven by Horace "Blue" Rapleyea. Horace did many things on the racetrack, driving the horse ambulance was just one of them. In true Damon Runyan form, Horace touted horses, clocked horses, and got involved in just about everything on the backstretch and the front side as well. Perhaps he was most well known for his racetrack quotes like "you couldn't find that horse with a flashlight".
Frank knew the injury was bad but also knew that they'd try to save Ruffian if at all possible. He had never seen a horse survive such an injury and assumed the horse ambulance would go directly to Dr. Reed's hospital which was a quarter mile away. That's not where it went. He held Ruffian and tried to keep her up and calm as Dr. Gilman put on a blow up cast. Ruffian was getting worse and getting more worked up and less cooperative. She was in distress and confused and Frank could see it in her eyes. He could see the blood and dirt through the cast which was clear. He helped load Ruffian onto the ambulance and watched it drive off. That was the last time he saw her.
Being there that day, as well as for all but one of Ruffian's other races, being a student of the game, being an animal lover, and being a huge fan of Ruffian, Jacinto Vasquez, and The Sport of Kings, made my conversation with Jacinto so poignant, yet compelling. Poignant for obvious reasons, but compelling because I do not believe it's ever been told this way before.
Jacinto was very confidant going into the race. He had won The Kentucky Derby on Foolish Pleasure, and was the regular rider of Ruffian, and didn't think Foolish Pleasure could beat her. He didn't think anyone could. She had too much speed, too much class, and even too much stamina. Although she'd usually run on the lead, Jacinto felt if anyone wanted or even could outgun her early, she'd sit off them and eat them up when it counted. She was just that good.
Jacinto told me Ruffian did break inward just a bit and brush the gate as it opened. This is clearly visible in the head on view of the race. He immediately straightened her out and she felt fine. There was absolutely nothing that felt even a tad off with her. The break did allow Foolish Pleasure and Baeza to be in front for a second or two. Baeza, being a very heady rider saw the advantage right away and immediately started to lay all over the filly with the colt. Jacinto knew Ruffian was bigger and stronger and neither she nor he was going to be intimidated. He got Ruffian a neck in front quickly, and the two horses and riders were in an all-out duel going at each other. Jacinto felt once in front Ruffian would never let anyone pass her so he laid right back onto the colt and they both were going at it in a him or me style. "Hey, it was a match race, it's him or me, and I knew my filly wouldn't be intimated". He started leaning on me so I leaned right back out on him".
Ruffian was starting to inch ahead and Baeza was urging Foolish Pleasure to keep up. The first quarter mile went in a blazing 22:1. Shortly after that it happened. The unthinkable.
Jacinto heard and felt it simultaneously. There was a loud pop and the filly was off stride. Foolish Pleasure raced away and Jacinto used every ounce of his strength to get Ruffian to the outside and stopped. He stopped her in an incredibly short time given the speed she was going at the momentum she had. He jumped off, tried to keep her up which he was able to do, tried to comfort her which was all but impossible, and waited for help.
Jacinto was heartbroken and disgusted at the same time. He never wanted the Match Race and felt it was pointless. He knew Ruffian could fill the stands anytime and the so called "Great Match" served no purpose. He knew it was bad. He could see bone, blood, and dirt. Of course while life still exists we instinctively hope for the best, but Jacinto knew Ruffian was in big trouble. He still hoped. Everyone did.
THE AFTERMATH
Frank Whiteley Jr. was watching in the stands. He knew it was bad and immediately starting running towards the track to race to his filly. He was stopped by security as Foolish Pleasure was still running on the track. Dr. Jim Prendergast, Ruffian's regular veterinarian, who knew her medically better than anyone, was there and started to head towards the accident. He saw Frank Whiteley and drove him to the scene. Mike Bell was desperate to get to the filly and managed to avoid track security and run to her. Mike rode back to the barn in the horse ambulance with her. So did Frank Whiteley, and Ruffian's groom, Dan Williams, who made his way to the scene. As opposed to euthanizing her right on the track, because of who she was, and maybe in part because they just could not bear to see things end this way, they took Ruffian back to Whiteley's barn and her stall to see if she could be saved and further assess the situation. Ray DeStefano, who was watching from home, could hear the crowd roar from his house and immediately figured she'd wind up at Dr. Reed's hospital, so he raced there.
Mike Bell describes the scene back at the barn as chaotic and desperate. Dr. Prendergast was there, as was Dr. Alex Harthill who was an equine surgeon from Kentucky at the race as a guest of the Janneys and Mr. Whiteley. Dr. Edward Keefer was called. He was not a veterinarian, but a Cardiovascular Surgeon who had experience with horses and was somewhat of a pioneer in the field of medicine. He was responsible for devising the first artificial leg for the fast New York sprinter, Spanish Riddle. He was also on the surgical team who saved the life of Hoist the Flag. Stuart Janney, looking for any help he could get, asked Dr. Keefer to assist. Dr. Keefer agreed to head to Dr. Reed's hospital. They tried successfully to get Ruffian's leg into ice to try and stop the bleeding and also gave her sedatives and coagulants. She was going deeper into shock, dehydrating, and getting more and more worked up. The inside of the blow up cast ruptured from the pressure of the blood inside. Another one was ordered by Dr. Gilman and put on while waiting for Dr. Prendergast's radiographs. Ruffian was trying to lie down which is not what they wanted at that point. Dr. Harthill along with Frank Whiteley and Mike Bell were trying to keep her up. They gave her antibiotics and more sedatives but she continued on a downhill path and at no point did things look good or even improve.
Dr. Prendergast's radiographs confirmed what all just about knew , the sesamoids, both of them, in Ruffian's right front leg were shattered. Dr. Reed was a premier equine surgeon, and his hospital was at the time state of the art. With Dr. Reed's hospital so close, and a dream team ready to try everything, they decided to attempt to save the filly's life. Everyone knew it was a longshot, 99-1, but she was worth it. Any horse or animal is worth it in reality, especially to that animal, but this was a different scenario than most. Although the situation looked so bleak, and it would take a near miracle or actual miracle to succeed, nobody wanted to accept this ending. Almost instinctively everyone wanted to know all that could have been done was done, and the team to get it done if any could, was in place. Nobody could have known fate had already made its decision.
Ray DeStefano was waiting with Dr. Reed and his associate Dr. Allen at Dr. Reed's hospital on Plainfield Avenue when Ruffian arrived. It was about an hour and a half post-accident. Ruffian looked bad to Ray. She looked scared coming off the van and was wobbly. She was shaky on her feet and Ray could see dirt mixed with blood through the clear cast. Usually Ray would prep the horses for surgery, which would include cleaning the wound. Ruffian was not prepped. She was taken directly into surgery. The operating room at Dr. Reed's hospital was maybe 35 feet by 35 feet. The recovery room which was adjoined to the operating room and separated by a hinged door, that operated similar to an oven door, was smaller than that. Neither had windows where people could have gathered to watch what was going on. There were some doors in the hospital with small windows, but generally these areas were off limits and the windows would not provide a view for the goings on.
Ruffian was put on the table on her left side. Ray strapped her legs to the operating table after she was anesthetized, with her right leg, the injured one, propped up. Dr. Harthill and Dr. Reed led the surgical team, they were assisted by Dr. Prendergast and Dr. Allen. Dr. Thomas Gorman, who was also a veterinarian for Mr. Whiteley, worked the anesthesia gauges. Dr. Keefer built a special type of shoe with a brace attached to it and the actual cast was affixed to that. "Muscles" a man whose real name I do not know was also at the hospital. He lived at the hospital and helped Dr. Reed make his rounds and any other way he could. He was also somewhat of an icon back then around Belmont. It was hoped the shoe and brace would give her the stability to get up following the surgery. It's important for a horse to be able to get up and bear some weight following surgery. Back then there were no slings, or water or advanced techniques like the ones available today. The surgery took several hours. It was not an easy ordeal for this champion racehorse even anesthetized. She flat lined twice on the table and had to be brought back. It was about 1:00 am when the surgery was over. They were able to repair the shattered sesamoids but were far from out of the woods. There was the possibility of infection, there was a chance she would not be able to bear weight and get up, there was a chance she'd re-injure the ankle getting up or during recovery. They were a long way from home and likely all were mentally and physically exhausted.
During the surgery there were no updates being given to the press. The focus was on Ruffian. Nobody other than who was discussed here was allowed in, and nobody was watching through any windows. The Janneys were advised of the situation by Dr. Harthill after the operation.
Things were about to go from bad to worse. Ruffian was carefully slid into the recovery room by Dr. Prendergast, Ray, and others. The operating table tilted, and Ruffian was slid in a very controlled manner on her left side to where the operating table met the oven like door of the recovery room as designed. She was carefully put in the recovery room, but not yet awake. The wall separating the operating room and the recovery room was closed, again like an oven door would close on it's hinges. Ray and Dr. Prendergast were left to care for Ruffian. Nobody else, just the two of them. Dr. Harthill went to update the Janneys. Dr. Reed was standing by to monitor progress as was Dr. Harthill. Ruffian, alone with Ray and Dr. Prendergast, began to wake up. She looked uncomfortable and frustrated. She looked to Ray like she was confused and did not like her surroundings. She tried to get up but couldn't. She quickly became agitated and kept trying. Initially they hoped and wanted her to be able to get up. It never looked as though she'd be able to. Once they saw she couldn't and that her continued efforts seemed to be aggravating her, and getting her worked up into almost a panic state, concern set in. They tried to calm and sedate her. The drugs available back then were limited. They didn't work. Ruffian became more and more worked up and kept trying to get up. Eventually she started kicking and thrashing and things became very violent. She was not running, or trying to run, as has been reported. She was kicking and thrashing and struggling with her predicament. Primarily she was trying to instinctively get up. She didn't think she was still racing as has been said. She was panicking and in shock. Dr. Reed and Dr. Harthill would come in periodically, no doubt hearing the commotion, and did not like what they were seeing. Ray and Dr. Prendergast were trying to hold Ruffian down at this point and keep her calm. It was fruitless. The more they tried, the worse she got. She never did get up.
Things got so violently bad that Ruffian was doing pinwheels on the floor trying to rise. She was kicking her front leg so hard the cast was hitting the elbow on that same leg and doing visible damage. The cast was also sliding down the leg and starting to come off. Her eyes looked wild and frightened. Nobody but Dr. Reed and Dr. Harthill came into the recovery room and saw what Ray and Dr. Prendergast were dealing with. Again there were no windows where anyone could see what was going on. Nobody was bouncing off the walls. If everyone who claimed to stop in the operating room, or recovery room, actually did, they would have had to have the operation at a much bigger hospital. It just didn't happen that way.
By the time Dr. Reed made his final check on Ruffian's progress, the situation was grave. The cast was kicked down far enough to expose the wound, and it was obvious she had damaged all the repairs that were made. The elbow on the leg was also damaged. Dr. Reed stated something to the effect of the Janneys had to be called. Ray didn't know whether Dr. Harthill or Dr. Reed would make that call, but he knew what it meant. He sat on Ruffian's head and neck with Dr. Prendergast and tried to keep her as still and calm as possible. Dr. Reed returned with a large syringe, already pre-filled. As Ray and Dr. Prendergast sat lovingly on the filly, Dr. Reed did what he had to and gave her the injection. Within 5 to 10 seconds she was gone, and so was an irreplaceable part of The Sport of Kings.
Ray on The Operation:
"Setting the record straight. My job was to help position Ruffian for the anesthesia (so she would go down in the correct position on the operating table) and secure her legs to the operating table once out. I did not stand around like a tourist during the operation but, as I said, kept the floor clean of bloody gauze or anything else that may have fallen to the floor at the feet of the surgeons. I would get anything that was needed by the surgeons as I knew where everything was. Then I helped slide her into the recovery room and stayed in there with her and Jim the entire time".
Dr. Prendergast told me he wished they had more drugs at their disposal back then. Unfortunately, they didn't, and what they had wasn't working. It may not have made a difference in the long run, but she may have had a better chance. Usually it takes almost 30 seconds to euthanize a horse. Her rapid heartbeat and adrenaline sped up the process to about 5 to 10 seconds. She was surrounded by dedicated professionals, who not only loved what they did, but loved her. They were also the best at what they did, from Frank Whiteley Jr. her trainer, to Mike Bell his foreman and the Whiteley team, to Dr. Keefer, to all the veterinarians involved; Dr. Gilman, Dr. Prendergast, Dr. Reed, Dr. Allen, Dr. Gorman, Dr. Harthill, to Frank Calvarese her starter, to Ray DeStefano and the special role he played, to Jacinto Vasquez, her regular rider and partner that fateful day, to Dan Williams her groom. Fate can be cruel and merciless.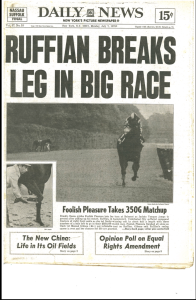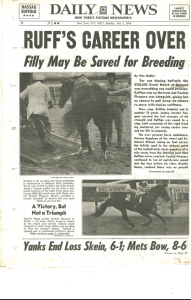 THE THEORIES:
There have been many theories about what caused this blackest of days for our game. It's likely none of them caused the accident. It was a bad step, it just happened, it's the saddest part of our game.
Some people have speculated she hurt herself coming out of the gate. Well, one of the best gate people ever, disagrees, and he was in the gate with her, and saw what happened to her happen to literally hundreds of other horses. It rarely causes an injury, especially a severe one. It happens every race day. Jacinto Vasquez also disagrees. She felt fine after he straightened her out. She was able to run a 22 quarter, he felt absolutely nothing amiss, and knew the filly well.
Some blame birds on the track. This is another common occurrence and watching the head on gives no credence I can see to this theory. Ruffian saw plenty of birds, the one that flew across the track in front of her didn't seem to spook her at all.
I've heard and read people talk about the configuration of the Belmont chute and how it causes horses to cross over three different sets of dirt going a mile and a quarter, The Match Race distance. That sounds like nonsense. Just watch a 6 ½ furlong race down the Santa Anita hill. Horses cross over from turf to dirt and back to turf while turning for home. They are usually running around 44 second half miles when they do it. They lose their footing at times, but few break down because of it. The Belmont configuration is much less severe.
Some people think Native Dancer bred weak boned horses. I discussed this with Dr. Prendergast. We are in agreement Native Dancer bred his share of sound horses with good bones.
Two things I personally find interesting, that have not been discussed much if at all, is that Ruffian's sire Reviewer, and her dam, Shenanigans both died while anesthetized during operations. Dr. Prendergast brought this to my attention. While he agrees it is odd, Ruffian did not really suffer a reaction to anesthesia. If anything, attempts to sedate her and calm her with drugs failed. Is there a connection? possibly, but only remotely possible. Ray and Dr. Prendergast described in detail, and with consistency what happened and how she seemed to work herself up and become more and more agitated. Being headstrong and independent, and strong willed probably hurt her as much as anything. I don't think it was a drug reaction and like Dr. Prendergast, I wish they had had more tools at their disposal. They didn't. It wasn't drugs that stopped her from getting up, and it was not being able to get up, shock, and likely pain, that caused her to get frantic.
Some point out the track was hard and fast that day in anticipation of The Match Race. While it is difficult if not impossible to argue against that being contributory, we'll just never know. It could have been, but on the flip side horses run over hard, fast tracks on big days all the time. A bad step can occur over any surface at any time.
Some have said she awoke thinking she was racing as that was the last thing she remembered, and started running. Well we know the running never happened, and plenty did happen after the race. The race is probably not the last thing she remembered. She was smart, and Frank Calvarese, one of the first to get to her told me she knew they were there to help. I'd like to think that's the last thing she remembered, people trying to help her.
Match races are stressful. Horses are naturally herd animals, and a race scenario is different than a work out scenario. Was Ruffian more keyed up than usual? Maybe, but would that cause what happened? Likely not. I discussed this theory in depth with Bruno De Julio, a clocker, handicapper, owner, breeder, and avid watcher of horses and their body language. He agrees they are indeed herd animals by nature, and that a match race scenario can get a horse more keyed up than perhaps they'd get in a regular race, but is that enough to theorize it was contributory? No, it just isn't.
Sometimes we look for answers when there are none. All 1's went to 99-1 as soon she took that misstep and shattered her sesamoids. The best veterinarians and team of horsemen, and even a brilliant and innovative cardiovascular surgeon couldn't change fate's mind, and they sure tried. As sad a day as it was for our game, it was also a display of love and dedication to the game and this magnificent horse in what was done and attempted in trying to save her life. And make no mistake, it was love of the breed, game, and her, that prompted the efforts. You'll hear organizations like PETA and others criticize our game and accuse us of not loving our horses. I'm an animal lover and rescuer, and also a fan and student of this great game and I think many of us take exception to insinuations we don't love our racehorses. There are bad people and uncaring people in every business and every walk of life and our game is no exception.
Ruffian was buried in the Belmont infield the next day. Frank Whiteley Jr. was there, Mike Bell was there and actually helped get her down into the grave they dug for her, and made sure the Locust Hill Farm blanket was straight. Jacinto Vasquez was there. There were a few other people there Mike doesn't remember but it was a small and select and somber crowd, most of which were her people.
Horse racing offers the highest highs and the lowest lows. Ruffian was an example of both in one. All 1's.
I'd like to personally thank Raymond DeStefano for choosing me for the honor and privilege of writing this accurate account of what happened and what didn't happen. He was also instrumental in gathering information and providing me with pictures of items he has saved since that fateful day. I'd also like to thank Dr. Jim Prendergast, a great veterinarian, and an animal lover, for his time and graciousness and help with this article. I'd like to thank Mike Bell for his time and courtesy and for making himself available every step of the way. I'd like to thank Frank Calvarese for spending as much time talking with me as he did and offering all the help he could. I'd like to thank Hall of Famer Jacinto Vasquez for providing me a play by play open, honest analysis and account of what happened. I've never read or heard such a detailed account from him anywhere else. I'm very appreciative. Last but not least, I'd like to thank Ruffian, for the memories she gave me. I hope I did her justice.