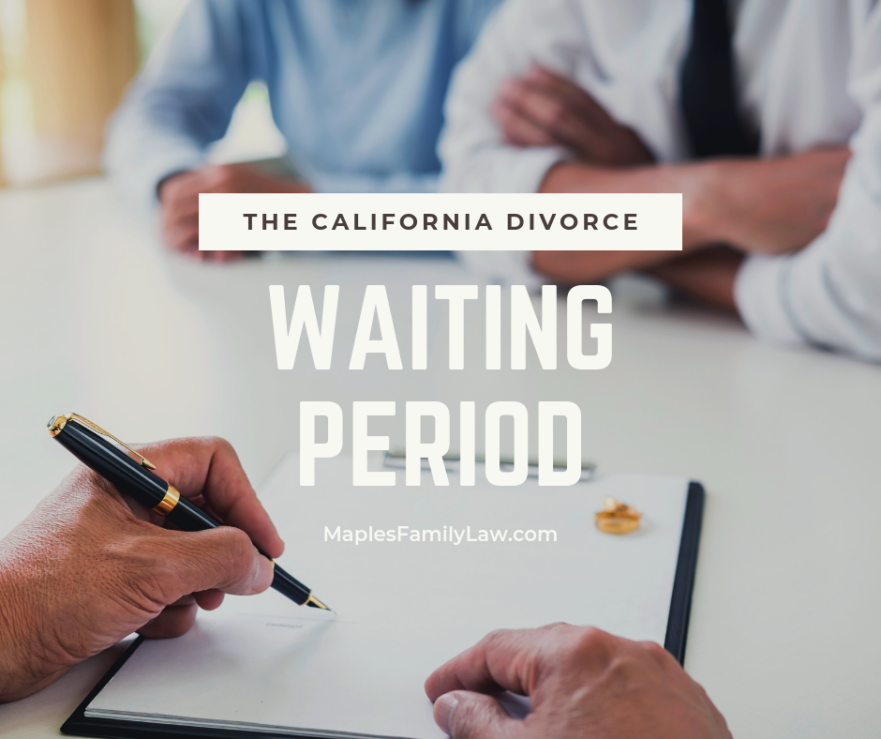 About the California Divorce Waiting Period
Originally posted on https://www.maplesfamilylaw.com/divorce/about-the-california-divorce-waiting-period/
California divorce – and the waiting period to get one – are often very misunderstood topics. The bottom line is that to get a divorce in California, you must wait at least 6 months and a day from the date you start the case.
About the California Divorce Waiting Period
The California divorce waiting period is mandatory, even if your divorce attorney files every piece of paperwork necessary with the courts on the very first day. The waiting period begins as soon as you officially notify your spouse or domestic partner about the divorce, which is called the date of service. The date of service is the day that the non-filing spouse receives the divorce petition, and it can even be the same day your attorney files the petition with the court.
For example, if your lawyer serves the petition on your spouse on January 15, the earliest the courts can officially grant your divorce is July 16 – that's 6 months and one day from the date of service.
HOW LONG DOES IT TAKE TO GET A DIVORCE IN CALIFORNIA IF BOTH PARTIES AGREE?
When you and your spouse reach agreements on all the important issues in your divorce, you still have to fulfill the 6-month waiting period requirement. Your attorneys can file and essentially complete the divorce long before the waiting period is over, though – it'll just have to remain filed until the entire waiting period has passed.
Related: What is collaborative divorce in California?
WHAT IF YOU CHANGE YOUR MINDS?
If you and your spouse change your mind about divorcing within the 6-month waiting period, you or your attorney can file paperwork with the court to dismiss the case. However, the judge dismisses the case and then you decide you made a mistake, you'll have to start the process – and the California divorce waiting period – all over again.
DO YOU HAVE TO BE SEPARATED BEFORE YOU CAN FILE FOR DIVORCE?
California doesn't require a separation period before you can divorce your spouse. You don't have to live apart for a certain amount of time like you do in some states. Instead, you can file while you're both living together. The clock will keep ticking on the mandatory waiting period, even if you take some time to move out of your marital home, as long as you (or your attorney) have served your spouse with the divorce papers.
Related: What are the legal stages of divorce in California?
WHAT ABOUT THE WAITING PERIOD FOR SUMMARY DISSOLUTION?
A summary dissolution is an option available to some couples who want to end their marriages in California, but it's not any faster than a divorce is. You must still wait 6 months before you end your marriage through a summary dissolution.
Related: What is summary dissolution in California?
WHAT ABOUT CALIFORNIA'S RESIDENCY REQUIREMENTS?
California requires either you or your spouse to have lived in California for at least 6 months and the county where you're filing for divorce for at least the last 3 months. This residency requirement applies before you can even file – you can't meet the residency requirement and the California divorce waiting period at the same time.
For example, if you both move to California on January 1, you have to wait until July 1 to file for divorce – and that's only possible if at least one of you lives in the same county for at least 3 months before you file. You can't live in Alameda County until the middle of June and then file for divorce in San Joaquin County on July 1 if neither of you has lived here for 3 months.
Do You Need to Talk to a Lawyer About the California Divorce Waiting Period or Other Divorce Issues?
If you're considering divorce, we may be able to help you. Call us at 209-546-6870 to schedule a consultation with a caring, compassionate and knowledgeable Stockton divorce attorney now. We can help you with issues related to parentage and child custody, spousal support and other divorce issues.