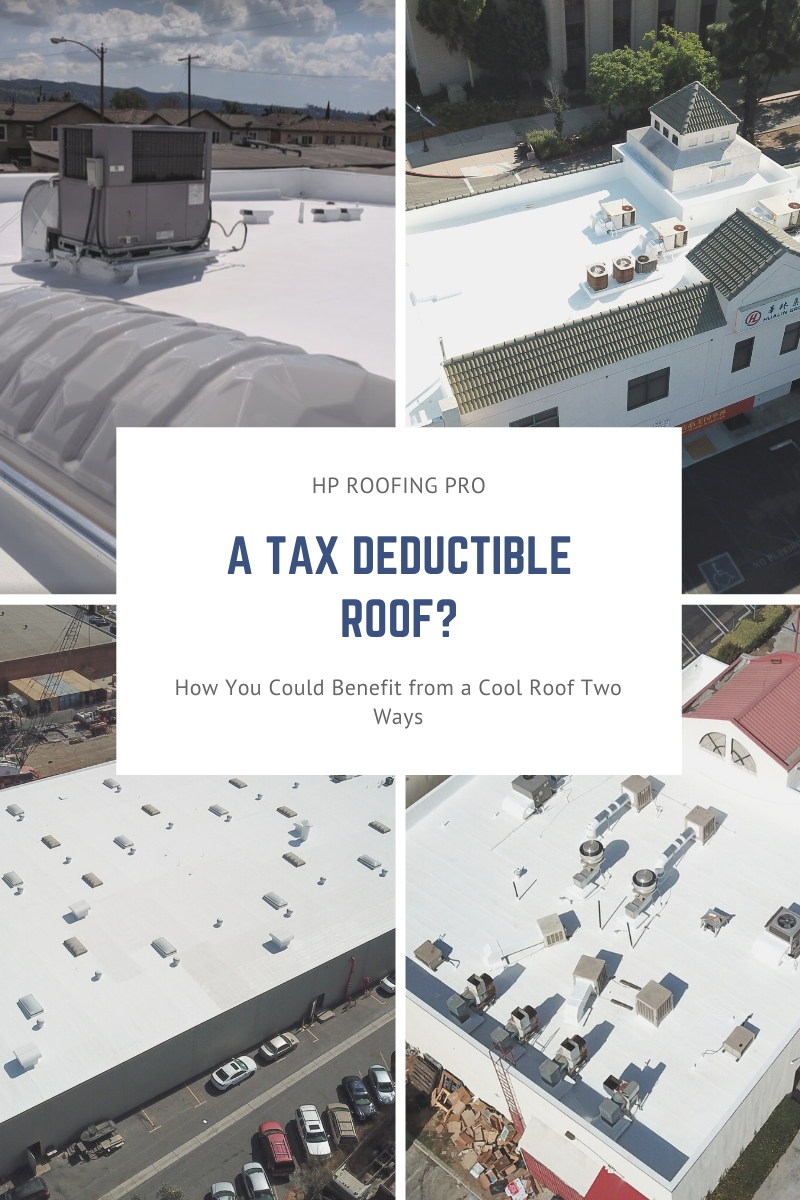 A Tax Deductible Roof? You Could Benefit from a Cool Roof Two Ways
Originally posted on https://hproofingpro.com/a-tax-deductible-roof-you-could-benefit-from-a-cool-roof-two-ways/
Do you find that every time it rains, you're having to stick buckets under leaky spots in your ceiling? Has your roof been around since you inherited the business from your parents, or maybe even longer? If this sounds familiar, it may be time to replace your roof, but that can be an expensive prospect.
Luckily, some changes to the tax code have made it more affordable than ever to replace the roof on your building. And installing a cool roof can help you save even more on power bills. Read on to learn more about how a tax-deductible roof can save you money.
What Is Cool Roofing?
Cool roofing is more than a compliment your business neighbors might pay you when you get new shingles. These roofing materials are designed to reflect sunlight, rather than absorbing it. This can help you save a ton of money on your energy bills and reduce your environmental footprint.
Air conditioning represents one of the biggest chunks of your business's power bill each month. Central air conditioning systems use about 3,500 watts per hour, so at the national average price of 13 cents per kWh, you're paying somewhere around $3.70 every day to run your system. Assuming your business is open twenty days a month (and let's be real, that's a conservative estimate), you're looking at devoting about $75 a month to air conditioning and almost $1,000 a year, and that's for businesses that are less than 1,200 square feet.
Cool roofs can help you reduce those air conditioning costs by around 15 percent. They can also save you money on maintenance since your air conditioner won't have to work as hard to cool your space, which means less chance of things breaking down. And if your business isn't air conditioned, putting on a cool roof can be a cheaper option for keeping your space more comfortable.
Installing a cool roof can also help you reduce your environmental impact, which is good for your conscience and for business. In addition to reducing your energy usage, they can also help reduce the urban heat island effect and brownouts. Customers want to know they're supporting environmentally responsible businesses, and a cool roof can help you take advantage of that marketing angle.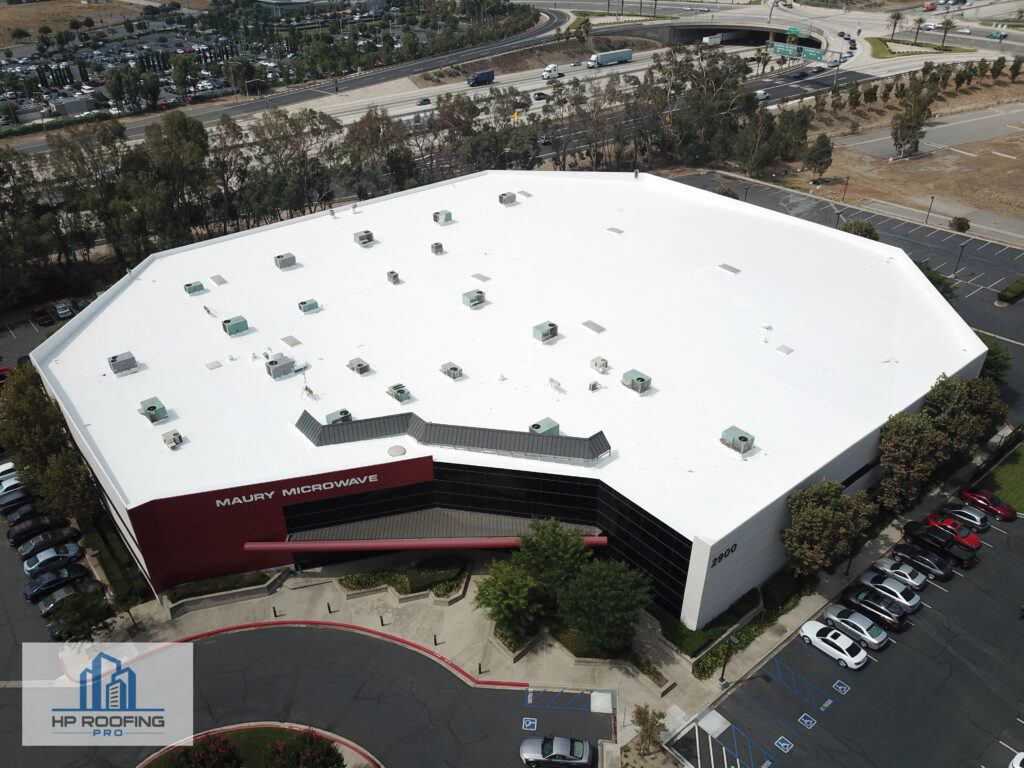 Financial Incentives to Install a Cool Roof
Depending on where you are, you may be able to save some money on more than your energy bills when you put in a cool roof. Various programs offer rebates and grants that can help you save money on more energy-efficient roofing. California, in particular, has some great programs available to businesses.
Check with your city and state to see if there are rebate or grant programs available in your area. These can pay for a portion of your installation costs or provide you with a tax incentive to install a cool roof. Be sure to check on the date of the program you're looking at since many of them were allowed to expire after 2016.
How They Work
Cool roofs use light colors and reflective materials to deflect heat from the sun away from your building. In some cases, this can be as simple as using white roofing instead of dark. But in the case of sloped roofs where customers can see the roof, there are some unique materials you can use to create a cool roof.
For low sloped roofs, you may see single-ply membranes, built-up roofs, bitumen sheet membranes, or even spray polyurethane foam. In the case of each of these materials, special coatings can be added to make the roof cool. This should not be any more expensive than installing a traditional version of the roof.
If you have a shingle roof, you can buy cool asphalt shingles covered in specially coated granules that make them more reflective. These generally cost less than $1 extra per shingle and are worth the investment for the energy savings they can earn you. Tile roofs may be naturally cool, but they can also be treated to make them more reflective.
Metal roofs that are unpainted are usually very reflective, but they don't provide a great amount of insulation. You can paint your metal roof to make it both reflective and more insulated than unpainted metal.
You may also want to consider installing a green roof, depending on your building. These roofs put a thin layer of dirt on top of the roof and plant grass or a garden there, which is both tremendously insulating and wonderful for the environment. Be sure to talk to a professional roofer, architect, or engineer before you put in this type of roof because it does come with some risks.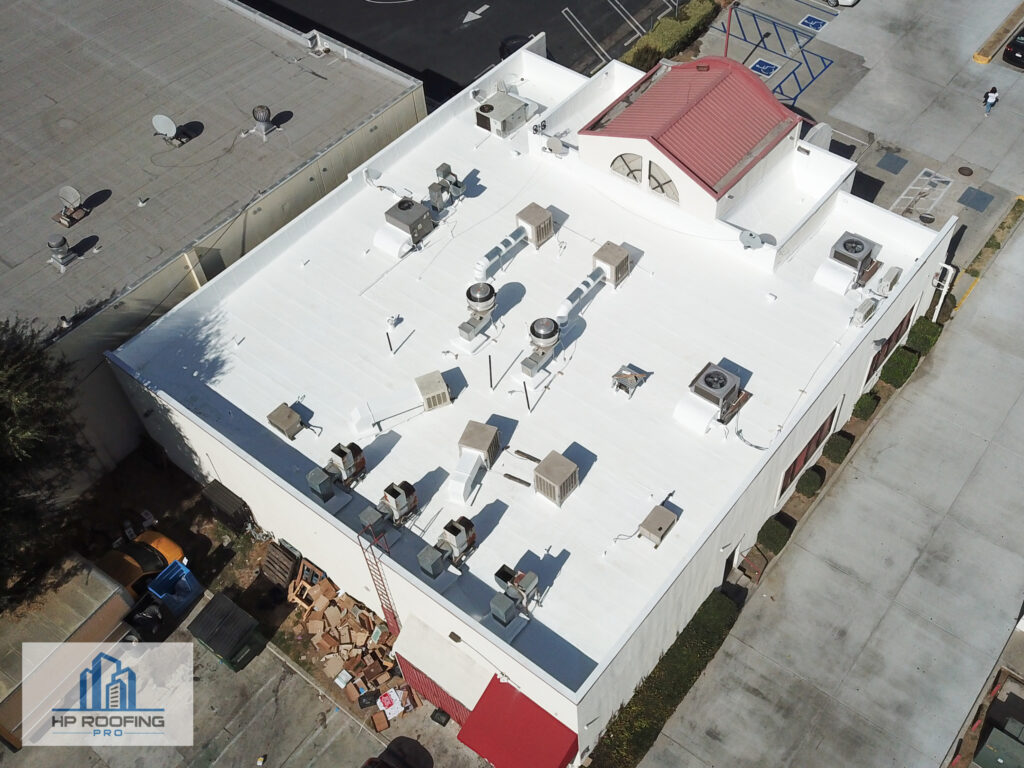 Cool Roofing Contractor In California
How to Choose Materials
Which cool roofing material you choose for your building depends a lot on your roof style. If you have a flat or low slope roof, you may do well with the membranes and foam we mentioned. Green roofs can also work well on flat roofs and provide your employees and customers a lovely lounge space.
If your roof is more steeply sloped, shingle, tile, or metal roofing may work best for you. You'll need to take a look at your budget and durability requirements for your area. For instance, if you live somewhere that sees a lot of wildfires, you may want to go for a metal roof since it has a stronger fire-resistance rating.
When you're looking at cool roofing materials in particular, you need to look at the aged solar reflectance and thermal emittance of the roof. Over time, roofing material wears down, and reflective surfaces may become worn or damaged. You should look at how long those finishes will last and how much you can expect to save in energy costs during that time period.
When you figure out how long you can expect the "coolness" of your roof to last, take a look at how much more expensive the roof will be. The price difference between a cool roof and a traditional roof is usually small, if anything. But if it turns out you'd still lose money in the long run, it may be a good idea to look at a different roofing material.
Tax Deductions for Building Maintenance
As it turns out, there are two different ways of putting on a new cool roof can save your business money. Doing any sort of improvement to your commercial building can qualify you for a federal tax deduction. This deduction is called Section 179, and it can allow you to deduct up to the entire cost of your new roof from your taxes.
As of January 1, 2019, Section 179 includes, "tangible personal property such as machinery and equipment purchased for use in a trade or business, and if the taxpayer elects, qualified real property. The TCJA amended the definition of qualified real property to mean qualified improvement property and some improvements to nonresidential real property, such as roofs; heating, ventilation and air-conditioning property; fire protection and alarm systems; and security systems. Revenue Procedure 2019-08 explains how taxpayers can elect to treat qualified real property as Section 179 property."
In the past, you would have to let your roof replacement cost depreciate over thirty-nine years with the Section 179 tax deduction, meaning you could deduct 1/39th of your roofing cost each year. But in 2018, the rules changed, allowing you to deduct the full cost the year the roof is installed instead. The limit on the expense deduction also increased from $500,000 to $1 million, and the phase-out limit increased from $2 million to $2.5 million.
A phase-out limit is the amount of money you can spend while still qualifying for certain amounts of tax credits. The higher your spending, the less credit you are eligible for; the lower your spending, the more credit you are eligible for. The changes mean your business can now place as much as $2.5 million of Section 179 property into service before that tax credit changes.
If you spend more than $3.5 million on your new roof, the tax credit won't do you any good because of the phase-out limit. The phase-out happens on a dollar-for-dollar basis, so if you spend $3 million on your roof, you can only deduct $500,000 of that. By the time you hit $3.5 million, you will have used up the entire deduction amount.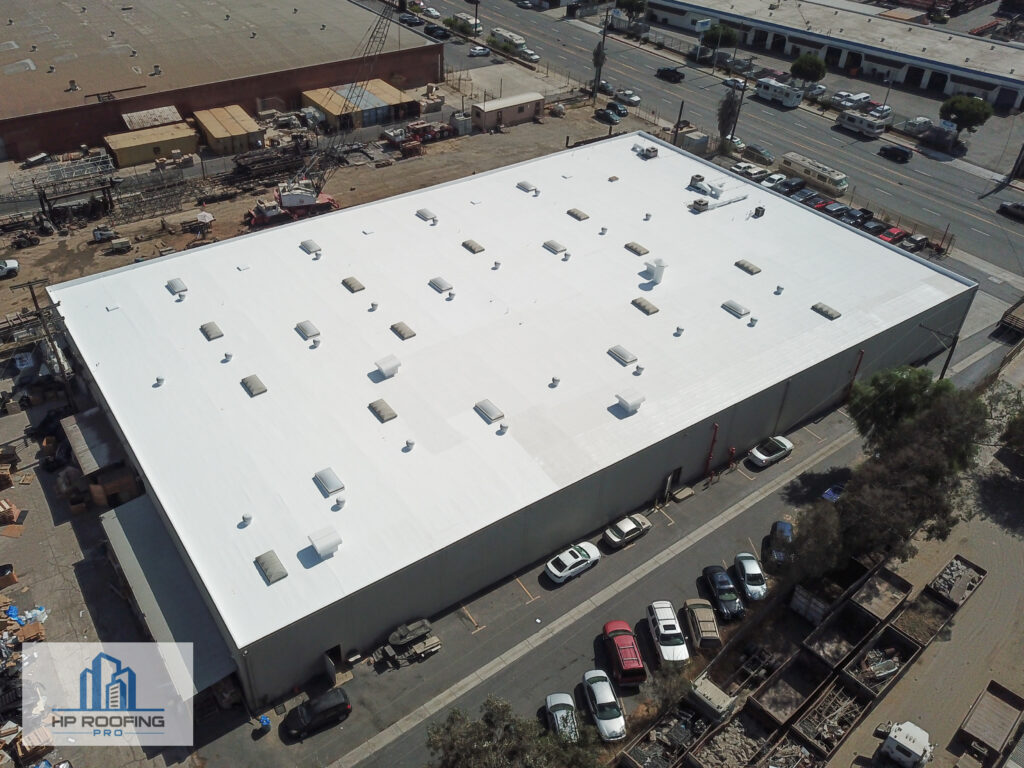 Cool Roof
What Qualifies
A variety of commercial buildings can qualify for the Section 179 deduction, including retail buildings, office buildings, industrial buildings, apartment buildings that are at least four stories high, and warehouses or other industrial spaces. The equipment must be purchased and installed in the year you're claiming the tax for, so if you replace the roof in 2020, you'll need to wait until the 2021 tax season to claim the credit.
Any improvement to your roofing should qualify you for the Section 179 deduction. The same also goes for improvements to alarms, security systems, HVAC systems, and fire suppression systems. The equipment may be new or used, though, in the case of a roof, you'll likely be working with new material.
You don't have to pay cash for your new roof in order to qualify for Section 179. In fact, taking advantage of Section 179 financing can help you save even more money. In simple terms, you can deduct the full amount of the new roofing cost from your taxes this year without having to pay the full amount this year.
The amount you save in taxes on the Section 179 deduction may be more than the amount you make in payments. You will not be able to deduct those payments in later years, but you can use the money you get back on those taxes to pay down your loan. This can leave you with even more money in your pocket at the end of the day.
How to File Maintenance Deductions
The first step to filing Section 179 is to save every single receipt, invoice, and purchase order you get associated with your new roof. You'll need to know the date you bought your new roof, the date you started using it, and every cost you paid associated with it. Then sit down with your tax professional to start working on your deduction.
Start adding up every dollar you spent putting in your new roof, from the materials to the freight shipping. This is when keeping such careful records will come into play – any dollar you forgot to record is a dollar you lose on that deduction. Double-check the Section 179 rules to make sure everything you're adding qualifies for the deduction.
You'll need to use IRS Form 4562 to elect to take the Section 179 deduction. You can use the IRS instructions on how to fill out this form to make sure you get everything right. Once you file this form, you should get the full cost of your roof replacement deducted.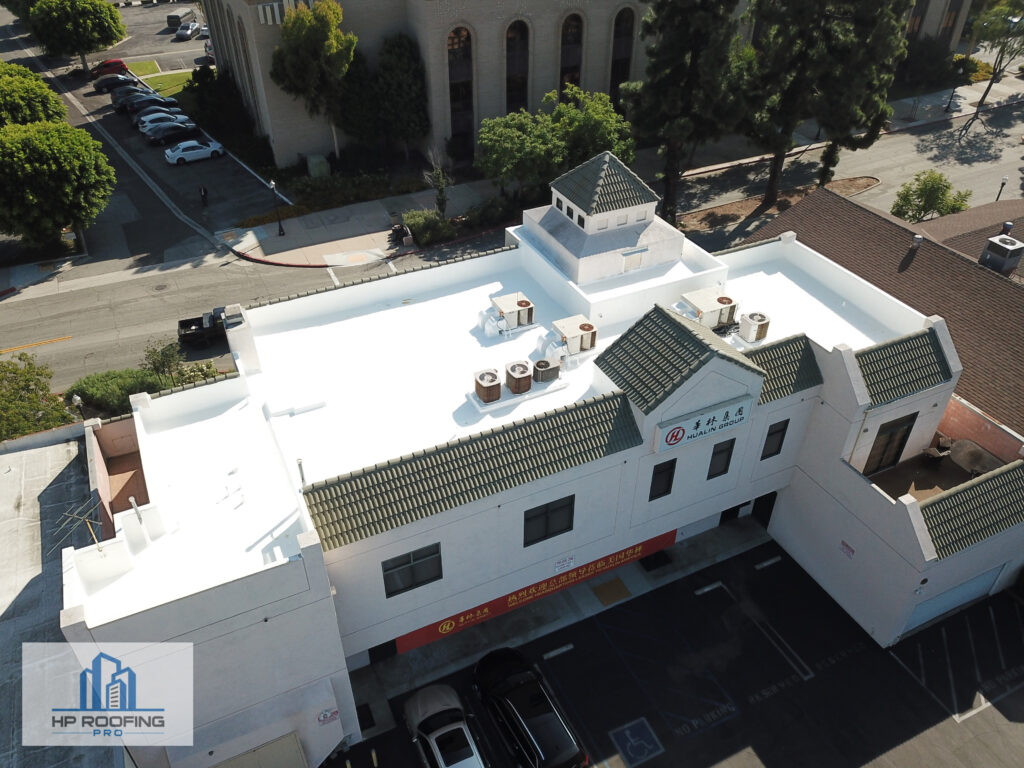 Get a Tax Deductible Roof
Putting on a new roof is a great investment, especially if you install a cool roof. But it can be an expensive prospect. Tax deductions like Section 179, grants and rebates, and saved money on electric bills can make this improvement more affordable.
If you'd like to get started installing your tax deductible roof today, reach out to us at HP Roofing Pro. We can help you make sure your project gets done on time and on budget, and all our work is held to an extremely high standard. Contact us today to request a quote for your new cool roof.