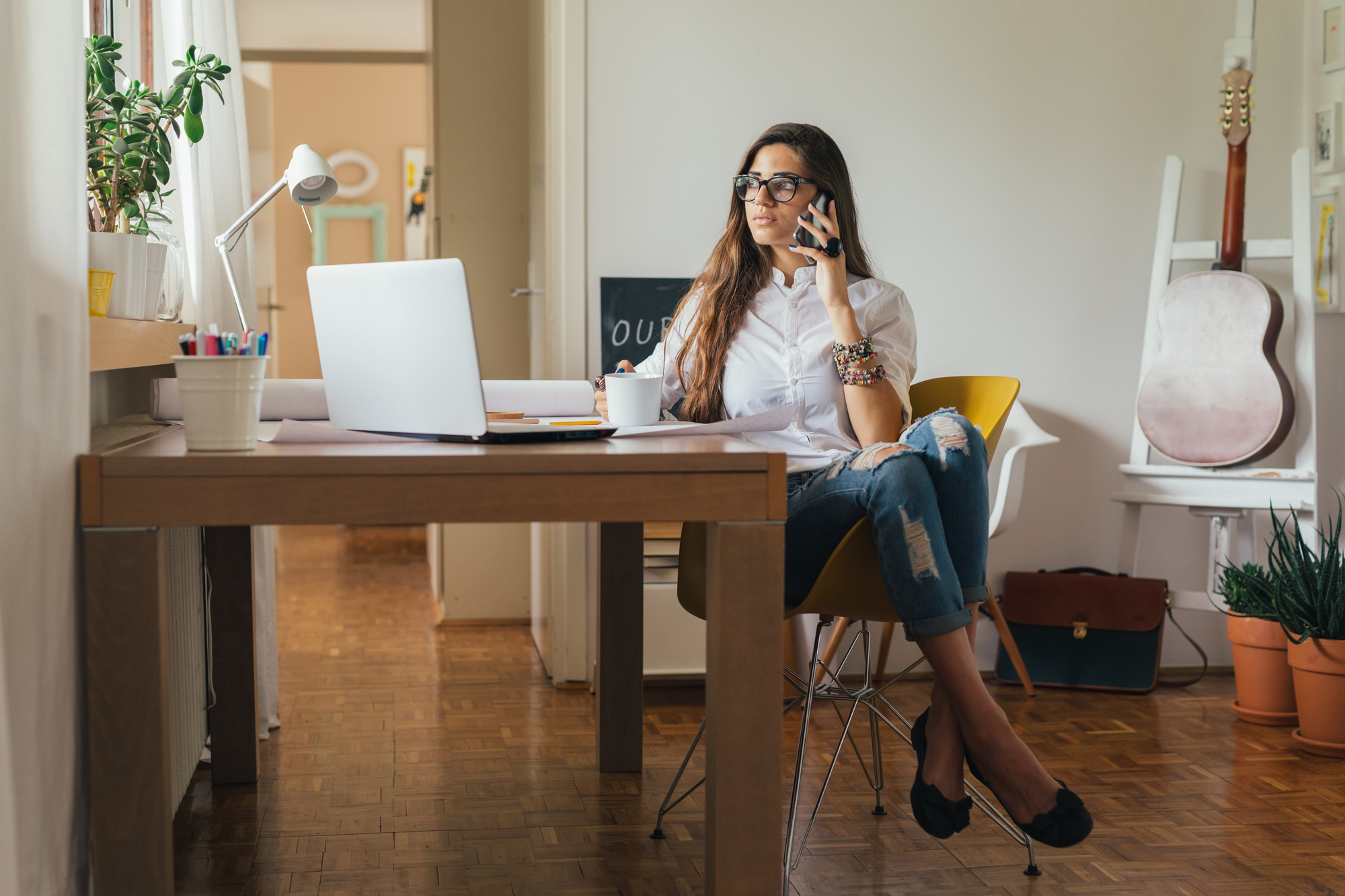 8 Home Office Necessities for Full-Time Writers
One would think working from home is a breeze considering you dictate the space and set the hours. But, full-time writing is a chore when the home office is messy and disorganized. Let's not forget the constant interruptions, either.
A few changes to the layout and adding the office necessities makes the difference.
3.9 million+ Americans are working from home. How many do you think feel satisfied with their setup? This article attempts to build the perfect home office.
Office Necessities of a Productive Work Environment
Working from the kitchen table or at the living room's coffee table works on a pinch. But, shifting WFM to full-time carries a need for a space providing privacy and efficiency.
There is also a need for comfort given writers likely sit well into the odd-hours of the night. Plus, a need for professionalism despite the likelihood of working in pajamas.
Here are those items for the perfect setup.
1. Noise-canceling Headphones
Those lucky few to have a quiet home office may not realize the struggle with noise. Yard work, construction, and neighbors can throw off concentration creating fewer billed hours.
A nice pair of noise-canceling headphones will do the trick — consider:
Cowin E7
Bose QuietComfort 25
Sony MDRZX110NC
These help 'zoned in' and pair well with upbeat, driving music to keep motivation and drive rolling.
2. Dual Monitors
Once you've gone dual monitors you can't go back:
Monitor #1: Research
Monitor #2: Writing
This combo keeps work flowing without tabbing back and forth. The setup is also handy for handling VoIP/video calls during notetaking. Plus, you could have something entertaining on the side during the mind-numbing tasks.
3. Proper Networking
No home-based business is complete without:
High-speed Internet access
Phone systems and mobile services
Duties as a full-time writer go beyond time spent with a word processing application. Tasks could include:
Sourcing and editing media
Downloading or streaming helpful data
Inbound and outbound sales or service calls
Regular online meetings
Running team management tools
One could mix-and-match items using local ISPs and home phone systems. Or, use this company offering bundled listings. Bundling is a better option as this lowers costs and fewer companies to deal with if services go down.
4. A Great Chair
Sitting for prolonged periods have several health consequences. Two big issues are increased heart disease and spinal damage. Of course, full-time writers are the very people most susceptible to these issues.
The chair isn't helping the issue — consider these qualities when upgrading:
Ergonomic lower-back support
Adjustable height and tilting
Soft, but firm, cushioning
Breathable fabric or mesh
People are also sitting wrong!
Most were told to sit up straight but this creates a downward pressure on your spine and organs. It's better to lean slightly back to distribute weight.
5. Good Lighting
Did you know fluorescent lighting can increase depression and anxiety? Or, using low lighting can lead to eye strains, headaches, and moodiness?
Here's how the best home offices use lighting:
Set up close to windows for optimal daylight during normal hours
Use high, natural light bulbs (5000K+) for enclosed rooms
Match hues to the day's time with 'hot' for the day and 'cold' for night
Place lighting indirect of vision to reduce glare
Bright overhead lights are the best option as they illuminate more space. But, a mid-level desk lamp will do fine for aesthetics.
Flux is a good option for those working late hours. This handy app adjusts the screen's color temperature creating less eye strain. The app also lets one's body adjust to its natural cycle vs bombarding vision with bright screens all day.
6. Accenting and Creativity
People work from home to escape the drab of the cubicle life. There's no reason to repeat this depressing layout and look with your home office!
Add some accents or creative items to liven up the place:
Desk decors like plants and gizmos
A splash of color in the home office equipment
The office could also adopt a decoration style like minimalism or colonial. Adapt the place to your liking to make it enjoyable for those long work hours.
But: Do attempt to keep the space decluttered!
Too many items in the peripheral vision can distract from work. The same goes for having to spend extra time digging for home office items.
7. Spacious Desk
Your desk is your base of operations — the more space, the better.
You'll want a desk sizable for common office equipment and items like:
Computer
Monitors
Speakers
Printer
External devices
Organization
Paperwork
L-shape desks are perfect for maximizing space by having it in the corner. Long desks are ideal if you prefer everything within reach. Whereas a high tech computer desk is great for those needing many connected devices.
You may want to opt for a standing desk, too. These desks help you move around — prevent health issues from prolonged sitting. The mobility gives space for easy home office exercises to stay healthy and alert.
8. Helpful Gizmos
Do you have the following in your home office?
Surge protectors and backup power banks
Cable management straps and tubing
Sound-proofing or interior door locks
Local backup drives or connected cloud backups
Web cameras and high-quality microphones/headsets
These are items usually added once you've "settled in" to working from home.
The items are supportive as they provide new opportunities to do work proficiently. Or, protect your office assets from accidents and attacks.
Don't know what small items to include?
Ask fellow work from home professionals for their suggestions
Take a wander through a local office supply store
Read blogs and forums with other's office setup suggestions
Keep It Professional with Working From Home
Temptation weighs when you have complete control of the work hours and environment. Wasted time and distractions disrupt the workflow.
The office necessities make for efficiency and professionalism. These items and layouts help motivate to get things done when it's so easy to lounge. And, provide comforts contributing to well-being during isolating times.
In all, design an office right for you but do entertain this article's suggestions.
Want more insights? Check our work life section to find balance!