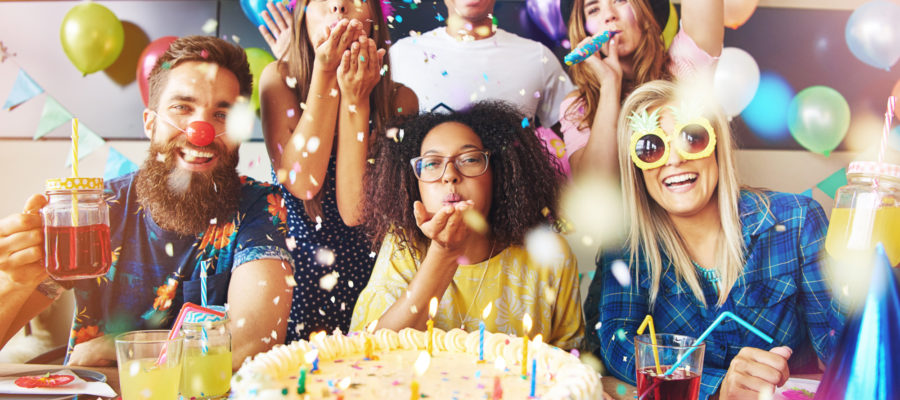 8 Extremely Fun Ways to Celebrate Your Birthday
Originally posted on https://birthdaywisheszone.com/8-extremely-fun-ways-to-celebrate-your-birthday/
Did you know there are over 815,000 people celebrating their birthday each day? And yet, birthdays feel like our own special day. The one day of the year the world revolves around you.
Each year, you get to choose something that celebrates your existence. Sometimes, though, it's difficult to think of something that makes you feel excited. Should you take a trip, have a quiet night in, or go out to eat?
If you're currently looking for ways to celebrate your birthday, look no further. Here are lots of wonderful things to get friends and family together to celebrate you.
How We Celebrate Birthdays
Have you ever wondered why that one day of the year became so special? What about the traditions that have passed from generation to generation?
The truth is, not everyone celebrated birthdays the way we do now. In some religious circles, it was even considered sacrilegious. But somewhere along the way, people came up with their own birthday rituals.
Your birthday cake originated in Germany. And the practice of putting candles on your cake first started in Greece. There are many birthday rituals that evolved from other cultures.
Now, we have bigger and better options for celebrating birthdays. And you owe it to the people of the past to make each birthday better than the last!
Big Ways to Celebrate Your Birthday
Why not commit to making each turn around the sun bigger and better? Here are some of the best ideas for creating an amazing birthday celebration.
1. Climb a Mountain
Sure, the older you get the more your hardships feel like your own "personal Mount Everest." So, why not shrug off the stresses in life and climb a real mountain?
Everyone should add one big bucket list item to their list. And summiting a mountain is likely the coolest option you can find. Plus, what better time to take on a mountain than on your birthday?
More from Birthday Wishes Zone:  A Sober Celebration: The Tastiest Non-Alcoholic Drinks for Birthdays
But, unless you want your birthday to also be your last, don't choose something difficult. Do your research and find a mountain that's good for beginners.
2. Try an Escape Room
You've likely wondered to yourself "are escape rooms fun?" Well, you'll never know until you try.
One of the best ways to celebrate a birthday is to get everyone to help make memories. And escape rooms are perfect for group interactions. If all goes as planned, you won't spend money on a boring outing.
3. Take a Cruise
When planning your birthday, it can be hard to settle on one activity. You want to be able to do them all. What if you can?
When you book a cruise, you're not only getting to have fun onboard for 7 nights. You're also getting to see new places during the course of a week.
If you go to the Caribbean, you'll see places like Jamaica, Cozumel, and The Grand Cayman Islands. Or you might enjoy taking a cruise through Alaska.
But the best part of cruises are the shore excursions and on-ship activities.
Each location offers a variety of excursions that are either free or come at a small cost. Go kayaking on the water, see local sights, or eat amazing local foods. Cruises are chock full of adventure from start to finish.
4. Do a Bar Crawl with Friends
Sometimes, we get stuck in a rut and only end up visiting the same places. The problem with this is that you end up missing out on awesome things you didn't know about. Birthdays are perfect for new experiences. So why not find your next favorite hang-out spot?
Get your friends together and write down all the bars or nightclubs you've wanted to try but haven't. Then, create an itinerary where you start at one and end at another. Get one drink at a time so you don't end the night too soon.
Don't forget to arrange for a safe drive home for all your friends so the party doesn't end badly.
More from Birthday Wishes Zone:  Planning a Summer Birthday Vacation? Don't Forget These Essentials!
5. Give Back on Your Big Day
We know, birthdays are about you. But what if you're not the type to hog the spotlight?
One great way to celebrate your day is to give back to others who don't have what you do. Volunteer at a shelter, or put together a fundraiser. You can even ask people you know to give money to your charity of choice instead of gifts.
You may feel better about your birthday if you make someone else feel special.
6. Drinks and Painting with Friends
Are you looking for great birthday outing ideas for adults? Why not gather up your friends and have a paint night?
Don't worry, no one has to be an expert artist to enjoy this outing. And wine always has a way of bringing out the creativity in people. Not to mention, the teacher guides the painting so no one has to wing it.
7. Take a Leap of Faith
Are you and your friends looking for the adventure of a lifetime? Is everyone ready for an adrenaline rush to make them feel young again? What better time to relive your glory days than with a skydiving adventure?
Everyone can pitch in on this one knowing they'll give you the best birthday ever. You may even get a group discount if you play your cards right.
8. Take a Vegas Trip
Everyone knows a trip to Las Vegas isn't fun if you're not with your friends. Round up your "woo" group and take your party to Vegas. Gamble, see shows, and party all night long.
If you plan it right, you might be able to turn your new number in Vegas. The best thing about that is: "what happens in Vegas stays in Vegas."
More Birthday Ideas
Life gets boring when you stop trying to find new ways to celebrate your birthday. So, let each year be the motivation to try something new. And always take advantage of people treating you special on your day.
Need to find the perfect gift? Check our archives for the perfect birthday gift idea.