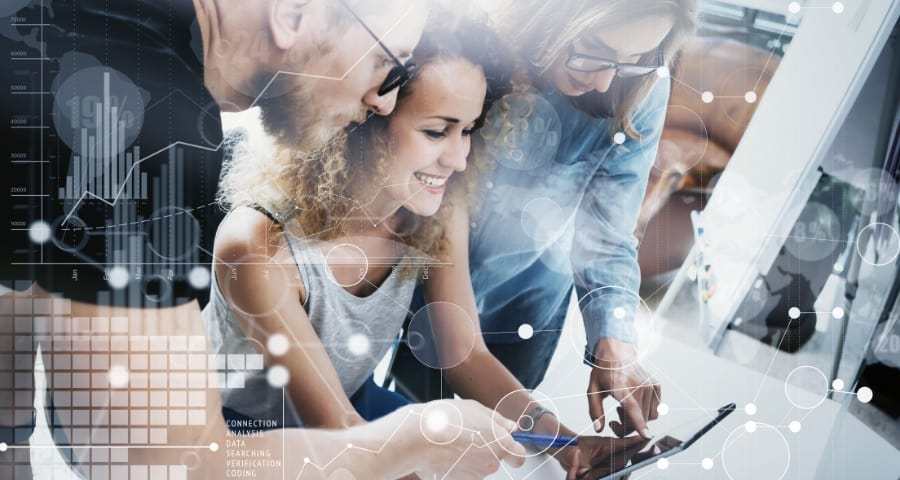 7 Takeaways from grapevine6 on Social Sales Engagement
Originally posted on https://www.jacksonmarketingservices.com/blog/7-takeaways-from-grapevine6-on-social-sales-engagement/
Earlier this month, Grapevine6 hosted The Grapevine6 Social Engagement Symposium to discuss the future of social sales engagement. Imagine how terrific it would be to have participated — presentations, panel discussions, and interactive sessions with more than 40 social selling and digital transformation subject matter experts.
I wish I could have attended.

While I didn't make the guest list, I did get the inside scoop from Grapevine6 COO & Co-founder Mike Orr on what symposium attendees learned. Check out these takeaways from the event. After you read this post, be sure to listen to our interview with Mike on The B2B Mix Show podcast.
7 social sales engagement TAKEAWAYS
1. companies need to look at linkedin HOLISTICALLY
Sure, brands need a company LinkedIn page and a social media marketing strategy. However, companies need their customer-facing employees to be present and active on LinkedIn, too. Your sales, service, and executive team members need to:
Have a well-developed LinkedIn profile
Make connections with customers, potential customers, and industry influencers
Share content, including curated content from credible, third-party sources (Best practice: an 80/20 mix of curated and corporate content)
Engage with other people's content and posts (like, comment, share)
Decision influencers and decision-makers will look at your company and your employees on LinkedIn — often before even reaching out to speak with a salesperson. Marketers, sales leaders, and corporate communications leaders should actively support employees in developing their personal brands on LinkedIn.
2. individuals should maintain ownership of their LINKEDIN PRESENCE
While individuals should take advantage of the content and tools that their employers provide, they need to have ownership over their LinkedIn profiles and activity. After all, LinkedIn plays a significant role in personal branding. LinkedIn users can use corporate's content marketing and guidance, but they must also focus on authenticity. Articles with a point of view get up to 10x more engagement.
3. businesses should help ESTABLISH PARAMETERS
Individuals own their personal profiles, but marketers and corporate communications experts should provide guidance to support employees. It's essential to provide guidelines, especially in regulated industries, around what is appropriate to post on social media. Companies should also establish best practices to help individuals create good "on brand" profiles and train employees on what is and is not appropriate to say online.
Access Downloads from The Grapevine6 Social Engagement SymposiumPresentations from symposium speakers and notes from the breakout sessions are available for download from Grapevine6! Get the Content
4. companies should provide RESOURCES AND SUPPORT
Companies need to have resources available that help employees develop their professional social presence. Organizations can support scaling a program through:
Peer mentorship programs
Webinar training — live and on-demand
Training videos
Cheatsheets
Best practice documentation
On-demand coaching
Office hours with experts
Leaderboards and gamification
Incentives
Integrated sales solutions that help salespeople monitor success (e.g., CRM and the ability to track from a social post to a lead to revenue generated)
5. sales reps shouldn't make linkedin management a FULL-TIME JOB
LinkedIn and other social channels can be powerful tools, but managing them cannot become a customer-facing employee's full-time job. A perfectly maintained profile isn't enough to close deals or support clients. Sales and support reps need time to focus on selling and customer-focused activities.
Encourage employees to:
Set realistic expectations for maintaining their LinkedIn presence — ten minutes per day, 30 minutes per week, etc.
Focus on the "why" — ensure customer-facing employees understand why personal brand building is essential so that they place energy toward the efforts that deliver the most impact.
Understand what "success" looks like when it comes to using LinkedIn. Define some realistic, attainable goals and measure KPIs such as meetings set as a result of LinkedIn efforts, number of new connections, content engagement metrics, SSI score improvements, and so forth. Just make sure these KPIs align with corporate goals.
6. organizations should approach social sales engagement and advocacy as a CONTINUOUS IMPROVEMENT CYCLE
Not all of your employees will be social media rock stars on day one. Some team members — even those from millennial and Gen Z generations — may need help understanding the why and how before they can be truly effective with their LinkedIn profiles.
Companies need to understand the level of social media savvy among customer-facing employees and build from there by creating an operating model that drives improvements and helps the best users get better while supporting the bottom users as they learn the ropes and get started.
Leaders should conduct regular surveys to understand what's working (and what's not working) for social sales engagement program participants.
7. building an effective social selling program isn't free, and it REQUIRES RESOURCES
A coordinated social selling program requires its own budget to cover the necessary tools and resources. You'll need platforms to enable salespeople, content they can use or make their own, and training programs. Social selling programs will be less effective for the team as a whole when it's a free-for-all. Companies also leave themselves at risk if there is no coordinated program, especially those organizations that operate in regulated industries.
If you're just starting, consider a pilot program to fine-tune the initiative before rolling it out to the team at large. Social selling program managers may also want to try pilot programs when testing new software and approaches.
what's working for YOUR TEAM?
Have you developed a coordinated social selling program for your brand? Share your tips and insights in the comments section below.
What to hear more from Mike? Don't forget to listen to episode 32 of The B2B Mix Show.