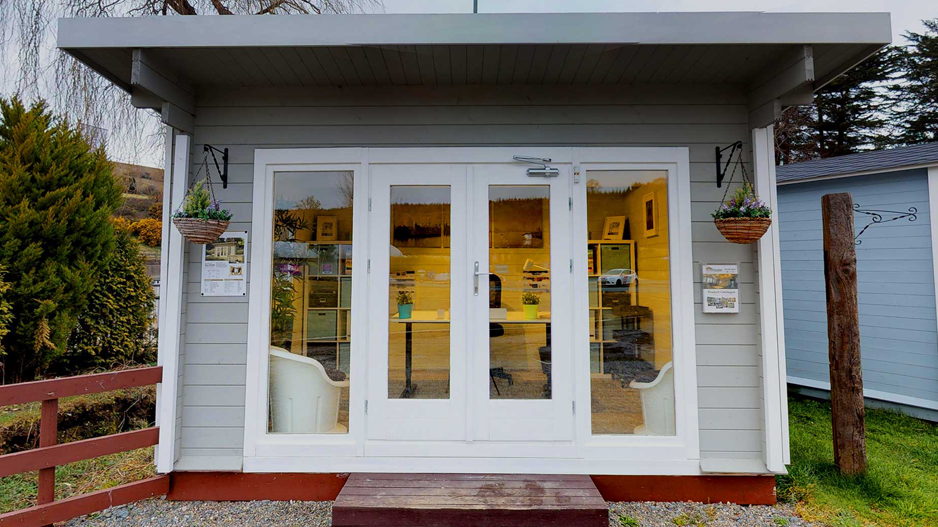 7 Reasons Why a Log Cabin Office is a Great Work Space
Originally posted on https://www.loghouse.ie/7-reasons-why-a-log-cabin-office-is-a-great-work-space/
Log cabin office – Working from home or remote working is attracting more people than ever. About 216,000 people work from home in Ireland. It's a flexible way to work.
If you work from home, continue reading to see the reasons why having your home office in a log cabin could be rewarding and beneficial.
1. Log Cabin Office – Easy Construction
If you are constructing a conventional building as an office you often need planning permission. In Ireland, log cabins of under 25 sqm and under 3.9m high generally don't need planning permission if they are built near the rear or side of your house. Check the local authority planning rules before you buy.
Log cabins can come in DIY build options or include installation. It's a simple, clean and low impact build. Compare that with the mess and disruption of conventional building projects.
To illustrate how simple the construction can be, there are quick delivery and even next day delivery options. Pre-fabrication makes for simple construction.
2. Cost Effective Build
A log cabin is often a much cheaper solution to your home office requirements than alternatives. For example, building an extension to your home or a conventional small building involves more substantial preparation and installation costs.
You might think that the downside of a low-cost build solution is that it will have a short life. Buy the right cabin and you can expect use for 2 to 3 generations.
3. All Year Round
If you're worried that a log cabin might be fine in the summer but too cold in the winter, think again. Your office work needs may be all year round so you need an all-weather office.
Wood is an excellent insulation material. It retains 40% more heat than brick or block building material. Specify your heating and insulation needs and you can expect comfortable all year office use. It will be warm in winter and the added bonus is it is cool in summer.
4. Save on Travel Costs
Having your own home-based office in a log cabin means not having to face the daily commute. Whether you drive or use public transport a daily commute robs you of work and home time. It also costs money that you would rather put to better use.
Step out of your door and into your office and you are productive immediately. You save transport costs such as fuel, parking, and the wear and tear on your car. If you commute by public transport you save on bus or rail fares.
You may have chosen to rent office space because you don't have dedicated space at home. Perhaps you're concerned about the impact of having your office in your home space envisaging the dining table covered in work materials. If you currently rent office space you can save on that too.
5. Save Your Time
Do you work long hours? If you have your own business you may do. Any way you can save time is a plus for you and your business.
The Central Statistics Office reports that the average commuting time for a commuting worker in Ireland is almost 30 minutes. For workers doing a 5-day week and taking 4 weeks holiday a year that's 240 hours a year. Imagine what you could achieve with an extra 240 hours a year.
Sometimes the proverbial stuff hits the fan. You have to deliver on a promise to a customer, fix a major problem or work to someone else's timetable. If your self-employed or even if you're not, you have to prioritize work.
In these situations, you turn up late at home, miss the kids' bedtime or a family meal. It's tough on you and on the people you love. You don't have time to meet all those pressures.
If you have a home office in a log cabin, you can work late and still pop home for a quick bedtime story or goodnight kiss. You don't feel so guilty, you are re-energized to face the challenges and you know when the task is done you can get home in an instant.
6. Work-Life Balance
Many of the advantages of a home-based log cabin could be achieved by working at home. There's a downside to working at home. The demarcation lines between home and office become unclear when you work "from home".
Home distractions include members of your family and home chores. Without the sense of separation between home time and work time, it can be possible to mix the two and that can be unhealthy and unproductive. Stepping out of your home and into the log cabin is a strong signal that this is work time and you're not to be disturbed.
It's just as problematic to have work issues blur into home life. You don't get a proper rest from work and your home life and relationships can suffer too. It's wonderful to leave the work behind in the log cabin and step into your home to give your children, partner or your home your full attention.
7. Living Your Values
Finding a way of working that fits in with your values is not always easy. The practicalities of working life may make it difficult for you to live as you would like to.
For example, you may have strong environmental concerns. If you recycle at home, chose eco-friendly options when you can and try to reduce your energy use, wouldn't you want to apply these values in the way you work too? Conventional building materials and daily commutes are not the most environmentally friendly aspects of working life.
Forest Stewardship Council certified timbers mean you are being responsible about the environment. Log cabins are made from a renewable resource that reduces pollution, your carbon footprint, and global warming. Your home and work life has a consistently low impact on the environment.
If you enjoy beautiful design and aesthetically attractive things in your home, you'd probably appreciate this in your work environment too. Using natural materials and attractive design can enhance your working life. It's part of creating a peaceful, harmonious, and beautiful workplace to bring the best out of you.
Your Log Cabin Office
Interior and exterior flexibility mean you can really express yourself. Live and work the way you want to. Have your log cabin office make a statement about who you are.
Find out more about how you can have a log cabin office here.