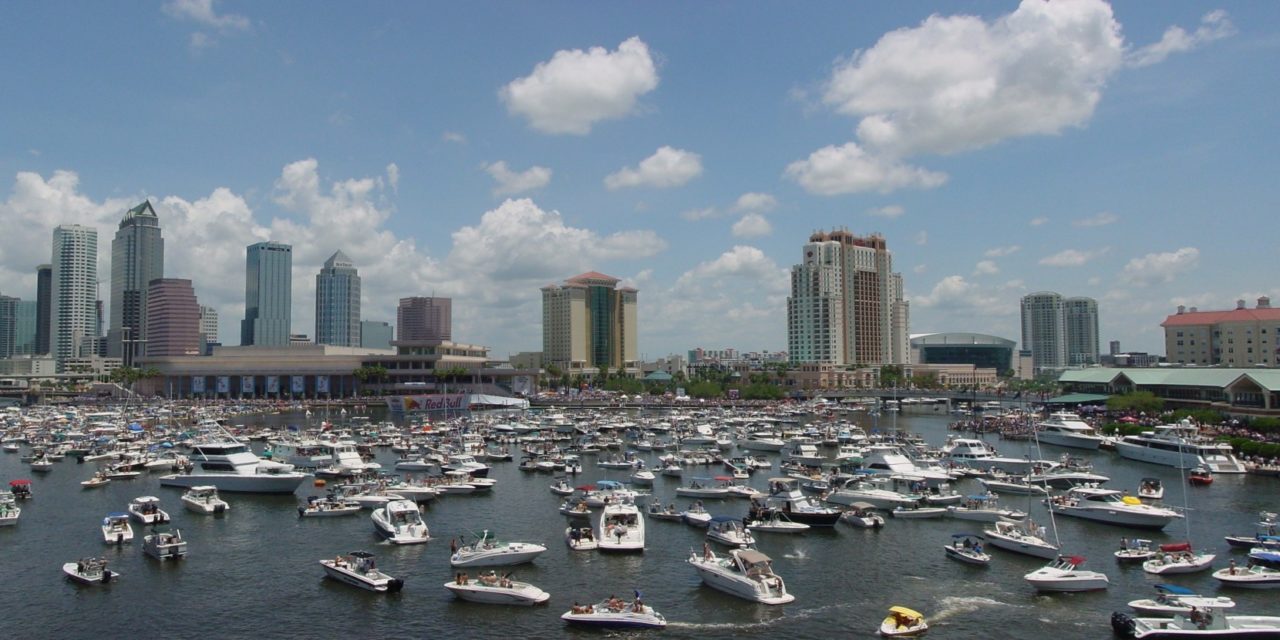 7 Fun Activities on the Tampa Riverwalk
Originally posted on https://blog.suncoastinmotion.com/7-fun-things-to-do-on-the-tampa-riverwalk/
There's no denying that Tampa is one of the most beautiful cities in the world. Many people come here for the sunshine, others come for the shopping, sports, or the water, but everyone comes to have a great time.
When visitors are looking for the best places to go in Tampa, the Tampa Riverwalk should always be at the top of the list. There are so many things to do, amazing people to meet, and you're never far away from unforgettable food.
This article takes a look at 7 fun activities every visitor should do while in town. Keep reading to see the list.
1. WATER TAXI
One of the most popular ways for visitors to explore the Riverwalk is to take a private water taxi tour.
This is the ideal way to witness all the natural beauty Tampa has to offer. Just kick back and let your driver do all the work.
A leisurely water taxi tour will give you the chance to relax and see this part of Florida from a refreshing perspective. Plus this is a great way to get around the Riverwalk without having to worry about traffic while giving your legs a well-deserved chance to rest.
You can hop on and off at various stops along the Riverwalk, and you can even take a water taxi to Lowry Park Zoo if you choose.
Soak up the sun, take a break from hustling around, and enjoy the breeze in your hair as you enjoy the simple pleasure of a water taxi.
Pirate Water Taxi | (813) 390-3711 | 603 Channelside Dr | piratewatertaxi.com
2. WATERFRONT DINING
If you aren't excited about dining on some of the best food in Florida, you might have chosen the wrong destination.
The Tampa Riverwalk is home to several restaurants that will make you glad that you spent the day working up a major appetite. Visitors can enjoy a variety of delicious cuisine, including Cuban food, BBQ, and even sushi.
There's something for everyone.
Anyone looking for great drinks in the perfect location will love spending a few hours at Remedy. This open-air restaurant and bar are just what the doctor ordered. Located beneath the Sykes building, Remedy features mouthwatering food and the ultimate selection of delicious cocktails and margaritas.
Remedy Tampa | (813) 223-7746 | 400 N Ashley Dr | remedytampa.com/
Armature Works is another popular stop for hungry visitors. This hip food hall features the type of relaxed atmosphere and amazing munchies that will keep you coming back for more.
No matter what kind of food you're in the mood for, the Riverwalk won't disappoint. After all, there's something special about a waterfront dining experience that is simply hard to match.
Armature Works | (813) 250-3725 | 1910 N Ola Ave | armatureworks.com
3. MUSEUMS
After you've finished eating, it's time to take a stroll to one of the Riverwalk's amazing museums. Visitors have their choice of a variety of museums, including the Tampa Bay History Center and the Tampa Museum of Art.
Anyone wanting to learn more about the city, its rich and exciting history, and diverse culture, will want to put the Tampa Bay History Center near the top of the list of activities. You'll learn about the city's unique origins, and develop a new appreciation for the area, the people, and the spirit of community that's truly infectious.
Tampa Bay History Center | (813) 228-0097 | 801 Water St | tampabayhistorycenter.org
The Tampa Museum of Art features an array of breathtaking exhibits that can be enjoyed by the entire family. And next door, you will find plenty of interactive and educational exhibits located within the Glazer Children's Museum.
Tampa Museum of Art | (813) 274-8130 | 120 W Gasparilla Plaza | tampamuseum.org
4. CURTIS HIXON PARK
Curtis Hixon Park is another gorgeous Tampa destination you won't want to miss. This is the largest park in downtown Tampa, and it truly offers something special for every member of the family. No matter if you're traveling alone or with the kids, Curtis Hixon Park is sure to rank among the highlights of your visit.
For the kids, there's a children's playground and water fountains. There's also a dog park where the furriest members of the family can play and make new friends. And for mom and day, don't miss out on the Summer of Rum Festival.
If you plan to visit during winter, be sure to pencil in a stop at Curtis Hixon Park for the Christmas light shows and the Winter Village. This is a special time of year when you can enjoy the ice skating rink and a variety of other winter-themed activities.
Curtis Hixon Park | (813) 274-8615 | 600 N Ashley Dr | tampagov.net
5. RIDE A BICYCLE
When it comes to choosing the most fun way to experience the Riverwalk, it's really hard to beat touring by bicycle.
Downtown Tampa and the Riverwalk feature several bike-share rental kiosks where you can rent bicycles by the hour or for the entire day, like Coast Bike Share.
Touring the area by bicycle provides a way for visitors to explore everything at their own pace. After all, there's no reason to get in a hurry when enjoying a fun day with family or friends.
Coast Bike Share | (813) 999-3300 | 744-784 N Ashley Dr | coastbikeshare.com
6. RIDE A WATERBIKE
Photo Credit: Valerie Kyser | Google
While we're on the topic of bikes, don't forget to experience the river on a water bike. The Tampa Bay Waterbike Co. has created a way to tour the river up close and personal, allowing visitors to enjoy amazing views of the city skyline while getting a bit of a workout.
There are also paddleboard rentals available if that's more your flavor. Either way, get down on the water and have a great time!
Tampa Bay Water Bike Co. | (813) 465-8025 | 333 S Franklin St, Boat Slip 15 | tampawaterbikes.com
7. FESTIVALS
When planning for a visit to Tampa, make an effort to experience one of our fabulous festivals, such as the Mayor's Mac n Cheese Throwdown, the Downtown Tampa Fourth Friday, and plenty of others.
These special events give visitors the perfect chance to experience the area at its best, offering a vast assortment of great food and drinks. Come for a weekend festival and you'll never want to go home!
---
Originally posted on YouTube by CityofTampa
FUN ACTIVITIES ON THE TAMPA RIVERWALK
Photo Credit: Omar's Studio
No visit to Tampa is complete without taking the time to explore the Tampa Riverwalk. You'll love the sun, the food, and a chance to socialize with some of the finest people on the planet.
Click here to see the top 10 date night ideas in Tampa.
---
Originally posted on YouTube by Sun Coast InMotion
Loved this article? Help us provide you with quality articles week after week, by
1. dropping a rating below,
2. sharing with your social media circles, and