Seattle sports travel guide
Photo by Edward De La Fuente
Originally Posted On: Seattle sports travel guide: Tips and things to do in 2021 | Itinerant Fan
Our city guides are meant to showcase the best of a metropolitan area from the perspective of a sports fan visiting Seattle to watch their favorite teams in a game or two. Here's our guide to the best of Seattle sports travel.
* * *
You don't necessarily need sports as an excuse to visit the Pacific Northwest, undeniably one of the country's most picturesque regions.
But if sports is your motivation for travel — and if you're reading this humble guide, then it most likely is — there are far worse places than Seattle to visit.
Quirky, charming and vibrant despite its sometimes persistent rainy days, the Emerald City offers plenty to see outside the games, and most of it is centered around the downtown area. Come to watch the sports teams, but see as much of Seattle and the greater Puget Sound region as you can while you're there.
This guide endeavors to help you plan your ideal Seattle sports travel vacation, from visiting the venues and watching the teams in action to spending your free time enjoying the most of what the area has to offer.
Map of Seattle sports venues and attractions
Click placemark in index to find on map | View Seattle sports travel guide in a larger map
Where to watch sports in Seattle
Seattle is home to four professional sports teams, with a fifth on its way. In December 2018, the NHL granted Seattle an expansion franchise that will begin play in the fall of 2021.
The new hockey club, to be known as the Seattle Kraken, will play at the arena formerly known as KeyArena, in the shadow of the Space Needle. The facility is being rebuilt from the inside in preparation for the new team's arrival and will be known as Climate Pledge Arena when the Kraken takes the ice for the first time in the fall of 2021.
While the arena is revamped, the WNBA's Seattle Storm is playing the majority of its home games at Alaska Airlines Arena on the University of Washington campus.
There's still a hole in the heart of the Seattle sports scene, though. The SuperSonics left KeyArena for Oklahoma City in 2008, and failed efforts to lure another team to town in its place have only toyed with the psyches of jilted Sonics fans.
Less than a year after the Sonics left, Seattle Sounders FC came into existence, filling a sports void and going on to become one of the more well-supported teams in Major League Soccer.
Largely, though, pro sports in Seattle is centered around the SoDo (shorthand for "South of Downtown") area, with two stadiums across the street from each other. The former home of the Mariners and Seahawks, the Kingdome, stood where Lumen Field is now; the Seahawks played two seasons at the University of Washington's Husky Stadium while their current home was being constructed.
The college sports scene is dominated by Washington, known locally by its nickname U-Dub, whose major athletic teams compete in the Pac-12. Husky Stadium and Alaska Airlines Arena, both on campus, occupy picturesque spots alongside Union Bay.
The venues
• Alaska Airlines Arena at Hec Edmundson Pavilion: Home of University of Washington basketball. Located at 3870 Montlake Blvd. NE.
• Climate Pledge Arena: Future home of the Kraken and Storm. Located at 305 Harrison Street in Seattle Center.
• Husky Stadium: Home of University of Washington football. Located at 3800 Montlake Blvd. NE.
• Lumen Field (formerly CenturyLink Field): Home of the Seahawks and Seattle Sounders FC. Located at 800 Occidental Ave. South in the South of Downtown neighborhood.
• T-Mobile Park: Home of the Mariners. Located at 1250 1st Ave. South in the South of Downtown neighborhood.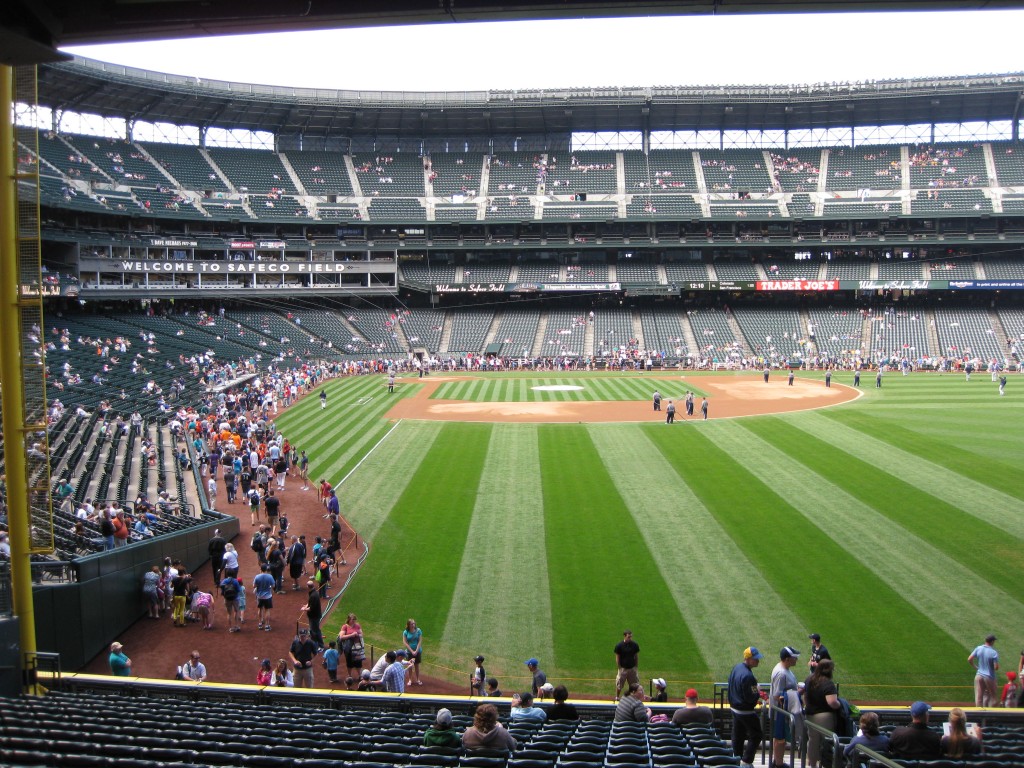 Arriving and getting around Seattle
Getting in
Seattle-Tacoma International Airport (SEA), commonly known to locals as "SeaTac," is the main air gateway into the region. As the name might suggest, it's located roughly halfway between Seattle and Tacoma, about 15 miles south of downtown Seattle. It's a primary hub for Alaska Airlines but is served by most other major airlines.
Seattle has a well-known reputation for being a far-flung city sports-wise, as it is two hours by plane from the nearest MLB or NFL city.
The region is accessible by train, as Amtrak operates three routes through Seattle, with destinations as far away as Los Angeles and Chicago. The primary train depot, King Street Station, is just steps from Lumen Field.
Several bus companies operate popular services from Portland, Spokane and Vancouver, among other cities. Greyhound operates a depot at 503 Royal Brougham Way, near CenturyLink Field.
Interstates 5 and 90, which intersect just south of downtown, are the main highway routes into Seattle. I-90 runs the length of Washington state and over the Cascades, while I-5 leads north to Canada and south to Oregon and California.
Where to stay
For Seattle sports travel vacationers, downtown is a good starting point as a guide for finding hotels for most types of budgets. Some are located along the Sound, some are near the popular Westlake Center shopping district, and some are near Seattle Center.
More hotels are opening near Pioneer Square (closer to the stadiums) and are generally cheaper than downtown.
For even better deals, try the Lake Union and Queen Anne districts north of downtown, as well as the suburb of Bellevue (across Lake Washington) and the airport, but you'll most likely need a car to get around if you choose these locales.
Getting around
Seattle is one of those cities that seemed fiercely car-dependent until the last 10-15 years, but light rail is slowly becoming a more viable option.
Sound Transit operates two lines on the Link light rail system, one running between the U-Dub campus and the airport and the other between the airport and the Tacoma Dome. The former line, known as Central Link, has a Stadium station just behind T-Mobile Park.
The Seattle Streetcar also can be used to get around central Seattle, running to nearby neighborhoods such as South Lake Union and Capitol Hill. The system consists of two separate lines, which will eventually be connected by a line running through the heart of downtown.
Commuter trains, called the Sounder Train, run from Tacoma and from Everett to King Street Station.
For drivers, the region's street grid can get complicated at times because of hills and lakes that get in the way. If you're confining your driving to downtown, know that the downtown street grid is diagonal, but straightens out north of Denny Way (near Seattle Center) and south of Yesler Way, about where SoDo begins.
Gameday parking
There is generally plenty of event parking in lots and structures surrounding both Lumen Field and T-Mobile Park. Lots can be accessed via the 4th Avenue exit off I-90 westbound.
Parking in Pioneer Square and downtown is also an option, though expect at least a half-mile walk and some fairly hilly terrain, depending on where exactly you are coming from.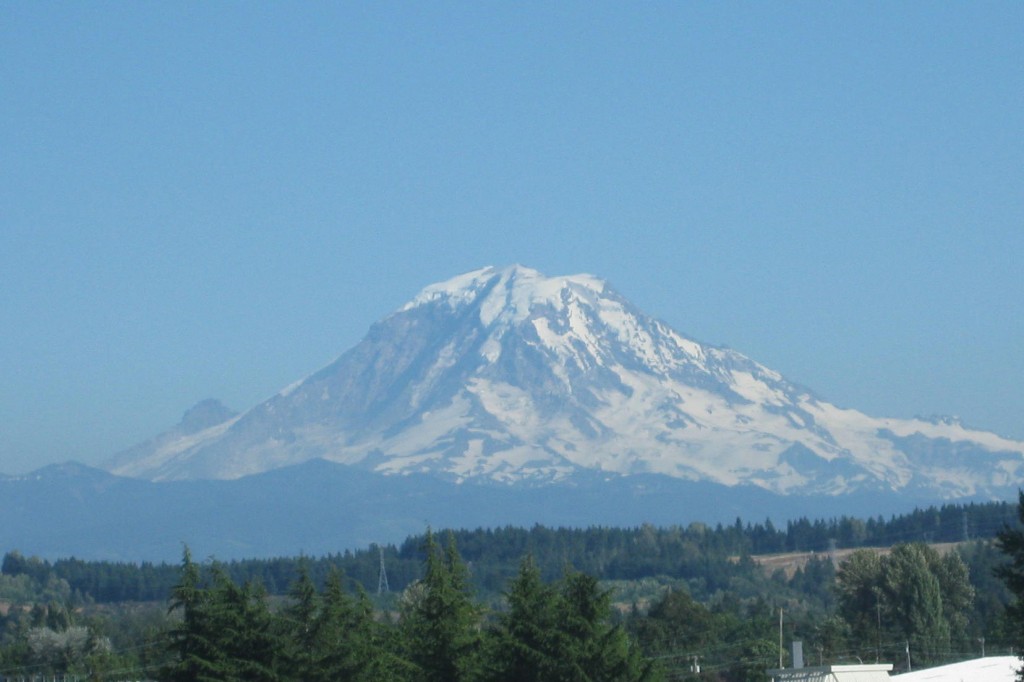 Things to see and do in Seattle
Even if your reason for coming to Seattle is sports travel, the region has so much more to offer. Here's a guide to some of the things to see and do in Seattle when you're not watching the sports teams:
The great outdoors
From Puget Sound to Mount Rainier, Seattle is well-known for its natural scenery. While most of it can be glimpsed without ever leaving downtown, they can also be experienced first-hand as well.
Ferries, boat tours, kayaking and sailing are all possible on the Sound from various piers along the waterfront. Ferries across the Sound to such points as Bremerton and Bainbridge Island can be picked up from Pier 50, near the intersection of Alaskan Way and Yesler Way.
For a quick trip on the sound, board the King County Water Taxi at Pier 50 for a 10-minute ride across Elliott Bay to West Seattle's Seacrest Park.
Mount Rainier is part of a national park that offers outdoor activities such as hiking, camping and fishing. Driving to Mount Rainier National Park takes about 2½ hours via Interstate 5 southbound.
Centers of activity in Seattle
Seattle Center and Westlake Center are two of the most commonly visited areas of town by tourists, and the two locales are connected by a monorail line that runs back and forth every 10 minutes.
Seattle Center and its iconic Space Needle were both built for the 1962 World's Fair in Seattle. Since then, the center has grown to include attractions like the Museum of Pop Culture, the Pacific Science Center and the Seattle Children's Museum. Seattle Center also hosts numerous festivals and exhibitions over the course of the year.
Westlake Center is a four-story mall that serves as an anchor for downtown Seattle's retail district.
While downtown, check out some other sights such as Olympic Sculpture Park, the Seattle Aquarium, and the always popular Pike Place Market (more on that below).
In an alley at the foot of the market is one of Seattle's odder sights: The Gum Wall, a brick wall that has for decades been covered with pieces of chewed gum. Depending on how you feel about used gum, the wall represents one of the city's most unique photo opportunities.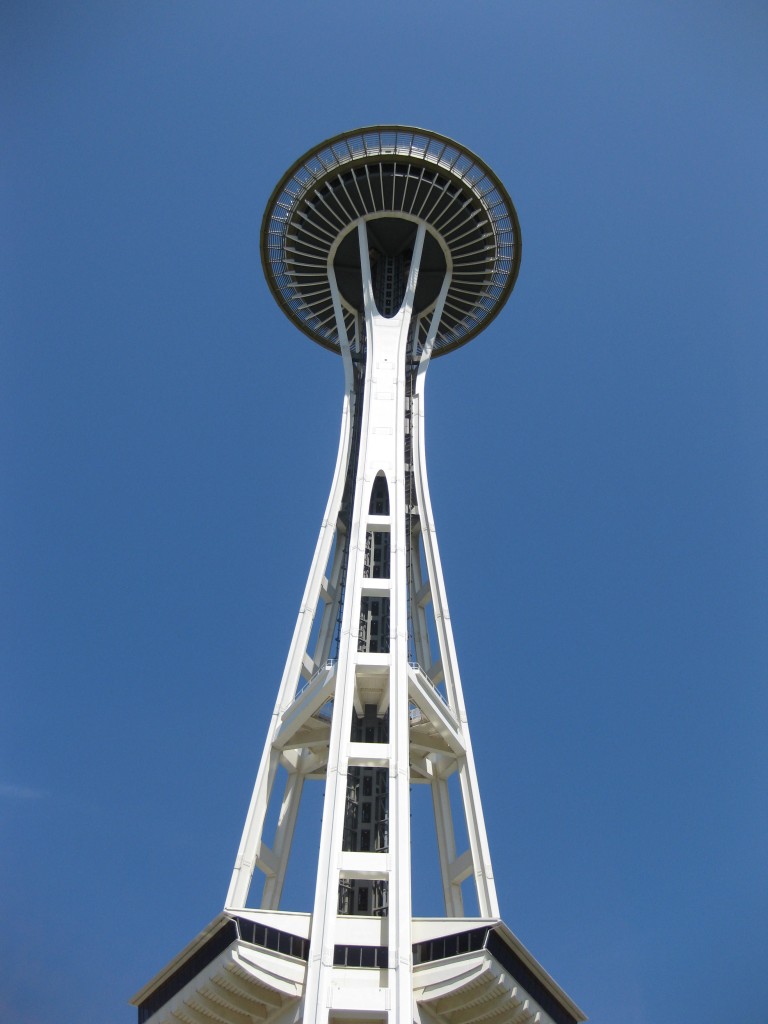 Seattle eats/drinks
Local cuisine in Seattle, and in the Pacific Northwest, usually begins with seafood. Many such restaurants are accessible along the pier and at the iconic Pike Place Market.
Any further discussion of local cuisine must continue with coffee — between chains Starbucks, Seattle's Best and Tully's, and countless independent shops, Seattle is the flashpoint for the explosion in popularity of coffeehouses throughout the country.
The following is a brief guide to establishments that a visitor to Seattle may find worth checking out during his or her travels:
• Pike Place Market (85 Pike Street): If you've ever watched a broadcast of a game taking place in Seattle, you almost certainly have seen a clip of the fishmongers at Pike Place Market throwing fish around. This collection of seafood purveyors, eateries, produce vendors and shops nestled amid a hilly few blocks of downtown is always mentioned prominently in Seattle travel guides.
Go for the halibut and chips and stay for the coffee — the original Starbucks is just outside the market, at 1912 Pike Place. But if you really want coffee without the touristy kitsch, there's another, less busy Starbucks two blocks away at the corner of Pike Street and 1st Avenue.
• Alki Spud Fish and Chips (2666 Alki Ave. SW): Fish and chips and other fried seafood can be had at this off-the-beaten-path eatery along West Seattle's Alki Beach.
• The Crab Pot (1301 Alaskan Way at Pier 57): Another waterfront seafood restaurant, known for its crab boils (called "Seafeasts") dumped onto diners' tables.
• Dick's Drive-In (115 Broadway; multiple locations): This local chain is a longtime favorite for burgers, fries and shakes. Bill Gates has been among the local figures spotted ordering food there.
• Ivar's Acres of Clams (1001 Alaskan Way at Pier 54): The flagship of a regional chain of seafood restaurants (which also has a presence at all of Seattle's sports venues), Ivar's is one of many eateries along the waterfront and is well-known for its clam chowder. At the stadiums, look for the Ivar Dog — pieces of fried cod and cole slaw in a hot dog bun.
• Market Grill (1509 Pike Place #3): One of the many popular food stands inside Pike Place Market, its most popular item is the blackened salmon sandwich.
• Mike's Noodle House (418 Maynard Ave. South): Of the many Asian eateries in the International District near CenturyLink Field, this one is consistently busy and popular thanks to its menu of Cantonese noodle soups.
• Monster Dogs (locations in Capitol Hill and Belltown): Find these food carts after a night on the town to try Seattle's favorite street food: Hot dogs slathered with grilled onions and cream cheese.
• Rain City Burgers (6501 Roosevelt Way NE): Head north of downtown to the Roosevelt neighborhood for a menu of burgers that includes tributes to each of Seattle's sports teams. The 12th Man burger, for instance, is a double cheeseburger with bacon.
• Red Mill Burgers (312 N. 67th St. and 1613 W. Dravus St.): A favorite local burger joint. Most burger offerings come with bacon.
• Top Pot Doughnuts (2124 5th Ave.; multiple locations): Doughnuts (the store proclaims to offer more than 40 different kinds) and coffee seem like the perfect antidote to a rainy Seattle morning, and as such, Top Pot attracts crowds of locals and tourists alike.
More sports
Besides football and basketball, the University of Washington boasts strong programs in a number of sports, including baseball, softball, soccer and volleyball.
Meanwhile, Seattle is home to other college sports teams in the University of Seattle and Seattle Pacific University, and prominent sports programs from around the state — Washington State football and Gonzaga basketball, to name two — periodically host games in Seattle.
Minor-league sports also abound in the form of Triple-A baseball — the Tacoma Rainiers, play at Cheney Stadium just outside downtown Tacoma.
There are also two junior ice hockey clubs in the region: the Seattle Thunderbirds, who play at the ShoWare Center in Kent, and the Everett Silvertips, who play at Comcast Arena in the city of Everett, a half-hour drive north of downtown Seattle.