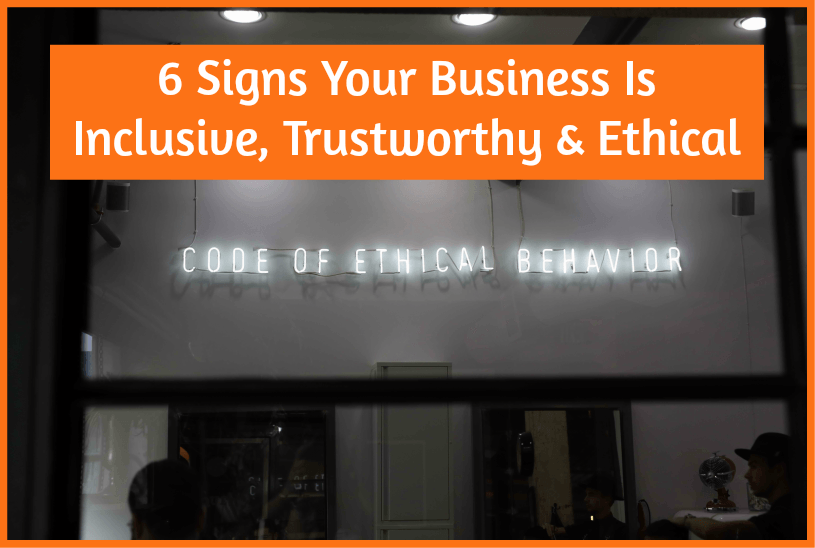 6 Signs Your Business Is Inclusive, Trustworthy And Ethical
Originally posted on https://newtohr.com/6-signs-your-business-is-inclusive-trustworthy-and-ethical/
You could name a tonne of businesses that have led you up the garden path during your lifetime. When a so-called "trusted" brand sells you false promises it can become very damaging for them (and for good reasons). You want to avoid fatal business errors at all costs and make sure your business is viewed as inclusive, trustworthy and ethical.
Without stand up morals a company will simply dissolve in an instant; there is only so long you can pull the wool over people's eyes.
Unfortunately, many business owners can make these mistakes right from the get go. As soon as the error is made it can spiral out of control and then the problem will only get worse. If you are concerned about the way your business is viewed, consider the following signs that you are operating a trustworthy, inclusive and ethical company.
1.Your Website is Accessible
Your business should constantly be striving to meet the needs of everyone in society. This means that your website should be accessible to everybody. In order to meet requirements your site must meet certain criteria in order to be considered as inclusive.
If you need more information then check out this article, Website Accessibility: Is Your Website ADA Compliant? When you develop your business it is very important to manage the technical aspects so that it is in compliance with the law. This means that all people, regardless of their level of ability are able to enjoy and access your business website. As soon as you manage to achieve this, you will be viewed as a truly inclusive and trustworthy company.
2. You Hire Employees Fairly
Your business needs a diverse, skilled and talented group of people to operate on a daily basis. Without them, your company is inevitably going to suffer.
When hiring employees you cannot use somebody's age, religion, race or background against them during the hiring process. Bringing new workers into your business should always be fair and ethical no matter what.
3. You Adopt Greener Ways of Running Your Business
If you are marketing your business as a green and eco-friendly company, you need to go above and beyond to make this happen. Without the correct guidance you won't meet this criteria and you will be leading your target audience to believe your business is something you're not.
4. You Are Always Honest to Your Clients
Try not to make false promises to your clients, even if it makes them happy. You need to be honest about the way you operate, otherwise you are setting your business up to be ridiculed. Operating a smooth, honest and ethical business can only be achieved if you are completely truthful to your customers.
5. You Work Towards Ethical Business Policies
Your business ethos sets the tone for how the entire company runs; the leaders and managers will be directing employees to act a certain way via their business ethics. They are very important because they demonstrate how your company approaches the day to day operations. This has a knock on effect to the rest of the organization, so it is very important to build a foundation of ethical behaviour. This will have long lasting, health effects on your company, so that you can stay true to your brand.
6. Your Management Style is Fair
Your management style is very much dictated by your business ethics, but only you can set the right example.
If you opt for one rule for some and another for the rest, you will be setting a bad precedent for the remainder of your colleagues. Choose an inclusive and ethical stance and you will have no problem instilling these values into your business.
Surprisingly, many entrepreneurs put their business ethics to the very bottom of their priority list.
When your first goal is to make money, it doesn't necessarily mean that is the best decision for the company. If you are truly in this industry for the long haul, you need to make sure you are operating an inclusive and honest business. Whether you're creating an accessible website or tweaking your management styles, there are so many ways to assure your company is benefiting from these positive actions.
A lot of the ideas mentioned above are simply common sense, so you may not struggle to identify these signs in your company already. If you do notice any downfalls, now would be the perfect time to make some much needed changes for a more inclusive, trustworthy and ethical business.
© New To HR